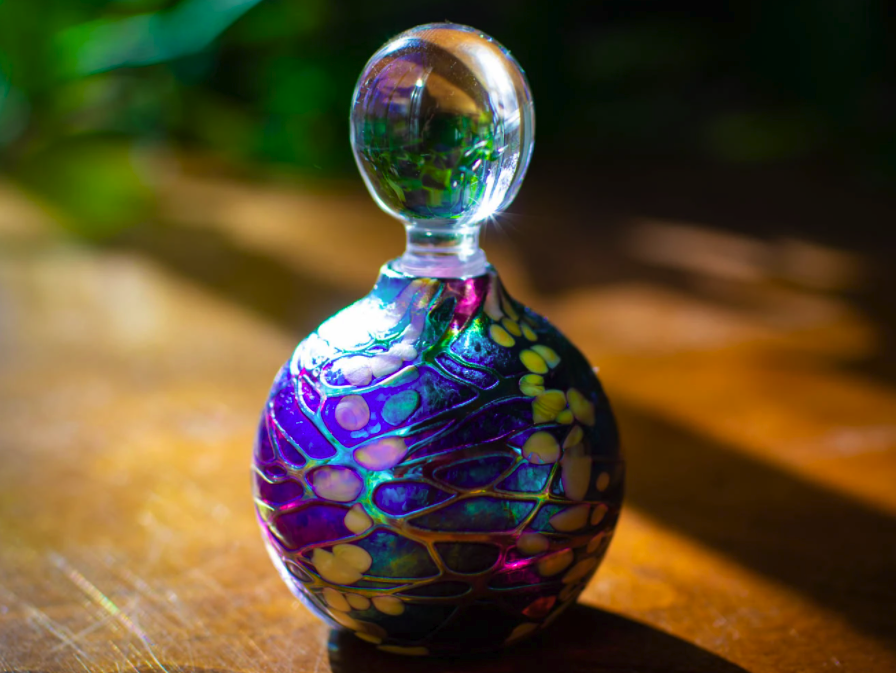 If you're looking for a personalized and unique keepsake urn, below you'll find some of my favorite options on the market.
Most of these keepsake urns are handmade, which are lot more creative and beautiful.
Towards the end the of article, you'll find some more standard keepsake urns and sets.
We hope it makes your decision easier in this difficult time.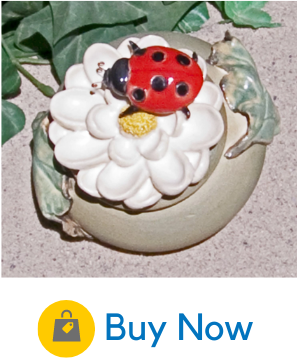 A ladybug is always a cheerful and comforting sight. And you will feel comforted whenever you look at the handmade ceramic ladybug perched on this charming keepsake urn.
You can opt for just a ladybug, or choose the option of including a ceramic flower for it to rest on.
The urn can hold up to 12 ounces of ash. While this is not enough for the ashes of a full-grown person, it may be adequate for the cremains of a child or a pet.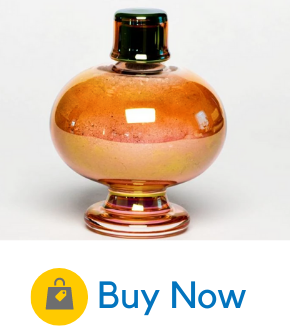 This unique urn, with its smooth golden color, evokes the look and feel of Arabian desert sands. The fuming sends back a gorgeous reflection whenever the light shines on it. The glossy screw-on cap completes the effect.
The urn measures 3.5" by 4" and can contain about a cup of cremation ash.
With discounts available for multiple urns, it's a beautiful way to distribute a loved one's ashes among family members.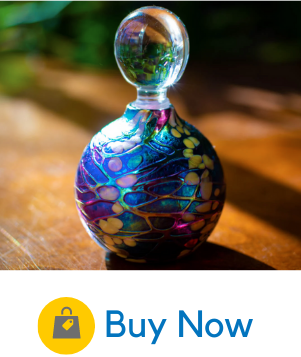 A uniquely beautiful soul deserves a uniquely beautiful remembrance…and that's just what this is.
The smooth sheen of a colored glass globe forms a lovely background to the delicate designs hand painted on each urn.
A clear glass stopper rests on the top. You can place about two tablespoons of cremation ash into the urn.
Choose from five unique designs: Spring Petals, Persian Fog, Autumn Leaves, Midnight Vines or Twilight Clouds.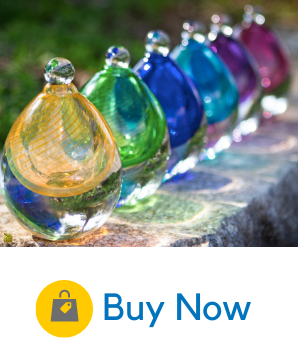 The sparkling pastel colors of these colored glass keepsakes will bring quiet joy to your heart whenever you look at them.
The swirling colored pattern on each urn differs slightly from all the others, so each is truly unique.
The urn is available in a total of eight gorgeous colors including Purple, Lime, Gold, Aqua and Blue.
The clear glass stopper resting on the top of the urn forms the perfect contrast to the brilliant color.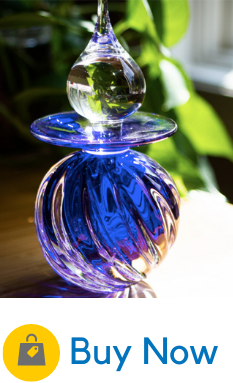 The lovely twist pattern of this urn makes it stand out as a beautiful reminder anywhere you put it.
It's available in a stunning array of 15 different colors such as Bright Green, Aquamarine, Grape, Strawberry or Tourmaline.
The urn can hold about a third of a cup of cremation ash. Silicone or E6000 glue is recommended to seal it securely.
The urn is about six inches tall and 3.5 inches wide.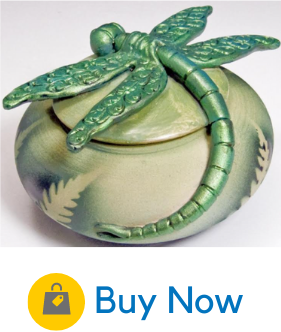 In many cultures, the dragonfly represents transformation and change.
As your loved one's spirit is transformed on the next leg of their journey, the ceramic dragonfly figure resting on this keepsake urn will remind you that life continues.
The urn can hold all the cremation ash from the remains of a child or a pet. You will need some glue to ensure that the urn closes securely.
Placing the cremains in a double-lined bag within the urn will keep them from falling out if you have to open the urn for any reason.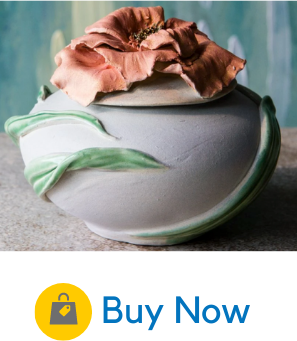 A blooming flower is a fitting symbol for the renewing cycles of nature.
And the ceramic bloom that decorates this urn jar has been meticulously carved with lifelike detail, complete with waving green ceramic grasses carved and hand painted around the base.
While the urn does not hold quite enough cremation ash for a full-grown adult, it is adequate for the cremains of a pet or a child.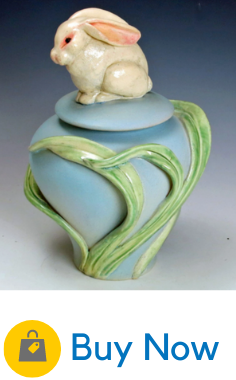 The sweet detail of a ceramic bunny calls to mind thoughts of spring, childhood, and celebration…all wonderful ways to remember a departed loved one.
Even the green grass that the rabbit is sitting on is carved and painted with loving detail.
This urn holds about 30 cubic inches of cremation ash.
Although the lid of the urn is not threaded, you can close it securely with the help of a little bit of glue.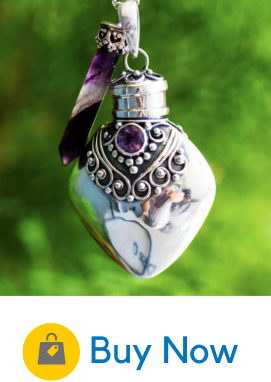 The pendant of this heart necklace both stuns and consoles at the same time, holding your loved one's cremation ash close to your heart while capturing a second look everywhere you go.
The sparkle of the amethyst is beautifully encircled by a setting of sterling silver.
A dainty purple ribbon hanging from the top of the pendant perfectly sets off the dramatic color. And the twist-off top makes it easy to slip the ashes inside.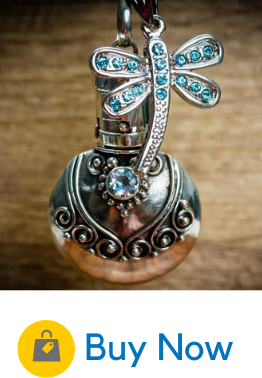 A sterling silver dragonfly charm graces the top of this pendant with gorgeous detail and color. Its wings sparkle with tiny blue gems.
Below the dragonfly, swirls of sterling silver wrap themselves around more tiny sparkling blue stones.
The pendant urn comes with a silver chain in a length of your choice, ranging from 16 to 26 inches.
The top of the urn twists off, making insertion of the ashes within it a simple process.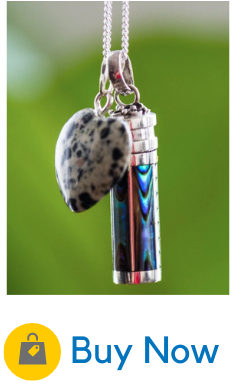 This striking pendant in the shape of a sterling silver vial is a worthy container to hold a small portion of your loved one's cremains close to your heart.
The pendant is inlaid with a delicate Paua shell, a wonderful symbol of life's changes.
The heart charm that hangs from the top of the necklace, adds a lovely touch of detail, speckled in soft Dalmation-like spots.
The pendant comes on a chain in a total of eight different possible lengths, between 16 and 26 inches.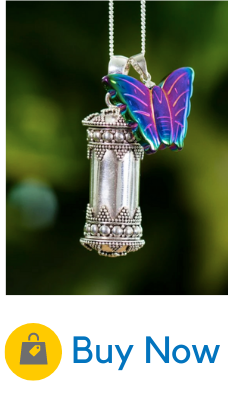 This cylinder-shaped pendant will hold your loved one's ashes in style.
The cylinder is studded with tiny, charming sterling silver details. A brilliantly colored butterfly charm rests on the top of the pendant, its bright hues of green, pink and purple contrasting beautifully with the silver setting.
The threaded top of this pendant urn allows you to add a piece of hair or about a half-teaspoon of cremation with ease.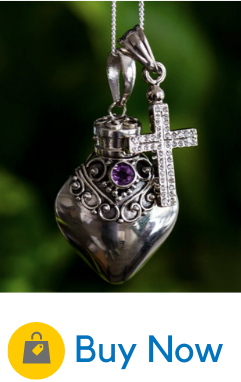 A glowing amethyst stone and a sterling silver cross make this pendant the perfect way to commemorate a vibrant and faithful soul.
The pear-shaped pendant urn is further enhanced with sterling silver details.
The twist-off cap allows you to easily add a strand of a loved one's hair or a quarter-teaspoon of their cremation ash.
The pendant can then be sealed with epoxy glue to keep the contents inside securely.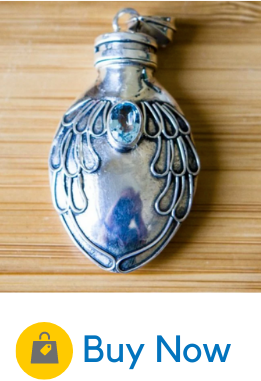 Sterling silver details curve gracefully around this pendant in the shape of angel wings, reminding you that your loved lost one continues to watch over you.
A small gleaming stone graces the top of the pendant in your choice of Moonstone or Blue Topaz. Measuring just 1.75 inches tall and one inch wide, this tiny pendant can't fail to catch anyone's eye wherever you go.
Discounts are available for those who want to order multiple pendants to distribute among family members.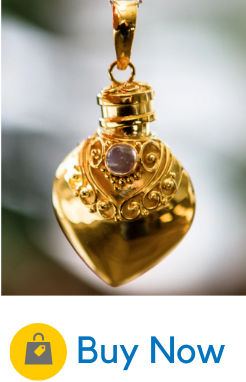 The regal look of 14K-gold plating over a sterling silver heart is exactly what your loved one deserves as a memorial.
Hand carved details on the top of the pendant form lovely curlicues, enclosing the sparkle of a small moonstone.
The pendant measures 0.75" by 1.25", and holds an eighth-teaspoon of cremation ash.
The twist-off cap makes it easy for you to place the ashes inside.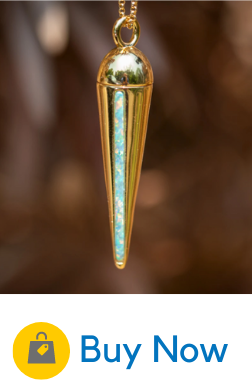 A 14-karat gold plated pendant in the shape of a teardrop demonstrates the eternal nature of love and grief.
The pendant is crafted of sterling silver, with a sparkling streak of blue-green opal running along its length on both sides for a touch of vibrance.
The pendant comes with an 18-inch gold-plated chain.
It can be unscrewed at the top and closed securely with superglue or E6000. This allows you to easily insert ashes yourself.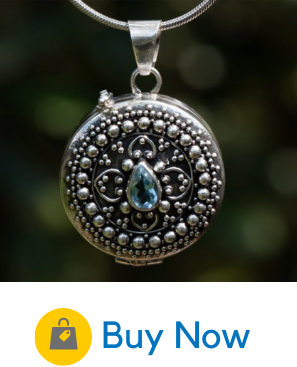 The circular disc shape of this sweet old-fashioned locket displays a healing gem in the shape of an oval, which allows light to shine on the ashes placed inside.
The gem comes in your choice of Emerald, Green Quartz, Amethyst, Citrine or Blue Topaz.
In addition, you can choose from three different locket sizes: Small, Medium, or Large.
The smallest size measures 1" by 0.25", while the largest measures 1.5" in diameter and three-eighths of an inch high.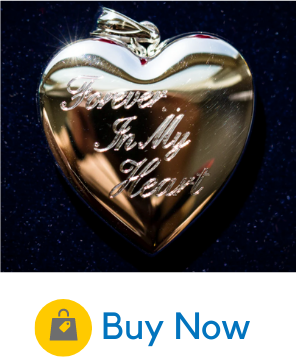 Your lost loved one truly does live forever in your heart, and there's no better way to show it than with this sweet locket.
The pendant takes the shape of a sterling-silver heart with the words "Forever In My Heart" etched on it in sparkling cursive writing.
It's easy to place a quarter-teaspoon of your loved one's ashes within the locket. You don't have to send it away in a collection kit.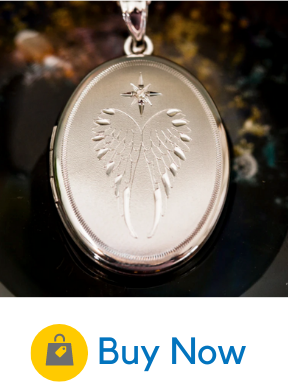 The image of a guardian angel bowed beneath a timeless eight-pointed star is etched onto the surface of this delightful sterling silver locket.
Inside it, there is enough space to place a quarter-teaspoon of cremation ash, which you can do on your own without the added time and hassle of using a collection kit.
Although this tiny pendant locks securely, it's still a good idea to add a small amount of superglue for added security.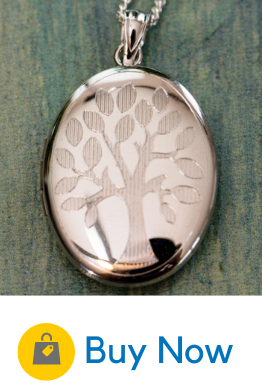 The beautiful and comforting image of a tree of life is etched beautifully onto this elegant locket. The locket is dainty and discreet, measuring just 25mm by 20mm.
Forever Remembered Blue Keepsake Urns: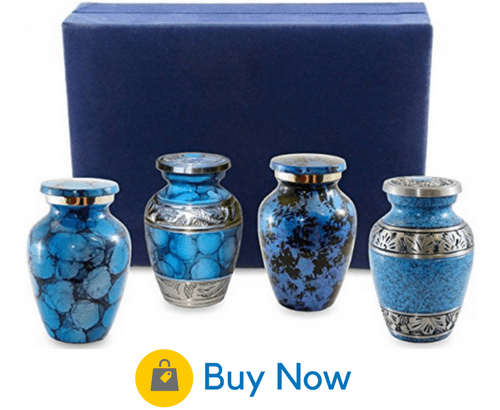 This is a set of four tiny brass urns in a deep shade of blue.
Each urn can easily fit in the palm of your hand.
The urns are enamelled and hand crafted with individual designs, so that no two are alike.
Even within the set, each urn is different, representing the unique relationship that each family member enjoyed with the departed.
Everlasting Love White Keepsake Urns: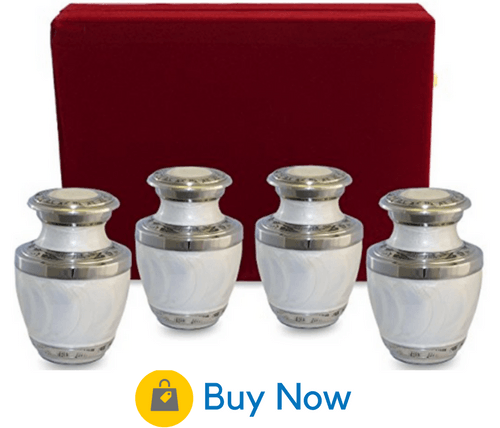 A similar set of four tiny brass urns, these come in ethereal white.
They are nickel-plated and finished with mother of pearl, making the urns appear delicate.
Though appearing delicate, they are in reality very solid and durable.
An elegant velvet case is included in the package of urns, giving you a convenient but luxurious way to store the urns until you give them to family and friends.
Memorials4u Classic Blue Keepsakes:
These handcrafted metal urns, also in sets of four, have a smooth, shiny, lacquer coat.
The design of each urn is unique.
Silver engraving combined with varying shades and swirls of deep blue, give them a look of beauty and elegance.
As each comes in a different design, family members can choose an urn that best matches the decor of the room in which they plan to display it.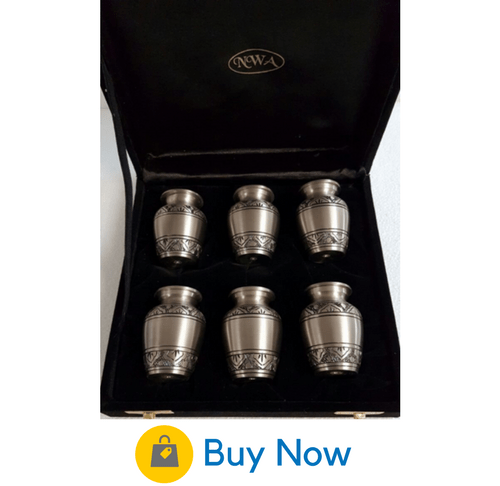 This is a set of six solid brass urns which come together in a black velvet case.
A tasteful, engraved design, and a pewter finish give these a classy and traditional look.
They are heavy-duty and durable.
They are smaller than other mini-urns, and will hold just a tiny portion of ashes.
They're a great choice for larger families who want to keep a cherished member close to them.
Single Keepsake Urns
These urns are ideal if you wish to save a small portion of ashes that have been interred or scattered.
Love of Christ Bronze Keepsake: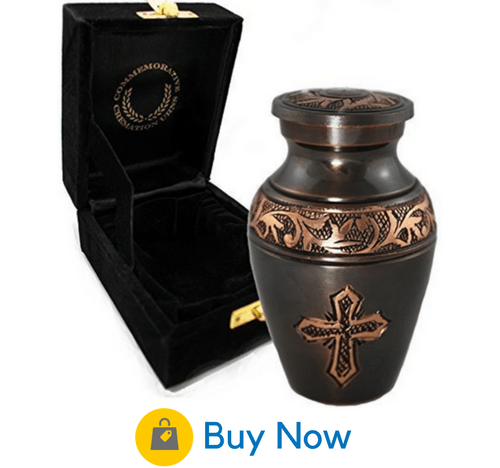 An antique cross design hand-engraved on this brass urn gives it a look reminiscent of a historic church.
A brushed bronze finish adds to the effect.
This is an ideal way to commemorate your loved one's bold religious faith with style and simplicity.
Because it's made of 100% brass, it won't rust or tarnish over the years.
An earthy design in brown with gold-flowered engraving will bring peace to your heart when you look at this tiny urn.
Besides ashes, this mini-urn may also be used to keep a lock of hair or to hold the remains of a small pet.
It is also possible to buy a matching full-sized urn, so that you can find comfort in knowing that your smaller keepsake is a miniature of the larger one.
Liliane Memorials Aluminium Urn: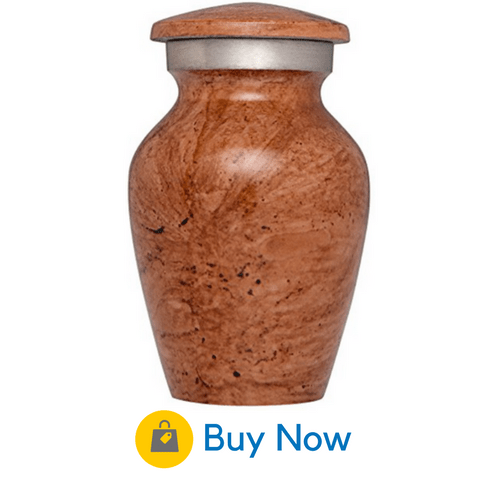 This is a handmade aluminum urn crafted by Indian artisans.
A design of marbled oak gives it a comforting wood grain look.
It is subtle and traditional enough to complement any home decor.
This small urn looks especially nice next to a framed photograph or in an office space.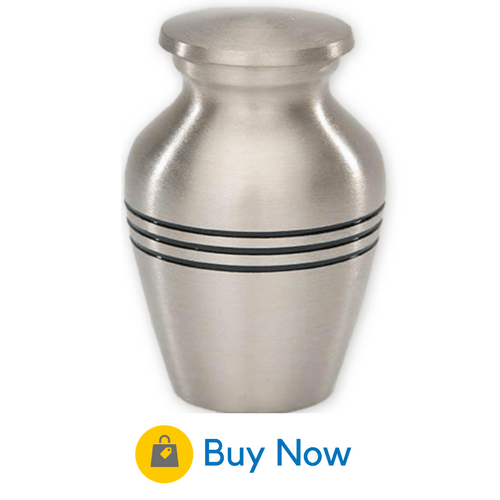 This is a metal urn which is just as sturdy as it is beautiful.
It's a perfect choice to display in busy homes as you won't have to worry about breakage by small children or active pets.
A brushed silver finish and a minimalist design of three simple black lines complete a look of simple elegance.
Tealight Urns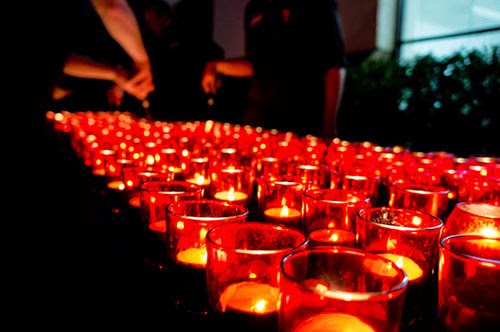 Lighting a candle is a profoundly meaningful way to acknowledge the light that your loved one holds within your heart.
The warm light of a candle has an effect of deep comfort and helps you feel in tune with the eternal.
And it's even more meaningful when combined with a beautiful urn that keeps your loved ones remains nearby.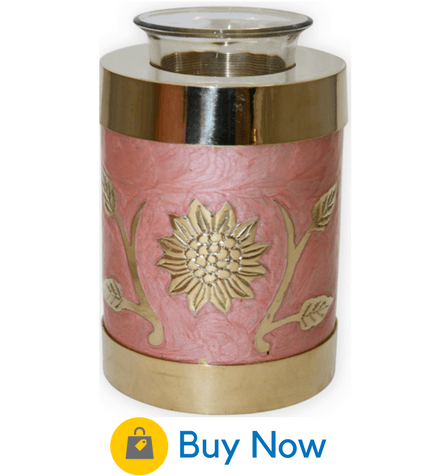 To memorialize a feminine soul as beautiful as a garden flower, this urn is perfect.
It's made of brass with a delicate design of gold flowers on a background of shell pink enamel.
Despite its ethereal appearance, it is weighty and durable, designed to stand up to years of use.
It's larger than other mini-urns and can be beautifully displayed anywhere.
Beautiful Life Urns Green Tealight: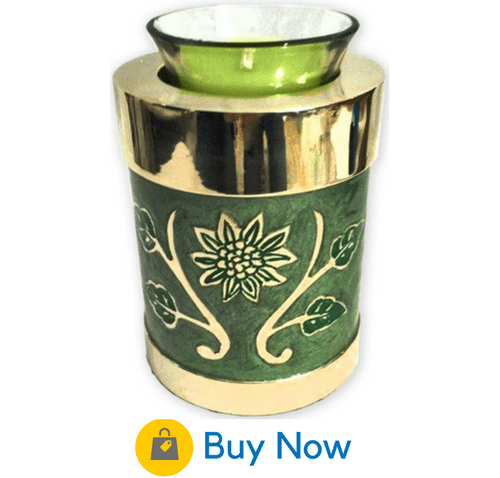 This is a decorative brass urn, features a design of green and gold flowers on a background of dark, earthy green.
The urn is heavy and sturdy, in spite of its delicate design.
It's an ideal choice for a loved one who adored flowers or gardening and who was a beacon of light to others.
Memorials4u Baroque Pearl Tealight Urn: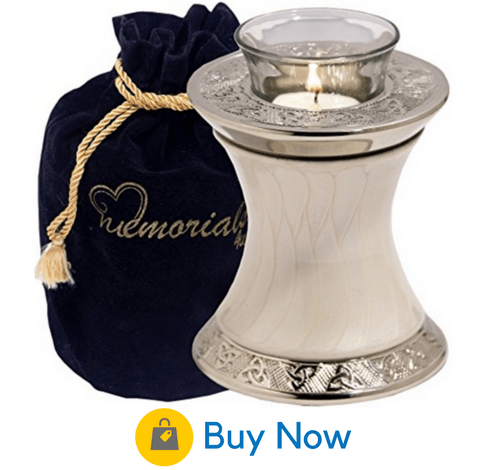 Larger than other keepsake urns featured here, this tealight urn can fit remains of up to 20 pounds pre-cremation.
Crafted in elegant brass with a smooth pearl white finish, this ethereal tea light will more than do justice to the life of your loved one.
It's also very discreet, as you can display it in your home as if it were simply a beautiful tea light holder.
Keepsake Jewelry
Keeping a small portion of ashes in a pendant, ring, or bracelet keeps him or her close to you in a real and intimate way.
You can look at or touch it as a reminder of your cherished friend or family member every day.
Jewelry can be crafted with personalization or meaningful quotes to make it even more special.
It can be simple or ornate, in almost any size, style, or color.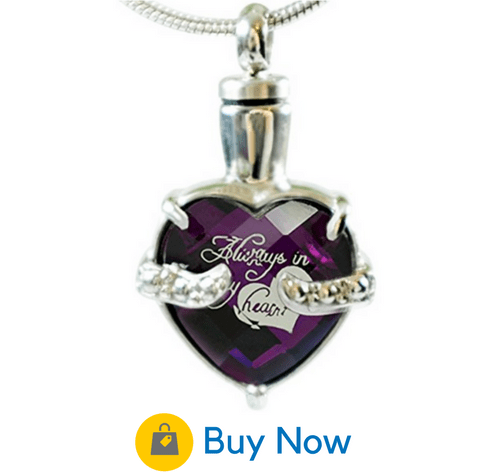 An inspirational quote ("Always in my heart") is laser engraved on the inside of this purple glass heart pendant.
The setting and the 18-inch chain are both crafted of scratch-resistant stainless steel.
The necklace comes with a velvet bag as a suitably elegant storage space.
Presently, Infinity Keepsakes are offering a promotion which allows family members to purchase five pendants and get one for free.
Zoey Double Heart Rose Gold Urn: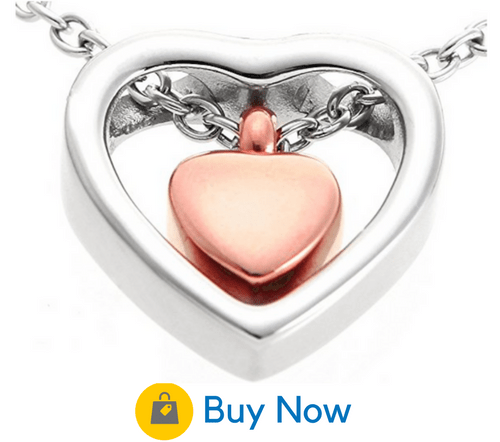 This necklace features a stainless steel heart-shaped pendant enclosing a rose gold heart within it.
The pendant and chain are guaranteed to never rust or corrode.
It is a wonderfully sweet and simple way to wear your loved one close to your heart all day long.
You can put ashes inside it, or you can use it to hold a lock of hair or soil from a special place.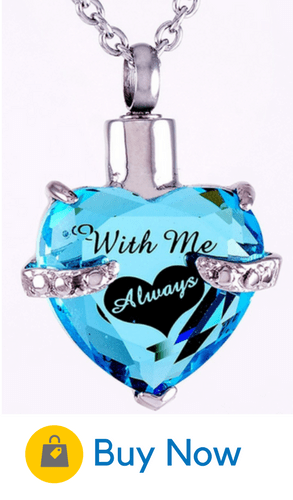 A pendant of delicate blue rhinestone can be worn every day on a 20-inch cross chain necklace.
The words "With Me Always" are laser engraved inside the stone.
The piece is tiny, and great care must be taken to fill it using the funnel kit provided.
Only a tiny portion of ashes may be included in the necklace.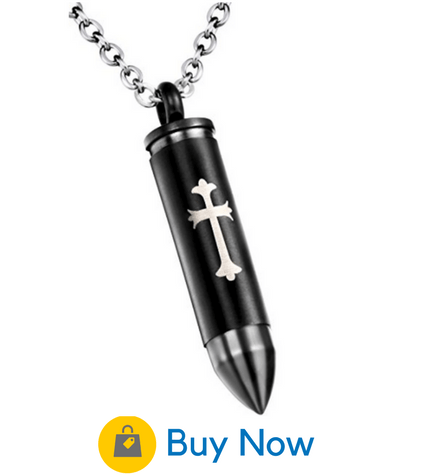 Wearing cremains in a piece of tasteful jewelry is no longer a comfort reserved only for women.
This cylinder-shaped stainless steel pendant is both masculine and meaningful.
The pendant is black with a silver cross boldly etched on it.
It's a great way to share cremains among male members of the family.
Valyria Angel Wing Birthstone Urn: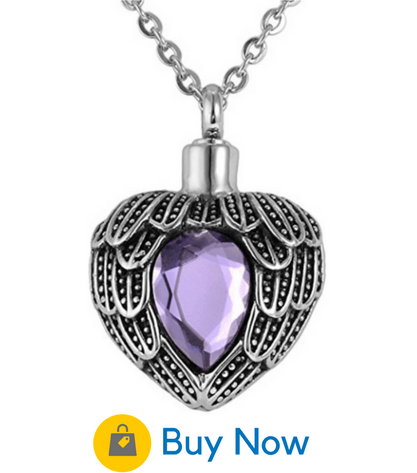 A stainless steel heart made of delicate angels' wings frames a birthstone jewel to memorialize your loved one and hold their remains close.
You can choose from 14 different colors for customization.
The pendant is waterproof and designed to stand up to years of wear and tear.
Why Use a Keepsake Urn
Unlike traditional urns which hold the cremains of an entire person, these urns will hold just a small portion of ashes.
There are a number of situations in which you might consider using a keepsake urn instead of, or in addition to, a larger, traditional cremation urn.
If burial has been chosen, you may want to keep a small portion of ashes close to you.
A keepsake urn may also be used to hold other items and mementoes, such as hair or jewelry.
A set of keepsake urns may be used in addition to a larger urn so that small portions of ashes can be shared among different family members.
If ashes have been scattered, a portion of the ashes can be kept in keepsake urns to give a comforting sense of permanence, even if people move away from the location.
Keepsake urns come in a variety of colors and styles. You can easily choose a keepsake urn that reflects the unique spirit of your loved one.