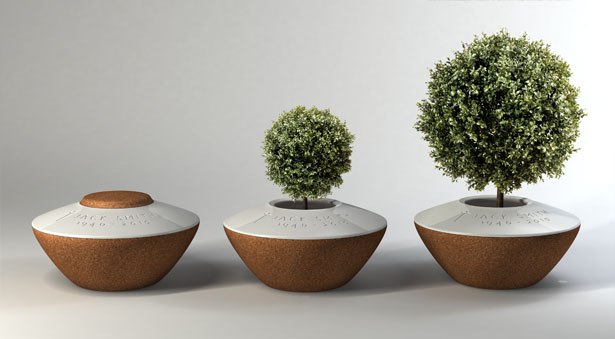 Many of us are paying more attention to how we treat the world we live in.
And this also goes for making decisions at the end of life.
What we decide to do with our loved one's ashes doesn't need to impact the environment.
Biodegradable urns are a great option.
They are eco-friendly, elegant, and a beautiful way to memorialize a loved one.
This guide will teach you everything you need to know about biodegradable urns.
We'll discuss the different types that are available, where to purchase, and how to even make one yourself.
Tree Urns: What are they?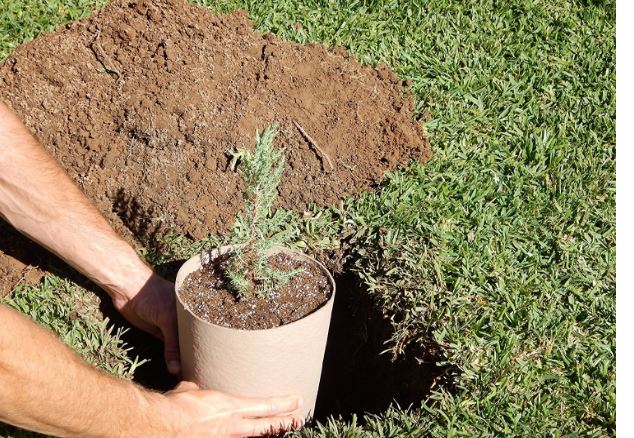 A tree urn is the ultimate eco-solution that serves both the one you want to honor and the environment.
It allows life to start again in the ashes of one that's ended.
How do they work?
This ingenious invention is a 100% biodegradable and environmentally friendly urn.
They come with seeds that are mixed with the ashes. And when planted, your urn will grow into a tree.
You can take comfort in that you're contributing to cleaner air while beautifying the environment.
This product offers a sustainable green solution to burial needs while benefitting the environment indefinitely.
The Best Tree Urns on the market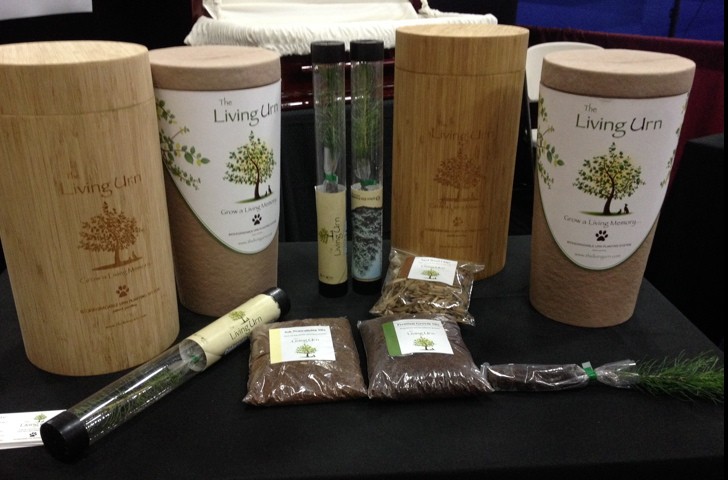 A few companies have created some innovative tree urn products. Below are a few that we have reviewed and recommend: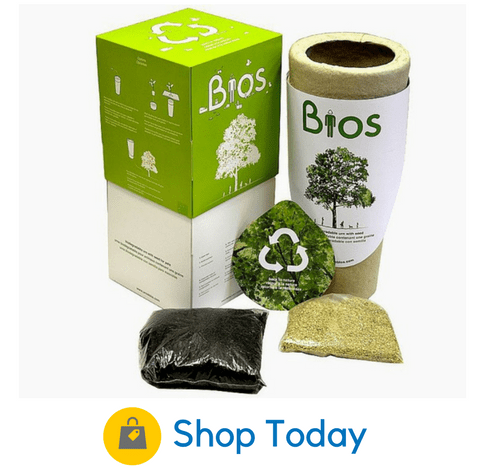 The Bios Urn is the world's first biodegradable urn designed to convert your loved one's ashes in a tree.
It seems to be the most popular and highly regarded product on the market.
The urn is made with 100% biodegradable materials.
What do you get?
The Bios Urn comes with the option of a number of seeds, which you can choose when ordering.
The urn is a cardboard tube made of two separate cones, the bottom one for the ashes and the top one for a soil mix and the seed of choice. The two cones are buried together.
How to purchase
For more details about the urn, check out their amazon store for the best price.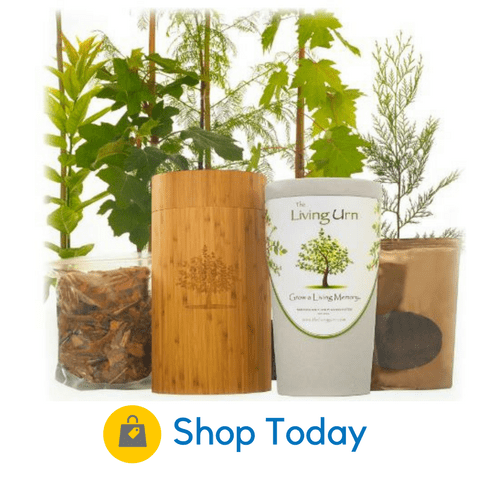 The Living Urn is the second most popular tree urn on the market.
The kit comes with seedlings to grow a tree and a stylish bamboo container.
Made from recycled plant materials using only water, heat and pressure, the urn is completely biodegradable.
How it works
To ensure successful growth of the tree, seedlings rather than seeds are provided with the urn.
The cremated remains are placed in the urn with ash neutralizing agent on top. Next, the tree seedling roots with special growth mix is added.
Because a tree urn allows people to grow a living keepsake, they have become a very popular choice when deciding what to do with the remains of a loved one.
How to purchase
For more details about the living urn, check out their amazon store for the best price.
More about Tree Urns
If you're interested in knowing more, take some time to read our Tree Urns Review.
Biodegradable Urns for Water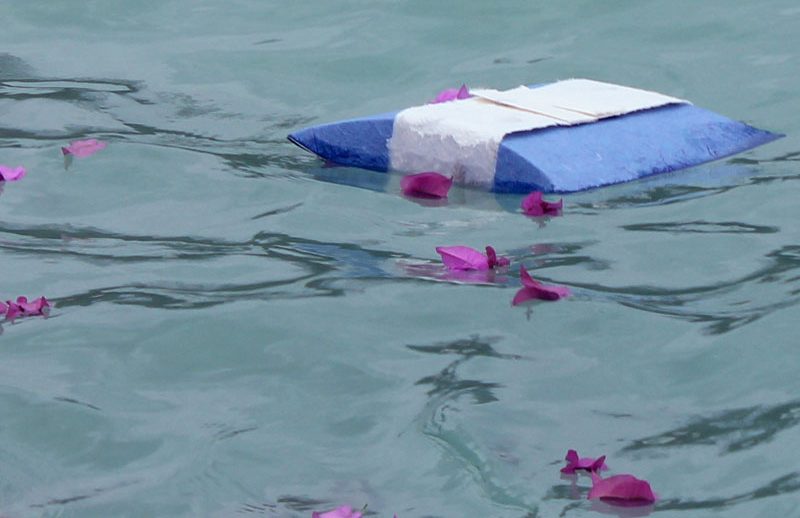 Many people displayed an enduring love for water over their lifetimes and wish to be united with the ocean.
The scattering of ashes across a body of water has become popular, but it is not a process without problems.
Why use a Water Urn?
Biodegradable urns for water makes the process easier and also creates a dignified atmosphere for the cremation ceremony.
They are designed to break down naturally when exposed to water.
How do they work?
You place the remains in the urn after first putting it in a ashes container. Make sure you use a water soluble bag.
A plastic bag might end up harming the environment and the urn might not sink.
These water urns are usually made of recycled paper, natural clay, wood, plant fibres, and similar materials that decompose easily over time.
Below are some very popular urns: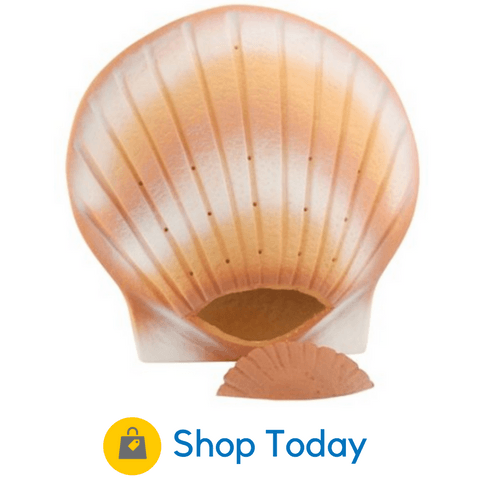 This beautiful shell urn is hand-crafted from non-toxic, food-grade recycled paper.
It comes with a custom carrying case and includes a water-soluble plastic bag for cremated remains.
Engineered to float for approximately five minutes before descending, the urn biodegrades naturally over time.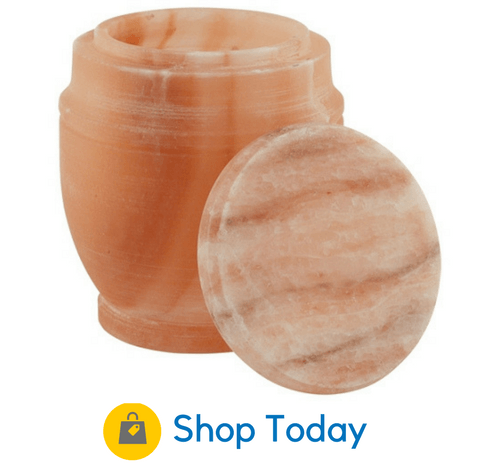 This Himalayan urn is the perfect option for scattering at sea.
It's made of Himalayan rock salt deposits, believed to be over 250 million years old.
Main features
The urn typically dissolves within 4 hours when placed in water.
Each urn looks slightly unique in shape, making it a special choice for a person you want to honour.
More about Water Urns
If you are considering a water scattering, have a look at our guide specifically written about biodegradable urns for water.
You maybe also interested in reading our scattering at sea guide which will give you some great advice about planning a ceremony.
Eco Urns for Burial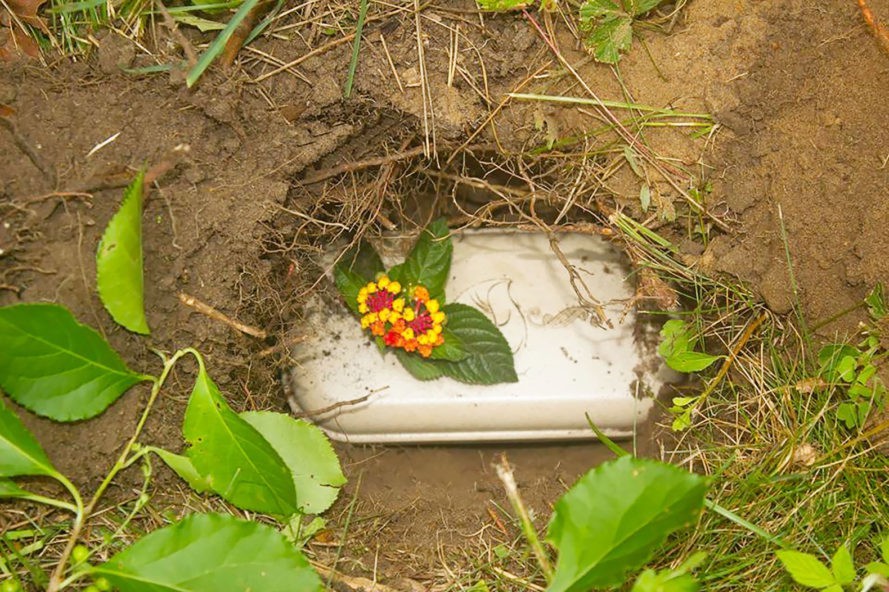 If you've decided to inter the ashes, an eco urn is a great choice that will not cause harm to the environment.
Eco urns are made of a variety of biodegradable materials – usually paper, bark, leaves, sand, and other materials.
These urns leave no trace after they have been absorbed into the earth making them an ideal choice for burials.
Buying an Eco Urn
Your loved one's ashes will be taken care of in a sustainable and eco-friendly manner. Below are some great eco urns on the market that we recommend:
Perfect Memorials Biodegradable Box: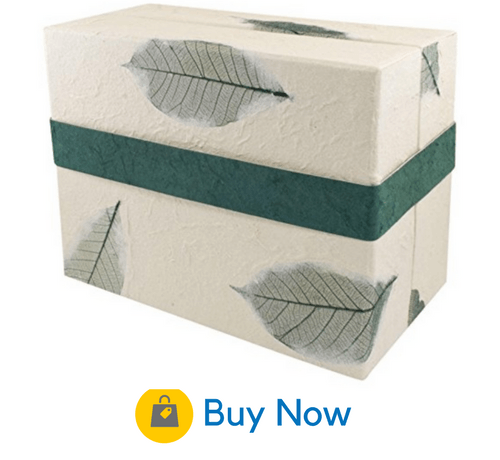 The Perfect Memorials Urn is a stylish box-shaped urn made by hand from recycled and earth-friendly materials and biodegrades naturally when buried.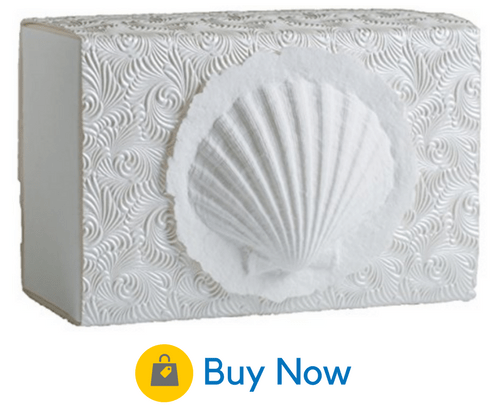 This biodegradable urn derives its name from its stylish design which is so attractive that you would want to put it in a favourite place.
It's large and comes with a richly embossed white quartz metallic paper decorated in an attractive swirl.
Passages Biodegradable Urn for Two: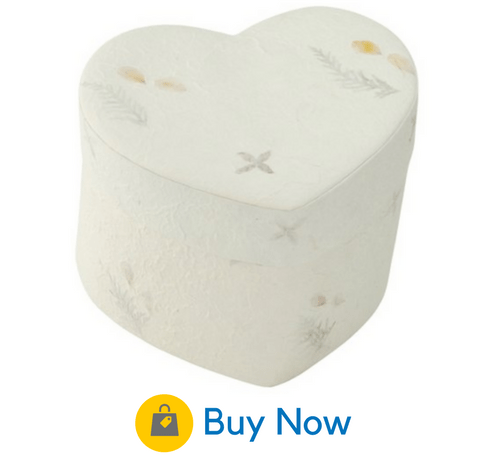 This is an extra large eco companion urn made from biodegradable tree bark. It comes in an attractive Ivory.
It's a companion urn, meaning it's suitable for the remains of two people or a large person.
Eco Urns for Pets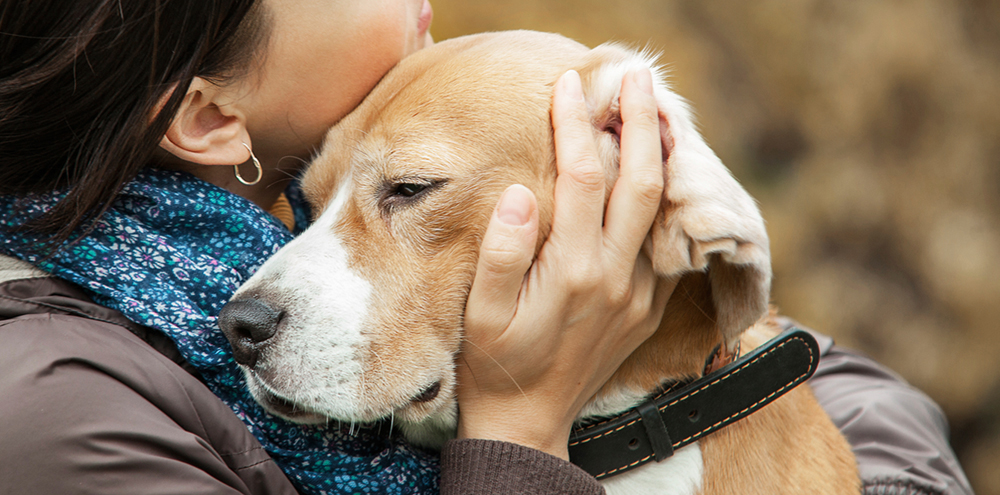 Biodegradable urns are not only available for humans. Our pets have a special place in our hearts and naturally we want to give them a proper send off.
These days, pet cremation is very common, whether it's cremating a dog, or a cat.
There are a wide variety of eco-friendly cremation urns for pets to choose from.
Below we'll discuss the most popular products on the market:
Paw Pods Biodegradable Pet Burial: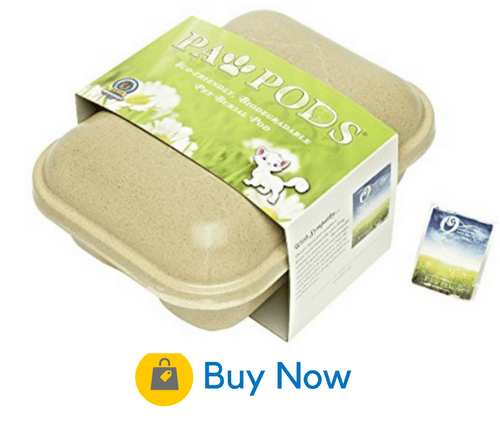 These natural looking pods are a very popular choice with pet owners.
They come in different sizes and are made from durable but fully biodegradable materials.
Each Paw Pod includes a sympathy card and seeded leaf designed for planting with the pod.
The Medium Paw Pod is suitable for cats, small dogs, rabbits and similar small animals.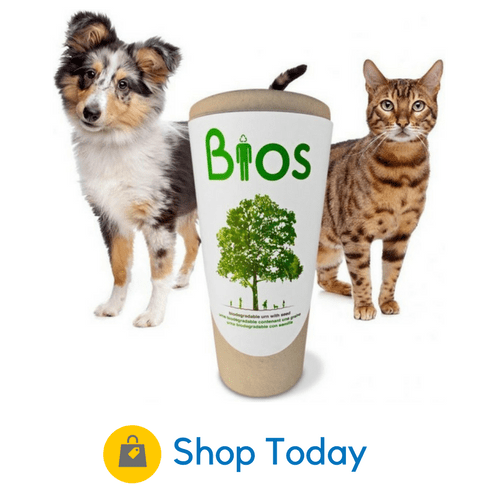 The Bios Urns for Pets will turn your beloved pet's ashes into a memorial tree.
Although commonly used with cats and dogs, it's suitable for all pets.
If you want to find out more about the product, check out their amazon store.
The Living Urn all-in-one system that includes a biodegradable urn, premium planting mix, ash neutralizing agent, aged wood chips and a
It also comes with beautiful bamboo cover that serves as a special keepsake box once you plant urn.
The system looks attractive and natural, making it easy to memorialize your beloved dog or cat with a tree or plant that will look right anywhere in a garden large or small.
This feel-good solution is a 100% biodegradable urn made from recycled plant materials. Even the manufacturing process is eco-friendly as it uses only water, heat and pressure.
To ensure that your tree or plant grows and thrives, the system comes with special additives to offset the high pH and sodium levels in cremated remains.
How to make a biodegradable urn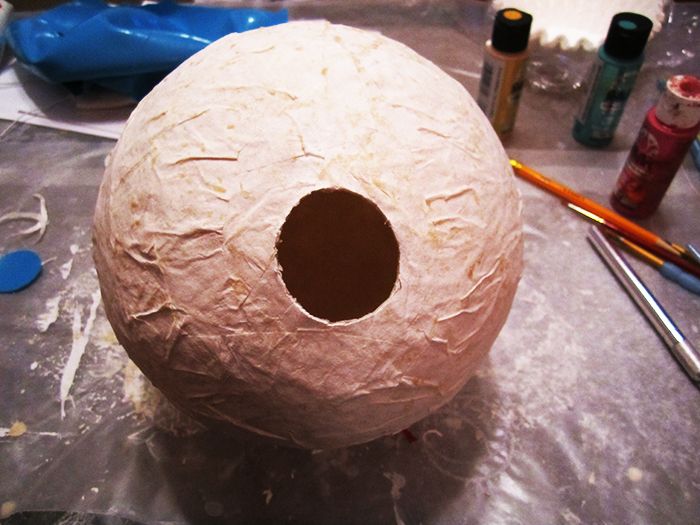 If you are handy and enjoy working with your hands, making your own eco-friendly urn would be a special and cost effective experience.
Paper Mache Urn
Ideal for a sea burial, a paper mache urn allows you to put the ashes in a container instead of scattering, which can cause difficulties.
Of course, this kind container can also be used to bury the remains.
Once you've personalised and finished your eco-friendly container, it's a good idea to obtain a special biodegradable plastic bag to first put the ashes in.
Here is a great video to help you with the basic steps using a balloon to create an oval shape.
When the glue has dried you can decorate the urn to your taste and use it to contain the remains, which you can cover with paper or a Paper Mache lid.