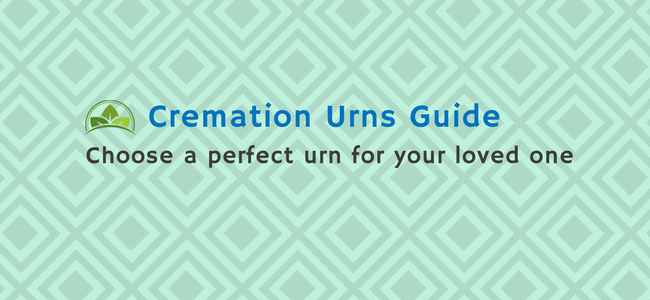 If you're looking for a cremation urn for the first time, you're probably surprised how many types exist.
And you're probably not sure which one to choose.
But don't worry, this guide will help you figure out what urn to choose.
Cremation Urn Sizes:
| | | |
| --- | --- | --- |
| Urn Sizes | Volume in Cubic Inches | Body Weight In Pounds |
| Extra Small | 25 | 25 or less |
| Small | 25-50 | 25-50 |
| Medium | 50-125 | 50-125 |
| Large | 125-200 | 125-200 |
| Extra Large | 200+ | 200+ |
When purchasing a cremation urn online, you may be nervous that it might not be the right size.
After all, you don't want to pay for more urn than you really need.
But you also don't want to face the terrible situation of not being able to fit all the ashes inside.
Calculating the size needed
When calculating the size of the urn you need, a good rule to keep in mind is that one pound of body weight equals one cubic inch of remains.
By that logic, a man who weighed 170 pounds needs an urn that holds 170 cubic inches.
Cremation Urn Costs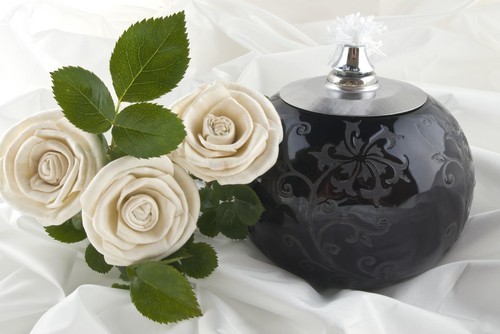 It's a tough question to answer because there's so many types of cremation urns available.
But generally, expect to pay between $50-$500, with the average price being around $100.
The size of the urn, material, design, and material are all factors that will influence the price.
Types of Cremation Urns
You may want to choose a traditional urn for display in your home. However, this is not the only option.
Urns can be used for a wide variety of purposes.
They can be used as a display, or as a small keepsake.
They can look like a vase, a wooden box, or even a delicate shape floating on the water.
The type of urn you choose will depend on the purpose for which you intend it.
Here are some ideas.
Burial Urns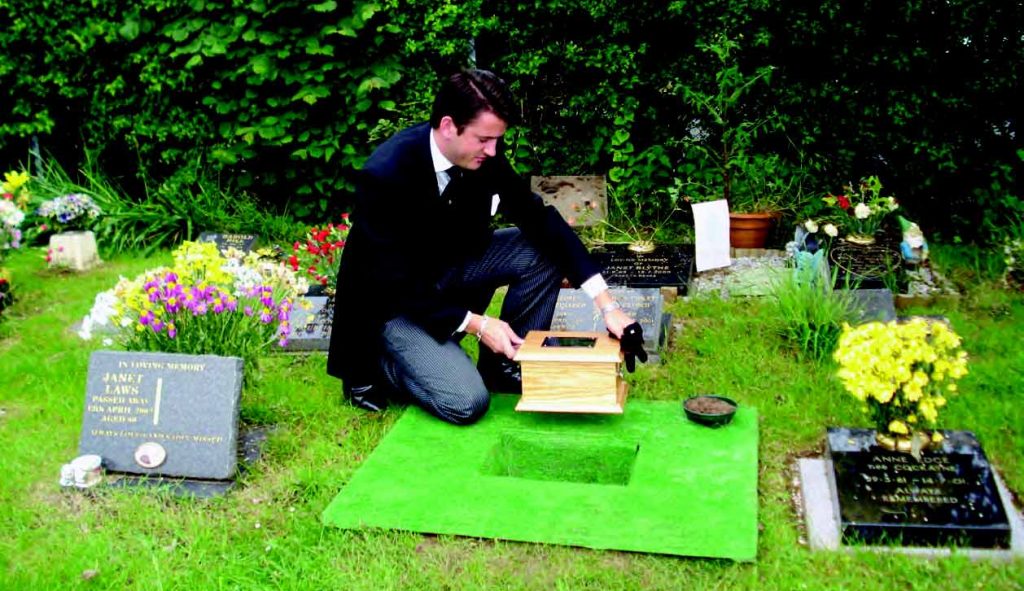 If you have chosen to bury your loved one's remains after cremation, you need an urn that is sturdy and durable.
But it also should reflect the personality of your loved one in some way.
A nice selection of durable but beautiful burial urns are available on the market.
The Eternal Peace Lavender Adult Urn: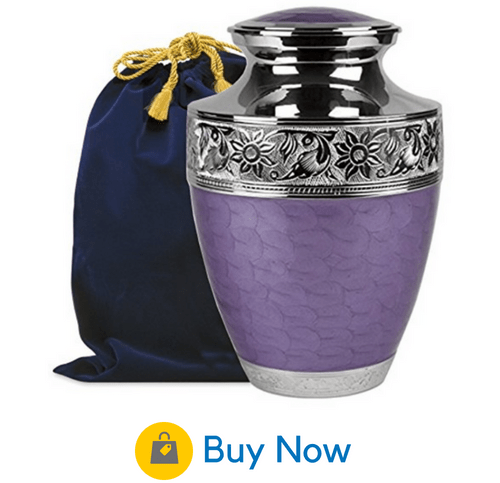 This beautiful and durable urn is handcrafted of solid brass and coated with an elegant lavender enamel finish.
It's sturdy enough that you can display it in your home without any fear that it might easily tip over. A wide mouth makes it easy to put your loved one's remains inside.
Photos can hardly do justice to the beauty of this urn. It holds the remains of adults weighing up to 200 pounds.
Memorials4u Elite Interment Urn: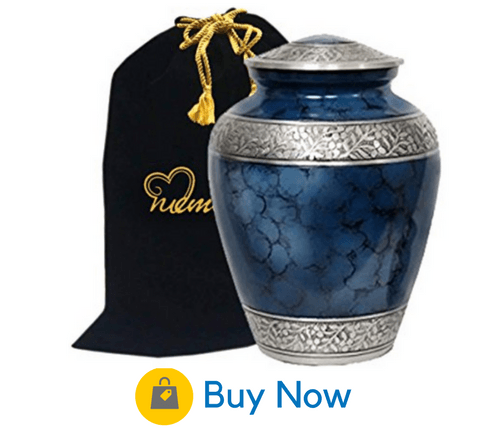 Yet another sturdy but beautiful choice, this urn boasts a warm, vibrant blue shade adorned with
silver engraving.
The attractive color is equally appropriate to the remains of a male or female.
Reviewers appreciate that the threaded lid screws on easily but firmly.
A height that is somewhat shorter than other urns opens up new possibilities for display in shelves or niches of your home.
Despite this, the urn will still easily hold the remains of a large adult.
Classic Burial Urn By SmartChoice: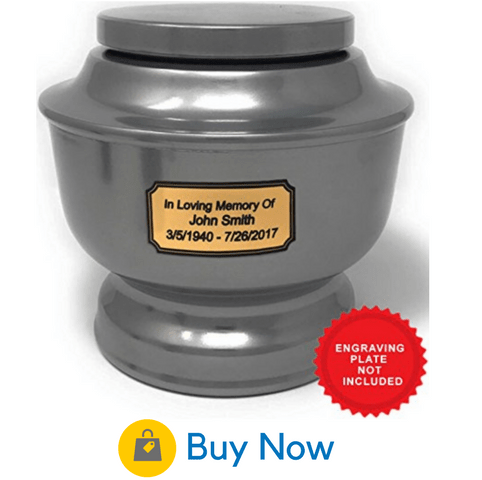 The Smartchoice urn comes with a handy velvet bag for easy storage. But it's classic and stunning look is great for display, too.
It's more than large enough for the remains of any adult.
It comes in a variety of colors, including a classic shade of black, delightfully feminine pink, or smooth, simple white.
Wings of Freedom Brass Interment Urn: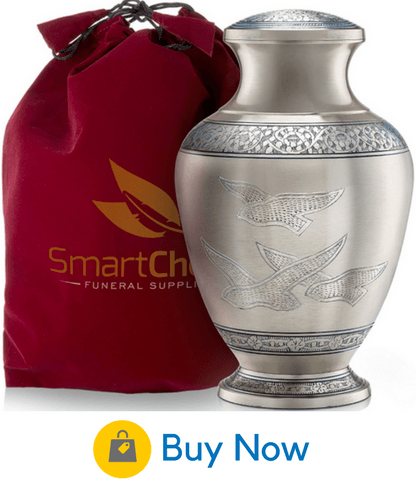 Crafted in high-quality metal with a royal blue finish, this brass urn is a unique and timeless choice.
A polished dove design with delicate leaf borders make it a perfect memorial for a loved one who served in the armed forces.
The seller takes special care with the packaging so you don't have to worry that the urn will become damaged in transit.
Serenity Large Red Beautiful Adult Cremation Urn: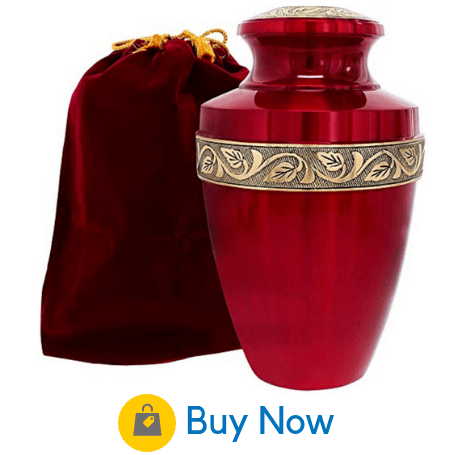 A glossy crimson and burgundy finish adds a dramatic and eye-catching flair to this solid urn.
The Serenity Urn is large enough to fit your loved one but small enough to be tastefully displayed on a shelf or mantle.
It can be easily personalized with the help of a local jeweler or engraver.
The urn is just as lovely as any that you would find at a funeral home, but costs a fraction of the price.
Divinityurns Purple Droplet Cremation Urn: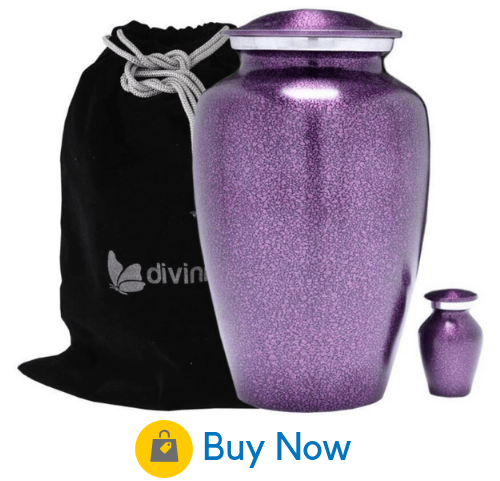 A large urn accompanied by a free matching keepsake urn is an unbeatable deal.
You can display an urn in your home, while also distributing small portion to a loved one.
The urns come in a stunning shade of purple impossible to accurately capture in photos.
The bold sparkle of these urns make it a great way to memorialize a soul that had its own special shine.
The Fedmax urn with delicate details of leaves and flowers make this a gorgeous memorial.
It comes with a velvet bag for added elegance and convenience.
The urn is tall and stately. Be aware that it may be too tall to fit in some niches.
But the beautiful colors and sturdy design will be a fitting addition to any decor, and certainly attract positive comments if displayed during a funeral or memorial service.
Another large and affordable choice, the Zeus Sapphire comes in a deep and striking shade of blue.
It's handcrafted of brass. A sturdy felt base makes it easy to display, and a threaded lid gives you a much needed sense of security.
A velvet bag of gun-metal gray adds to the elegance and convenience of this gorgeous urn.
It's large enough to easily fit the remains of most adults weighing up to 200 pounds.
Forever Remembered Classic Adult Cremation Urn: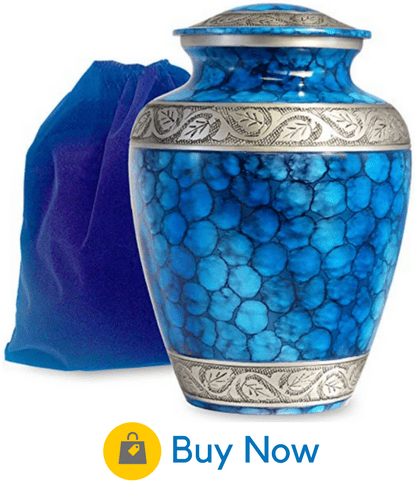 This handcrafted brass urn is notable for its stunning Mediterranean blue finish.
Besides creating an urn that honors the memory of your loved one, Trupoint is also known for exemplary customer service.
If you have any complaints about your urn, they are committed to fixing the problem, and show a level of compassion that goes above and beyond.
The urn travels easily and stands up well to the test of time.
Eternal Harmony Cremation Urn for Human Ashes:
Although this urn is smaller than some of the others on the market, it will still fit the remains of a large adult.
It's also easy to display just about anywhere.
It comes with a special screw mechanism to ensure a proper seal between the lid and the vase.
You can choose from six different (and equally stunning) colors. These include Blue Peace, Purple Silver, and Silver Pearl.
The MEILINXU Ceramic Burial Urn: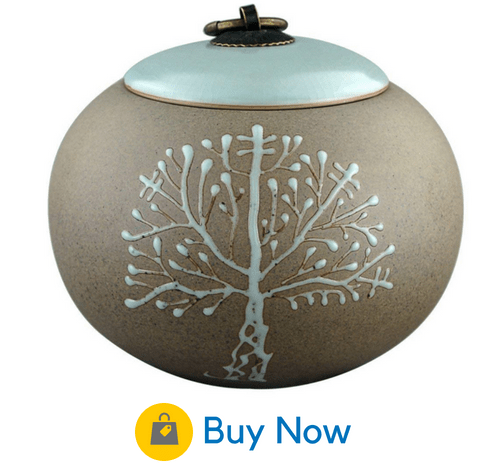 This is a stunning ceramic urn patterned with a delicate and comforting tree of life design.
A beautiful lacquer finish makes it look smooth and glossy.
It's a smaller urn, ideal for the remains of pets or of humans weighing up to 50 pounds.
You might also consider purchasing several of them to share a loved one's ashes among different family members.
MEILINXU also offers matching keepsake urns, which can be purchased separately.
Ocean Tides Beautiful Adult Cremation Urn:
A swirl of warm and peaceful ocean colors makes this urn a comforting remembrance.
It's especially appropriate if your loved one spent many happy hours enjoying the ocean waves.
The seller stands behind their products, offering a full refund if the urn fails to satisfy.
Each handcrafted urn has a slightly different design, ensuring that yours will be truly unique.
The urn comes in a velvet carrying box.
Lavender Butterflies Cremation Urn:
This butterfly urn is crafted of brass and decorated with a pattern of beautiful silver butterflies.
A lacquer coat in a delicate shade of lavender will keep the urn glossy and brilliant for years to come.
The pattern on each urn is unique, so you can be sure that yours is one of a kind.
Many traditions see butterflies as symbols of human souls or of resurrection. This makes them an ideal decoration for a memorial urn.
GetUrns Adult Embrace Purple Butterfly with Custom Engraving:
Most of the urns on our list are easy to personalize by taking them to a professional engraver.
But this urn comes with 3 lines of custom engraving included, a welcome convenience at such a difficult time.
The urn has a smooth glossy purple finish, evoking feelings of luxury and comfort. A gorgeous decoration of flying butterflies symbolizes peace and freedom.
Four different sizes are available. An adult urn can hold the remains of a person weighing up to 200 pounds. You can opt for an Extra Large urn for a loved one who weighed up to 400 pounds.
Lotus Tranquility Funeral Urn:
A lotus flower is a beautiful Buddhist symbol of purity and detachment.
That's what makes this tranquility urn such a wonderful way to remember your lost loved one.
More information about Burial Urns
Check out our "Burial Urns Guide" which lists some of the best urns currently available on the market.
Religious & Cross Urns:
Fedmax White Funeral Cross Urn:
A white cross urn with an ornately detailed cross lends an extra note of reverence and refinement to any funeral service.
Despite its solid and luxurious appearance, the urn easily costs just half of what you would pay for a similar product from a funeral home.
The sturdy brass construction gives the urn a comforting weight and stability.
Grace and Mercy Pewter Cross Adult Cremation Urn:
The cross details on this urn are skillfully hand carved in pewter.
The design is simple and timeless. It will make your funeral service look classy, without going over the top.
A velvet bag makes it easy for you to store or transport cremains in style.
Another simple yet ornate urn, this one comes in pewter with a design of a gold cross and detailed gold bands encircling the urn.
A glossy lacquer coat adds to the overall impression of elegance.
The urn is created by an ancient and unique sand casting process, making it a fitting memento for a very special loved one.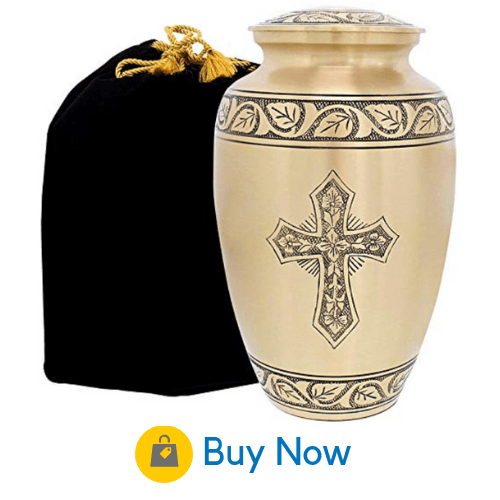 This handcrafted and polished urn is another simple yet inspiring choice.
The cross design is understated yet beautiful.
You can also purchase a small matching keepsake urn, or a set of four of them.
Holy Spirit Dove Stained Glass Urn:
The image of a dove surrounded by a brilliantly colorful stained glass window evokes deep feelings of comfort.
A dove is a traditional symbol of peace, and also represents the "Holy Spirit" coming upon Christ at the time of his baptism.
The vivid colors bursting around this simple dove are perfect to honor a soul that was full of color and brimming with the "Holy Spirit."
Love of Christ Keepsake Burial Urn: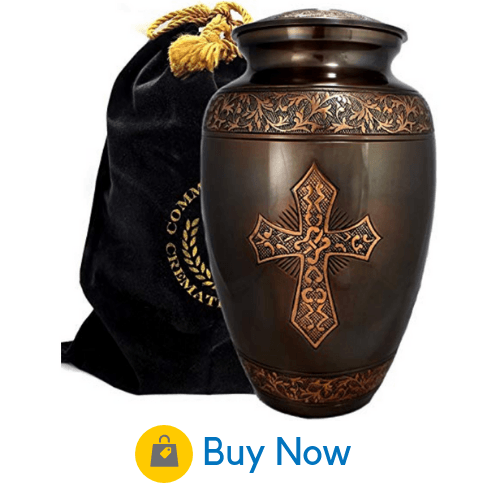 This large Christ urn is suitable for home display as well burial.
The urn is heavy and sturdy, an impression enhanced by the glossy copper finish.
It is decorated with a simple black cross and trim.
Wooden Urns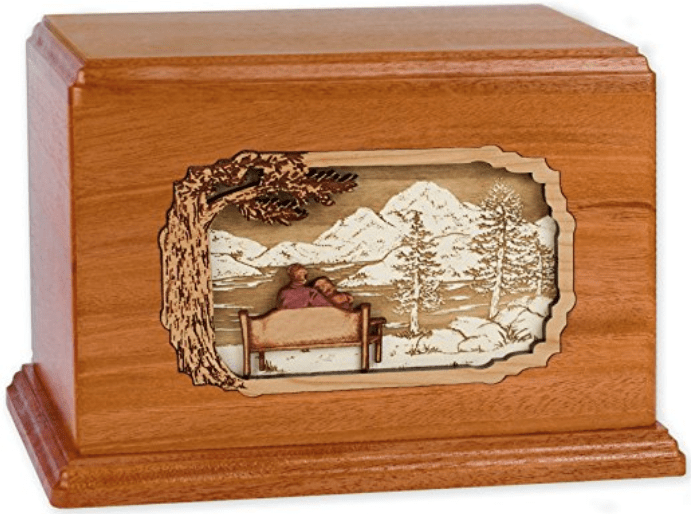 There's something reassuringly simple and old-fashioned about a wooden urn.
And they come in a wide variety of shapes, styles, and sizes.
Some are graced with elegant carvings, while others are plain and unadorned.
Wooden urns can be carved from rosewood, catalpa wood, walnut, or just about any other kind of wood you can think of.
Buy a Wooden Urn
If you're interested, take a look at these wooden urns to find the perfect one to memorialize your loved one.
Keepsake Urns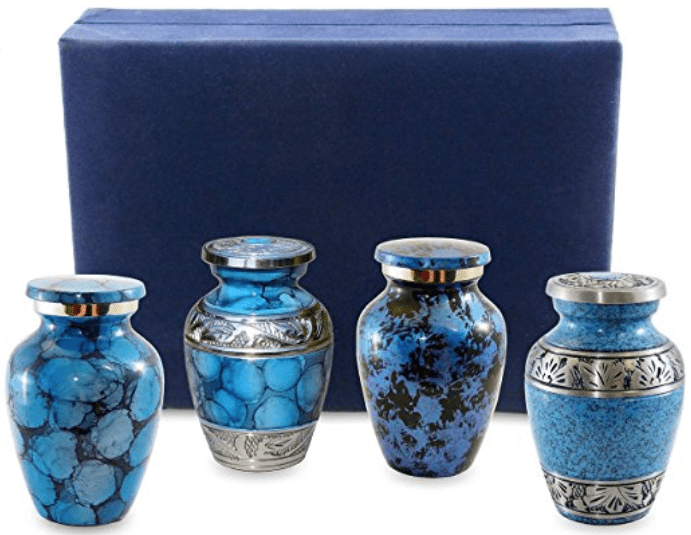 Small enough to fit in the palm of your hand, a tiny keepsake urn allows you to keep your loved one close to you always.
You can use it to keep a small portion of your loved one's ashes if you have chosen to bury or scatter the remainder.
Many people also purchase a set to be share among children, siblings, or friends.
More about Keepsake Urns
Need a Keepsake Urns? Find out more and see our top picks for these mini urns.
Cremation Boxes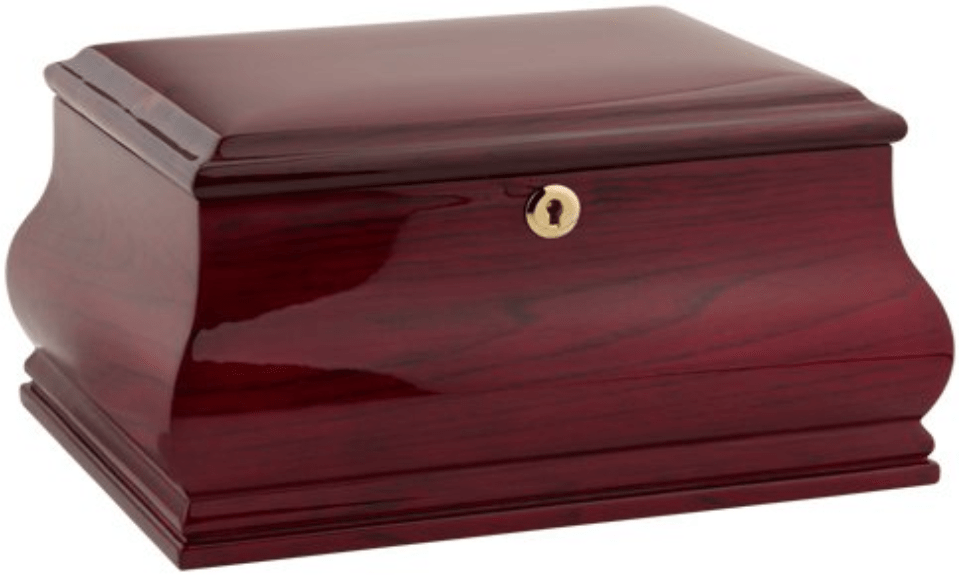 If you think that an urn has to look like a tall elegant vase, you would be wrong!
Simple and sturdy, a cremation box can look great almost anywhere.
They can be large or small, simple or intricate.
It can complement any decor and doesn't even have to look like an urn.
Choose a Cremation Box
Here is a great selection of elegant cremation boxes from which to choose.
Companion Urns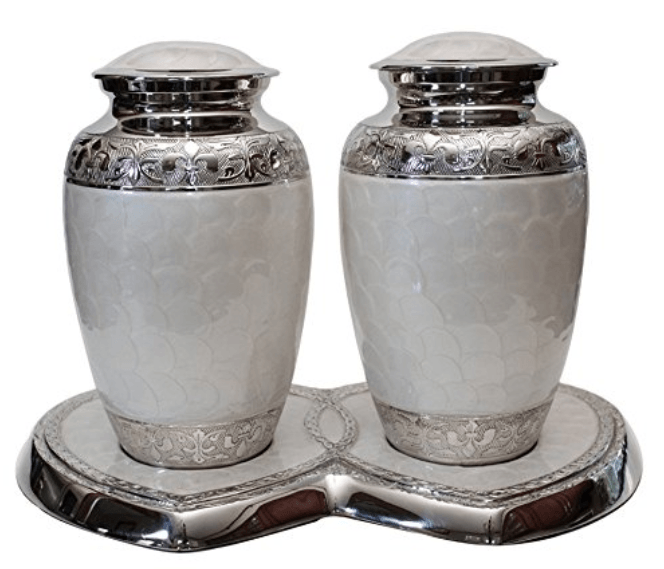 If you want to memorialize a loving couple, companion urns are a wonderful tribute.
They offer comfort in the suggestion that your loved ones maintain their strong bond in the afterlife.
These urns are also used for a very large people.
More about Companion Urns
See our "Double Urns Guide" for more information about these urns and what designs are available.
Biodegradable Urns For Water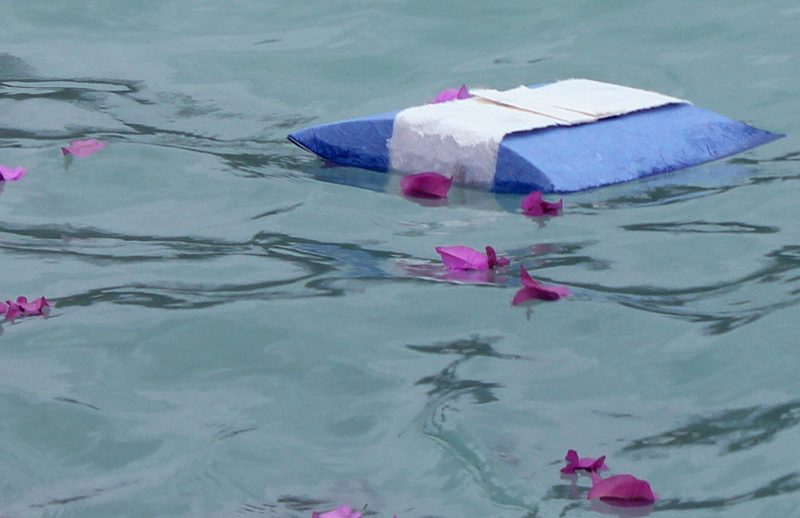 Scattering ceremonies or water burials can be incredibly memorable and meaningful.
But such ceremonies require exactly the right kind of urn.
Choosing the right urn
Urns intended for ground burial do not break down easily and can pose a threat to wildlife and the ecosystem…not a great tribute to your loved one.
But a biodegradable urn made specifically for this purpose will dissolve and quickly become one with nature.
Any of these biodegradable water urns will suit the purpose perfectly, and add a deeper meaning to your water burial.
Tree Urns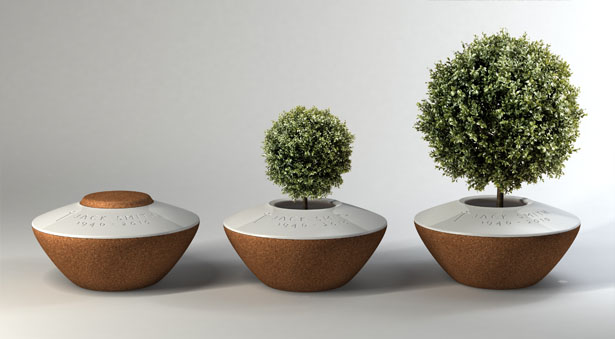 What better way to remember a loved one than through the beauty of nature?
Just like the human spirit, nature dies and then is reborn in an ongoing cycle.
Besides serving as a meaningful memorial, a tree urn also helps clean the air and enrich the soil, improving the quality of life for everyone.
And you can remember your loved one every time you go outdoors or look outside your window.
Baby Urns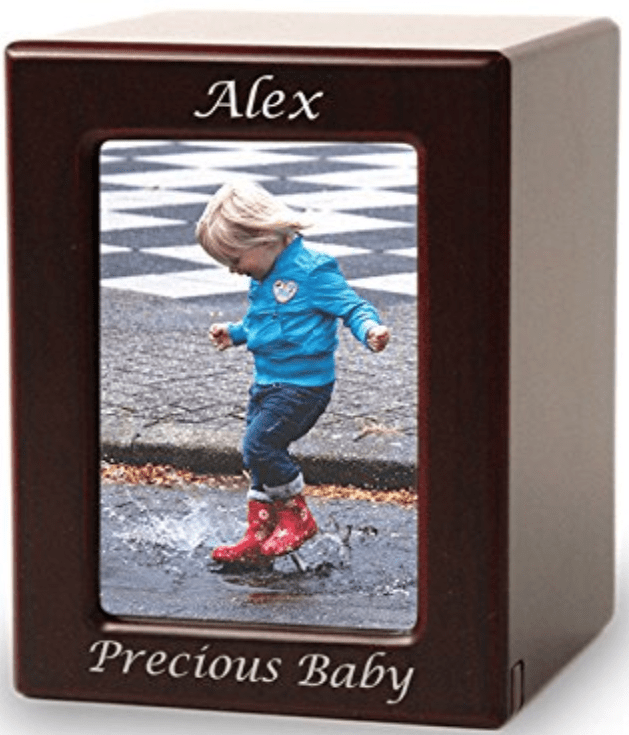 No one wants to even think about purchasing an urn to hold the remains of their precious baby.
But as time passes, a beautiful urn can be a tremendous source of comfort.
As you look at it on your mantel or at your bedside, it will bring sweet memories and console you with thoughts of your lost little one.
Here is a selection of lovely baby urns to do justice to the memory of your little one.
Affordable Urns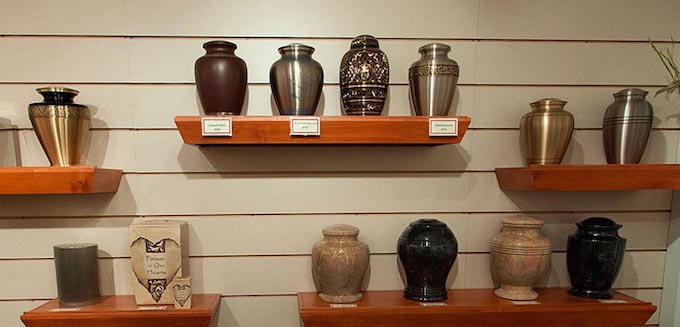 Whether expected or not, cremation costs can take you by surprise.
Fortunately, you can honor your loved one's memory without draining your bank account.
We have compiled a review of quality cremation urns under $100.
Custom Urns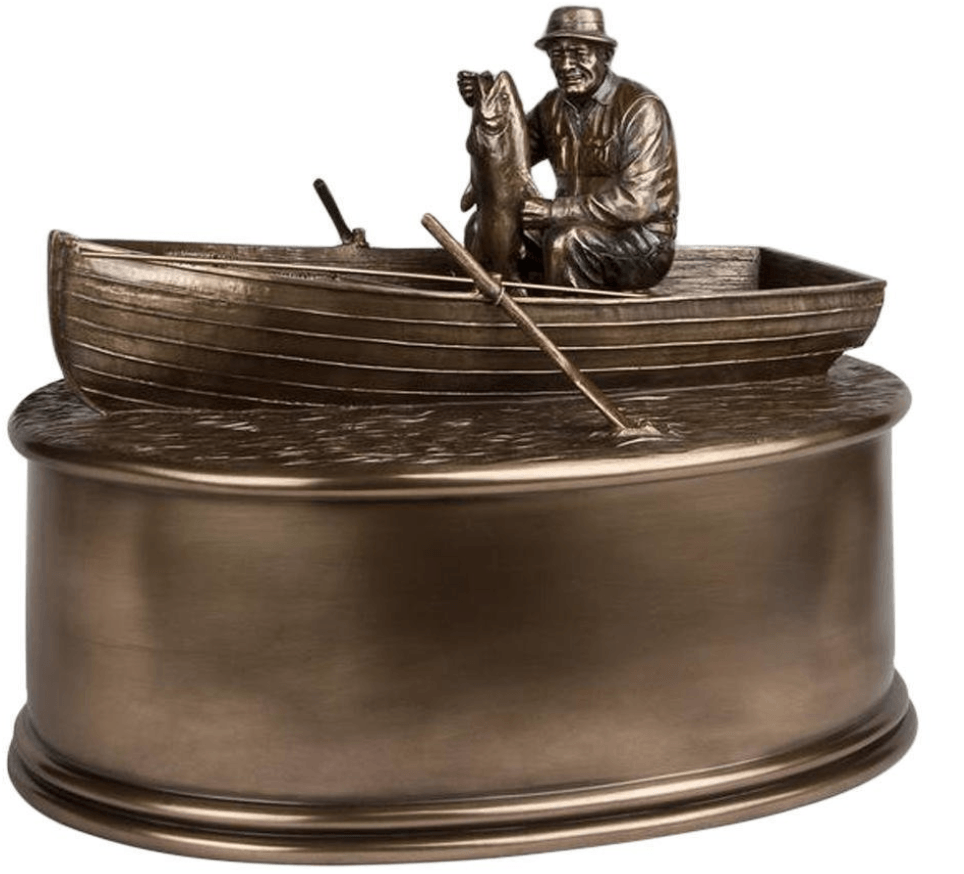 For certain personalities, the traditional just won't do.
If your loved one had a strong and unique spirit, you want to remember these qualities in him or her.
A custom urn celebrates a character trait or a particular interest that made your loved one stand out.
Here you'll find a selection of unique custom urns to celebrate a unique spirit.
Pet Urns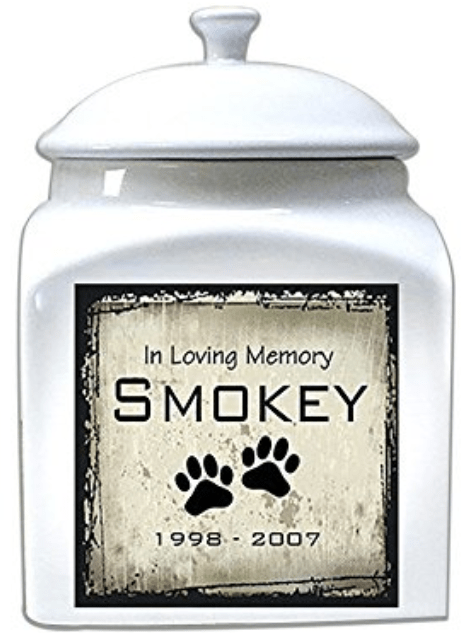 Only pet-owners can understand how much this member of your family meant to you.
They were your best friend, your daily sidekick, your source of unconditional love.
Their loss has left behind a huge hole in your life and in your heart.
And they will have a place in your heart for eternity.
A pet urn is a wonderful way to demonstrate that.
Dog Urns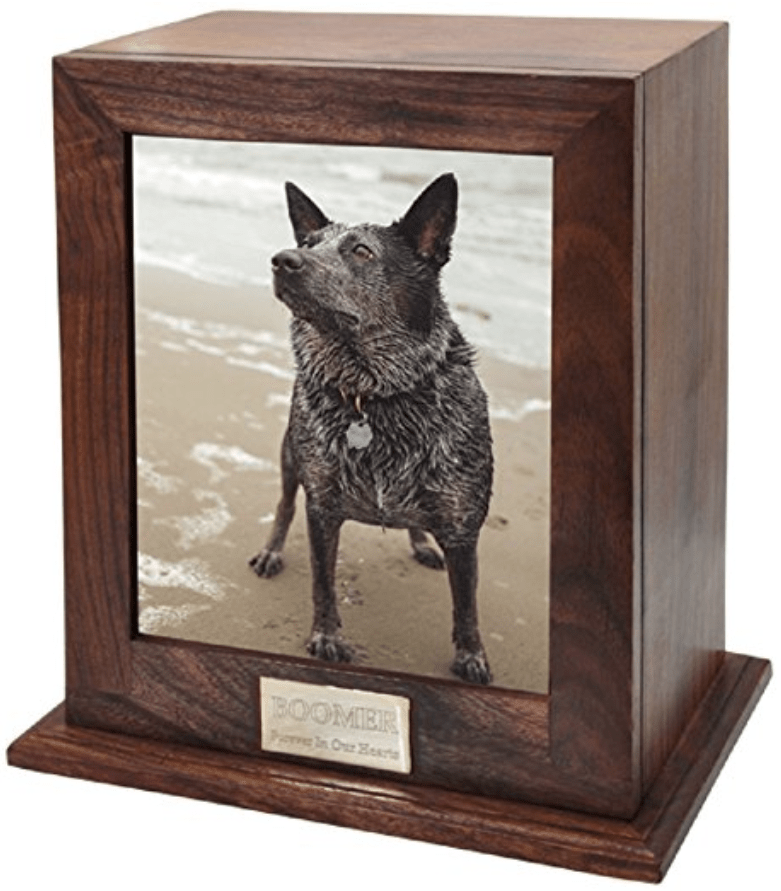 The relationship between you and your dog was very special.
And an urn allows you to celebrate that special bond you shared.
You can find an urn that looks just like a traditional urn, or one that resembles a sculpture or a picture frame.
You can check out some of them with our guide to beautiful dog urns.
Cat Urns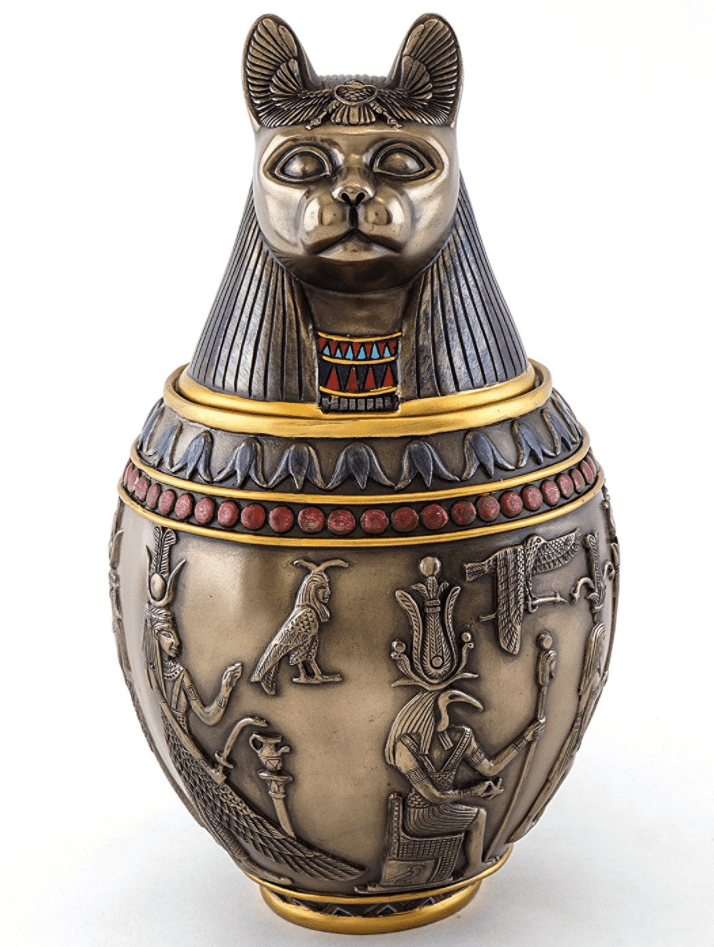 Your cat has made their small, furry presence known in a way that you will never forget.
And a cat urn is a tangible reminder of that lasting remembrance.
Cat urns can be sweet, ornate, or majestic.
Check out review of the best cat urns here to choose the one that best suits your memories of your beloved pet.