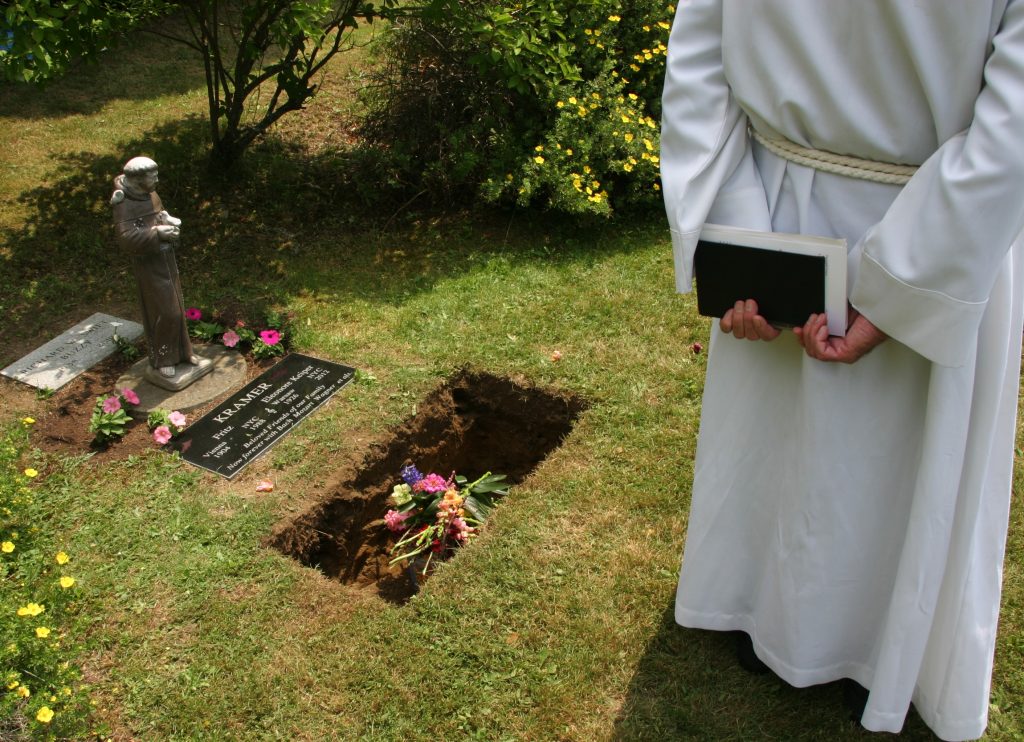 Many of us want to inter the ashes of our loved ones.
But you're probably wondering, what type of cremation urn should you choose?
Should it be a sturdy metal urn? Or rather something biodegradable?
The answer will likely depend on your personal preference and where you decide to bury.
To help you decide, we'll discuss the three most popular types of burial urns.
Burial Urns
Memorials4u Elite Interment Urn: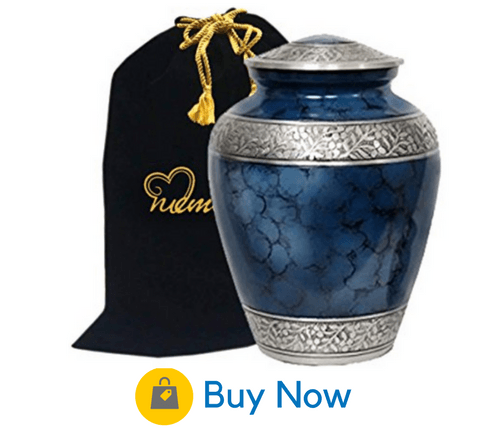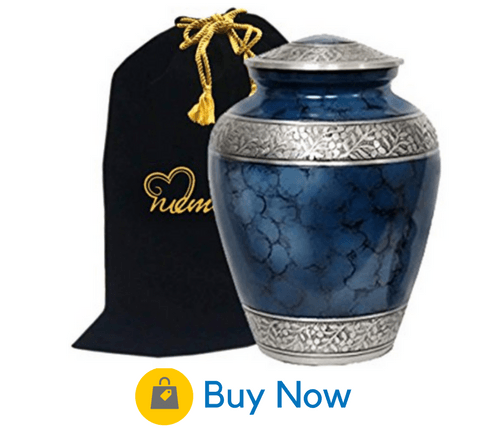 This is a stunning handmade metal urn, crafted in swirls of deep blue and adorned with silver engraving.
The lacquer coating adds to its brilliance.
It is crafted by an ancient process called "sand casting," giving it a unique look.
This is an elegant, high-quality, and most importantly a durable burial urn.
It is also very affordable compared to what you would pay in a funeral home.
Love of Christ Keepsake Burial Urn: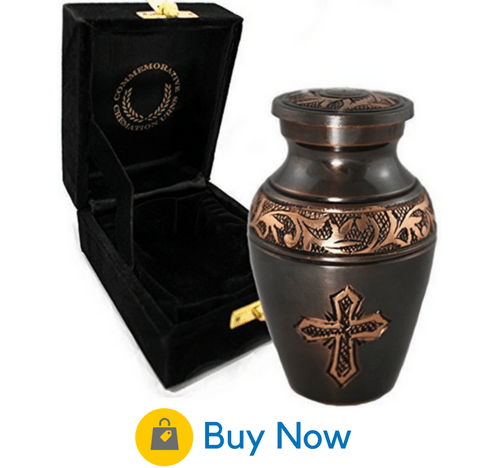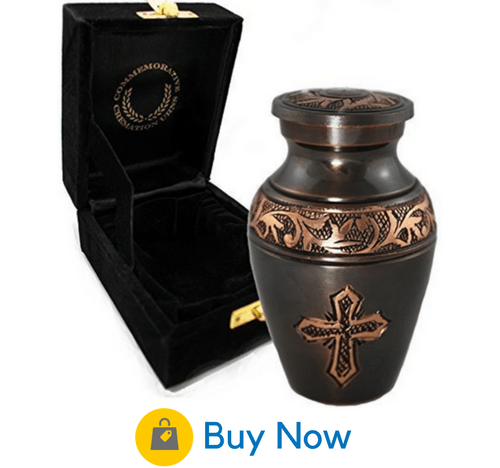 The antique brushed bronze look of this urn gives you the feel of a medieval church.
It's made of sturdy, high-quality brass with a bronze Catholic-style cross boldly engraved on it.
The tiny, 3-inch urn can be used to bury a small portion of your loved one's ashes.
It will last forever without tarnishing.
It's also available in gold or silver.
It comes with a velvet gift box and can easily be given to family members.
Classic Burial Urn By SmartChoice: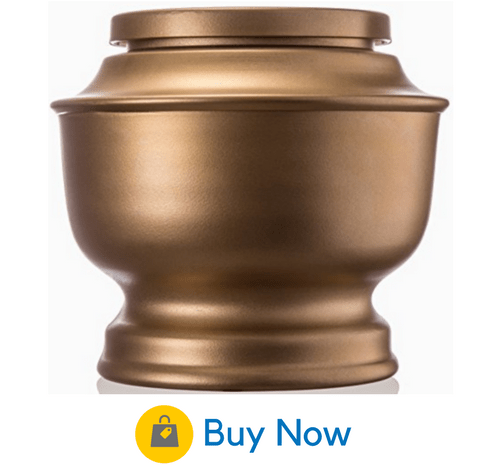 This is a simple and traditional urn.
You can also choose to personalize it with a small aluminum engraving plate.
The urn is available in seven different colors, including elegant gold, ethereal white, or earthy brown.
You may need to add sealer at the top to use this urn for burial.
Its generous size means there's no need to worry that your loved one's cremains won't fit inside.
Memorials4u Forest Blue Cremation Urn: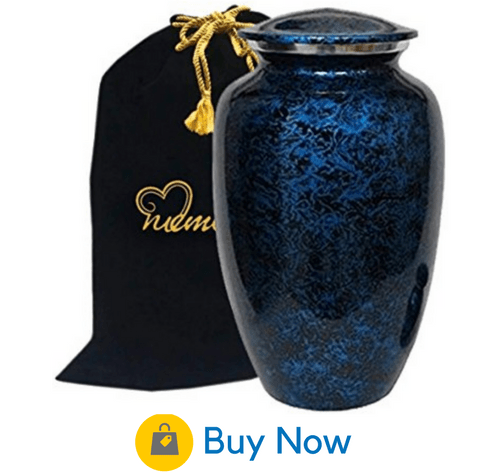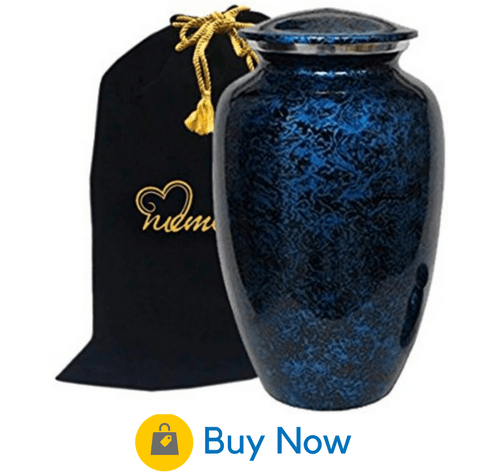 This urn stands out with its calming pattern of deep forest blue.
The pattern resembles the soothing motion of an ocean or a lake, and is perfect to remember a loved one who enjoyed the water.
It's made of solid, durable metal with a smooth, shiny, lacquered coating.
You can purchase this urn alongside a matching mini urn, to keep a smaller portion of the ashes and bury the rest in the larger urn.
Wings of Freedom Brass Interment Urn: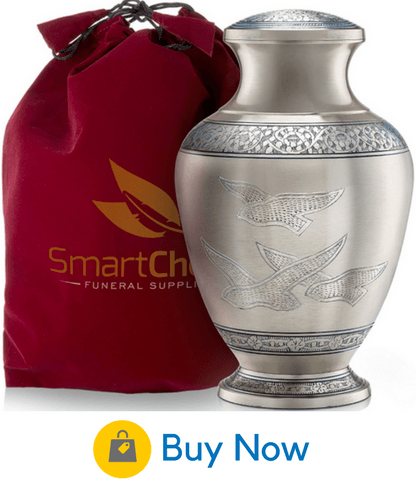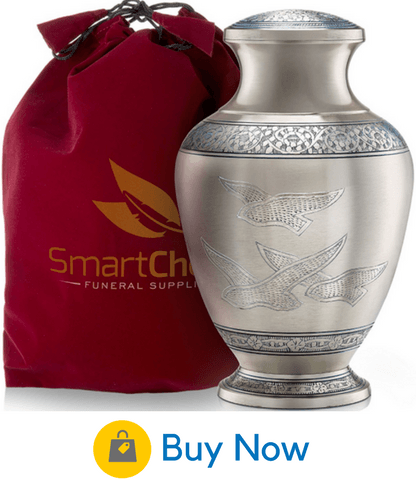 An engraving of doves on the front and back of this brass urn represent the soul of your loved one flying free in eternal peace.
Hand-engraved decorative borders add to the impression of comforting beauty.
It is crafted of sturdy, durable brass for burial, and comes with a customer satisfaction guarantee.
This large urn is enough to fit an adult of any size.
Cremation Boxes For Burial
There are a number of reasons why you might consider choosing a cremation box for burial instead of a traditional urn.
Boxes have a simpler, more minimalist look if you are displaying it during the funeral service.
They also tend to be more stable than traditional urns, and less likely to tip over if it is being displayed in your home for any period of time before the burial.
Like urns, cremation boxes come in a variety of styles, and are made of different types of materials.
Bogati Hand Carved Rosewood Urn: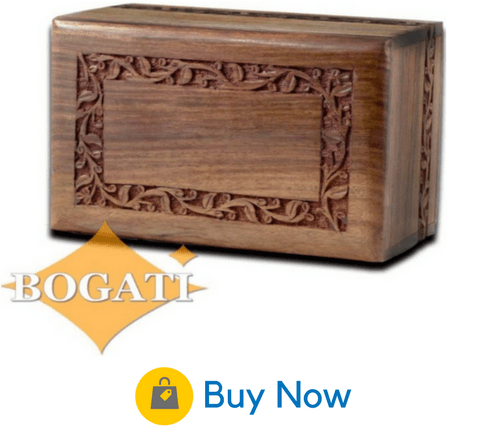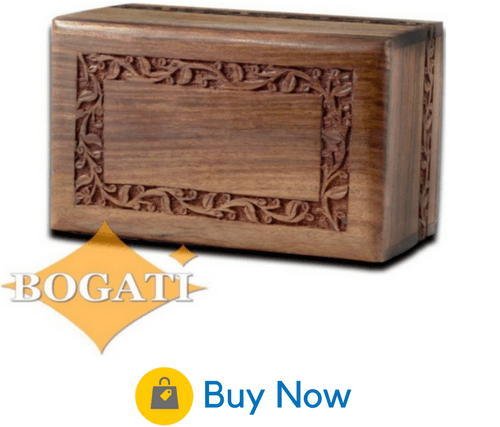 Traditional and elegant, this box is crafted by hand from soft rosewood.
The fine workmanship is the creation of artisans in India.
A delicate border is carved around the edge.
It comes in four different sizes. The Large is ideal for a large adult.
There is also space to add an engraved plate for personalization, if desired.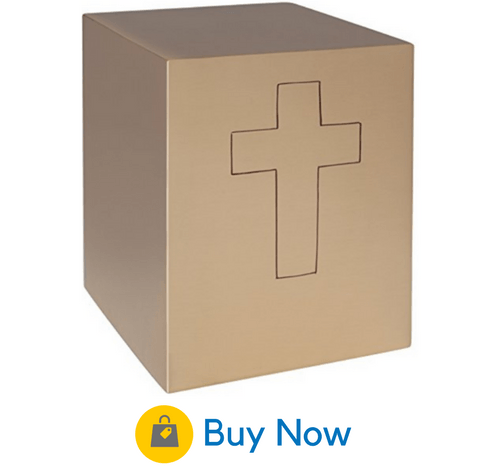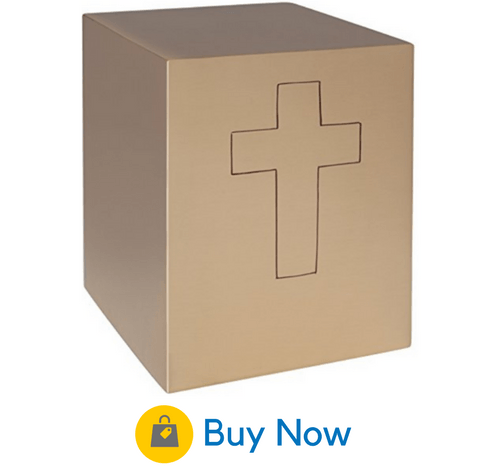 This box is crafted in India from fine brass, with a bronze or gold finish.
It's a sturdy urn that can most certainly be used for interment.
The style is minimalist but meaningful: a simple cube shape adorned by a hand-etched Christian cross.
Liliane Urns also offer a 100% customer satisfaction guarantee.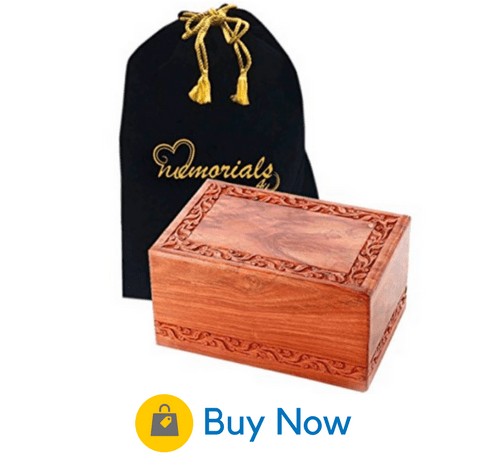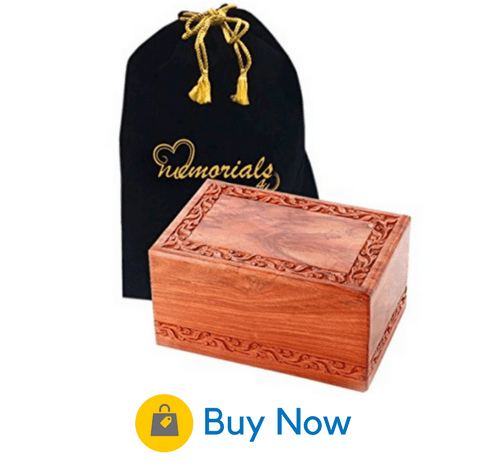 This is a simple but elegant box, hand carved from delicate but sturdy rosewood.
The engraved border design is slightly different for each box, so yours will be truly unique.
This box has the look of an expensive urn, but the price at Memorials4u is well within reach of any budget.
A sliding panel opens on the bottom for easy access when placing ashes inside.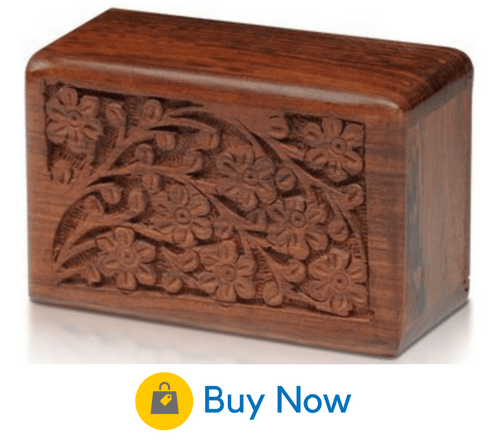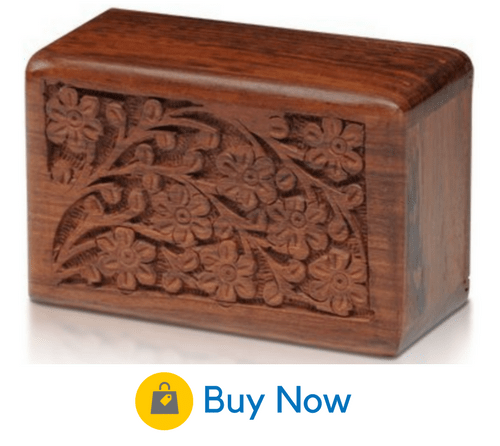 Another lovely rosewood option, this box comes with a hand-engraved tree of life design on the top.
The box can be displayed either horizontally or vertically during a memorial service.
The craftsmanship of this elegant box is what you might expect in a very expensive urn purchased from a funeral home.
The urn comes in four sizes. A Medium is suitable for a small adult.
Biodegradable Burial Urns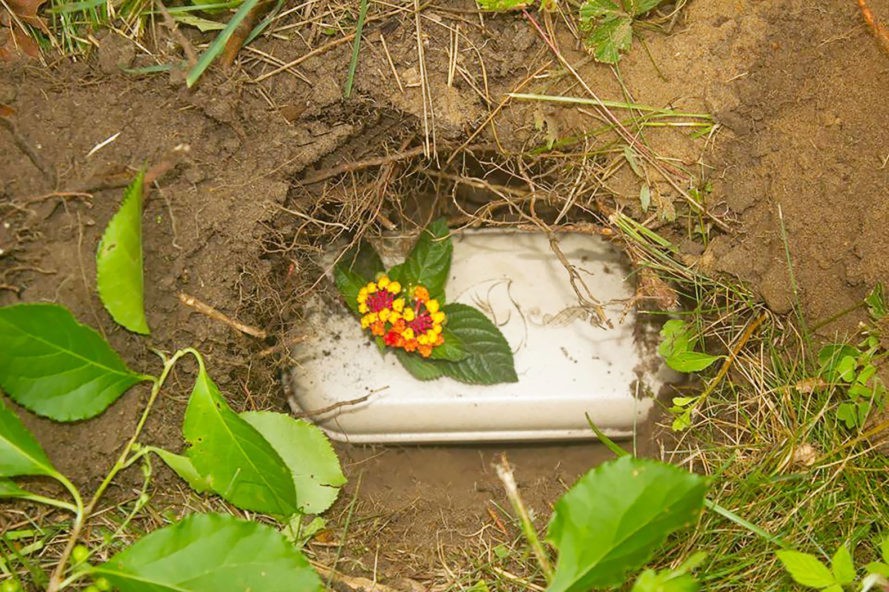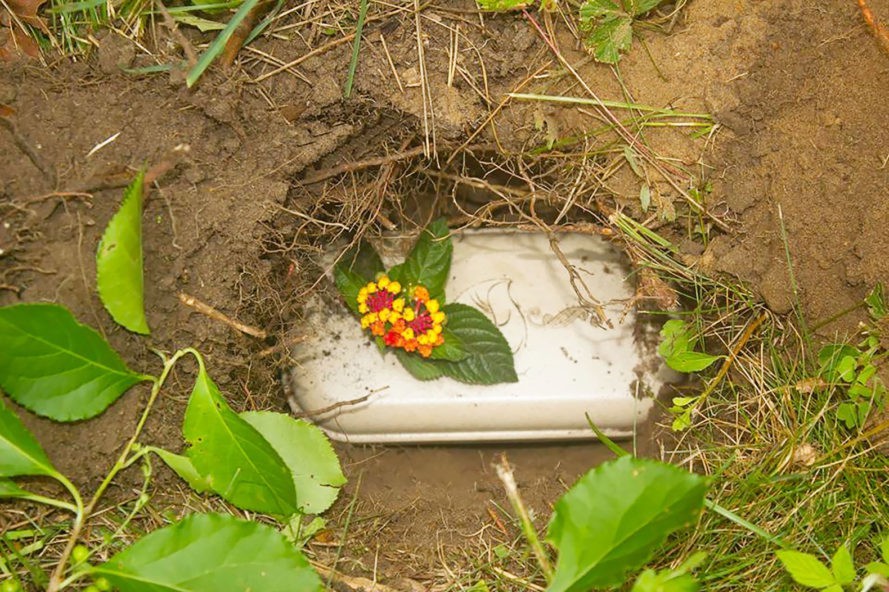 There's something deeply satisfying about the idea of a loved one's remains becoming part of nature's enduring cycle of rebirth.
A biodegradable burial urn has the advantage of allowing your departed friend or family member to gradually and naturally become part of the earth again.
This is especially appropriate if your loved one was a nature lover.
An added bonus: biodegradable burial urns are eco-friendly and kind to the environment.
Here are a few to choose from.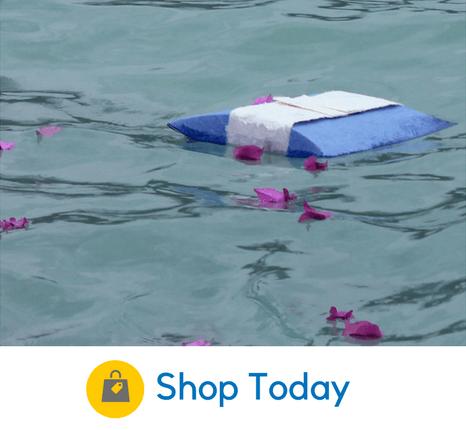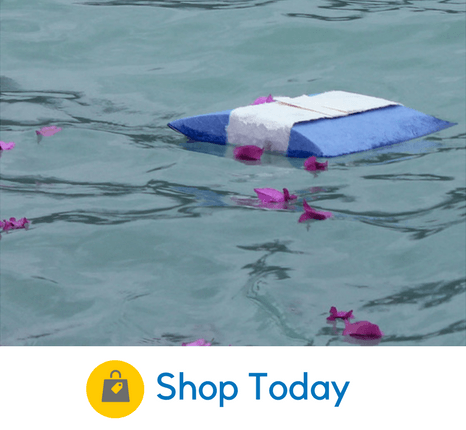 This lovely aqua-colored urn can be used for sea or land burial.
It's made of recycled cardboard and organic paper that break down naturally over time.
The paper is harvested from mulberry bark in a manner that allows the tree to continue to live and thrive, making this a very eco-friendly choice.
Cremains are placed within the urn in a small, water-soluble bag.
Loving Leaves Handmade Biodegradable Box: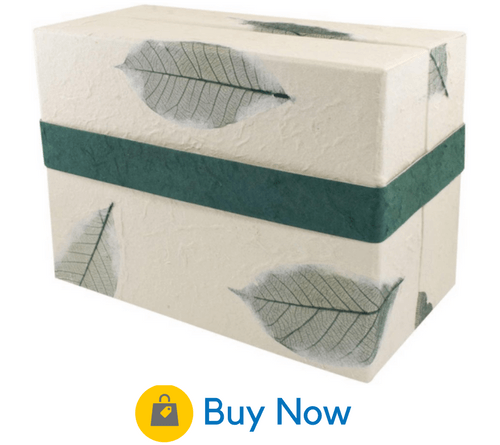 This is a delicate handmade box decorated with a pattern of real leaves on a cream-colored background.
A green band adds to the natural appearance.
Ashes can be placed in an interior black box.
The urn will naturally biodegrade when buried in the earth.
No need to worry if you have to travel with your cremation box.
It is TSA-compliant to ride in the cabin with you.
Sunset Biodegradable Burial Urn: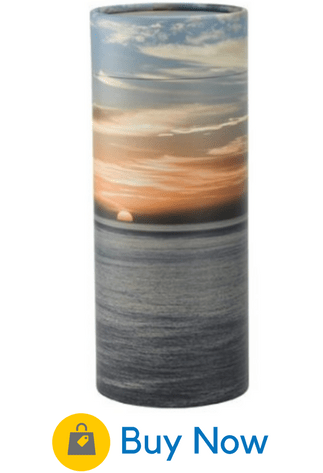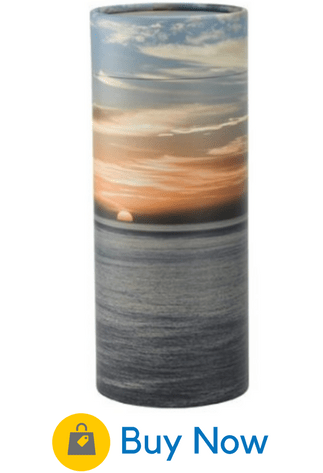 Every detail counts when it comes to a suitable vessel for your loved one's ashes.
The experience of memorializing your loved one should be deeply meaningful and memorable.
This lovely urn, with the details and soft colors of an ocean sunset, will bring peace to your soul.
The paper tube is recyclable, but also sturdy enough to transport.
There are no metal or plastic components; the tube is fully biodegradable.
Perfect Memorials Rose Leaf Box: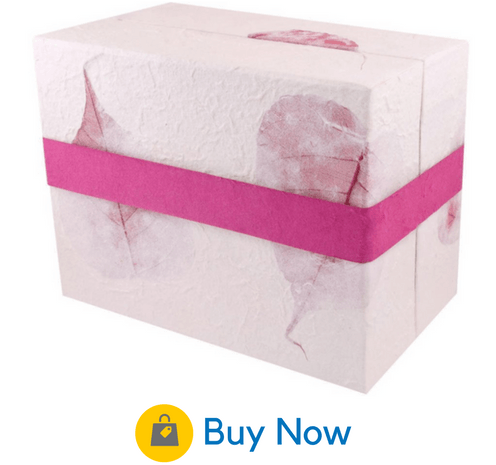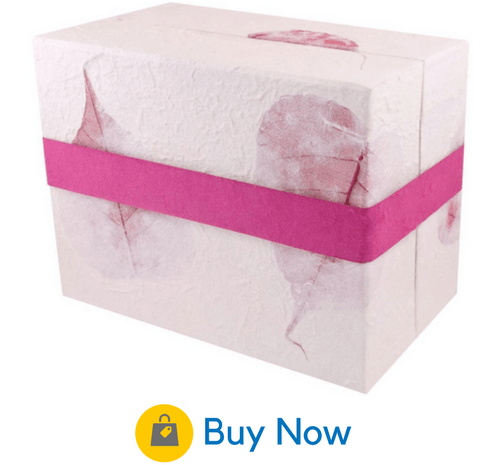 This lovely box is perfect for celebrating a sweet, feminine, nature-loving soul.
A pattern of delicate roses are imprinted on handmade paper.
A pink band adds to the effect.
It degrades naturally into the earth however it will not begin to degrade until after burial and can be displayed until you are ready.
The paper is harvested from mulberry bark, and then soaked until soft in a completely natural process which does not harm any trees.
Urn Vaults
A cremation urn vault gives the cremation urn protection against the weight of the soil and cemetery equipment.
Some cemeteries may even require you to use a cremation urn vault if you choose to bury your loved one's cremains.
The best urn vaults are made of strong, durable materials and offer a dignified resting place for your loved one.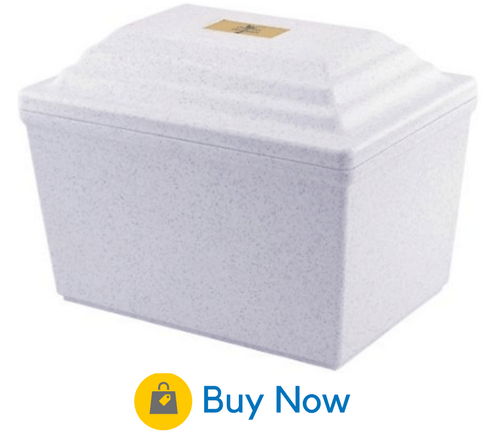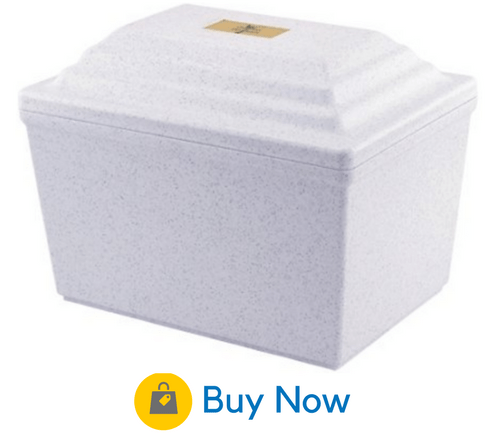 Simple and strong, this classic white urn vault is suitable for burial.
Any kind of urn can be placed inside, as well as precious mementoes.
The inside of the urn is lined with elegant burgundy velour, giving it an extra touch of class.
The vault is built to withstand pressure of up to 2929 pound force, so it is certain to protect your loved one's remains under any circumstance.
A watertight sealant gives it even more security against the elements.
Perfect Memorials Cremation Urn Vault: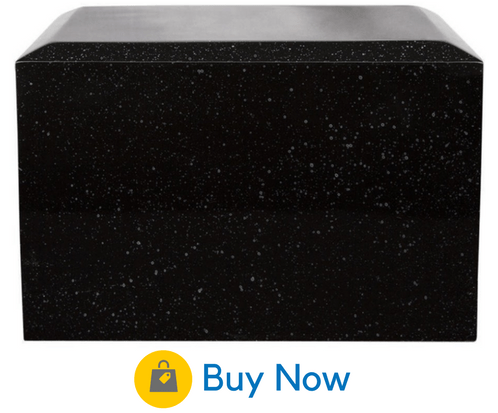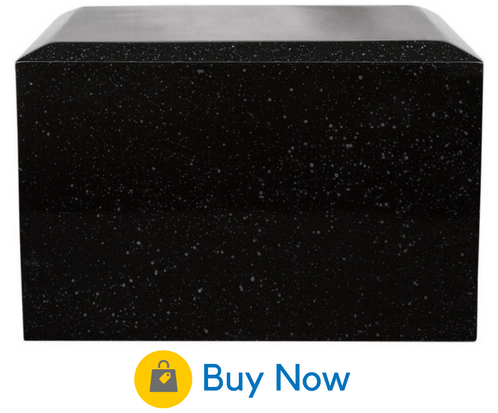 This vault is crafted in dark, smooth cold cast resin.
A bag containing your loved one's ashes can be placed directly inside via a bottom panel that slides out.
It's a beautiful urn vault that will more than do justice to your loved one's memory.