Updated May 2022
Many of us want to inter the ashes of our loved ones.
But you're probably wondering, what type of burial urn should you choose?
The answer will depend on your personal preference and where you decide to bury.
To help you decide, I've listed the 56 most popular burial urns.
These quality urns below come highly recommended, at a fraction of the price you'll pay at a funeral home.
Memorials4u Elite Interment Urn
This is a stunning handmade metal urn, crafted in swirls of deep blue and adorned with silver engraving.
The lacquer coating adds to its brilliance.
It is crafted by an ancient process called "sand casting," giving it a unique look.
This is an elegant, high-quality, and most importantly a durable burial urn.
It is also very affordable compared to what you would pay in a funeral home.
Loving Angel Wings Blue/Silver Cremation Urn
If you want to celebrate the life of someone who was beautiful and unique, this urn is the perfect choice.
The comforting image of angels' wings in the shape of a heart graces this solid brass urn.
The wings are crafted of delicate silver in loving detail on a blue swirl background.
It has a threaded lid and a felt bottom for ultimate security and safety.
Everlasting Love Beautiful and Timeless Urn:
This brass urn is pristine, sturdy and elegant.
It's truly a beautiful and durable resting place for your loved one's remains.
The urn is crafted in nickel-coated brass with a smooth white mother of pearl finish.
The urn is large enough to hold the remains of any person up to 200 lb.
It's solid and heavy, so you won't have to worry about the urn tipping over or breaking.
If in any way the urn does not measure up to your expectations, the seller offers a full refund.
It also comes with a velvet bag for maximum elegance and discretion.
Ocean Tides Beautiful Adult Cremation Urn
The colors and patterns of eye-catching urn evoke thoughts of ocean waters.
It's a perfect memorial for someone who enjoyed spending time close to the waves.
The opening has a threaded lid, and the bottom is covered with felt to protect your furniture.
It is crafted of solid metal with a shiny lacquer coat.
The detailed finish is carefully handcrafted by artisans.
Cosmic Galaxy Universe Cremation Urn
This is not just an urn, it's a work of art.
It's designed with a pattern showing the heavenly nature of the cosmos. Star dust and distant galaxies evoke the comfort of eternity.
There's no skimping on quality here. The urn is made of 100% brass with hand-engraved details.
A threaded screw-top lid offers ultimate convenience and security.
It can be displayed in your home or a columbarium with pride.
Mosaic Cracked Glass Cremation Urn
There's just something about a stained glass window. It makes you feel like you are truly in the presence of the sacred.
And that's just the feeling you'll get every time you look at this urn.
The multi colored cracked glass design was handcrafted to resemble that unique stained-glass look.
A silver finish adds to the ornate and eye-catching look.
A felted bottom makes it easy to display the urn without damaging your furniture.
Liliane Memorials Colorful Flowers Cremation Urn
Bold. Vibrant. Feminine.
If these adjectives describe your loved one, then this is the urn for you.
Vivid red and pink flowers and green stems are painted by hand against an ivory background.
Several layers of paint give the urn a glossy, brilliant sheen.
A protective coating means this urn will last for many years, as will the memory of your loved one's vibrant personality.
The urn can be cleaned easily just by wiping it with a dry cloth.
MEMORIALS 4U Mulberry with Silver Band Cremation Urn
A brilliant finish of purple lacquer and an intricately-carved silver band make this an urn fit for royalty.
If for any reason you don't like the product, the seller offers a full refund within three days.
Engraving can be added to this elegant urn for a minimal extra charge.
If your loved one adored the regal appearance of vivid purple, this memorial is the perfect way to remember him or her.
Silver Funeral Urn By Liliane Memorials
This gorgeous urn can be proudly displayed at a funeral service or in the comfort of your home.
The entire urn, including the dome-shaped lid, is covered with a delicate and detailed etching of leaves and flowers over a silver finish.
Beautiful yet subtle, the urn has a traditional appearance which will always be in style.
Anyone seeing this ornate urn on display will never guess how affordable it really is.
Floral Crimson Cremation Urn for Ashes:
This floral urn is ideal for honoring a bold, feminine soul.
If your loved one had a fondness for flower or for the color red, this urn may be the exact right choice.
It's patterned with large hand-painted leaves and flowers in deep crimson on a dark brown background, with gold accents.
It's crafted of metal alloy, with a shiny lacquer finish.
Its appearance gives a comforting impression of warmth and dignity.
Divinityurns Athens Gold Brass Cremation Urn
Ornate brass detailing and a luxurious golden appearance set the Athen Gold Brass Urn  apart.
Its design is simple, yet at the same time ornate.
The threaded lid is easy to manage but also closes securely.
This urn is suitable for burial or for proud display in your home.
The sellers of this urn are known not only for quality products, but for fast delivery and exceptional customer service.
Flower With Hummingbird Urn
This beautifully hand painted ceramic urn is perfect if your loved was a nature lover.
A detailed painting of a hummingbird enjoying a garden of flowers graces a white background.
The urn is large enough for the cremains of a pet or a small person weighing no more than 136 pounds before cremation.
It also makes a lovely keepsake urn.
Note that you will need to use a household adhesive to seal the urn securely.
Nazareth Store Beautiful Adult Cremation Urn
A detailed hand carving of a gold rose on a smooth mother-of-pearl finish is simple yet luxurious.
A single rose can symbolize love, friendship or joy.
It's especially meaningful if your loved one enjoyed roses during his/her life.
Its sturdy brass construction will stand up to the test of time.
It comes with a velvet box for easy storage or travel.
Beautiful Life Urns Garden Butterfly Cremation Urn
Emerging from a tomb-like cocoon, the butterfly is a universal symbol of resurrection and new life.
That makes the beautiful butterfly design a perfect way to celebrate the eternal life of your loved one.
Though it appears delicate, the urn is made of durable metal. There's no need to worry if it is accidentally knocked over in your busy home.
The urn has a capacity of 185 cubic inches.
Holy Spirit Dove Stained Glass Urn
The dove represents the Holy Spirit, making it a beautiful tribute to a person of faith.
It also symbolizes peace, making the artistry of this special urn even more comforting.
An elegant background of stained glass gives this urn the true spirit of the sacred.
The urn comes with a velvet bag or box.
It also comes in three sizes. A large size comes with a standard capacity of 220 cubic inches.
MEMORIALS 4U Emerald Green Cremation Urn
The vivid eye-catching green and gold sheen of this urn definitely make it stand out from the crowd.
The beauty of this urn will surprise you, as it can't be accurately captured in photos.
Although it's green, it reflects the light to subtly change color, complementing its surroundings nicely.
The floral pattern is hand-engraved with loving care.
Fedmax White Funeral Cross Urn
A white background with a delicate rose-entwined brass cross make this urn the perfect symbol of purity and faith.
The craftsmanship and detail are top-notch.
The Fedmax urn comes with an elegant velvet bag for storage or transport.
Though it appears delicate, the urn is made of sturdy and durable metal. It has stood up to testing to ensure that it provides the ultimate protection.
The screw-top lid is reassuringly secure.
Forever Remembered Classic Adult Cremation Urn
This burial urn an elegant pattern in a beautiful shade of Mediterranean blue.
You can display it as a memorial to your loved one or give it to a family member as a gift.
It is also suitable for burial, and can easily be transported in checked luggage if you are travelling.
If for any reason you are not satisfied, the sellers have a 90-day full-refund policy, no questions asked.
MEILINXU Tree Of Life Globular Urn
A unique globe shape combined with a tree of life design offers the ultimate in peaceful symbolism.
This design evokes the Biblical story of a tree whose fruit provides eternal life to anyone who eats it.
The smooth green finish calls to mind the beauty and comfort of nature.
And the circular shape is a lovely reminder of the cyclical and eternal nature of life.
The urn can comfortably hold the ashes of a person weighing up to 200 pounds before cremation.
Lattice Flower Funeral Urn
This sturdy brass urn can be buried or placed in a niche.
It also makes a lovely addition to any home decor.
A pattern of colorful flowers is carefully etched on the shiny nickel-plated finish.
It was made by skilled artisans in India.
The urn comes with a 100% satisfaction guarantee. So you can get a refund after arrival if the urn is not all you hoped it would be.
You can even purchase matching keepsake urns to distribute to family members.
Trupoint Memorials Large Patriot Urn:
If your loved one was a proud and vocal American patriot, this patriot urn is perfect for memorializing that spirit.
The urn is gorgeously covered with a hand-painted pattern of the stars and stripes.
The colors are vibrant and warm, just like the patriotic spirit of your loved one.
It is beautiful enough for display but durable enough for burial.
This is a great choice to memorialize war heroes or first responders.
Mother of Pearl Inlaid Metal Cremation Urn
This dark blue urn a comforting image of a hummingbird enjoying a beautiful flowering plant.
The image is crafted of delicate mother-of-pearl, and evokes the peaceful sense of nature's comfort and renewal.
Most buyers have found that the beauty of this urn far exceeds what they were able to view in the picture.
It's the perfect urn to honor a person who enjoyed flowers and birds.
Cremation Urn Mosaic Cracked Glass
Yet another striking stained glass representation, this time with ornate gold finish.
It comes with a black velvet bag.
Each urn is carefully inspected before shipping to ensure quality.
It's ideal for a larger person, with a capacity of 220 cubic inches.
That means your loved one's remains can comfortably fit as long as they weighed under 220 pounds at the time of cremation.
Serenity Large Blue Beautiful Adult Urn
A deep peaceful shade of blue will bring comfort as you remember your loved one.
The enamel is polished to a smooth, brilliant shine.
To make the urn even more special, you can take it to a local jeweler or engraver to have it personalized with relevant details about your loved one.
Matching keepsake urns are also available, so you can bury the larger ones while the smaller ones can be given to family or friends.
Eternal Harmony Cremation Urn for Human Ashes:
The Eternal Harmony Urn is finished with swirls of deep, powder-blue.
A delicate carving of silver leaves adorns the bands around the top and bottom.
The perfect seal of the top lid means that you can rest assured that the remains are secure.
The stunning color is eye-catching, a suitable tribute to your loved one.
The materials are not only lovely, but sturdy enough to stand up to the passage of time.
Wings of Love Elegant Adult Cremation Urn
This nickel-coated brass urn features a gorgeously detailed design of beautiful birds' wings.
The elegant image will give you peace as you imagine the soul of your loved one flying off into the afterlife.
The urn is handcrafted and highly polished for a beautifully classic appearance.
It can be elegantly displayed until you are ready to bury your loved one's remains.
MEILINXU Unique Funeral Cremation Urn
If you want a beautiful cremation urn with a design that doesn't even look like an urn, this may be the perfect choice.
The urn is crafted in the shape of an ethereal blue teardrop, a touching symbol of your grief and enduring love.
It's made of sturdy aluminum and coated with a lacquer finish, guaranteed to keep it smooth and shiny for years to come.
The urn is resistant to scratches or rust, designed to hold up to the ravages of time.
The Tree of Life Beautiful Green and Gold Adult Large Urn
This lovely but sturdy urn is perfect to remember a friend or family member who loved nature.
It is handcrafted of brass with a finish of a deep shade of green.
A soothing tree of life design is etched in gold on the front.
The beautiful color and design evoke the peace and comfort of nature.
The urn is big enough to fit the remains of a large adult.
A secure screw-on top ensures that you will never have to worry about the ashes spilling if tipped over.
Crafted with superior materials, this urn is truly built to stand the test of time.
Antique Gold Funeral Urn By Liliane Memorials
This urn combines the best elements of the traditional and the unique.
Crafted of brass, with a lustrous bronze finish, the urn has an elegant flower oak design.
But it's round, short shape makes it easy to display in a variety of places, such as bookcases or niches.
The urn is small, and works best for the remains of a person weighing up to 110 pounds before cremation.
It's also ideal for the remains of a pet or to use as a keepsake remembrance.
The Eternal Peace Lavender Adult Urn
It's hard to match the ethereal beauty of this elegant urn, crafted in brass with a delicate shade of lavender.
The quality of the materials and craftsmanship really make this urn stand out.
It is made of solid nickel-coated brass and finished in elegant lavender enamel.
At 10 inches tall and 7 inches wide, there is ample space for the remains of an adult of any size.
A classy velvet bag is included, so that you can transport the urn with ease and discretion.
White and Gold Flower Funeral Urn by Liliane Memorials
Experienced artisans in India have carefully crafted this ornate and elegant brass urn.
Heavy and sturdy, you can trust this urn with the remains of your loved one.
A plush bag keeps the urn safe during transit and makes it easy for you to carry while traveling.
The urn is best used to hold the remains of adults under 200 lb.
A bold design of gold flowers adorns a background of classic pure white.
The urn is also available in a striking shade of blue or in vivid pink.
Love of Christ Keepsake Burial Urn
The antique brushed bronze look of this urn gives you the feel of a medieval church.
It's made of sturdy, high-quality brass with a bronze Catholic-style cross boldly engraved on it.
The tiny, 3-inch urn can be used to bury a small portion of your loved one's ashes.
It will last forever without tarnishing.
It's also available in gold or silver.
It comes with a velvet gift box and can easily be given to family members.
Eternitymart's Helix Cremation Urn
This is one of the more affordable options on this list, but you'd never know it from its elegant appearance.
A lacquered coat gives added brilliance to smooth swirls of blue and purple.
The urn is created through a process of sand casting, a lost art from ancient times.
Exceptional customer service makes this an even better deal.
If the urn doesn't meet your expectations upon arrival, you are eligible for a full refund.
Liveurns Butterfly Camouflage Metal Cremation Urn
This urn is covered with a vivid and colorful pattern of camouflage butterflies.
You won't find another urn quite like this one! The gorgeous colors make it a perfect remembrance of a vivid, beloved soul.
It's made entirely of sturdy metal.
A felt bottom and threaded lid make it a secure resting place for your loved one's cremains.
The urn can hold up to 200 cubic inches of remains.
UrnsDirect2U American Pride Urn Set
Was your loved one a proud military veteran? Was he or she vocal in American pride?
If so, this patriotic urn set is an excellent choice.
Anyone can feel proud of these classy, slate-colored brass urns, decorated with simple carvings of an eagle and the American flag.
The set includes a traditional urn along with two matching keepsake urns: one in a traditional vase shape, the other shaped like a heart.
Mother of Pearl Hand Made Brass Funeral Urn
This is an ideal urn if you're looking for an overall impression of elegance and luxury.
It's made of real brass and mother-of-pearl.
A pink and gold pattern with glossy gold bands around the top and bottom add to the opulent look.
It comes in a plush bag, so that even the process of storing it is an elegant one.
Classic Burial Urn By SmartChoice
This is a simple and traditional urn.
You can also choose to personalize it with a small aluminum engraving plate.
The urn available in seven different colors, including elegant gold, ethereal white, or earthy brown.
You may need to add sealer at the top to use this urn for burial.
Its generous size means there's no need to worry that your loved one's cremains won't fit inside.
Memorials4u Forest Blue Cremation Urn
This urn stands out with its calming pattern of deep forest blue.
The pattern resembles the soothing motion of an ocean or a lake, and is perfect to remember a loved one who enjoyed the water.
It's made of solid, durable metal with a smooth, shiny, lacquered coating.
You can purchase this urn alongside a matching mini urn, to keep a smaller portion of the ashes and bury the rest in the larger urn.
Wings of Freedom Brass Interment Urn
An engraving of doves on the front and back of this brass urn represents the soul of your loved one flying free in eternal peace.
Hand-engraved decorative borders add to the impression of comforting beauty.
It is crafted of sturdy, durable brass for burial, and comes with a customer satisfaction guarantee.
This large urn is enough to fit an adult of any size.
Ansons Brown Mountain Rock Burial Urn
This is a great choice if you desire a unique urn with a look that mimics the beauty of nature.
Made of heavy grade aluminum, the urn has the reassuring appearance of solid mountain rock.
And just like a rock, this urn is heavy and stable.
It can easily fit the remains of adults up to 300 lb.
You can rest assured that the threaded bottom will keep the ashes secure.
The urn is available in a variety of sizes.
You can also choose from a selection of colors, including dark or light blue and deep forest green.
The MEILINXU 5″ Medium Ceramic Burial Urn
A delicate hand painted tree of life design graces this eye-catching ceramic urn.
It's crafted by Chinese artisans through an ancient ceramic kiln process. It's then finished in nickel and enamel.
A lacquer coat adds gloss and durability.
The colors are understated and subtle.
The urn is small and suitable for the remains of pets or humans weighing up to 50 lb.
The timeless and traditional design, along with the soothing colors, will inspire a sense of comfort.
Traditional and yet unique, this high-quality urn is a great choice.
Cremation Boxes For Burial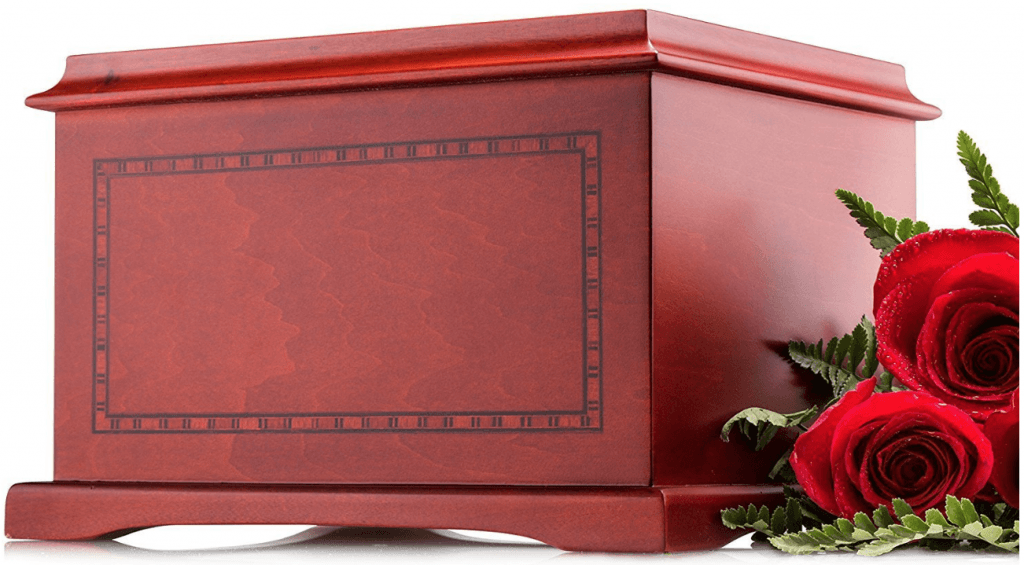 There are a number of reasons why you might consider choosing a cremation box for burial instead of a traditional urn.
Boxes have a simpler, more minimalist look if you are displaying it during the funeral service.
They also tend to be more stable than traditional urns, and less likely to tip over if it is being displayed in your home for any period of time before the burial.
Like urns, cremation boxes come in a variety of styles, and are made of different types of materials.
Bogati Hand Carved Rosewood Urn
Traditional and elegant, is crafted by hand from soft rosewood.
The fine workmanship is the creation of artisans in India.
A delicate border is carved around the edge.
It comes in four different sizes. The Large is ideal for a large adult.
There is also space to add an engraved plate for personalization, if desired.
Bronze Interment Urn Box
This box is crafted in India from fine brass, with a bronze or gold finish.
It's a sturdy urn that can most certainly be used for interment.
The style is minimalist but meaningful: a simple cube shape adorned by a hand-etched Christian cross.
Liliane Urns also offer a 100% customer satisfaction guarantee.
Rosewood Wooden Burial Box
This is a simple but elegant box, hand carved from delicate but sturdy rosewood.
The engraved border design is slightly different for each box, so yours will be truly unique.
This box has the look of an expensive urn, but the price at Memorials4u is well within reach of any budget.
A sliding panel opens on the bottom for easy access when placing ashes inside.
Bogati Tree Of Life Box
Another lovely rosewood option, this box comes with a hand-engraved tree of life design on the top.
The box can be displayed either horizontally or vertically during a memorial service.
The craftsmanship of this elegant box is what you might expect in a very expensive urn purchased from a funeral home.
The urn comes in four sizes. A Medium is suitable for a small adult.
The SmartChoice Wood Human Funeral Cremation Urn
Simple and traditional, with a touch of elegance, this cremation box is a fitting way to honor a lost loved one.
It comes with an engraved plaque to make the urn look even more elegant and highly personal.
A rich but delicate chasing border on the center and cover adds just the right amount of simple decoration without going overboard.
It's the ideal way to honor a loved one who's tastes were simple, but appreciated the finer things in life.
It's attractive enough to display in a home or office.
The urn is made of sturdy hardwood and built to last.
Handicrafts Tree of Life Engraving Wooden Urn
An intricate tree of life design lends character and beauty to this one-of-a-kind this rosewood cremation box.
The deep golden brown color evokes feelings of simplicity and comfort. Darker streaks make the color more varied and attractive.
A box design adds to the traditional appearance.
However, you can also choose from a wide variety of colors and styles, such as Antique Pyramidal, Antique V-Shape and Golden on White.
Rosewood is an excellent material for a cremation box, because it's medium coarse texture stands up well to decay.
Chateau Urns Society Collection Burial Urn
This cremation box is crafted of medium-density fiberboard.
Though the material feels thin and light, don't let that fool you. This high-quality box will hold up well over time.
The glossy cherry wood finish gives it a sleek appearance, enhanced by a stylish black edge.
The box is large, with more than enough space to fit the remains of a loved one weighing as much as 300 lb.
You will be proud to display this high-quality yet understated urn in your home.
NWA Beautiful Adult Size Wood Funeral Cremation Urn
Custom engraving is included in the cost of this beautifully detailed hardwood cremation cremation.
The plate is brass with black finish and gold engraving, adding a beautiful touch of elegance and personalization. It has enough space for your loved one's name, relevant dates and a brief description.
NWA is also known for excellent customer service, with fast shipping and quick responses to any problems you may have.
It can easily fit the remains of an adult of any size.
The box is suitable for burial or for display.
More Cremation Boxes?
Want some more help choosing a cremation box? Take a look at this guide which has some more elegant cremation boxes to choose from.
Biodegradable Burial Urns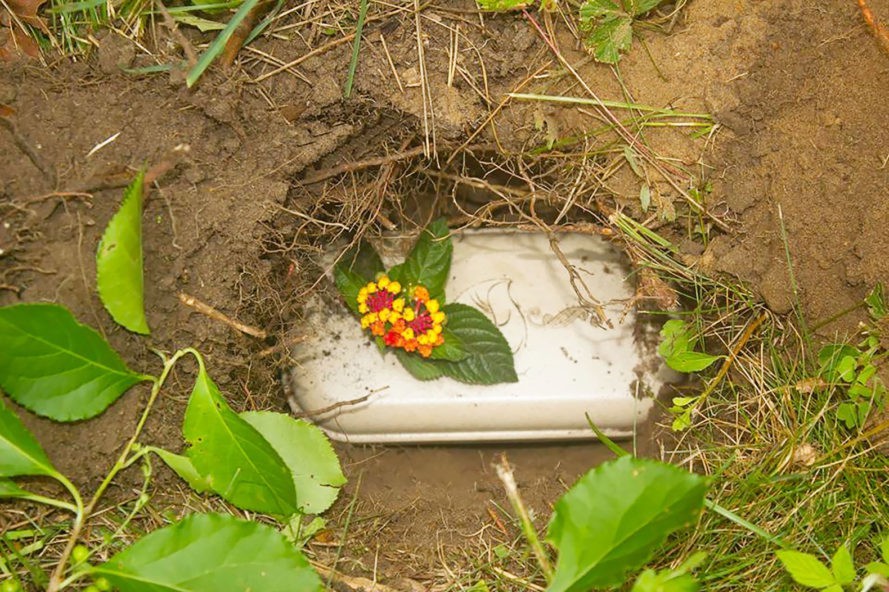 There's something deeply satisfying about the idea of a loved one's remains becoming part of nature's enduring cycle of rebirth.
A biodegradable burial urn has the advantage of allowing your departed friend or family member to gradually and naturally become part of the earth again.
This is especially appropriate if your loved one was a nature lover.
An added bonus: biodegradable burial urns are eco-friendly and kind to the environment.
Here are a few to choose from.
Journey Biodegradable Urn
This lovely aqua-colored urn can be used for sea or land burial.
It's made of recycled cardboard and organic paper that break down naturally over time.
The paper is harvested from mulberry bark in a manner that allows the tree to continue to live and thrive, making this a very eco-friendly choice.
Cremains are placed within the urn in a small, water-soluble bag.
Loving Leaves Handmade Biodegradable Box
This is a delicate handmade box decorated with a pattern of real leaves on a cream-colored background.
A green band adds to the natural appearance.
Ashes can be placed in an interior black box.
The urn will naturally biodegrade when buried in the earth.
No need to worry if you have to travel with your cremation box.
It is TSA-compliant to ride in the cabin with you.
Sunset Biodegradable Burial Urn
Every detail counts when it comes to a suitable vessel for your loved one's ashes.
The experience of memorializing your loved one should be deeply meaningful and memorable.
This lovely urn, with the details and soft colors of an ocean sunset, will bring peace to your soul.
The paper tube is recyclable, but also sturdy enough to transport.
There are no metal or plastic components; the tube is fully biodegradable.
Earth Memorials Large Shell Box
This lovely box is perfect for celebrating a sweet nature-loving soul.
A pattern of delicate shells are imprinted on handmade paper.
A pink band adds to the effect.
It degrades naturally into the earth however it will not begin to degrade until after burial and can be displayed until you are ready.
The paper is harvested from mulberry bark, and then soaked until soft in a completely natural process which does not harm any trees.
Urn Vaults
A cremation urn vault gives the cremation urn protection against the weight of the soil and cemetery equipment.
Some cemeteries may even require you to use a cremation urn vault if you choose to bury your loved one's cremains.
The best urn vaults are made of strong, durable materials and offer a dignified resting place for your loved one.
Guardian Vault In White
Simple and strong, this classic white urn vault is suitable for burial.
Any kind of urn can be placed inside, as well as precious mementoes.
The inside of the urn is lined with elegant burgundy velour, giving it an extra touch of class.
The vault is built to withstand pressure of up to 2929 pound force, so it is certain to protect your loved one's remains under any circumstance.
A watertight sealant gives it even more security against the elements.
Perfect Memorials Cremation Urn Vault
This vault is crafted in dark, smooth cold cast resin.
A bag containing your loved one's ashes can be placed directly inside via a bottom panel that slides out.
It's a beautiful urn vault that will more than do justice to your loved one's memory.