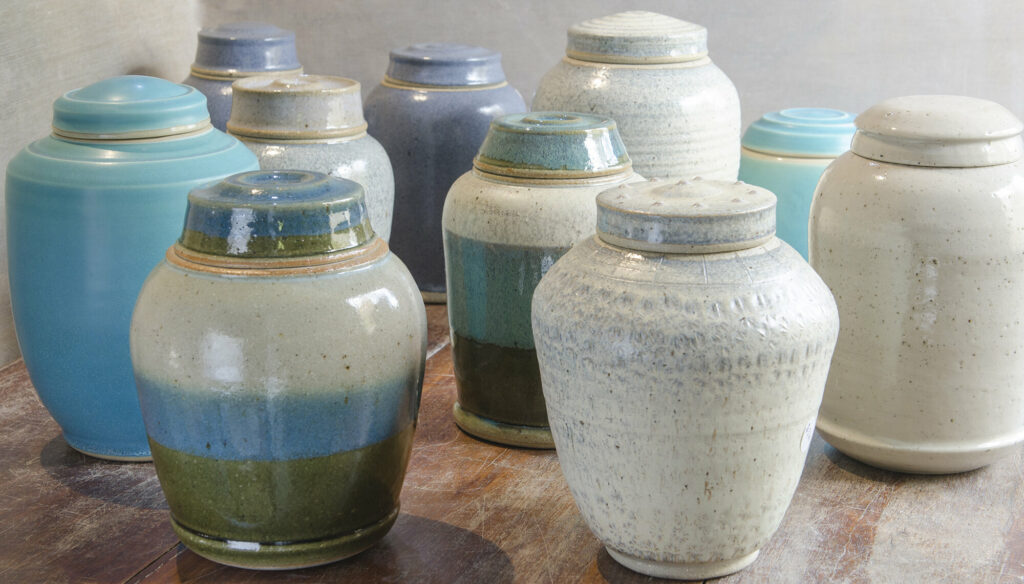 Some of my favorite handmade memorials are ceramic urns.
They're a bit more creative than your standard urn and can better reflect the life of your loved one.
Then there's the amount of designs.
You've got urn styles such as raku, modern sculpture, classic, and more.
To give you an idea, below are my favorite ceramic urns that are listed on a fantastic handmade memorials website- You Are Forever.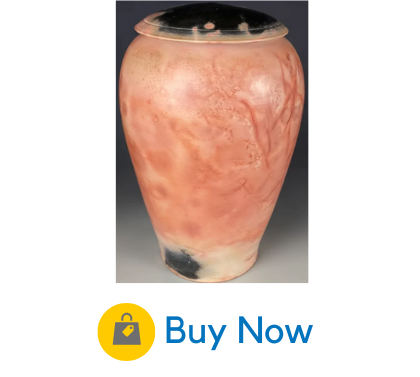 This ceramic urn goes through a unique handcrafted manufacturing process that gives it a striking appearance. The characteristic hues are produced through the addition of natural elements upon creating this masterpiece, making each urn inimitable. The red earth shade pairs incredibly well with the darker black and cool white hues. The earthy tones are immensely calming, perfectly soothing for a mind and heart that are clouded by grief. This urn is an exclusive piece of artistry that allows you to honor the memory of someone close to you that has joined the afterlife.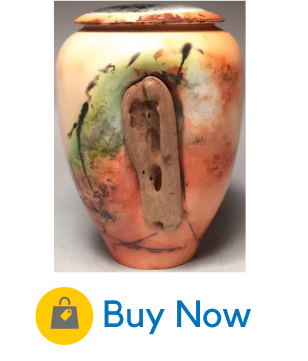 The Terra Sigillata urn is hand crafted with ceramic, undergoing a unique manufacturing process to give it a one-off appearance. Have you lost a dear friend or family member, and are looking for a unique keepsake urn? Then this item is perfect with its soft orange, pink, green, cream, and peach hues, to name a few. The rich, warm colors remind us of autumn when the leaves are changing, creating a kaleidoscope of natural tones that evoke feelings of happiness and warmness. The brown driftwood adornment signifies a sense of calmness and comfort. Just what you need to carry you through the challenging time of parting with a deceased loved one.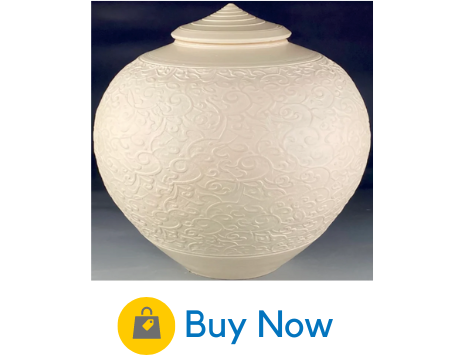 This striking hand crafted urn is a one of a kind memorial urn to commemorate the essence of a departed soul. This item is a rare and exclusive item that is hand crafted with stoneware ceramic, featuring intricate detailing. The color ivory signifies purity and calmness just like white, however, with an added touch of luxury.
In Africa ivory is highly revered due to its cultural significance, and in China and the Philippines it is viewed as a symbol of luck. Everything about this urn speaks of purity, luxury, and angelic calmness, making it an exceptional memorial keepsake to honor someone's memory.
Amphora Ceramic Raku Urn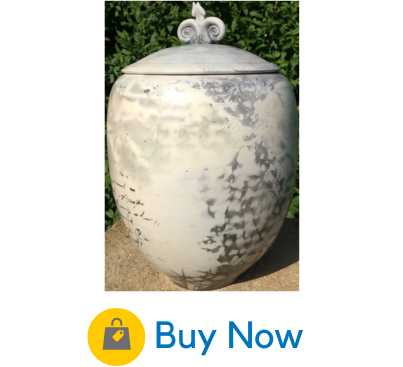 The Amphora Raku urn is truly exceptional with its understated off-white, cream, light grey and darker smoky grey hues. Each piece is hand crafted, undergoing a specialised manufacturing process, using natural elements and a ferric chloride coating. This gives each urn a unique look with different hues and patterns. The color grey is a neutral color that is perfectly balanced. In times of grief an inner turmoil, this color transports our mind to a place of harmony and balance. This urn is an exceptional art piece to provide the ashes of a beloved person with a final resting place.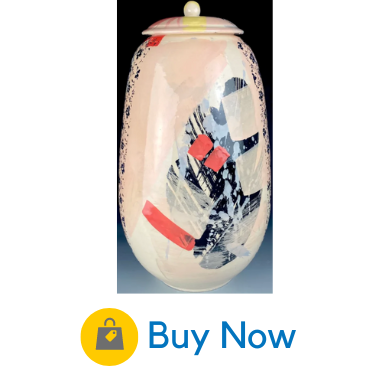 This urn is an exquisite ornamental piece that you can display in your home while honoring the memory of a loved one who has passed on. The cream-colored background signifies elegance, calmness, and purity, perhaps the characteristics of the person you have lost. The delicate hand painted blue flowers represents the sadness you're experiencing, but also peacefulness to carry you through this difficult time. The abstract patterns can be a sign of simplicity, purity, and spirituality. Every piece is crafted by hand with all the different elements coming together, bringing you an exclusive and rare memorial keepsake.
This Raku urn makes for an uplifting memorial urn that is exclusive because of the unique manufacturing process it undergoes. Each piece features rare patterns and colors that are created by adding natural elements before oven baking it. The warm coppery hue represents the center of the earth and is viewed as mysterious, magical, and powerful by spiritualists. The warm orange tones evoke feelings of happiness. It reminds you of beautiful sunsets, autumn, and hearty campfires. This color is regularly linked to spiritual practices like meditation, which makes it ideally suited for honoring the memory of someone that had an immensely positive impact on your life.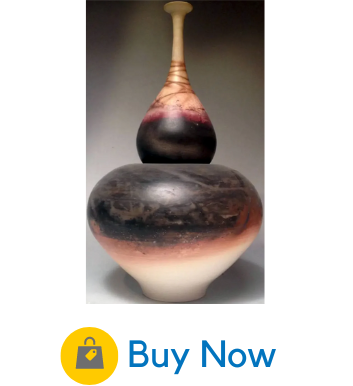 This Zen flow urn is perfect for those who are looking for a contemporary and unique memorial keepsake. The item features a vase-like structure resting on a coordinated foot piece. It has striking hues and patterns that are one-of-a-kind, thanks to natural components that are used during the manufacturing process. The smoky pink, grey, brown, and cream shades immediately capture the attention, making it a wonderful décor piece to display in your home. The Zen-like nature of this exquisite memorial urn evokes feelings of enlightenment and calmness. It provides inner peace during times of sadness and grief after losing someone close to you.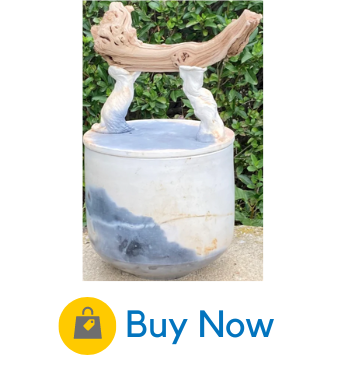 This stunning urn is a magnificent decorative piece that offers a final resting place for the ashes of a deceased family member or friend. It is carefully constructed from bare clay with ferric chloride coating that gives it a distinct appearance. Each piece is handmade with a wax polish coating for protection. The blue, white and grey hues of the urn and the decorative driftwood adornment reminds you of a serene and tranquil scene. Imagine pieces of driftwood scattered on a white beach against the backdrop of blue oceanic water. Perhaps you're saying goodbye to someone with a great love for the sea or water, making this item the perfect memorial keepsake.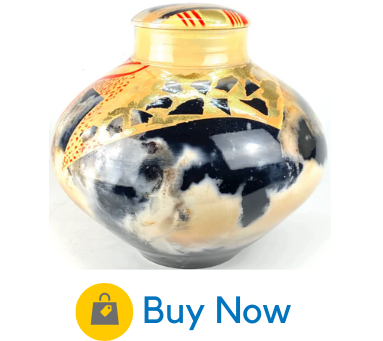 This infinity urn is the epitome of the immeasurable and endless bond we share with someone, even after death. Each urn is crafted by hand and undergoes a unique manufacturing process that gives it a distinct appearance that cannot be imitated. In addition, this aesthetically pleasing art piece is adorned with gorgeous hand painted patterns and colors. Perhaps you are honoring the memory of a loved one that had an appreciation for the finer things in life. The golden hues signify wealth and grandeur, whereas the light yellow tones energize the soul and provide mental stimulation during challenging times. This urn is the perfect marriage between an endearing memorial keepsake and lovely ornamental piece.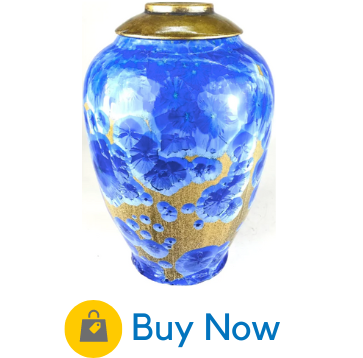 This blue ceramic urn makes for a truly remarkable ornamental piece that is pleasing to the eye. Each item is created from scratch, using a specialised forming process. The metallic accents are created under specialised kiln conditions, giving them their characteristic silhouettes. The entire process is expensive and takes time, but well worth it. This exquisite memorial keepsake is the epitome of quality, luxury, and extravagance with its golden metallic crystal patterns. The cobalt blue accents represent water, nature, and the sky. It also has a soothing and peaceful effect during times of sadness and grief.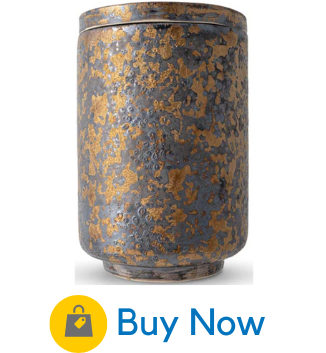 This cylinder cremation urn offers an exceptional memorial keepsake for those that want an urn that is a bit more subdued, yet still extraordinary. Instead of a vase-like appearance, it features a tube-like shape, that gives it a distinct look. The silver tones connote elegance, grace, and nobleness whereas the golden speckled accents signify spiritual energy and calmness. This urn can be used indoors and outdoors thanks to its rough exterior and makes a charming ornamental piece. Show your love and devotion for someone who has passed on with this rare and attractive memorial keepsake.