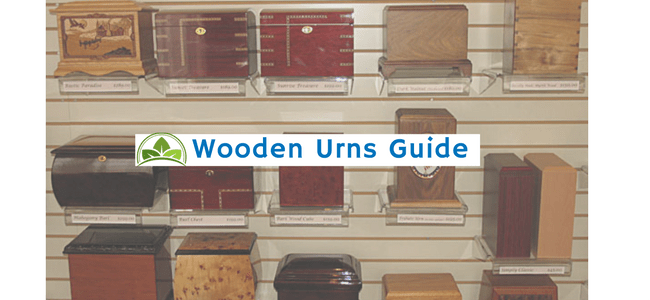 If you're still deciding on a memorial, a wooden urn might be an excellent choice.
They have a natural and traditional look that will fit into your decor around the home.
They're also a simple and affordable option.
You can sometimes personalize them with engraving or even include other momentos in the box.
Below we'll go through some of these choices and also recommend some top quality wooden urns on the market.
The Bogati Hand Carved Rosewood Urn: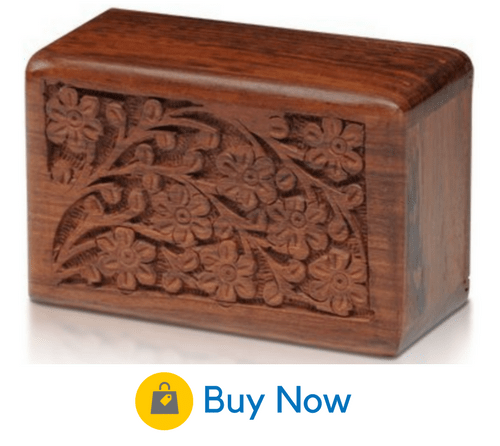 The delicate carved design along the border of this urn make this a simple yet elegant choice.
The urn comes in four different sizes.
The large size is suitable for the cremains of an adult.
The Bogati Large Economy Wooden Box: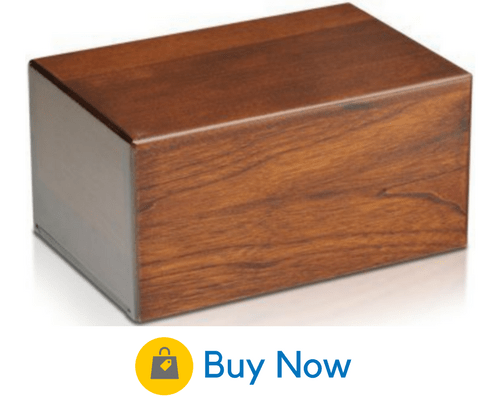 Plain but classic, this affordable urn is crafted from sturdy catalpa wood.
This urn is best suited for small adults, weighing 170 pounds or less before cremation.
The urn is lightweight but sturdier than it feels.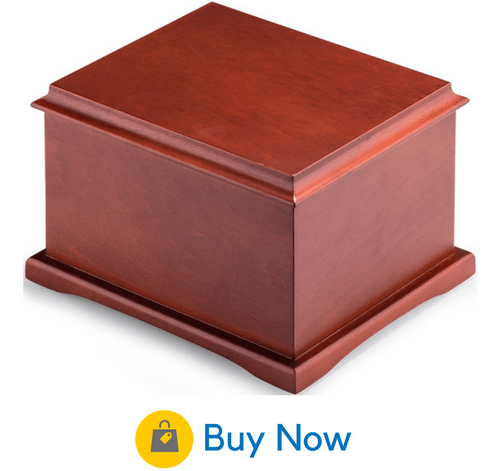 This is another simple urn crafted in durable hardwood.
If you prefer more detail, you can opt for a decorative border to give it a hint of extra elegance.
You can also personalize the urn with a custom-engraved brass plaque.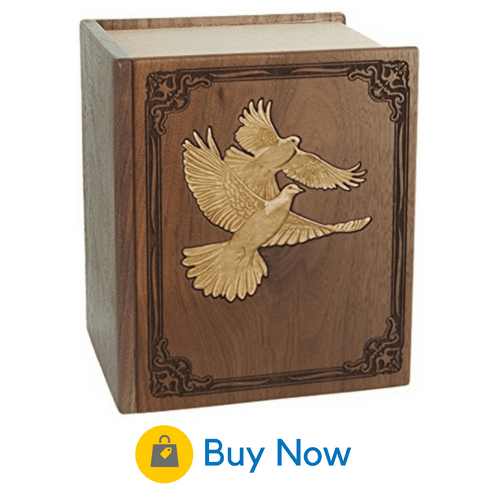 This unique urn is the ultimate in comforting artistry.
It is carved from a combination of different colored hardwoods to resemble the comforting heft of a large book, with a peaceful image of doves on the front.
To add to the rich detail, the lighter wood in the center is etched to resemble pages.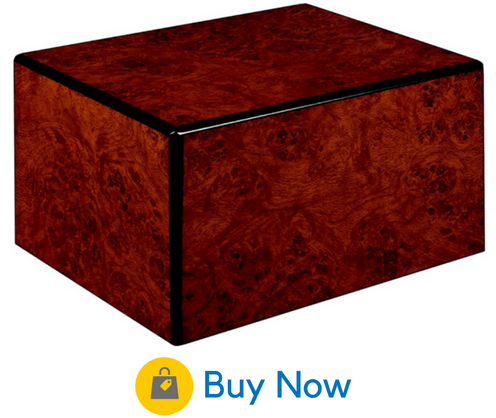 This stylish urn features a smooth lacquer finish, accentuated with a black edge.
The burl design makes it look natural and elegant at the same time.
No two of these urns are the same, so you can be certain that the one you purchase for your loved will truly be unique.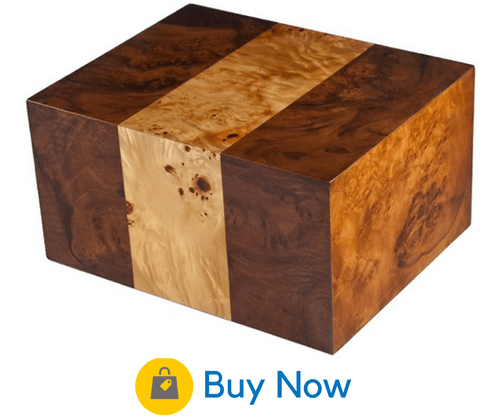 A sumptuous velvet-lined interior and a fine maple burl exterior will make you feel that your loved one is truly resting in luxury.
The burl alternates with darker walnut insets for a lovely textured appearance.
It can easily be engraved with personal details about your loved one.
For more information and how to purchase, check out their online store.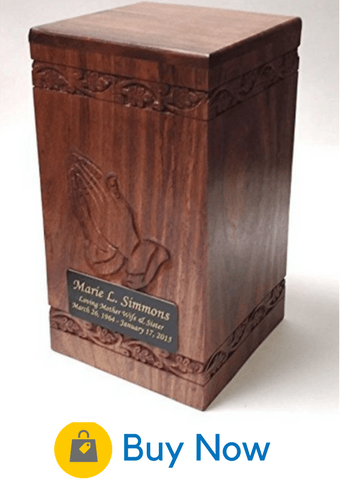 This is a large, sturdy urn in elegant walnut.
It's an ideal way to memorialize the devout spirit of a loved one with an active prayer life.
An image of praying hands is engraved on the front.
A personalized brass plaque is included as part of the package.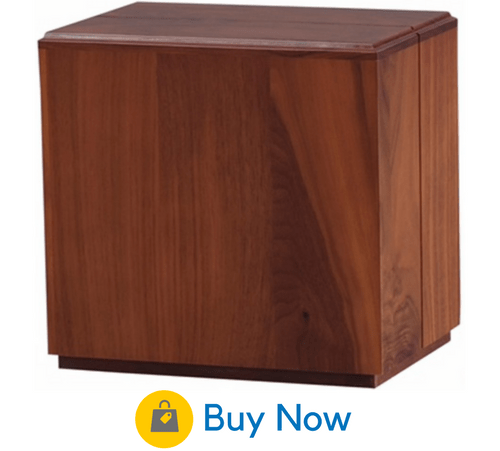 This urn is ideal if you are searching for a display that is both simple and contemporary.
In some situations, it can be difficult to find an urn that complements your home decor and stores your loved ones remains in style.
A one-of-a-kind vertical design and a dark walnut construction will look great anywhere.
Memorials4u Solid Rosewood Box: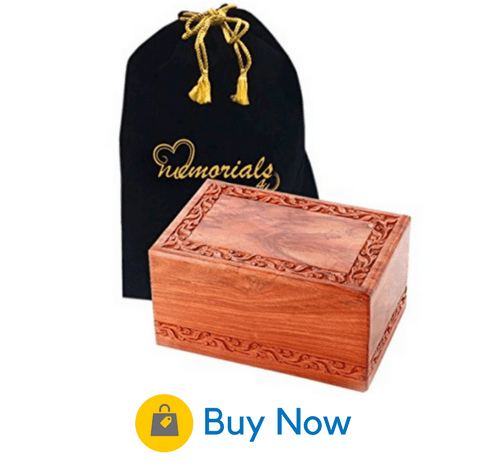 This urn, beautifully hand carved in soft rosewood, is just the right mix of softness and strength.
The border design adds a lovely touch of elegance.
A sliding panel on the bottom gives you security as well as easy access.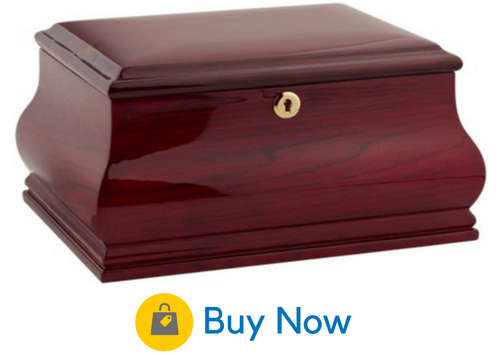 You might want more than simply an urn to hold a loved one's ashes.
The Bombay Memorial is a chest to hold ashes, photos, mementoes, and all the precious relics of a life.
It's a dignified wood veneer chest that closes with a brass lock and key.
American Patriot Urns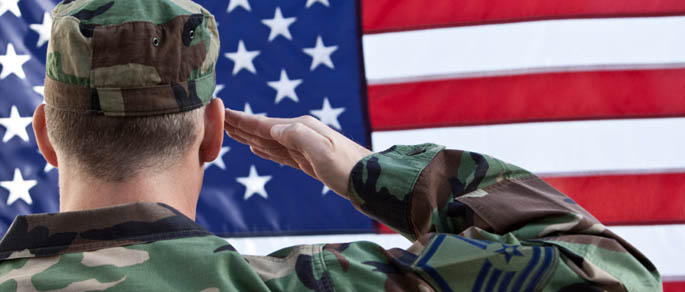 Sometimes a special remembrance is needed to honor the true patriotic spirit.
If your loved one proudly served our country, in times of war or peace, you will want an urn that demonstrates that noble spirit of patriotism.
If you're planning, be sure to read our VA benefits guide, to see what you're entitled to.
Here are some urns that we consider a fitting tribute to a selfless life of service to our country.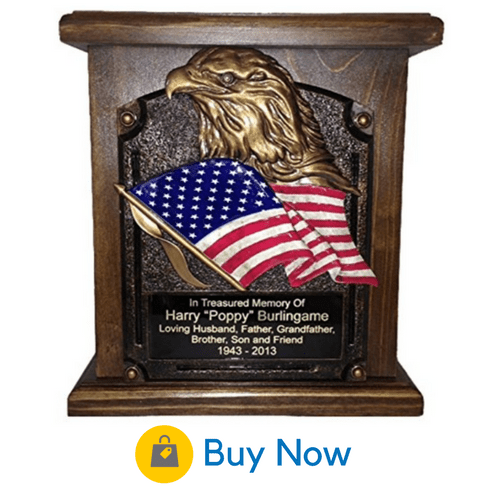 This urn is made of solid wood and adorned with a three-dimensional image of an eagle superimposed on an American flag.
Personalized engraving appears on a plaque at the bottom, and it is included in the price of the urn.
Alpha Mega American Patriot Urn: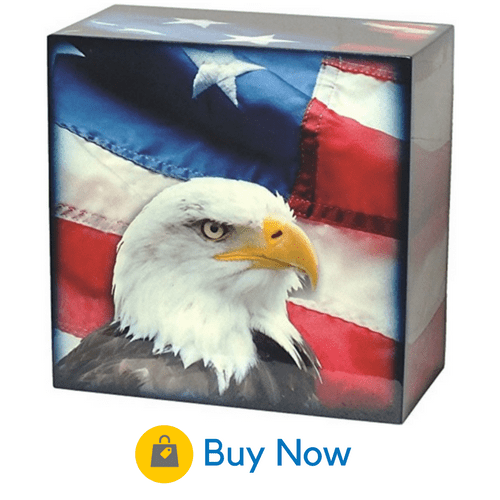 This colorful wooden urn brightly displays the American flag and an eagle in detail on the front.
The finish is shiny and smooth.
You will be proud to display your departed loved one's patriotism with this vivid and beautiful urn.
Companion and Large Urns
There are times when you need an extra special urn for two people who shared a unique bond.
For the married couple who adored each other or sometimes for a parent and child.
It seems only right to combine their ashes together for eternity.
Or perhaps your loved one was extra special because there was just a lot of them to love.
Soulmates Together Wooden Companion Urn: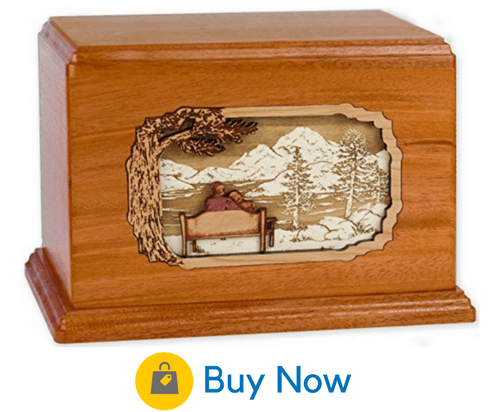 This mahogany urn features a comforting inlaid picture of a couple sitting lovingly side-by-side on a bench.
You can imagine your favorite couple in a similar pose through eternity.
You can also request personalized laser engraving on the urn.
Wooden Lighthouse Companion Urn: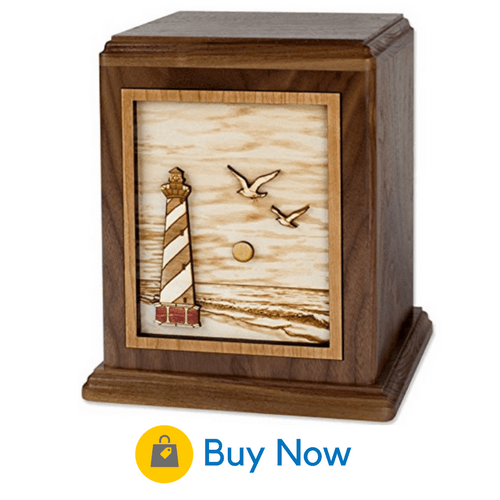 This is the perfect remembrance for the lighthouse enthusiast, with a beautiful inlay of the famous Cape Hatteras Lighthouse.
The urn is crafted in premium hardwood with a choice of maple, walnut, oak, or mahogany.
The selection of wood and precision carving results in a lifelike, three-dimensional, coastal scene which makes you feel like you're there.
More Companion Urns
If you're looking for more options, take a look at our extra large urns list compiled by our team.
Wooden Pet Urns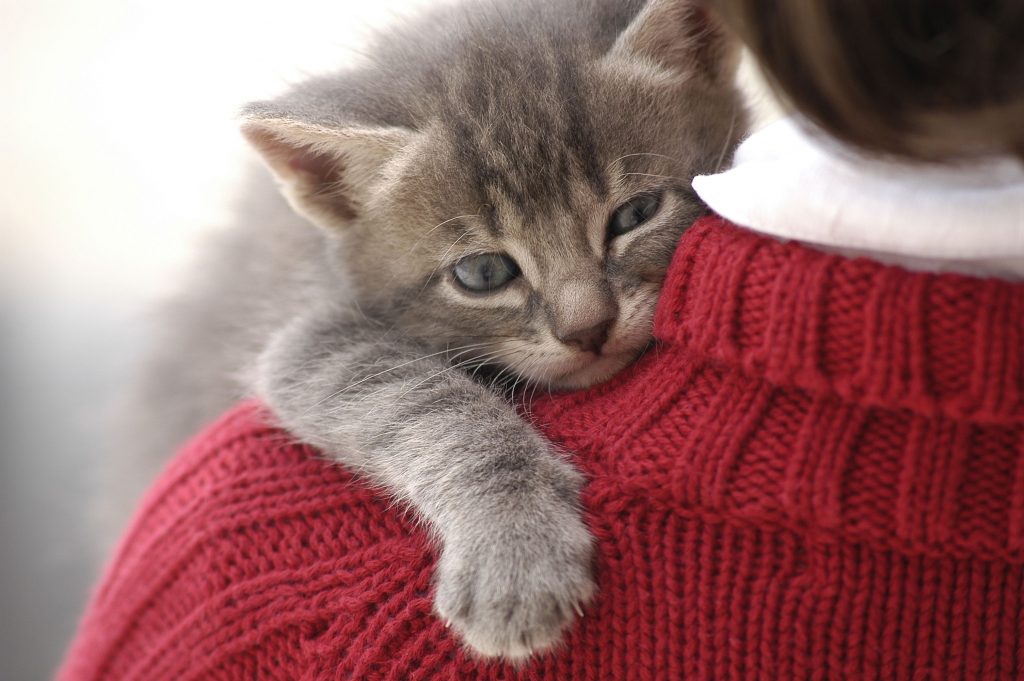 As a treasured member of your family, a lost pet deserves a place of honor in your memory.
The old-world dignity of a wooden urn is the perfect way to show that.
Many wooden pet urns include personalization with a pet's name or even a photo.
Here are some worth checking out.
Custom Engraved Wooden Cat Urn: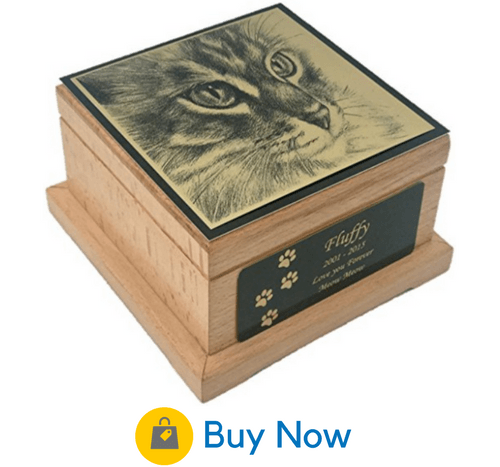 Able to hold up to just 40 pounds of body weight, this urn is the perfect size for the remains of your sweet cat.
A sublimated plate on the top of the urn pictures a cat's head.
A black plate on the front comes engraved with your cat's customizable details.
More Cat Urns
For more ideas and designs, you can see our cat memorials guide.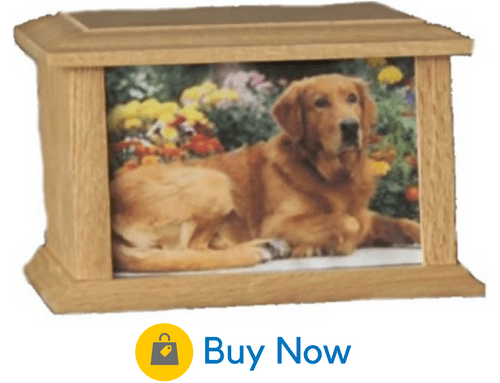 This urn is handmade from fine American oak and covered with six coats of hand-applied lacquer.
The large size fits pets up to 50 pounds.
A photo of your pet can be displayed so that you can keep a visual reminder nearby.
More Dog Memorials
If you're looking for more memorials for dogs, check out our urns for dogs review and also our dog gravestones guide.