They're our best friends and most loyal and companions.  And when they go, they leave a huge hole in our hearts and in our lives.
So naturally we want to give our furry friend a perfect memorial.
But what options do you have?
To give you inspiration on what you can do, we've create the most detailed list of dog memorial ideas.
Take your time to read through and see what's right for you.
Handmade Custom Dog Urns
If you're looking for something very personal, artistic, and most important beautiful, a custom dog urn might for you.
What I love about these dog urns is that you get an image of your departed furry friend.
You just need to send the artist a photo, include a message and some details, and then they hand paint a lovely memorial for you.
Here are some of my favorite custom urns.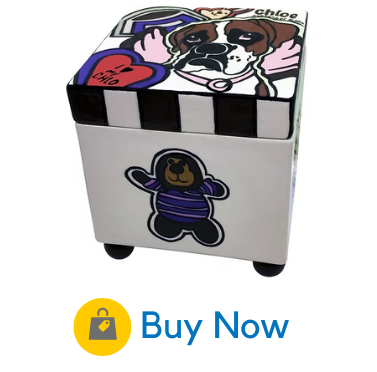 Honestly the photo doesn't do justice to how fantastic these urns really. I'm going to include a video of the making of one urn at the bottom of my my review.
This urn box is beautiful keepsake to celebrate the life and adventures of a beloved family pooch who has entered the realm of the afterlife.
Each piece is lovingly hand created by the talented artist with vibrant colors, cute animations, and contrasting white background.
No two items are the same and includes customized details about your pet. The box is available in two sizes. The four inch box has a capacity of 45 lbs and the five inch box can hold up to 90 lbs.
Each piece is a unique art piece and signed by the artist.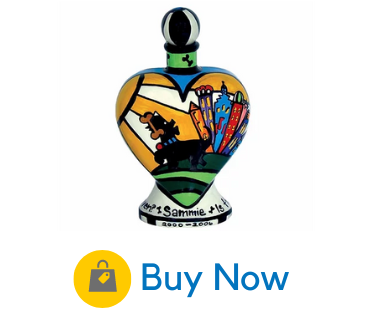 The heart is often a symbol of the intellectual, spiritual, and emotional substance of someone. It is the primary symbol for love.
That's why this custom dog urn makes the ideal remembrance gift to celebrate the essence of a departed doggie. Each item is handmade and an inimitable art piece, created and signed by the artist.
It measures 6.5 inches wide, 3 inches deep, and 10.5 inches high and can hold up to 85 lbs.
Even though your pet is no longer here, you can hold on to your memories and store its cremains in this stunning keepsake urn.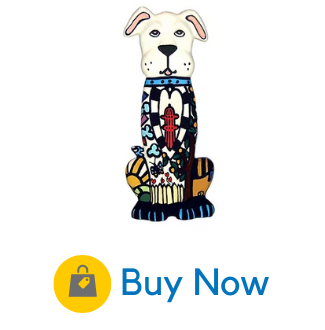 This figurine urn is a striking and exclusive art piece that offers an endearing way to commemorate your departed pet's life.
Each item is hand crafted and painted by the artist to reflect the unique characteristics of your furry friend.
The vibrant colors, lifelike features, and interesting details makes this item a one-of-a-kind art piece. It measures 2.5 inches wide, 4 inches deep, 10.5 inches high, and holds up a maximum of 60 lbs.
Even though your best friend is no longer with you, you can still commemorate its life in a tangible way with this stunning keepsake urn.
Personalized Pet Ornaments
If you're looking for something small and very creative, one of these handmade pet memorial ornaments could be perfect.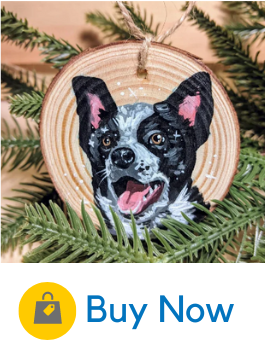 Saying goodbye to a beloved four-legged child is never easy, whether it being a dog or a cat. A pet shares a specific time with your family and embodies an era, no matter the time period.
No two pets are alike, each with their unique personality traits. Pay your last respects with this custom created wooden portrait of your pet. The artist makes each piece from scratch, immortalizing the image of your pet on a wooden round.
You can use it as an ornamental piece or hang it on the Christmas tree. Even though your cherished pet is no longer with you, it still shares a special place in your home.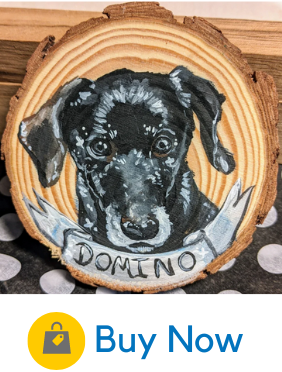 If your heart is still grieving over the loss of a deceased pet, you can keep their memory alive.
This custom made pet portrait is wall mountable and can be displayed in your home to remember your furry child. The artist uses superior quality acrylic paint to recreate the image of your beloved pet on a wooden round.
A pet enriches our lives with their undying faithfulness, love, and companionship. What better way to honor their memory than to keep a part of them in our homes.
Handmade Dog Portrait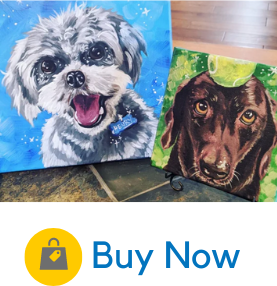 At some point, we need to bid farewell to our loyal and cherished family pets.
Even though it is a trying time, remembering the things you've done together may bring some solace after losing them.
You can celebrate their life and display them in your home with this custom pet face portrait.
The skilled artist uses acrylic paints to recreate an image of your pet on canvas that is wall mountable.
You can opt for your favorite color, rainbow colors, or leave it up to the artist's discretion to choose a background color that suits the coat of your pet.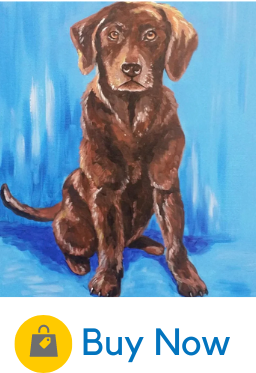 It is devastating to say goodbye to our pets, but death is part of the cycle of life.
You might remember them affectionately when you think about all their personality traits and quirks.
You can treasure the fond memories and special times you shared with them with this full body pet portrait.
Each item is hand painted by the artist, from a photograph to capture all the physical characteristics that made your furry friend unique.
Only superior materials are used to provide you with an extraordinary memorial keepsake that you can feature in your home in memory of your lost pet.
It's amazing the things you miss when you've lost a furry companion. The sound of your dog chewing his bone, though it may have gotten on your nerves occasionally, is one of the many things you miss.
This glass sculpture in the shape of a dog bone immortalizes that endearing and enduring habit.
And it's infused with your dog's ashes, so you can feel like he's close by your side all the time.
The glass comes in up to two different colors, making this memorial truly vibrant and unique.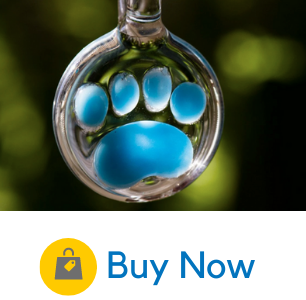 What better way of showing your pet's lasting memory than by wearing her paw prints close to your heart for all to see?
The artist forms the paw print lovingly out of your pet's cremains, then superimposes them against the color of your choice. (There are a variety of fifteen color options available.)
You can also choose a standard paw print or a polydactyl cat print, with an extra finger or thumb, so you end up with a memorial that is truly fitting to your beloved pet.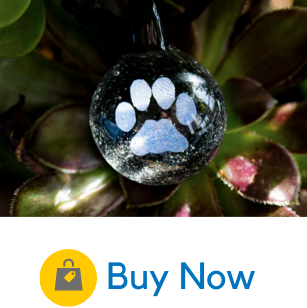 This pendant is crafted of solid glass which encloses a striking hologram of blue or gold foil.
The pendant comes in two sizes: a Small with a ⅝" diameter, or a Large, with a diameter of ⅞".
All you need is a quarter-teaspoon of your pet's cremation ash to immortalize them within the glass forever.
You can even opt for a brief inscription on the pendant for a small additional fee.
The pendant comes on a cord which adjusts easily to the desired length.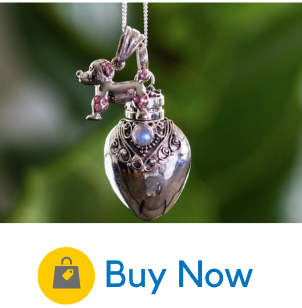 This is an ornate but delicate pendant made of sterling silver. The details carved into the pendant and the accompanying dog charm give it an old-fashioned beauty that you can wear proudly.
A twist-off cap at the top of the pendant allows you to insert a small amount of fur or cremation ash with both ease and discretion. You can then seal it with some epoxy glue to ensure that the ashes remain secure.
You can opt to purchase either a snake or curb chain, in a length of your choice.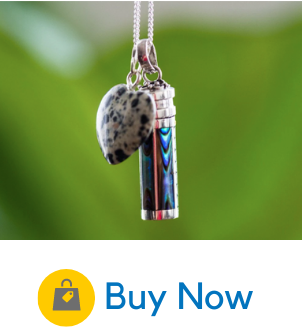 A tiny Paua shell, inlaid with a heart, lends an extra touch of beauty to this silver pendant. The lovely spots on the heart evoke the memory of a Dalmation dog's spotted coat.
You can twist the top off to add a small amount of fur or cremation ash.
It's the perfect way to keep your beloved furry friend close to you wherever you go.
The pendant comes with a silver necklace in a choice of six different lengths.
You can get a 20% discount by ordering additional necklaces for family members.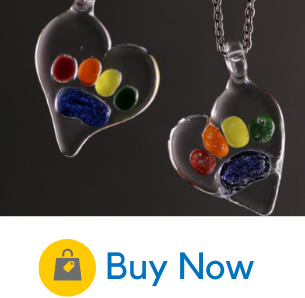 The rainbow is a symbol of eternal life and new promise for the future. It's no wonder that the "rainbow bridge" is often used as a metaphor for the afterlife of beloved pets.
This beautiful pendant will remind you every day of your lost pet's new life with a rainbow-colored paw print. It's enclosed within a glass pendant and infused with a small amount of cremation ash.
The discreet but striking pendant can be placed on your car's rear view mirror, in front of a sunny window, or lovingly placed over your heart.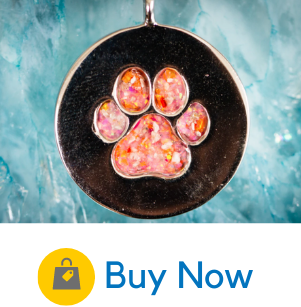 Tiny but captivating, the dark glass background of this disc pendant perfectly sets off the vivid colors of a paw print in crushed synthetic opal.
Choose from a vast palette of color variations such as Light Yellow + Dusk Blue, Red + Yellow, Red + Blue, and just about any other combination you can imagine. You can choose up to three colors.
Cremation ashes are swirled into a resin and then set permanently within the pendant.
The color of your pet's ashes subtly influences the color of the pendant, so no two are ever alike.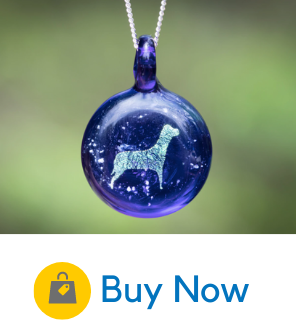 The iridescent silhouette of a dog in gold foil graces this glass pendant, infused with cremation ash.
Your beloved pet's ashes are enclosed securely forever within the glass. An extra layer over the blue core ensures it will stand the test of time.
The pendant is a flat colored disc, with a diameter of about an inch.
It's available in six translucent colors (including green, yellow, or amber); you can also opt for simple clear glass.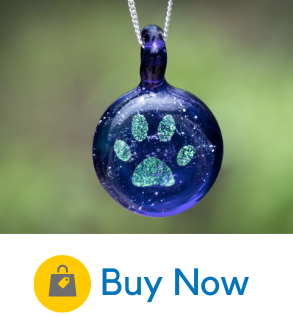 This pendant comes in glass in your choice of seven colors: Green, Yellow, Amber, Purple, Clear, Blue or Orange. Within the glass, a small portion of cremation ash is carefully preserved along with a delicate gold foil paw print.
The appearance of the flat disk can take on an opaque or translucent appearance, depending on the color and consistency of your pet's ashes.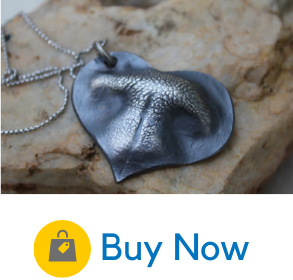 One of your favorite memories of your dog is the way he pushed his wet nose right up against yours. There is nothing quite like the unconditional love of a pet, and this pendant is the perfect remembrance of that.
You can customize the size of the nose that is carved realistically onto a beautiful sterling silver heart. A silicone or ink kit will be sent to you so that you can create a true-to-life molding of your pet's paw or nose. Then you get to choose the layout and shape of the pendant, and add engraving if you desire.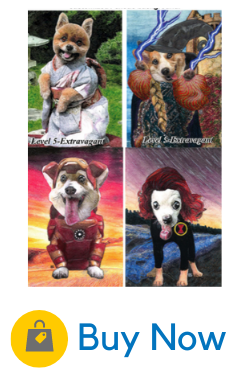 Whether it's a gorgeous painting or a simple line drawing, a portrait can help you keep your pet's memory alive. And these are so true to life, that you'll feel like you're seeing her playful smile again every time you look at it.
You can choose among six different levels of detail: Grayscale, Budget, Economy, Standard, Luxury or Extravagant, which portrays your pet in full-color detail against an exotic background.
Cremation ash can be added within the portrait for an additional fee. It requires only about a teaspoon.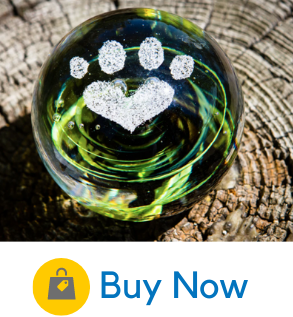 In this colored glass orb, your pet's ashes are artfully preserved in the shape of a delicate snowy paw print.
A base or stand for the orb can be purchased separately. By setting it on the flat spot on the bottom, you can view the paw print from above. And you don't need to worry about it rolling off.
The orb comes in sizes of either three or four inches in diameter. You can choose from a stunning array of 12 different color combinations.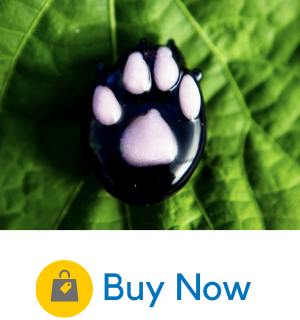 Grief is a complicated experience, coming and going in waves when we least expect it.
Sometimes, simply touching a comforting object makes all the difference in helping you navigate those unexpected waves of sorrow.
This small but beautiful touchstone can rest on your desk or windowsill. Or you can carry it with you in your purse or the glovebox of your car.
The smooth glass is sweetly decorated with a paw print and infused with a small portion of your pet's cremation ashes, so they can remain close to you at all times.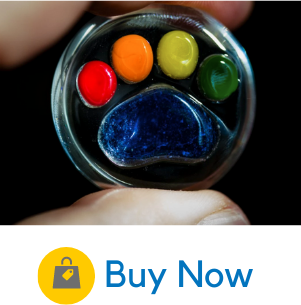 The rainbow hues of the paw print on this touchstone is a comforting and tangible reminder that your pet lives on in your memory.
The cremains are mixed into the colored paw print, so you know you have your pet with you wherever you go.
At about one inch in diameter and weighing less than an ounce, the stone is small enough to rest in your pocket so that you can touch it whenever you need some quick comfort.
It's the perfect reminder of the legendary "Rainbow Bridge" where your pet has gone.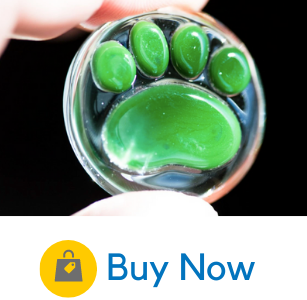 This smooth glass touch stone comes in a variety of 15 stunning colors like Poppy, Forest, Grey, and Hyacinth.
The colored glass encloses a paw print incorporating about ⅛-teaspoon of your fur baby's cremains.
The stone is less than one inch in diameter and weighs less than an ounce, so you can close your fingers around it whenever you are in need of a tangible source of comfort.
Discounts are available if you'd like a set of touchstones to distribute among family members.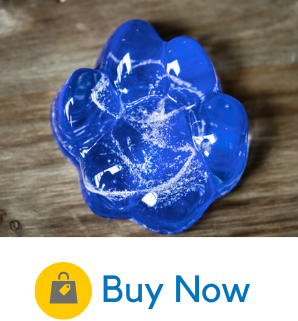 This solid glass memorial is lovingly crafted in the shape of a paw print from glass infused with your pet's cremains.
There are three varieties to choose from. You can opt for the cremation ash to be spread in opaque streaks throughout the glass. You can also choose to have the ashes contained within a heart at the center of the paw.  Lastly, the ashes can be diffused within the paw print.
Each variety has its own unique and striking beauty.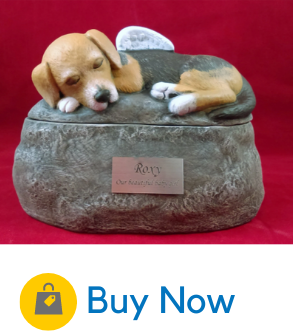 This hand painted ceramic urn is carefully crafted to match the coloration of your beloved dog. In addition, you can personalize it with an engraving of up to 40 characters.
The urn twists open to allow you to place a small amount of your pet's cremains inside. Every detail is painted and carved with love and care.
Memorial Picture Frame
Seeing your dog every day will remind you of all the good times shared.
You can choose a frame design that suits their one-of-a-kind personality.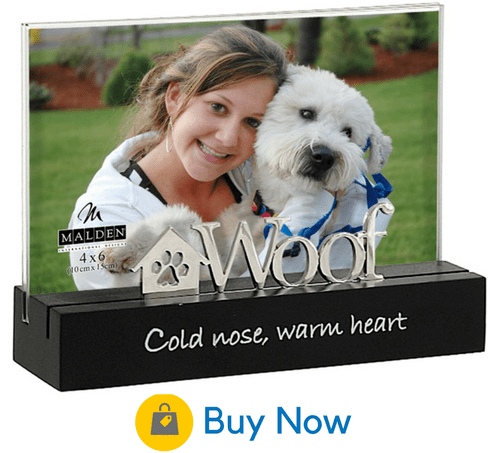 This sweet black wood desktop frame by Malden Designs displays a 4×6" photo.
It has a simple modern look, and it's easy to clean.
The Grasslands Picture Frame is another simple but charming option.
A sculpted cement texture gives it a unique look.
A Tattoo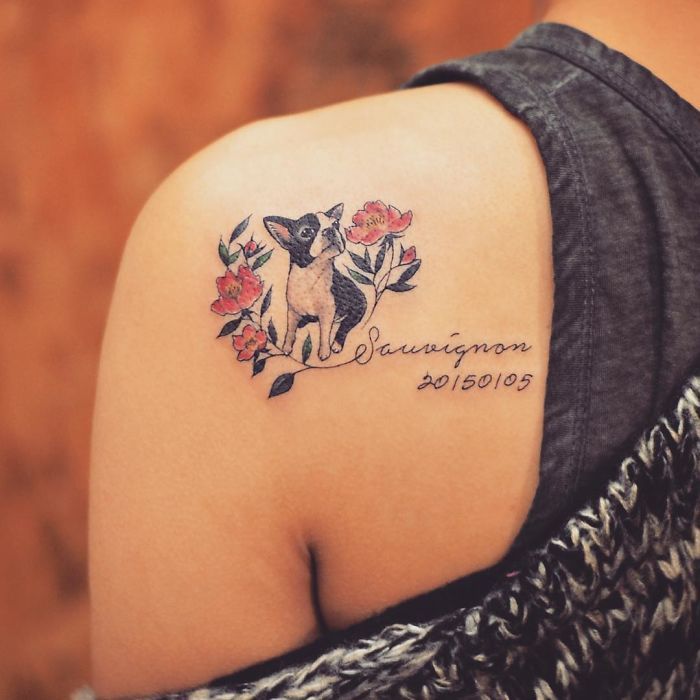 Your dog will always be with you in spirit, so why not show their presence physically with an artful memorial tattoo?
You can opt for something simple and discreet, or get a full 3D portrait of your adored pet.
A variety of images and symbols can be placed on your arm, shoulder, ankle, or back for a permanent and ever-present display.
Portrait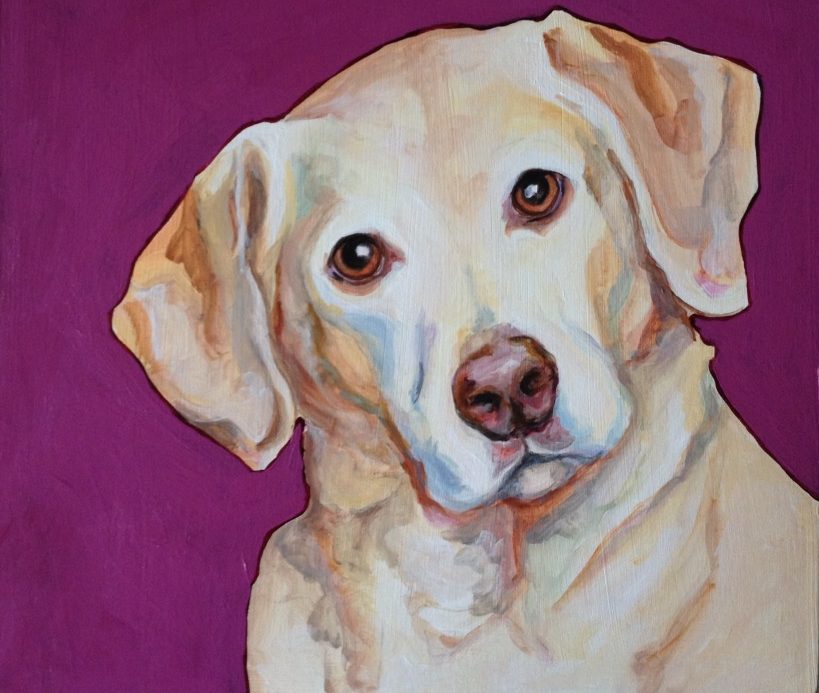 These custom-made portraits from Paint Your Life can capture the distinct features and personality of your pet.
Oil paintings are the most popular choice, but other options like charcoal, pencil, and watercolor are also available. You can even select an artist to get exactly the style you want.
You can hang a wonderfully lifelike portrait of your dog on your wall and see their face every day.
Memorial Dog Collar
Your dog's collar is a beautiful reminder of their life.
You can still feel their presence long after they're gone.
There are few special products on the market worth looking at.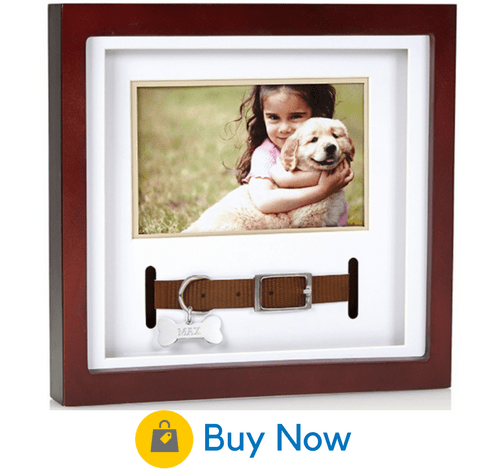 This collar keepsake frame from Pearhead is a very elegant choice you can hang in the home.
It has space for a 4.5×3" photo insert, with the collar displayed beneath.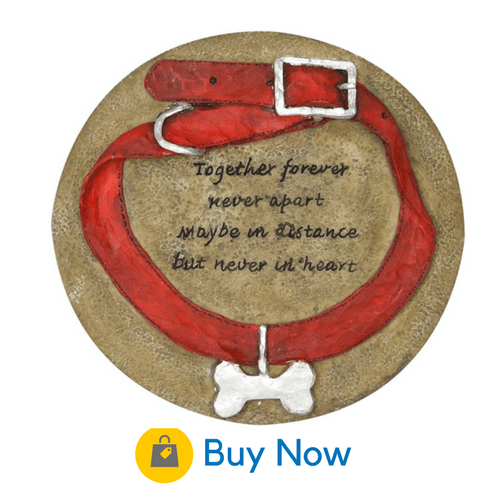 You can also display the collar as part of a charming stepping-stone to decorate your garden or yard.
Evergreen Garden makes a lovely (and very affordable) polystone stepping stone on which the collar encircles the engraving of a touching quote.
A Memorial Statue
A dog statue is subtle yet sweet memorial that will fit in around the home.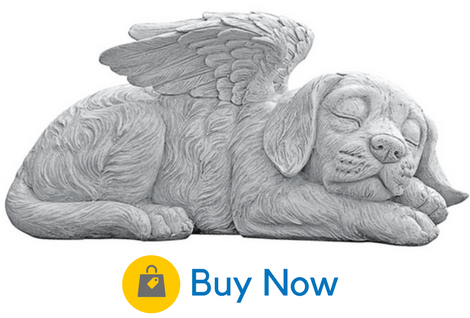 If you're a statue person, the Toscano Dog Angel might be for you.
It's a beautiful statue of a dog peacefully sleeping with delicate angel wings.
Made of real crushed stone, it's a lovely remembrance.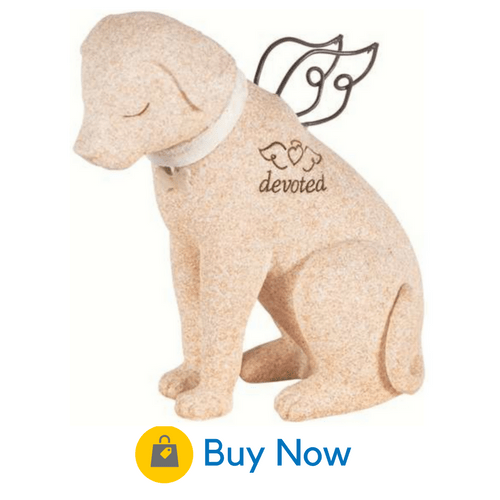 Another option is this beautiful Figurine Statue from Carson Home.
It's hand-painted resin dog statue featuring angel wings and the word "devoted" engraved on it.
Visit the Carson store on Amazon to check it out.
A Canvas Print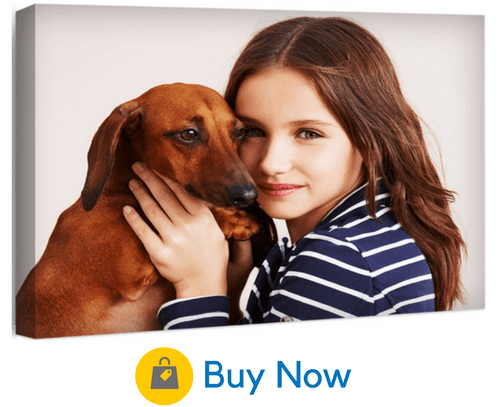 Another wonderful memorial idea you can keep forever is a canvas photo print.
Art to Frames make it easy to convert your dog's photo into a stunning canvas.
Easy upload on Amazon
They make the process so easy- you just upload the photo directly on Amazon.
It will then be transformed into a stunning HD image and printed onto a durable 24×36" canvas.
A Memory Book
If you have too many unforgettable images of your precious dog, then why not display them in a lovely photo album.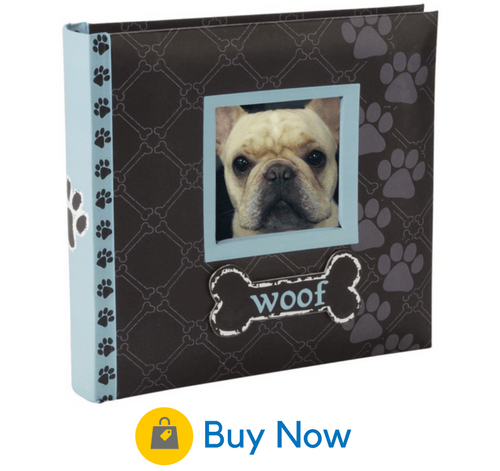 The "Woof" photo album holds 80 4×6" photos.
An attractive front cover offers a small inset to display your pet's photo on the front.
The album is available from Malden International Designs at the Amazon store.
Stuffed Animal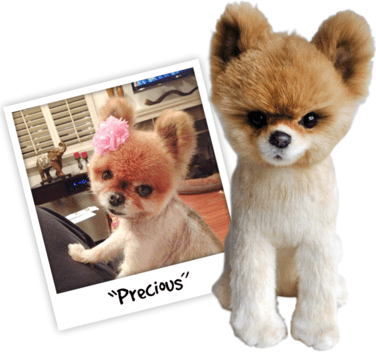 Cuddle Clones will create a mini stuffed version of your dog.
You can give detailed directions regarding the position of the tail, the ears, and even the mouth to make the stuffed animal closely resemble your own in every way.
As an added bonus, they even donate a portion of your sale to help causes like the Petfinder Foundation and Dogs on Deployment.
What to do with your dog's ashes?
Dog cremation is very common, but it still leaves the question of what to do with the ashes?
You'll be pleased to know, there are so many ashes memorial ideas.
Below we'll list some popular ones.
A Dog Urn
There are almost as many different kinds of urns as there are different kinds of dogs.
You can find a traditional urn, a photo urn, or even a tree urn.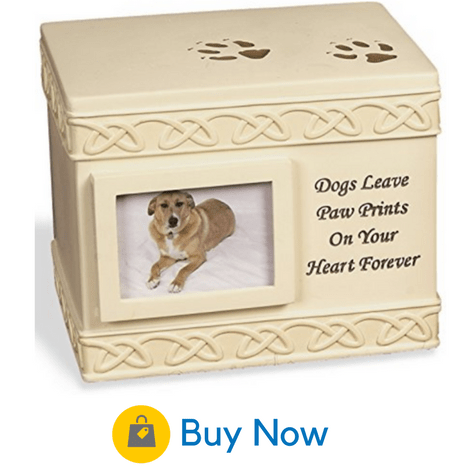 The AngelStar 5-Inch Pet Urn is just one of many ways to honor your dog's ashes.
You can find it at their Amazon store.
Want some more Dog Urn ideas?
Check out our new dog urns guide, which list our top 10 favorite memorials available.
A Necklace
Keep your dog's memory close to your heart with a lovely necklace.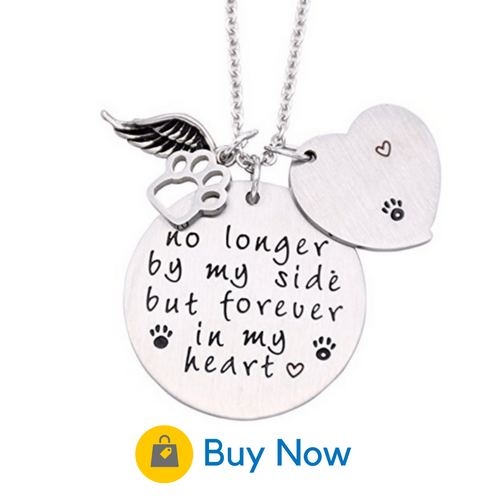 This stainless steel pendant from O.RIYA is a fitting and lovely tribute.
It comes with a delicate angel's wing attached and an inspirational quote on the pendant itself.
A Bracelet
They may have passed away, but with a memorial bracelet, they can remain close to your side anytime you want.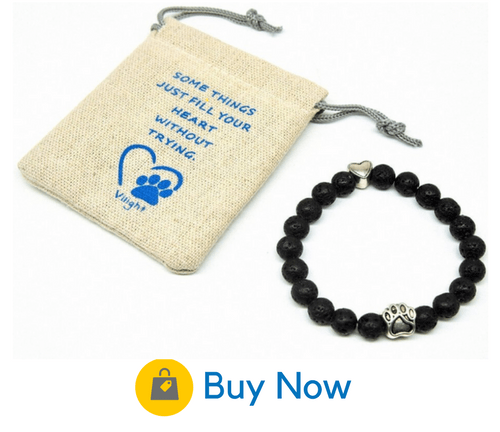 This simple bead bracelet from Vilight is a memorial that's understated but beautiful.
Beads of stone lava are interspersed with paw print charms.
It comes in a convenient linen bag with a sympathy card, making it a great gift.
A Ring
Another way to wear your dog's memory close to you is with a memorial ring.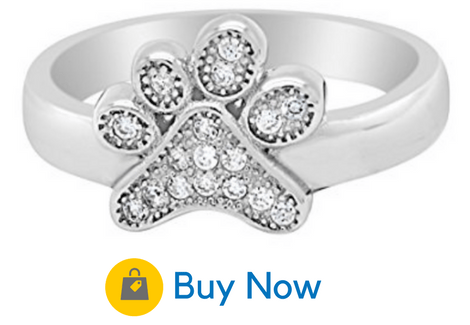 FARPAC's sterling silver dog paw ring is just as beautiful as your memories.
A paw print with tiny cubic zirconia stones adds sparkles this wonderful piece.
The best place to buy it is FARPAC's online store.
A Keychain
Simple, inexpensive, and convenient, a memorial keychain is another way to keep your dog's memory close.
You can carry it with you whenever you start your car or unlock your home at the end of the day.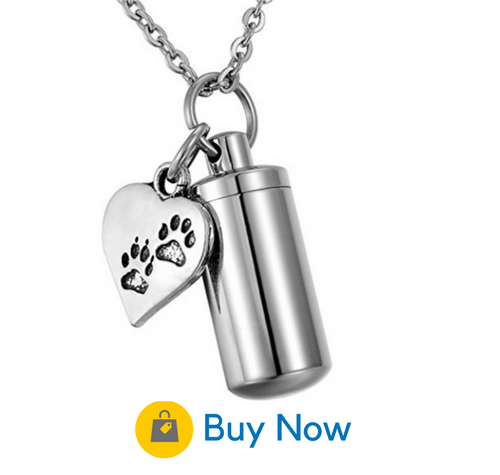 And this keychain from HooAMI has an added bonus of a tiny keepsake.
You can carry fur, flowers, or a small amount of the cremated remains.
Pet Cemetery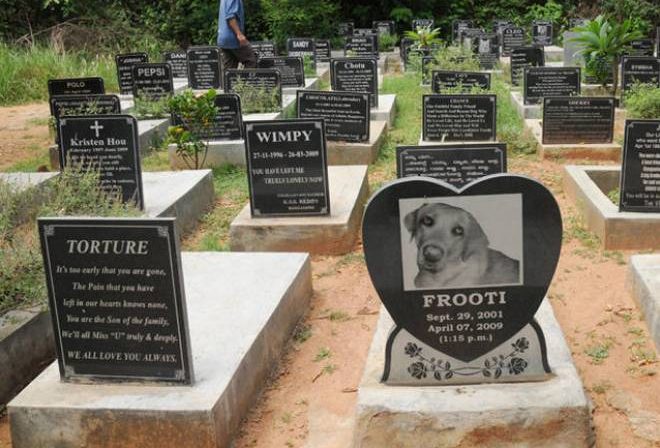 Why not honor your dog in the same way that you would honor a human loved one?
That's the thinking behind Pet Cemeteries like Hartsdale in upstate New York.
You can purchase a plot that fits your dog and your budget.
Cremation plots, funerals, viewings, and transportation can all be included.
Cremation Diamonds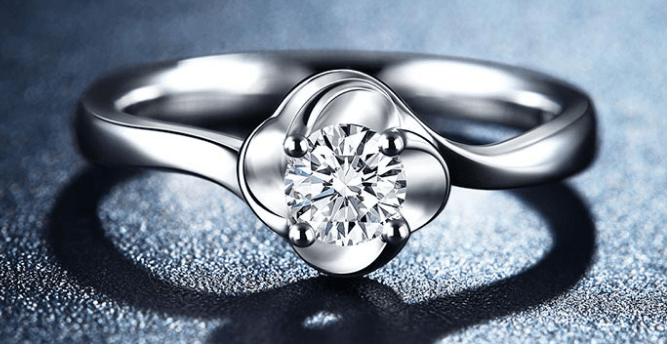 Did you know that you can transform your dog's ashes into a beautiful diamond?
These cremation diamonds are created in a laboratory by extracting carbon from ashes and hair.
A diamond cutter is then used to form the facets into a selected style.
You can choose the color and the cut you want for a highly personalized memorial diamond.
Scattering Your Dog's Ashes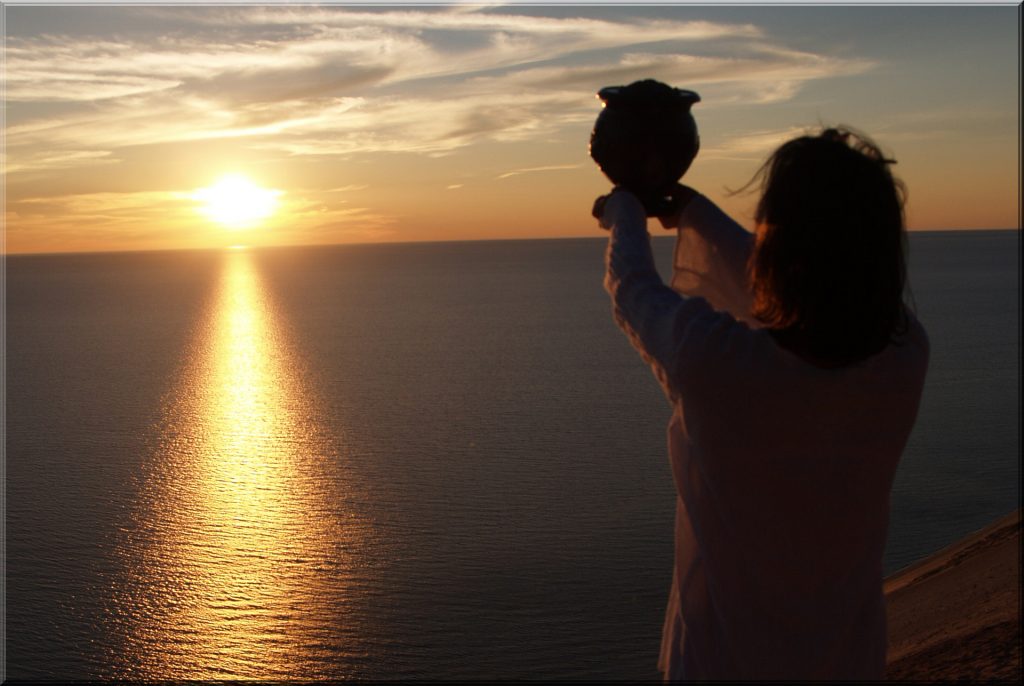 Another very popular option, scattering the ashes can be a deeply symbolic and meaningful way to move on.
There are really no limits to the places you can choose.
Popular choices include scattering at sea, in a garden, a national park, or even from a plane.
Ashes can be scattered by hand or with a biodegradable urn.
They can also be placed in an urn and buried, or scattered along a trench or in a circle around a special object.
Garden Memorials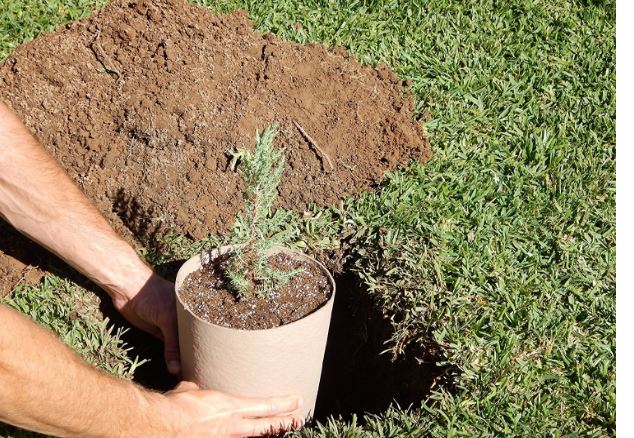 If you are like most dog owners, some of your favorite memories will be of time spent outdoors with your pet.
Running, hiking, or just tossing a frisbee around were probably activities that you enjoyed together.
So what better way to memorialize your dog than with an outdoor tribute in your garden?
Here are a few intriguing options.
Planting a Tree Urn
There is something to be said for nature's cycle of death and rebirth.
And that's exactly the philosophy behind a Bios Pet Tree Urn.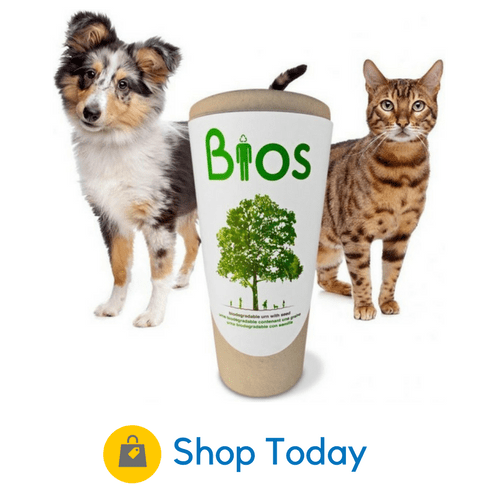 The urn transforms your dog's ashes into the seeds of a tree.
Not only does this give you a tangible representation of your pet for many years to come, it's also an environmentally friendly choice.
Check out their Amazon product listing for more information, well as our handy tree urns guide.
A Headstone
Dog headstones come in many colors, sizes, and materials.
For outside and inside the home, they are a popular symbolic reminder your dog.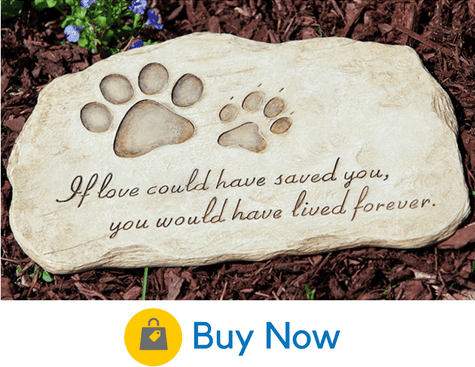 The evergreen stepping stone can add to your garden decor with a charming paw print and inspirational quote painted on durable polystone.
It can be purchased from Evergreen Garden's online store.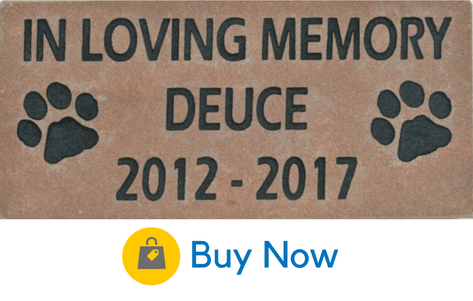 The engraved red stone grave marker from GraphicRocks allows you to personalize it with name and dates.
Sandblasted engraving is certain to last in any kind of weather.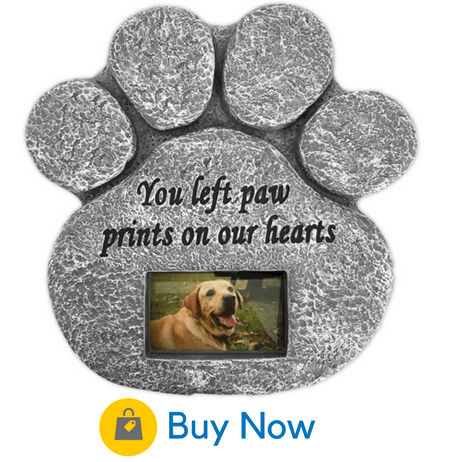 The paw-shaped memorial stone from Barnyard Designs gives you the unique option to add a photo beneath.
Check out their Amazon listing here.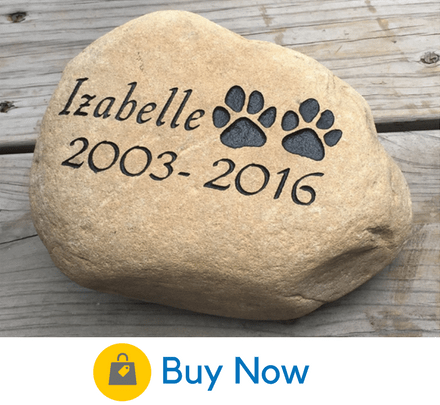 You can also purchase a personalized river stone from Upstate Stone Works.
Simple but classic, the resin stone features your dog's name and birth and death dates.
A Garden Stake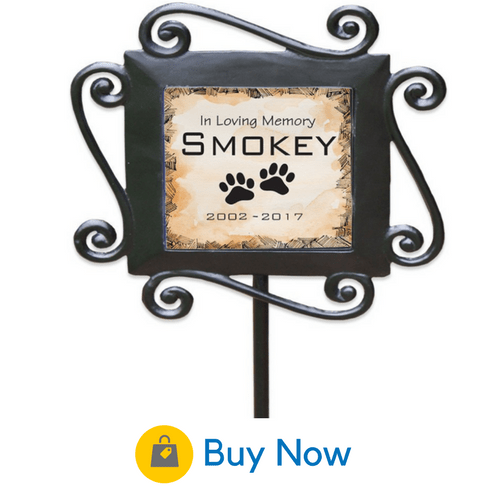 A garden stake is a unique marker than can be placed near your pet's favorite outdoor spot.
A decorative wrought-iron stake displays your dog's name and dates on ceramic tile.
You can find it at GiftsforYouNow on Amazon.
Do-It-Yourself Memorial Ideas
Are you the kind of person who needs to stay busy by doing something productive?
Creating a memorial may give you a positive channel to remember and grieve for your special friend.
It's also a great idea if you have children upset by the loss of a pet.
Here are a few of our favorite ideas.
Create a Shrine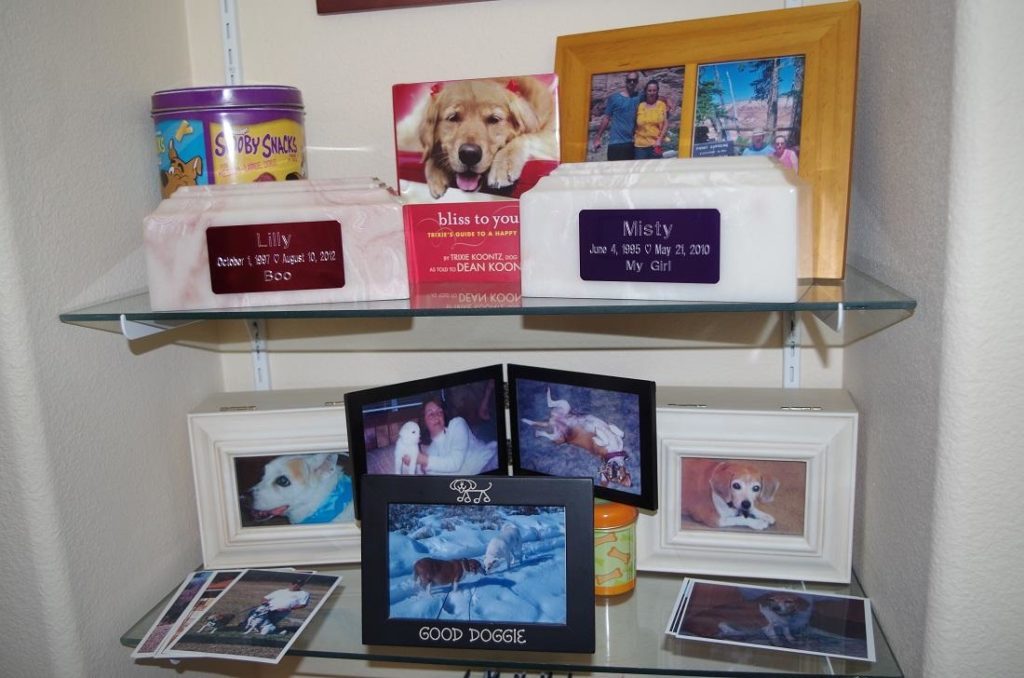 A simple shrine on a bookshelf can display those objects that make you feel close to your dog.
These can be framed photos, poetry, locks of fur, or urns containing their ashes.
A shrine is easy to create and you can look at it every day.
Make a Memorial Plate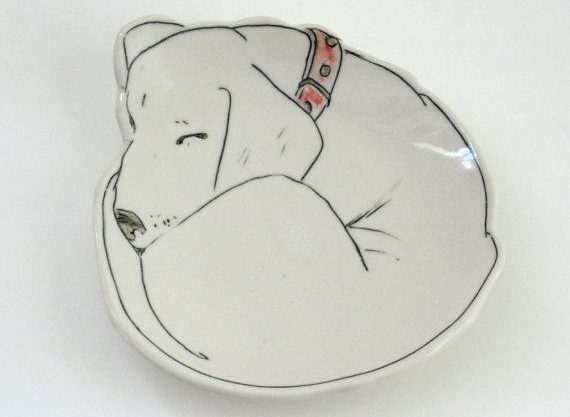 You can create a plate featuring a picture of your dog, her name, a poem, or anything else that helps you celebrate her life.
You can enjoy the cathartic experience of artistic creation that you can use every day.
Create a Stepping Stone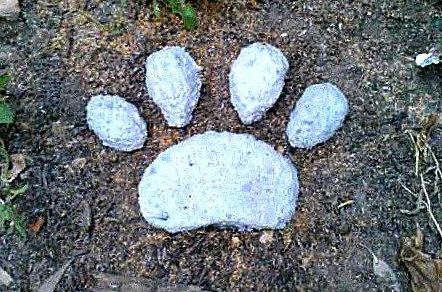 Although there so many available, it's not hard to create your own.
A bag of mortar mix, a mold, some water, and stone stamps are all you need to make a beautiful and durable stone to mark your dog's last resting place.
A Photo Collage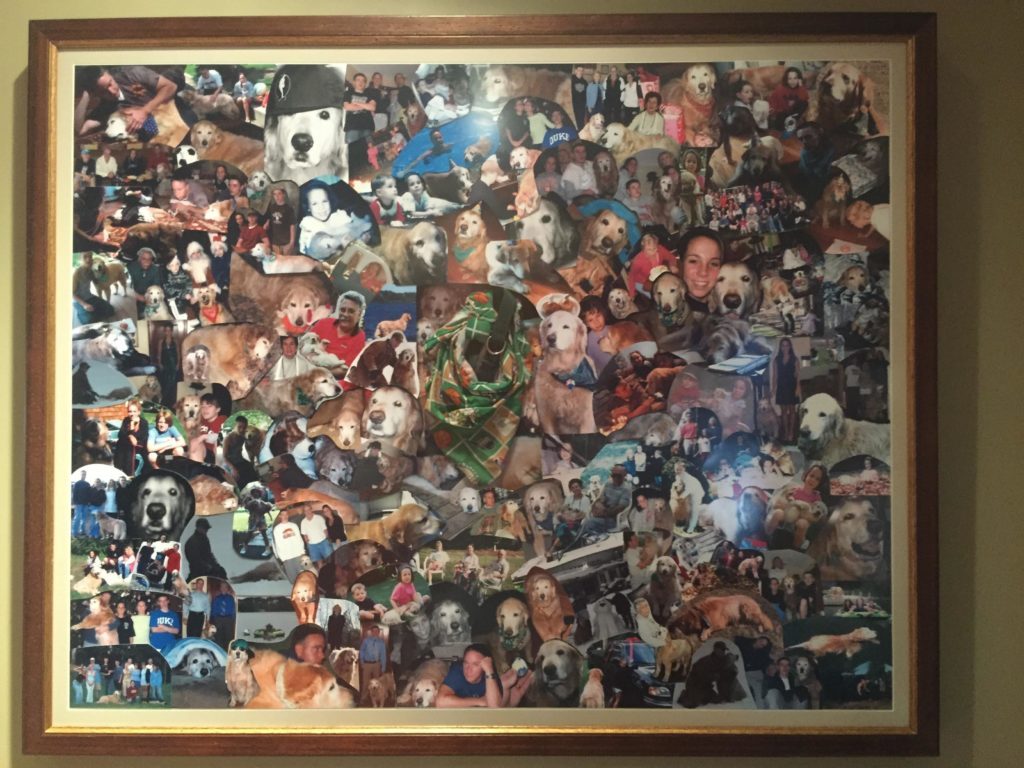 Why remember your dog with just one photo when you have the option of including many?
With a framed photo collage, you can include as many images as you want for a total picture of all the things you loved most about your dog.
Make an Online Memorial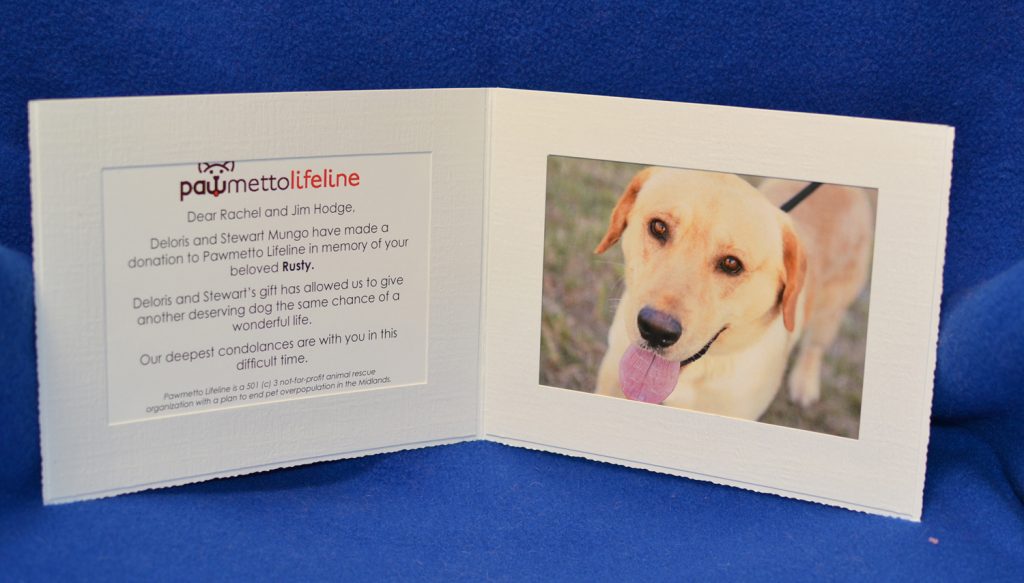 With an online memorial, you can share memories of your dog with friends and loved ones far and near, and they can contribute too.
ILovedMyPet.com is a platform that hosts online memorials for free, with only a small fee to keep it on their site after the first three months.
Another bonus: all proceeds go to benefit the Humane Society.
Create a Shadow Box Memorial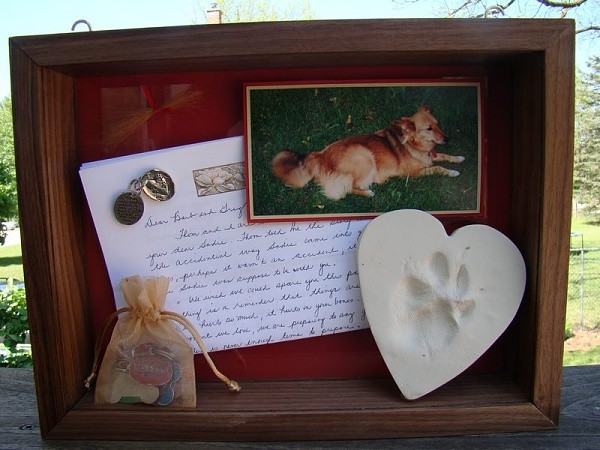 A shadow box is easy to make and you can include photos as well as a variety of objects, like her collar or her favorite toy.
It can be prominently displayed for a daily reminder of the special times you shared.
It can also feel good to use your creativity as a way of coping with the feelings of loss.