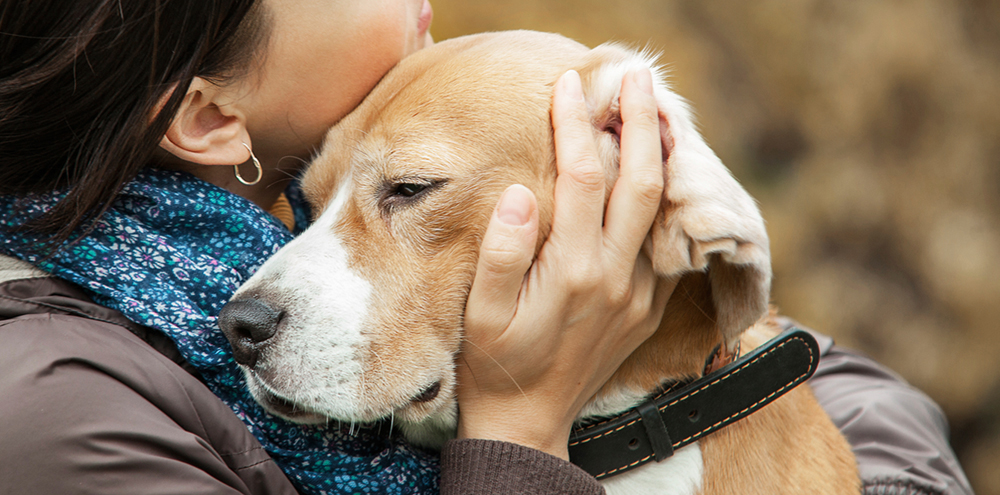 They were your companion, exercise buddy, and the one who meets you at the door every day.
And of course you want to honor their unconditional love with a special memorial.
And what better way than with a beautiful dog urn.
They're elegant, affordable, and can be personalized for your furry friend.
If you choose to honor your dog in this way, there are many options available.
Below you'll find some great choices on the market that our pet experts recommend.
The Angelstar Dog Urn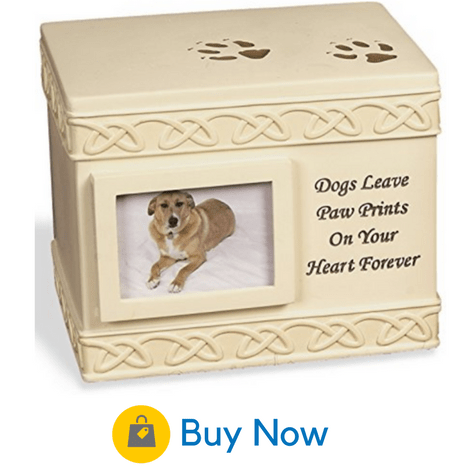 This affordable small urn comes in either light or dark brown, with a touching inscription "Dogs Leave Paw Prints On Your Heart Forever".
Room for personal items
The top can be removed with a screwdriver to place other items, like a collar or favorite toy, inside with the ashes.
However, there may not be space to do so if your pet was large (over 70 pounds).
Photo frame
This urn also has space for a small photo (2-inch by 3-inch area) which slots in from the outside.
Overall, this is a lovely urn for the money and a fitting tribute to your four-legged friend.
Best place to purchase
Check out the product listing on Amazon to find the best price.
Classic Paws Extra Large Dog Urn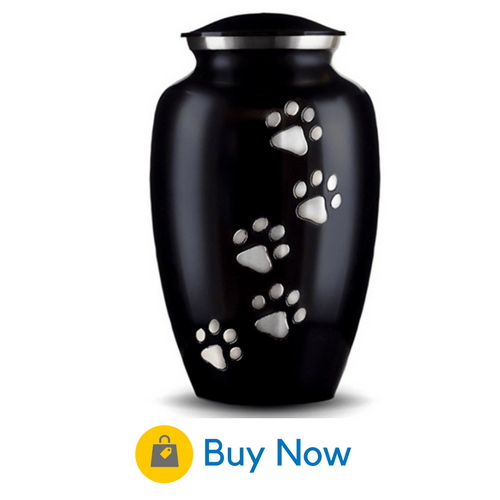 If you were blessed with a large dog, it may be difficult to find a quality urn that is the right size for their remains.
This Extra Large Pet Urn is the perfect solution.
Hand carved brass design
The urn is both beautiful and functional, solid brass with an exquisite, hand carved paw print design.
A threaded screw top lid ensures a secure sealing of your dog's treasured remains.
The urn is available in a variety of colors.
Best place to purchase
Their Amazon store offers the best price for this urn.
Perfect Memorials Brass Dog Urn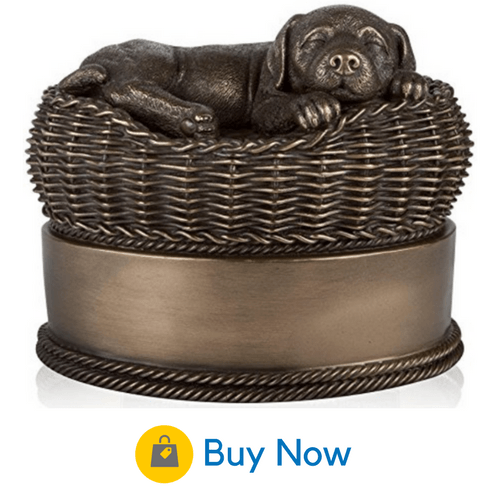 Another outstanding option for larger dogs, this urn features a charming bronze carving of a dog sleeping in a basket.
Beautiful for the home
This is an ideal option if you prefer an item that does not obviously resemble an urn. It simply looks like a tasteful sculpture gracing your home.
The unique carving gives you a cozy sense of peace about your dog's last resting place.
The features
The bottom can be easily attached with a screwdriver, and is covered with soft felt to protect your furniture.
The urn comes in four different sizes to accommodate any kind of dog.
Best place to purchase
You can find more about this urn at their Amazon store.
Odyssey Series Pet Cremation Urn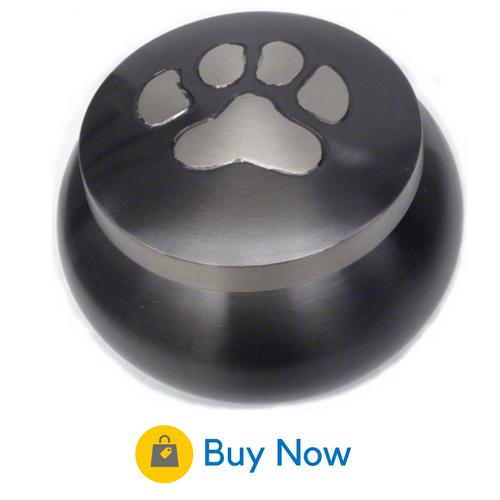 The Odyssey urn is suitable for small dogs (70 pounds or less)
The features
You're given the option to add personalized engraving which can be lovely touch to say good bye.
Another great feature of this urn is a threaded, screw-top lid. The lid is wide and user-friendly, but secure too.
The design
The urn comes in three sizes and a variety of colors including Cloud White, Pewter, and Slate.
An added bonus is that purchasing the urn supports the work of artisans in India.
Best place to purchase
You will find the best price for this urn at the Amazon store.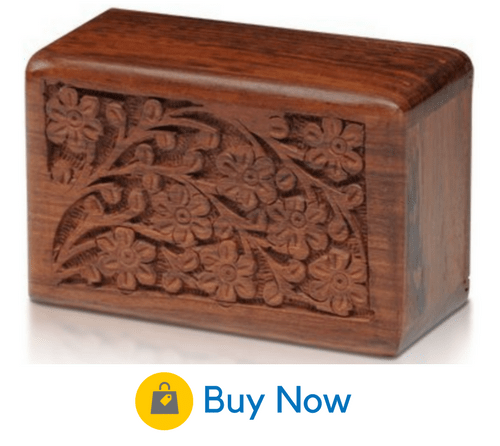 Made of rosewood and beautifully and uniquely hand carved, this urn has a classic, old-fashioned look and feel.
Transfer of ashes is easy, thanks to a convenient slide-out panel on the bottom.
Transporting on plane
The urn is TSA-approved, for easy traveling with ashes.
Suitable small and large dogs
The smaller size is suitable for dogs that weigh 25 pounds or less. The larger size can accommodate dogs up to 65 pounds.
While these urns are often used for cats, they are still a wonderful option for smaller dogs.
Best place to purchase
The Amazon store offers the best price for this item.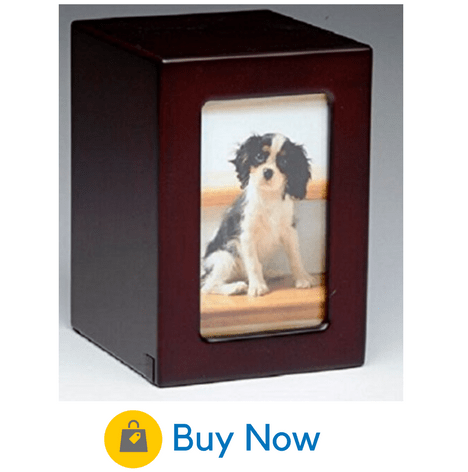 If you yearn to display your pet's photo every day in your home, this is a wonderful option.
Be reminded of your dog
A photo of your pet can be changed whenever you want without disrupting the remains inside.
You can display the photo either vertically or horizontally.
This urn is simple, affordable, and environmentally friendly.
Ideal for small dogs
One disadvantage is that this urn is not suitable for dogs that weighed over 70 pounds before cremation.
Overall, it's a great way to be able to see and remember your beloved furry friend every day.
Best place to purchase
This urn is available from their Amazon store.
The Near and Dear Wooden Box Urn: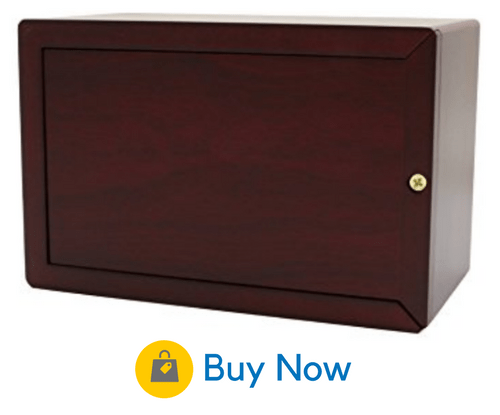 This wooden urn is classic in its simplicity.
It offers no fanfare, just a well-made and attractive fiberboard urn in either cherry grain or natural.
A sliding panel on the bottom is easy to use, yet allows for secure closure.
Suitable for all dog sizes
The 40-cubic-inch size will easily fit a dog that weighed 35 pounds or less. Larger size options are available, too.
Another bonus is that the urn is small and affordable enough to distribute multiple keepsakes of the ashes to different family members.
Best place to purchase
You can find the best deal at Near and Dear Pet Memorials' online store.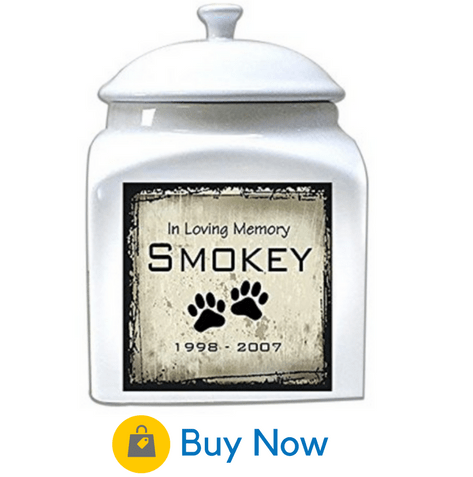 Another simple yet affordable option, this urn can be personalized with the words "In Loving Memory" along with your dog's name.
Relevant dates can be added at no extra charge.
Durable design
The ceramic construction is guaranteed to last forever.
Beautiful craftsmanship and durable ceramic construction make this urn a great choice for almost anyone.
However, it is small and may not work for larger dogs.
Best place to purchase
Check out the online store at GiftsforYouNow.
Near and Dear Engraved Brass Urn: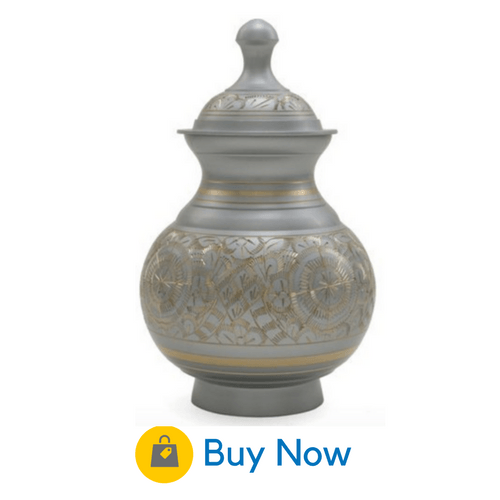 Perfect for the traditionalist, this silver urn with engraved brass detailing has an ornate and classic look.
A threaded lid allows secure closure.
Choose a suitable size
The smallest size is ideal for pets that weighed 15 pounds or less. Larger sizes can accommodate dogs up to 60 pounds.
While this urn may be pricier than most, it's worth the cost if you seek an elegant way to display your beloved dog's remains.
Best place to purchase
Near and Dear Pet Memorial's online store gives you the best deal.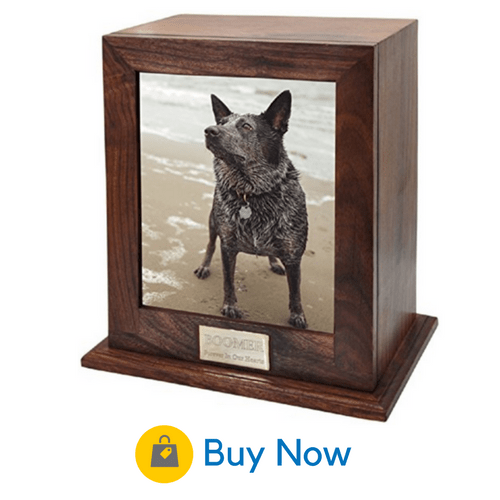 Though similar in some ways to the "Peaceful Pet Photo Urn," this one offers a few additional features, most notably personalized text elegantly engraved on a brass plaque.
Personalize how you want
The text can feature your pet's name along with a brief quote, dates, or description below a 4×6" photo of your choice.
The urn is available in three sizes for dogs weighing up to 100 pounds.
Best place to purchase
Check out the product listing on Amazon.