Unique Types Of Cremation Jewelry: Our Buyer's Guide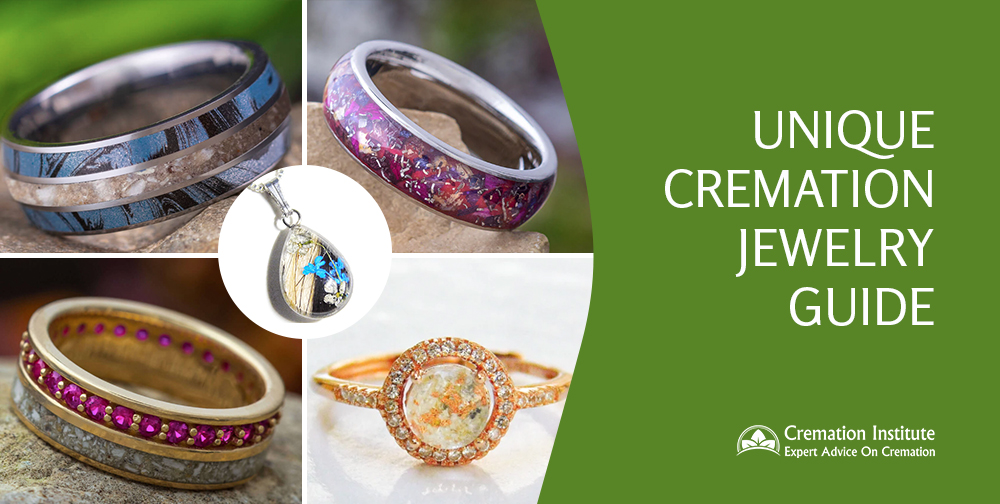 Are you looking for the perfect memorial for your loved one?
Cremation Jewelry is a popular choice among families who have lost a loved one and wish to honor them in a special way.
Unique, handmade, and deeply personal, each jewelry made from ashes is one of kind.
In this guide you'll find our list of unique cremation jewelry that is being created by talented artists.
We hope it inspires you to find the perfect tribute for your loved one.
Types of Cremation Jewelry
Cremation Rings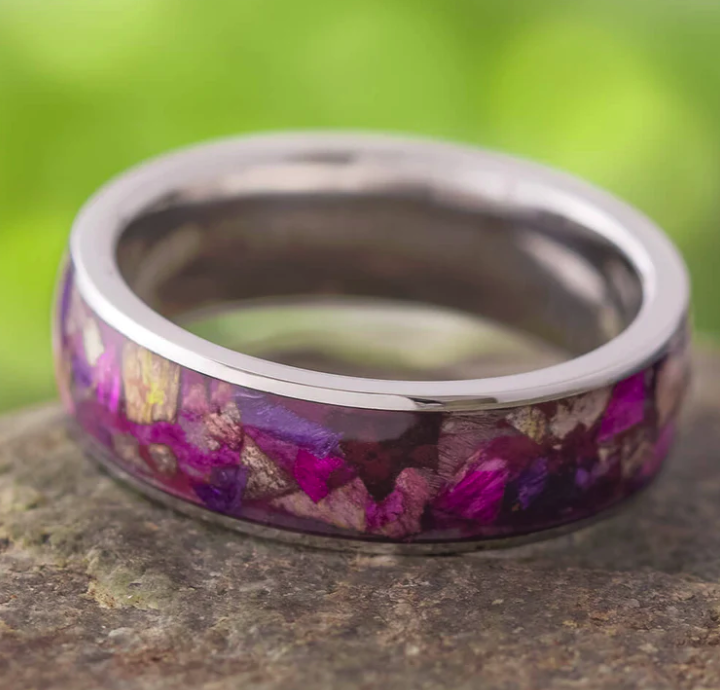 Cremation rings provide a beautiful and discreet method to hold your loved one close to you. Each ring undergoes careful craftsmanship, ensuring a high-quality piece that will be treasured for generations.
How are ashes combined?
Depending on the artist and the type of ring, the process might be a little different. Ashes can be infused into a gemstone, glass or resin. It can be placed or inlaid inside a ring. Or it can also be inside a see-through glass gemstone for it to be seen.
Glass cremation ring mixed with blue gravel

Gold cremation ring with ashes inlaid into the ring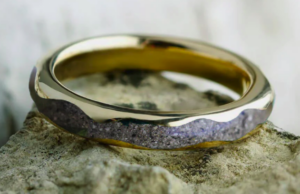 Cremation Necklaces & Pendants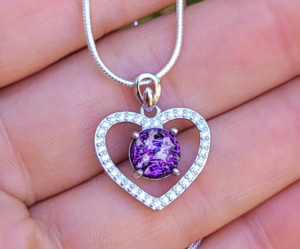 Cremation necklaces and pendants present a distinctive and elegant approach to commemorating your loved one. A well-rounded collection usually includes a wide range of options.
Keepsake Urn Jewelry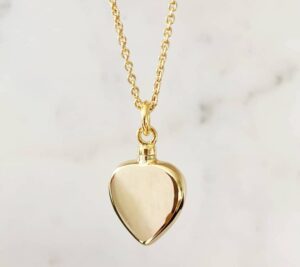 A small amount of ashes can be safely stored in keepsake urn jewelry, allowing you to keep your loved close to your heart. Each piece in the line of remembrance cremation jewelry is carefully handmade, highly sentimental, and intended to serve as a continual reminder of your beloved.
Cremation Lockets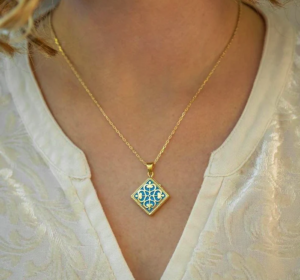 Thanks to these pieces, you can keep not only the ashes of your loved one, but also a small picture or a memento near your heart. Crafted with care, they are a beautiful and durable piece of jewelry that will be cherished for many years to come.
Cremation Bracelets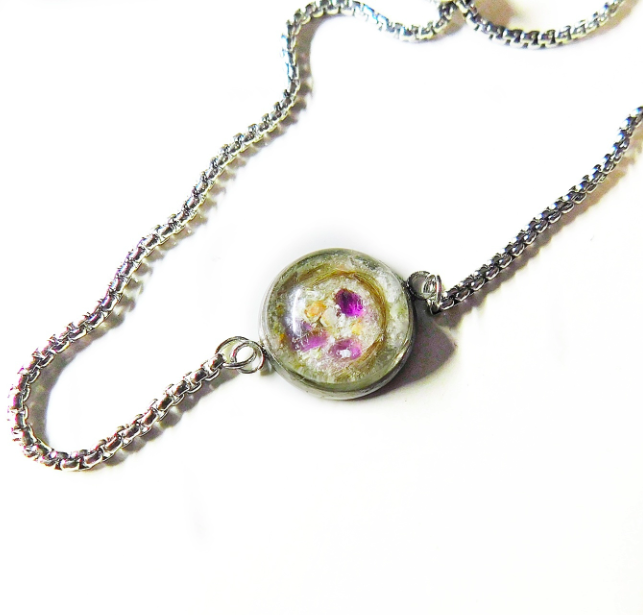 An alternative to rings and necklaces, our cremation bracelets offer a unique way to remember your loved one. Each bracelet is crafted with the same care and attention to detail, ensuring a beautiful piece that can be worn daily.
Cremation Earrings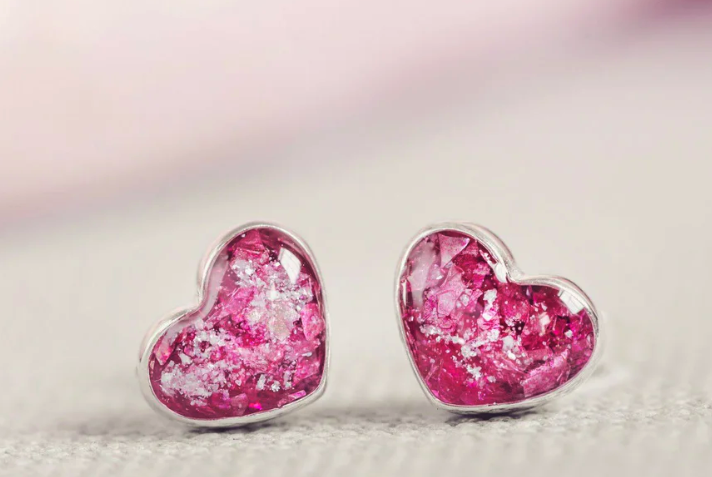 The cremation earrings are a subtle way to cherish your loved one, and keep them near your heart. Each earring has a small quantity of ashes, guaranteeing that each pair is a unique piece. They are a testament to the enduring bond that you shared.
Cremation Diamonds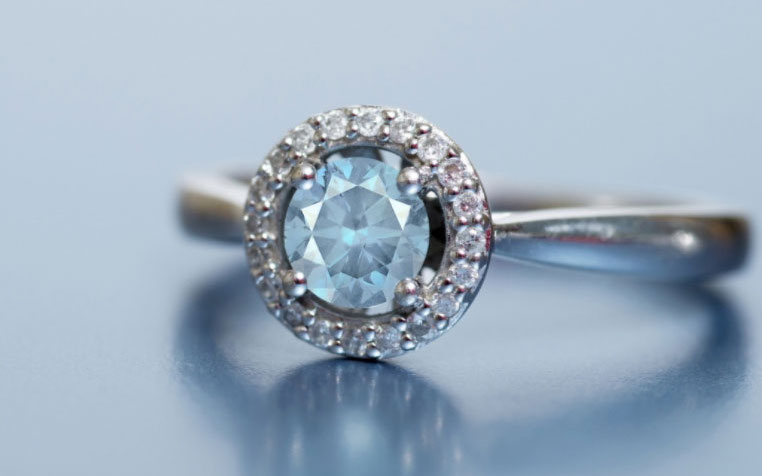 Perhaps the most unique option, our cremation diamonds turn ashes into a beautiful gemstone. These pieces are truly one-of-a-kind, offering a stunning way to remember your loved one.
Why Choose Cremation Jewelry?
There's many reasons why a piece of cremation jewelry is the perfect memorial for you. It could be for aesthetic, spiritual, or symbolic reasons. Here are some of the more popular reasons below:
It's very personalized
Think of cremation jewelry as a type of cremation art. An artist will take a portion of your loved one's ashes, and turn it into a one of a kind piece of jewelry. What could be more personal than that?
Here are some other reasons why cremation jewelry is such a personal memorial.
Unique Patterns: When ashes are used to make creation jewelry, it creates unique and distinctive patterns and colors within the piece. This means that no two pieces of cremation jewelry will ever look exactly the same, even if they are made by the same artist.
Engravings: Many artists offer the option of engraving. This could be with the loved one's name, dates of their birth and death, or a special message.
You can keep it close
Many of us find comfort in being able to always be close to the spirit and memory of our loved one. That is another reason why cremation jewelry is an appealing choice. It may provide a soothing presence or a  gentle reminder of their affection and warmth.
You love jewelry
Maybe you or your loved one just appreciate jewelry. And what better way to honor their memory than with a beautiful piece of cremation jewelry.
How Are Ashes Used to Make Jewelry?
The ashes of your loved one are used in three ways to create unique cremation jewelry:
Infused Cremation Jewelry
In this procedure, the ashes are meticulously incorporated into the substance of the jewelry, which is typically glass or resin. The ashes become a visible component of the pattern, creating a stunning visual effect. Many of the works utilise this approach, resulting in a gorgeous and extremely personal memorial to your loved one.
Inlaid Cremation Jewelry
The ashes are delicately inlaid into the jewelry resulting in a design that is both unique and significant. The ashes are incorporated into the jewelry creating a mosaic of memories and emotions. They are woven into the fabric of the artwork, forming a special bond between you and your loved one. This approach ensures that the ashes are safeguarded, contained within the creativity of the artwork.
Placed Inside
Using this approach you can store your loved one's ashes in a locket or pendant, and always keep them near your heart. This way you take a bit of them everywhere you go. This technique is used to create one-of-a-kind lockets and pendants, resulting in a truly significant remembrance of your love. You get so much more than just jewelry; you get a treasured place to save memories and feelings, ensuring your loved one is always close to your heart.
What is the Process for Sending Ashes?
Each artist or supplier will have a different process, so it's always good to enquire.
If you need to send ashes to have the memorial jewelry made, this is the usual process.
The artist/business will send you out an "Ashes Collection Kit". This will contain a vial for adding some ashes, and possibly an envelope to forward on to the artist.
Once the artist receives your loved one's ashes, they will start working on your order.
When they have finished the memorial, they will send the piece directly to you.
Note: If you're sending ashes within the US, you will need to use USPS and choose the option of "Priority Express Mail".
Where to Buy Memorial Jewelry?
If you are looking for a good quality and meaningful memorial jewelry, 'You Are Forever' is the right place. Each piece is created by skilled artists using the finest materials, guaranteeing that you receive a piece that's both lovely and long lasting. We recognize the significance of this purchase, provide guidance at every step, and help in selecting the ideal item to honor your loved one.
Cremation jewelry gives a way to remember, grieve, and honor the life of a loved one in the face of loss. In times of sadness, having a gentle reminder of the link that persists can offer a sense of peace and security. We are honored to be a part of your journey and assist you in preserving the memory of your loved one.