29 Beautiful Ideas Of What To With Jewelry Made From Ashes
I've written so much about memorial diamonds before that it only seems right to show you the end result!
To give you some inspiration, below are some stunning examples of what you can do with your cherished diamond.
Speak With An Expert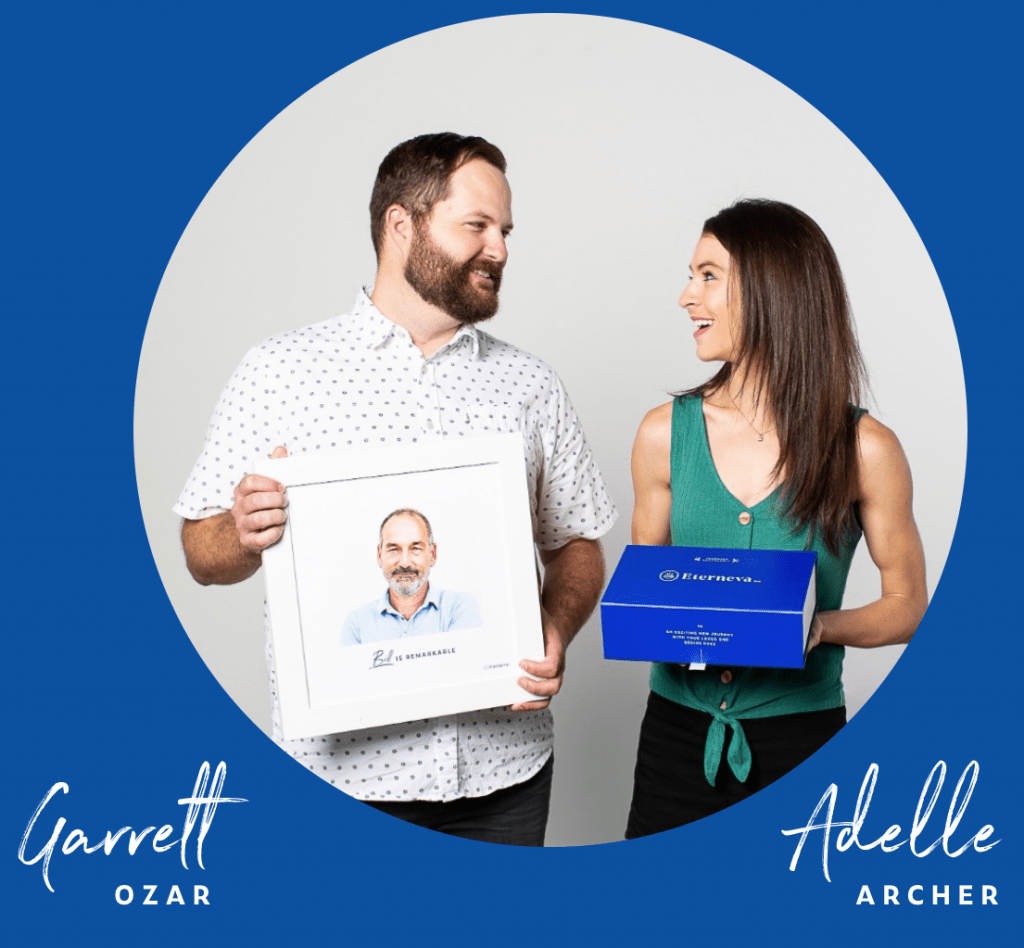 For those still looking for a cremation diamond provider or have some questions, I recommend you speak with one of our reputable cremation diamond experts.
Otherwise you can my recent review on the best cremation diamond companies.
Pendants
Delicate teardrops. Ethereal moons and stars. Quaint old-fashioned lockets.
When it comes to memorial pendants, there are as many choices as there are personalities.
And imagine the comfort of your loved one's cremains nestling close to your heart.
You will be beautifully reminded of their memory every time you look down.
Whether you prefer elegant gold or sparkling diamond, simple or ornate, the perfect cremation pendant is out there.
Here are just a few ideas.
Egg Shaped Cremation Diamond Necklace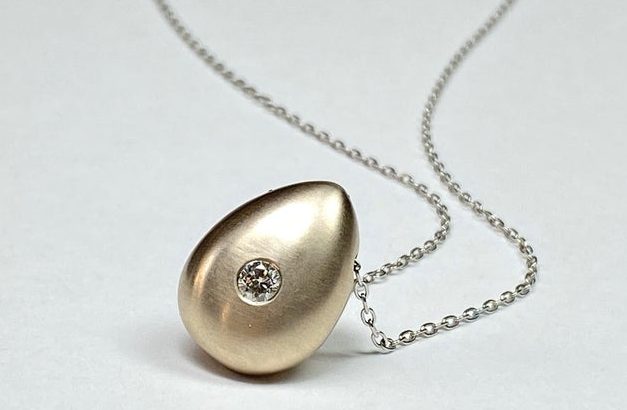 A smooth teardrop shape, crafted from white gold, hangs on an endless 24-inch chain. The chain has no catch, thus symbolizing the eternal nature of the bond between you and your loved one.
If you want the chain in a different length, you can custom order it at no extra charge.
A tiny internal chamber makes a discreet and a secure place to store your loved one's ashes.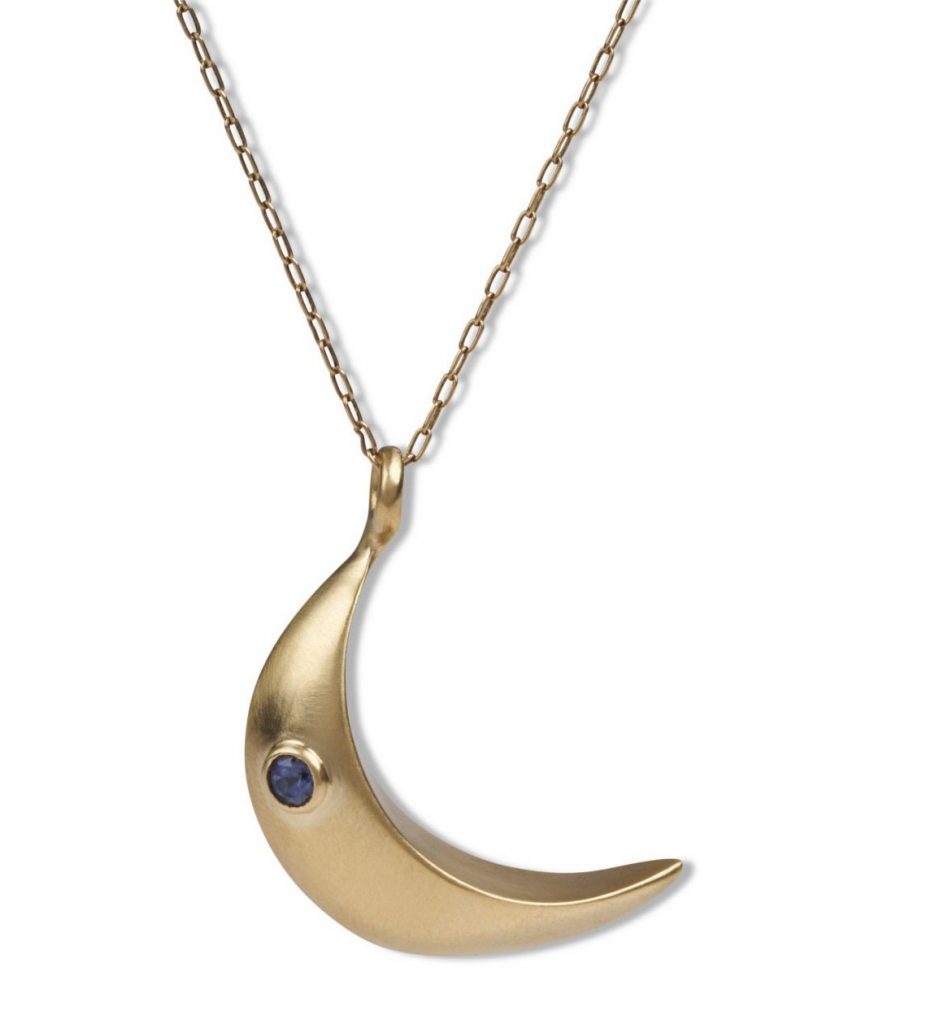 No matter how dark your world seems, the moon constantly renews itself.
That's what makes this pendant in the shape of a moon such a meaningful memorial.
The white gold pendant measures one inch from top to bottom and comes to you on a 24-inch cable chain.
The tiny chamber for the ashes is permanently sealed, so you can carry them everywhere conveniently and securely.
Gold Diamond Star Necklace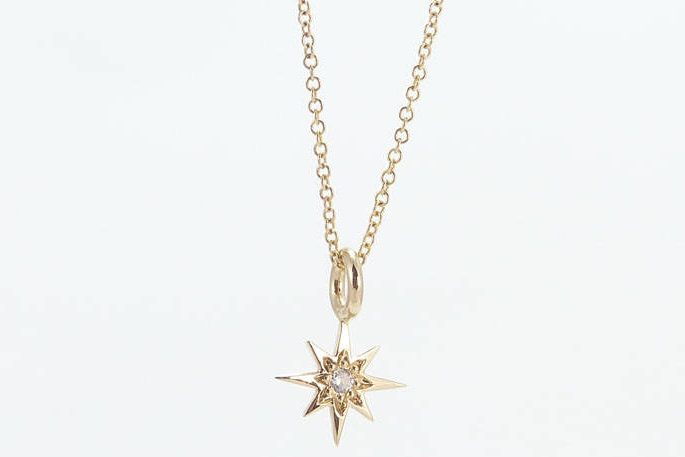 This necklace shows that your love is as eternal as the Northern Star.
A vibrant solid gold star encircles a 15-millimeter brilliant-cut gemstone.
You can personalize by choosing the gold color (white, yellow or rose gold) and karat size (9, 14, or 18 karat).
It comes with a solid gold chain in three choices of length: 16 inches, 18 inches and 19.5 inches.
Solitaire Diamond Bezel Necklace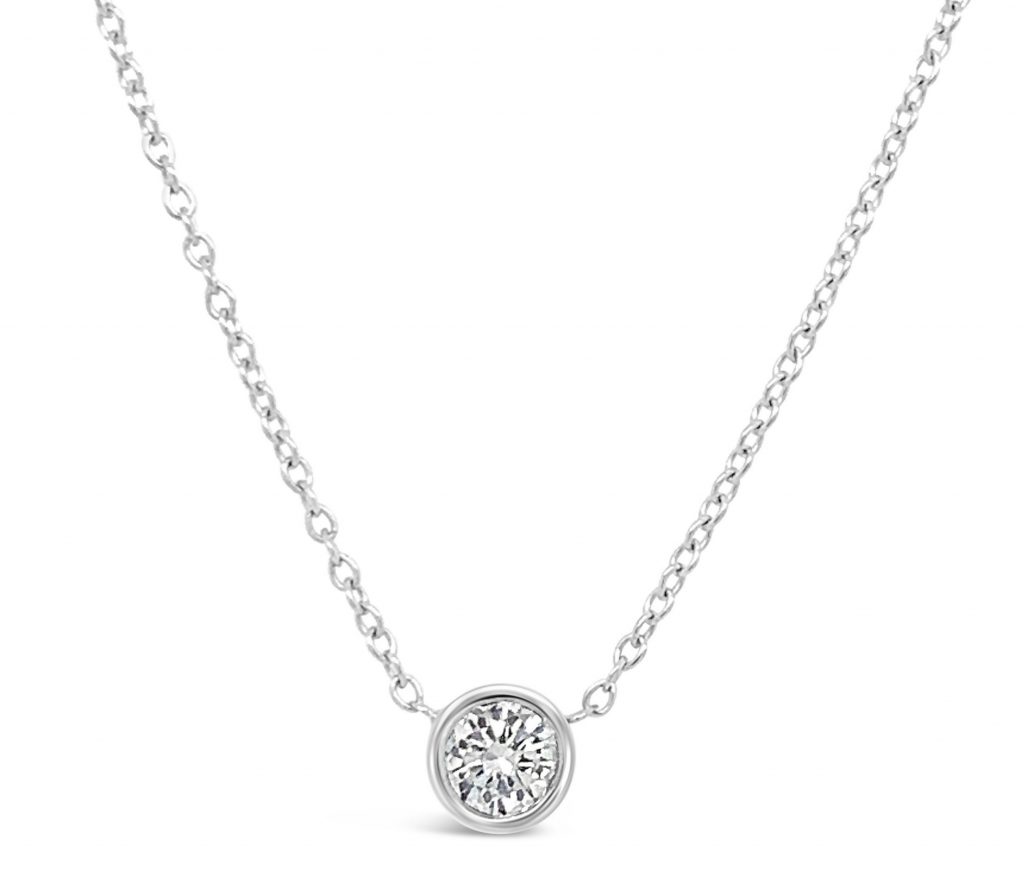 This understated solitaire diamond pendant is the perfect choice for someone whose taste is both minimalist and elegant.
A series of loops hold the simple round-cut diamond to a 14-karat cable chain.
A dainty but secure lobster clasp completes it.
You can choose a 14-, 16- or 18-inch chain in a variety of primary colors. It is available in either white or yellow gold.
Emerald Diamond Necklace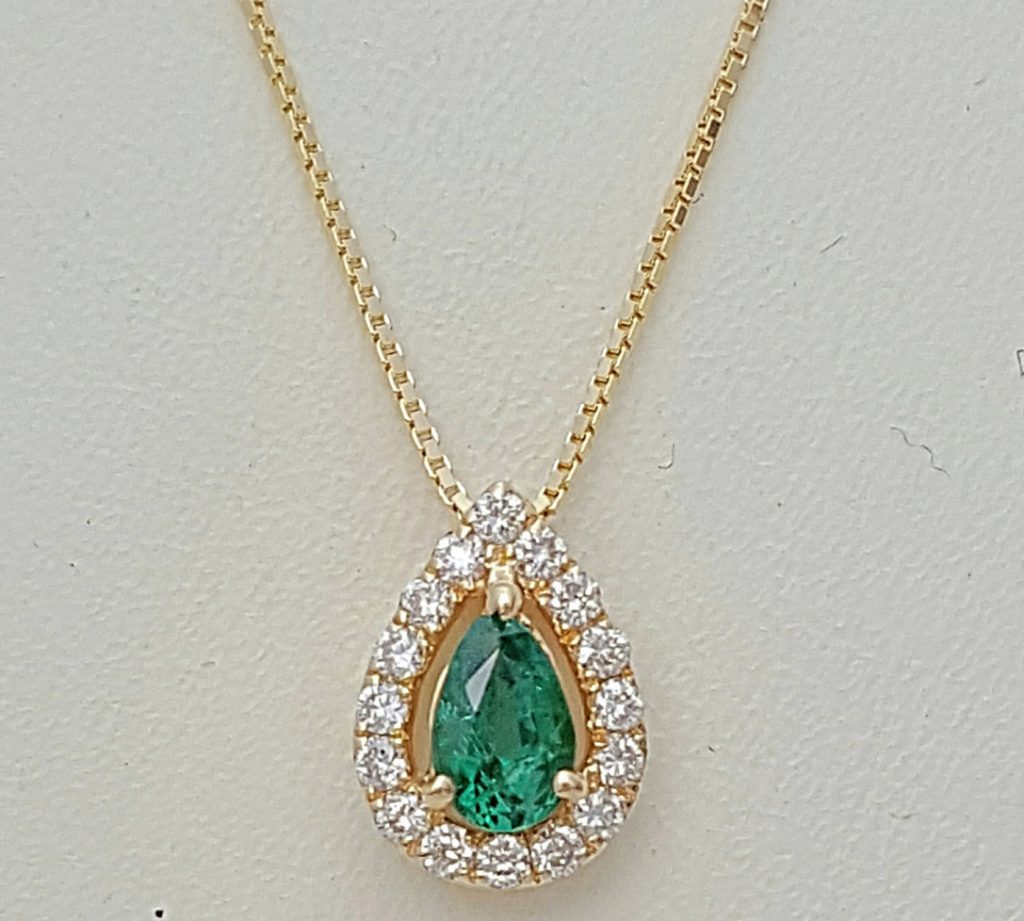 The vivid gleam of emerald is surrounded by elegant gemstones in a classic teardrop shape.
It's a great remembrance for a loved one with a birthday in May or who simply loved anything emerald.
The pendant measures just 9 millimeters high and 3 millimeters across.
It's made of solid 14-karat yellow gold on a cable chain. A secure three-prong setting for the emerald ensures that it will remain with you wherever you go.
Little Diamond Charm Gold Necklace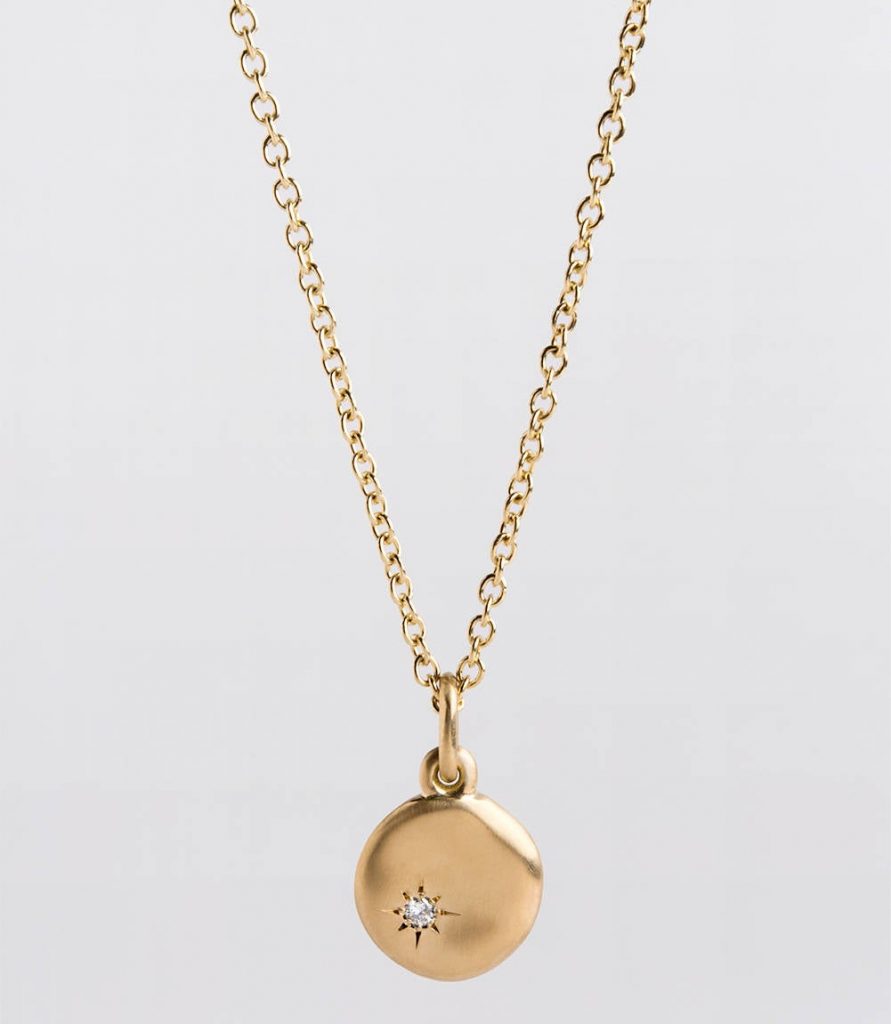 A diamond set within a small star evokes the eternity of the heavens.
It's surrounded by a yellow gold cloud whose uneven surface is calculated to give a look and feel of softness.
You can opt for engraving to give the charm a personal touch.
Pendants can be purchased separately, or you can add a 14-karat or 18-karat gold chain.
14Kt White Gold Aquamarine & Diamond Round Pendant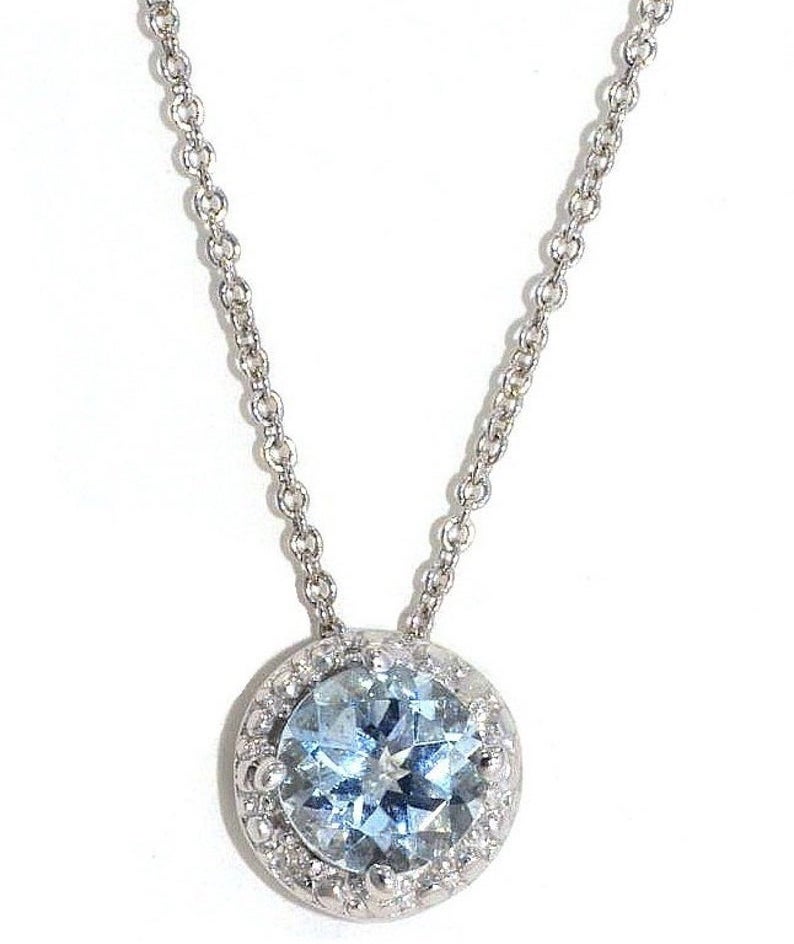 You don't have to have a March birthday to cherish the quiet shimmer of aquamarine.
This 6mm simulated stone shines from a setting of solid 14-karat gold.
The pendant is available in Yellow Gold or Rose Gold.
Personalization can be added when you order.
It comes with an 18-inch chain and a special jewelry box for safe storage.
Pear Shaped Diamond Pendant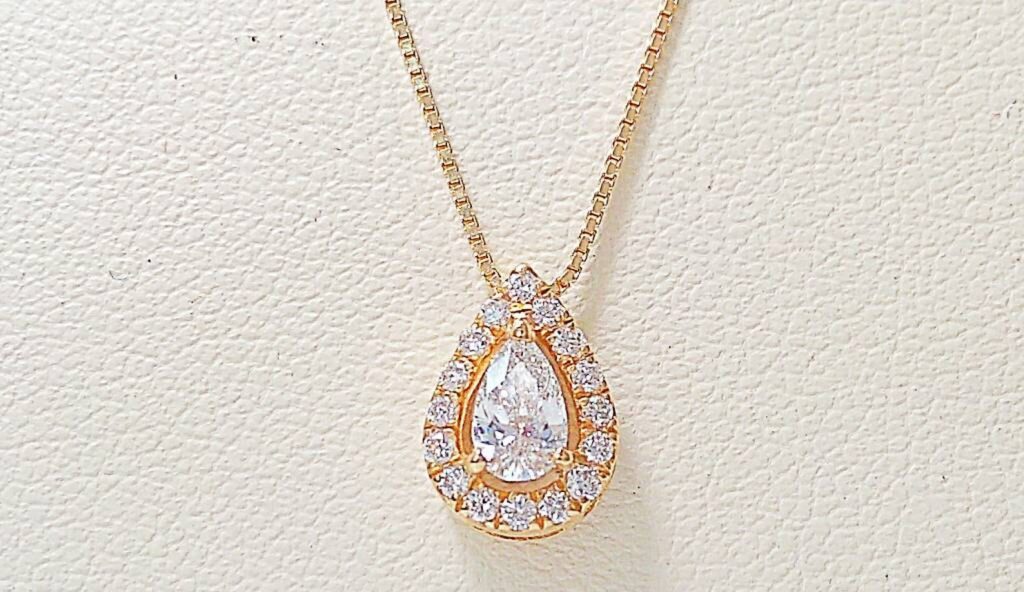 This pendant comes in a traditional pear shape, crafted of solid 14-karat gold and displaying a halo of sparkling gemstones surrounding a larger diamond in the center.
It comes in an elegant box, perfect if you're giving it as a gift.
You can choose a length of 16, 18 or 20 inches.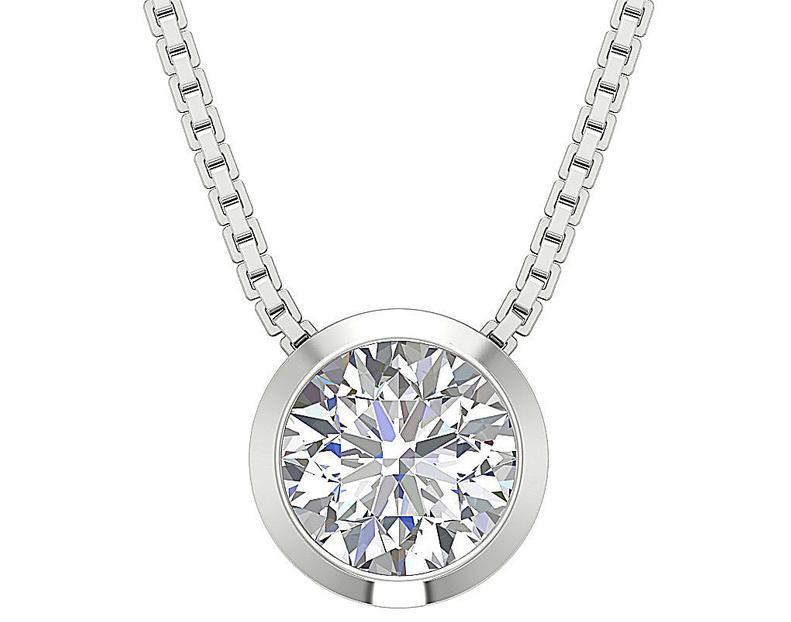 This is an eye-catching solitaire pendant which cannot fail to grab attention anywhere you go.
The pendant measures 8.35 millimeters across, with a gem which catches the light in exactly the right way.
It's set in your choice of white, yellow or rose 14-karat gold.
This is a classic style which will stand up well to the test of time.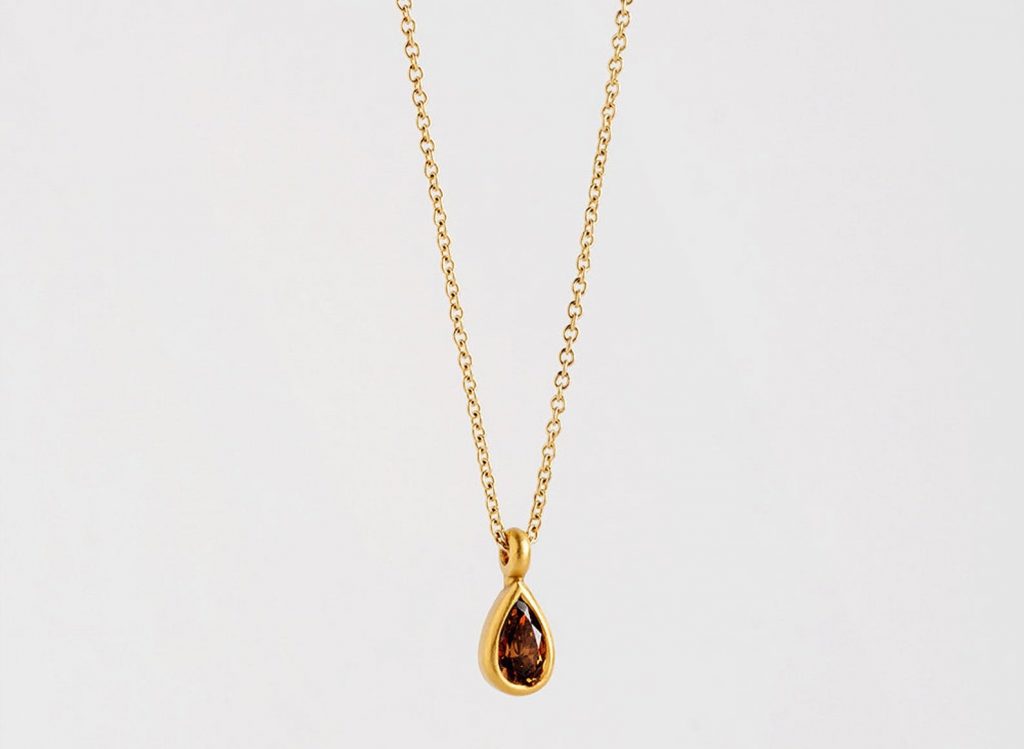 The tiny champagne-brown diamond encased in this teardrop pendant gives it a look that's both simple and unique.
A peacock-feather pattern adds to the original look.
The pendant is crafted of classy 22-karat gold, and comes with an 18-karat gold chain.
You can choose a length of 42 or 45 inches.
Engraved personalization can be added. Just indicate it when you make your order.
Rings
How many times a day do you look at your hands?
They flash into your line of vision whenever you're driving, texting or typing on a computer keyboard.
So imagine seeing the flash of beautiful memorial jewelry every time you do these things.
It's like having your loved one within your sight all the time.
Here are some of our favorites.
14K Gold Diamond Flower Cremation Ring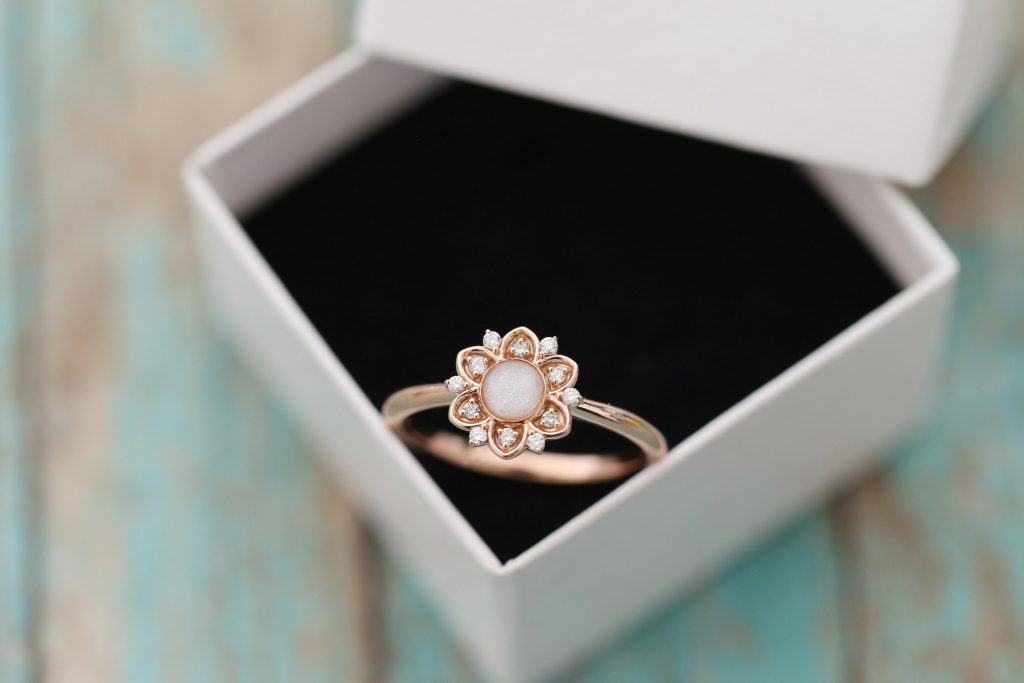 A flower is the perfect symbol of delicacy and femininity. It's also a great visual reminder of the natural cycle of death and rebirth.
That's what makes this sweet 14-karat flower design so subtle and meaningful.
The seller provides you with an easy-to-use collection kit to send along a portion of your loved one's ashes in a prepaid envelope.
14k Gold Cremation Ring Blue Diamond Halo Ring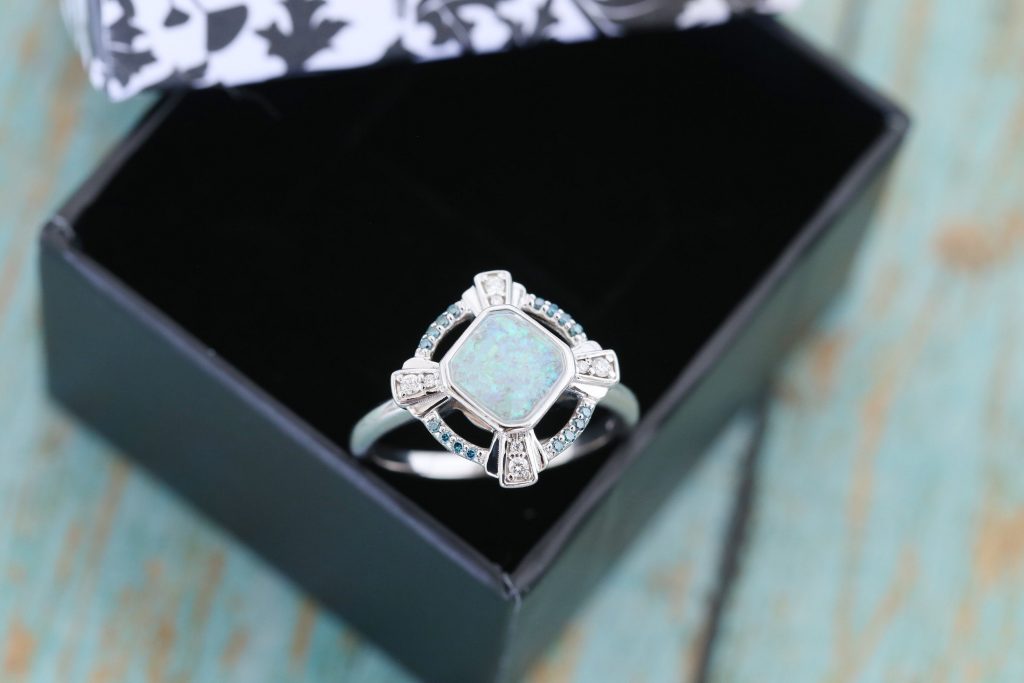 A circle of tiny gemstones forms a halo around a larger turquoise stone in the center.
A collection kit is provided to easily send your ashes to the seller. It takes about two months to create your ring.
Only a very small amount of ashes is needed in the process.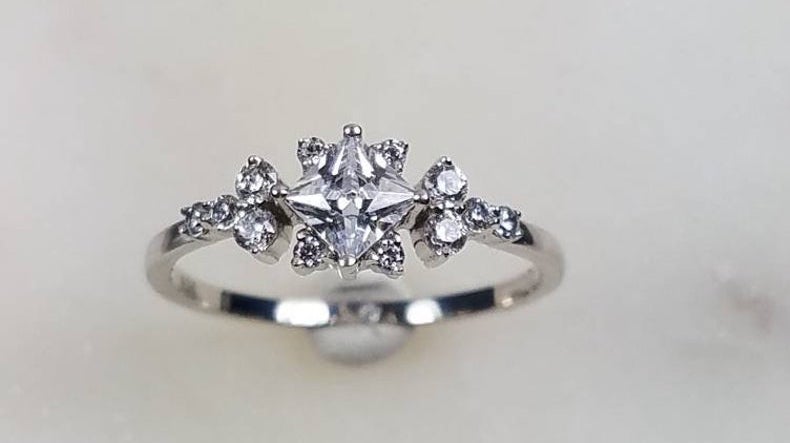 This princess-cut diamond ring is simple enough for the minimalists out there, yet gorgeous enough for royalty.
The cubic zirconia gemstone sparkles from a setting of 10-karat white, yellow or rose gold.
Your loved one's cremains are lovingly and securely placed behind the gemstone.
You need to send only about 1 teaspoonful of ashes to the seller to create the ring.
Art Nouveau Solid Sterling Ring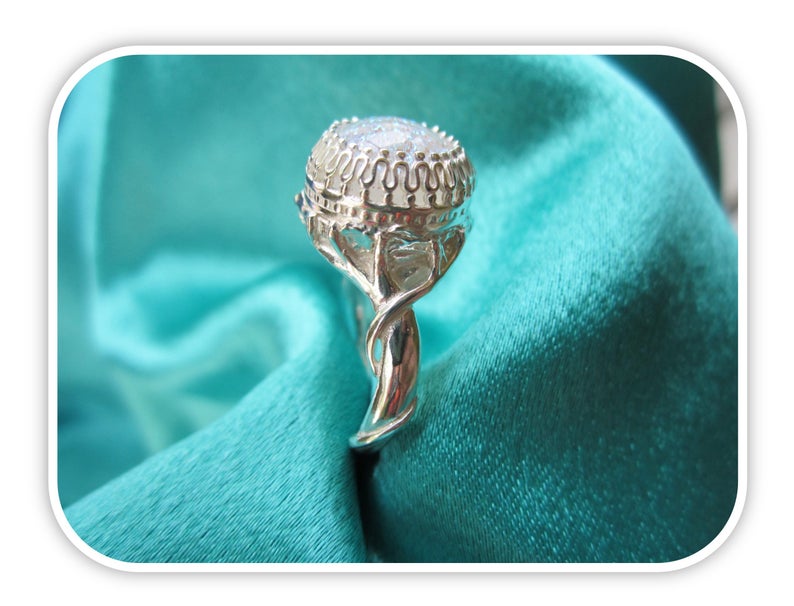 A tiny portion of your loved one's ashes rests securely behind a stunning sapphire accent stone.
It is an appropriate remembrance for someone with a September birthday or anyone who loves that rare blue sparkle.
A setting of sterling silver gives the ring just the right amount of understated class.
Gold Sapphire Diamond Ring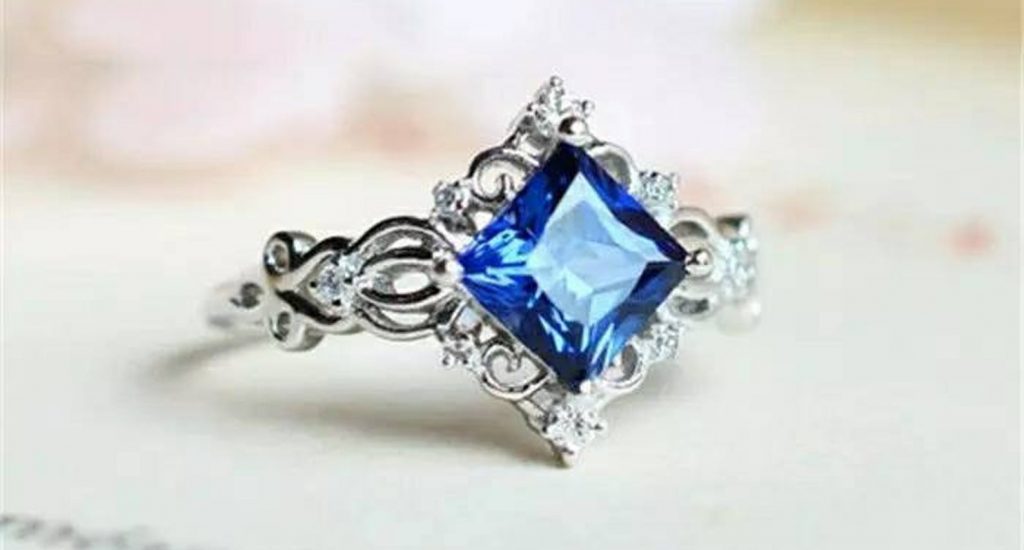 A princess-cut sapphire gleams in a comforting shade of blue from a setting of sterling silver, encircled by smaller gems.
Ashes are placed behind the sapphire.
The ring has a majestic look which you can wear proudly every day.
Cremation Heart Sterling Silver CZ Stone Ring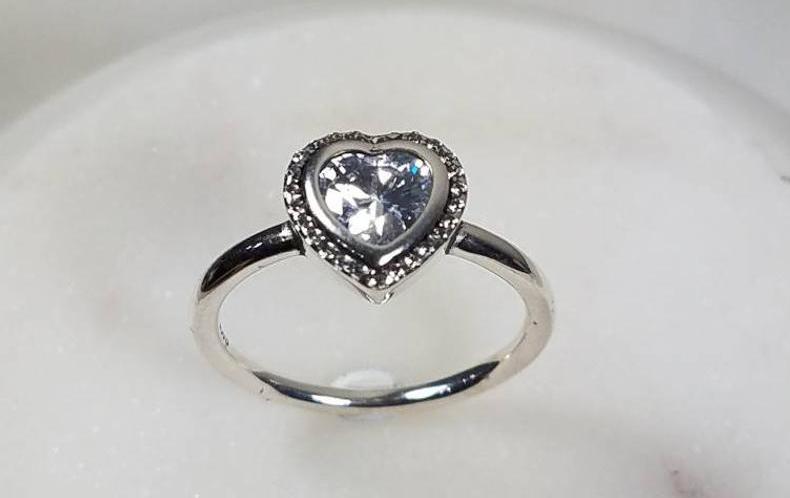 A classic heart shape is the perfect way to symbolize the love you hold in your heart for someone you've lost.
This heart-shaped cubic zirconia accent stone gleams vividly from its sterling silver setting.
Appearances vary slightly from piece to piece because of the unique handmade nature of the item.
The seller will communicate with you clearly at every step of the process to include you in its creation.
Men's Memorial Cremation Diamond Ring
Love, loyalty and friendship. These are the values that are symbolized by this striking men's claddagh ring, and the perfect qualities to celebrate in someone you loved.
The traditional claddagh design is of clasped hands holding a heart, topped with a crown.
In a touch of true personalization, the hands clasp a glint of your loved one's birthstone.
Pear Cut Moissanite Cremation Ring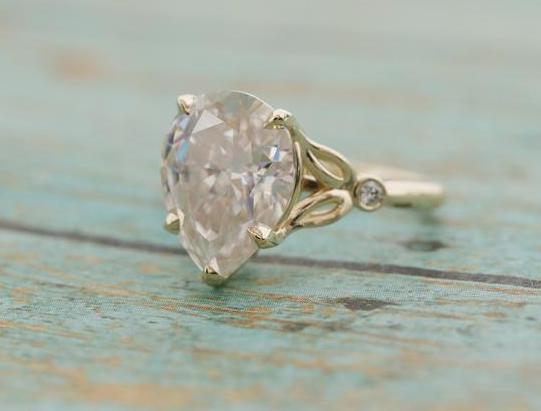 A traditional pear cut along with the classy look of 14-karat yellow gold makes this cremation ring a rare find.
The setting has a delicate floral design framing an accent ring of sparkling moissanite.
Earrings
This may be one of the subtlest of jewelry choices. Yet you will always feel the presence of your loved one close to you.
The right pair of earrings sparkles in a way that doesn't cry out for attention and yet can't fail to be noticed.
There are many different kinds of earrings that you might choose depending on your taste and the personality of the person you're remembering.
Here are a few.
Memorial Ash Sterling Silver Cremation Earrings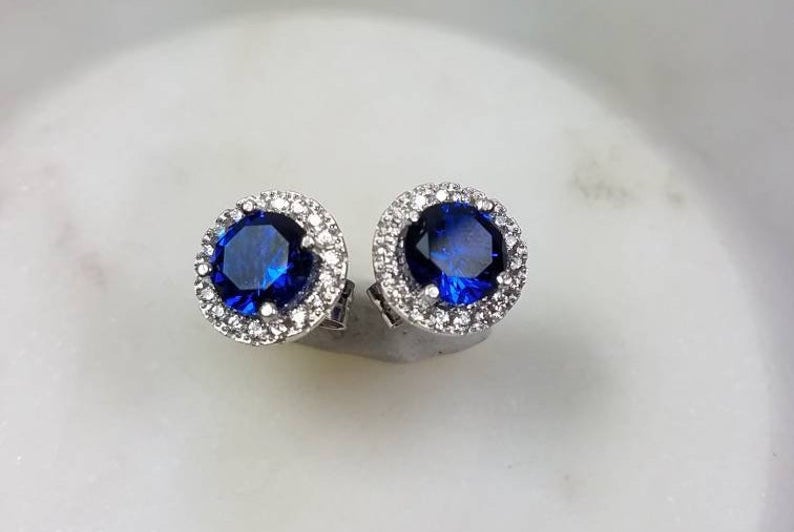 This 925 sterling silver encircles these deep blue cubic zirconia gems.
Your loved one's ashes are securely placed behind the stunning accent stone.
No one else will know they're there. But you will.
Arrangements are privately made with the seller for you to collect and mail a teaspoonful of ashes to be used in the earrings. They can be personalized to your precise specifications.
Forever One Certified Moissanite Stud Earrings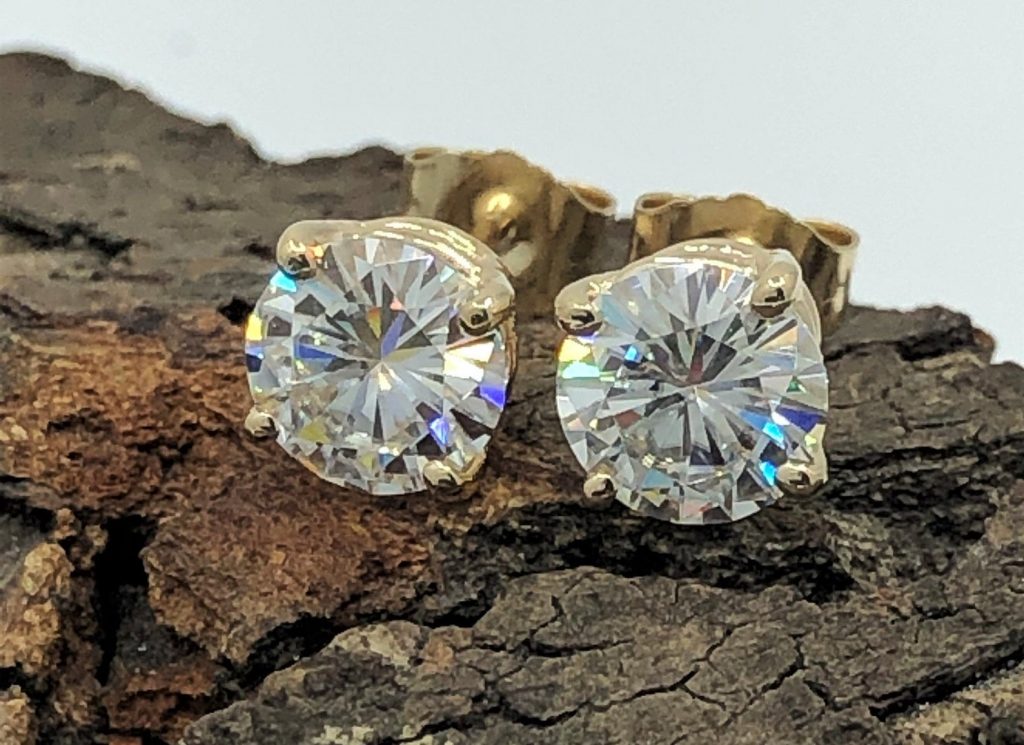 Each small but stunning moissanite stone comes in a secure four-pronged setting of 14-karat gold.
You have the option of choosing white gold, yellow gold or rose gold.
This versatile style can be worn almost anywhere: while working, playing or dressing up for a formal occasion. They look good with absolutely anything.
And with a limited lifetime warranty, you can be sure of wearing them for many years to come.
14-Karat Gold Diamond Earrings

Diamond stud earrings are timeless and will never go out of style.
These simple but elegant earrings come in either white or yellow 14-karat gold.
The sparkle of natural diamond is appropriate for any event, whether casual or formal.
Another bonus: this seller comes with rave reviews for prompt and attentive service.
0.5 Carat Diamond Stud Earring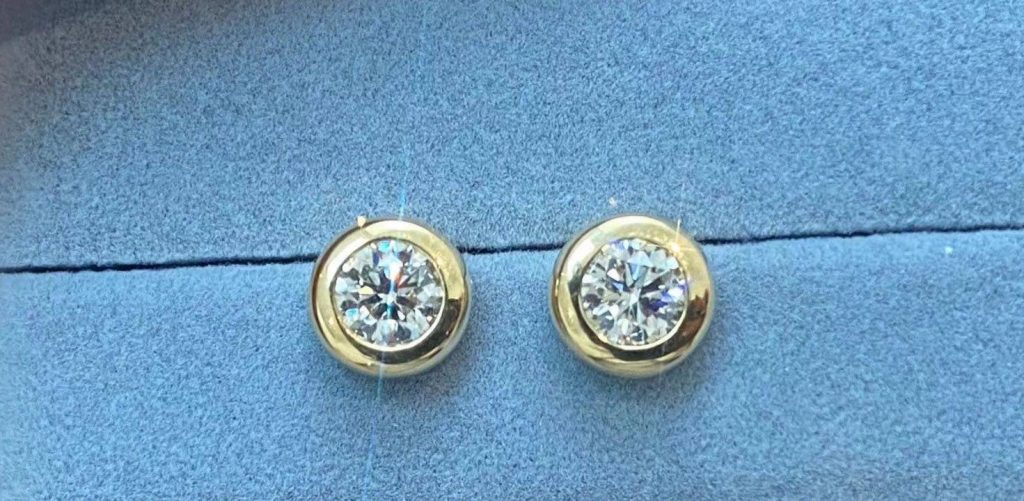 The tiny size of these 0.5 carat diamond studs do nothing to detract from their classic beauty.
The sparkle of natural diamonds is offset by 18-karat yellow gold.
A 5-millimeter butterfly back keeps these earrings dainty but secure.
They are so tiny that you'll hardly know they're there.
Yet they lend their quiet beauty to almost any outfit.
Heart Cremation Stud Earrings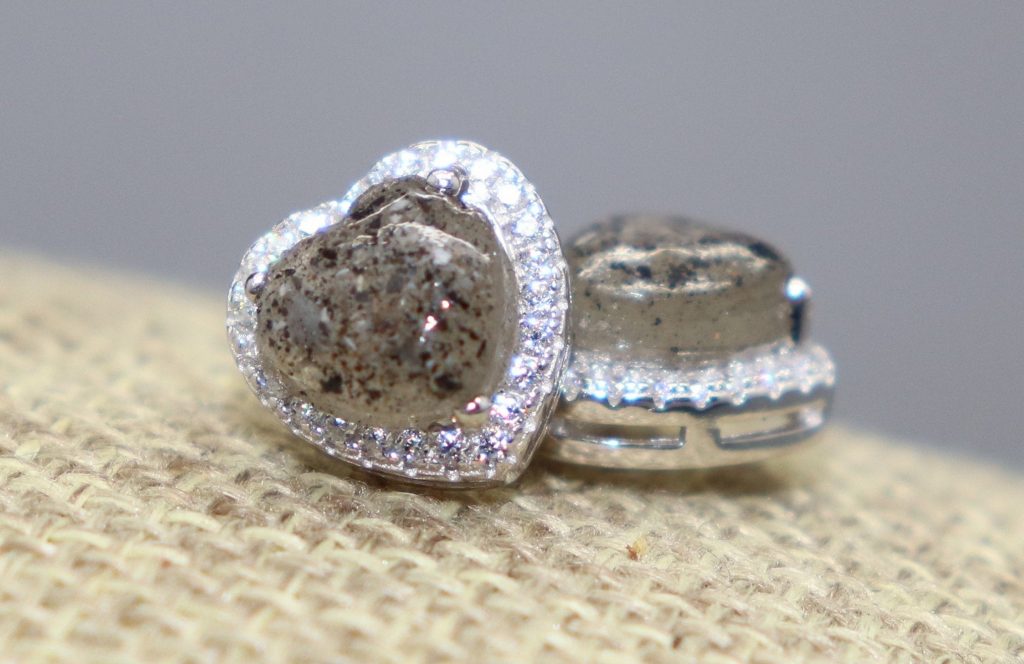 These earrings may look tiny, but they pack a lot of sparkle, with over 50 cubic zirconia gemstones nestled within the small heart shapes.
The hearts are fashioned carefully using a small amount of your loved one's ashes.
Classic Blue Diamond Earrings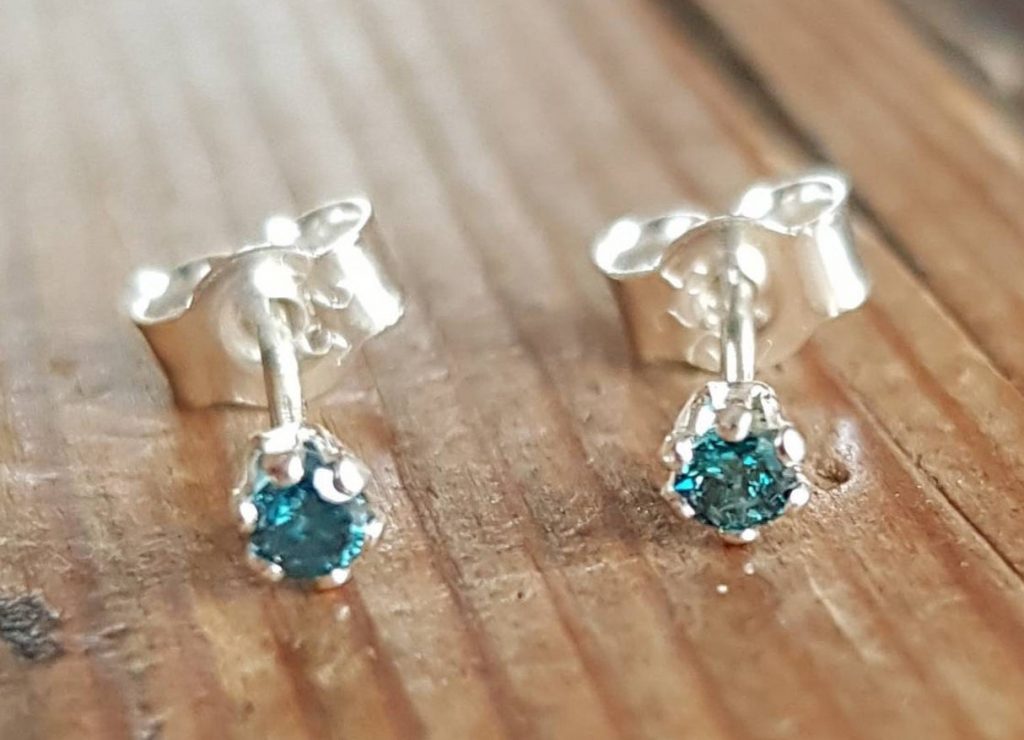 Yet another pair of traditional diamond stud earrings…but this time in a striking shade of blue.
The gems measure just 2 millimeters across to create small points of sparkling blue light.
This azure sea-blue sparkle is set off by a sterling silver prong setting.
It catches the light, whether you're outside in the sun or indoors under lights.
A round cut adds to the classic look.
Keepsakes
Keepsake jewelry dates as far back as the Victorian era.
During this time, it was common to cherish lockets or mourning rings containing pictures or locks of hair.
Now with cremation becoming so popular, keepsake jewelry is experiencing a resurgence. And there is greater variety than ever before.
Whether it's a lovely urn or a sweet locket, the perfect keepsake jewelry exists for any taste or personality.
Here are our picks.
Crescent Moon Necklace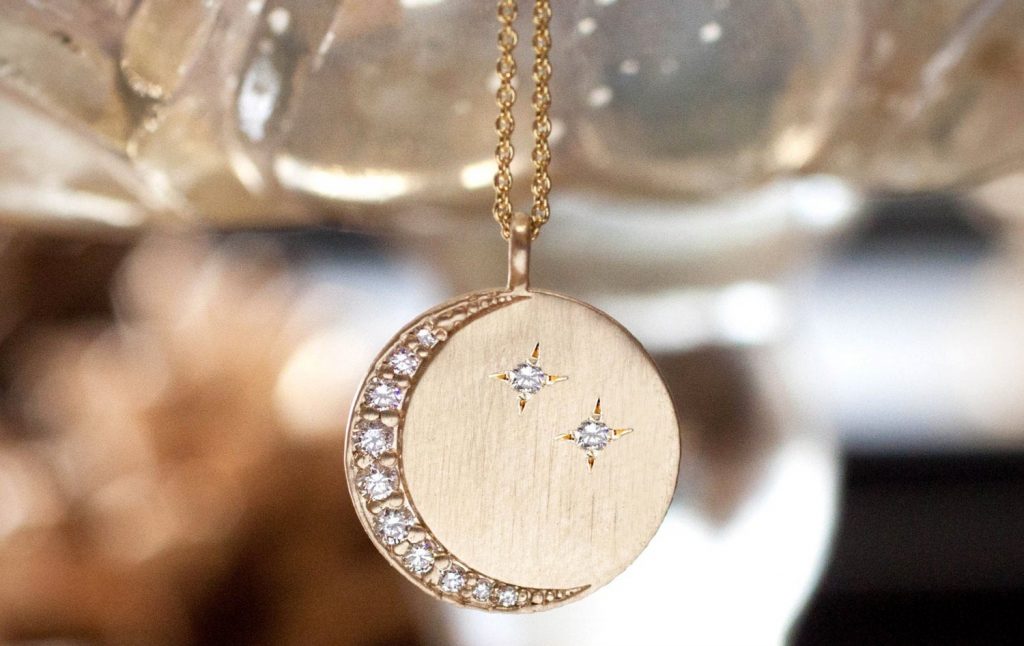 This dainty 14-karat gold disc comes with a host of options for personalization.
It comes in white, rose or yellow gold, sparkling with 1-5  tiny diamond stars, according to your specifications.
It can also be engraved with an initial of your choosing.
The matte finish of the disc's surface provides just the right contrast to the sharp, starry glitter.
Sterling Silver Diamond Keepsake Urn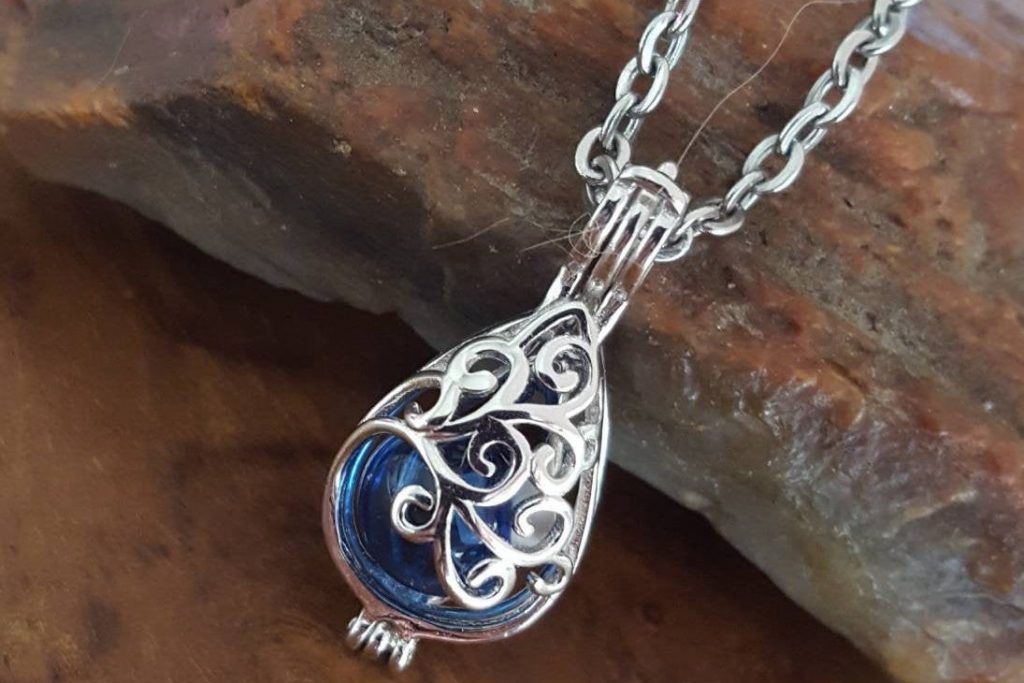 This takes the classic teardrop shape one step further, with silver openwork encasing a stainless steel colored orb to resemble a real teardrop.
The orb itself is available in a variety of colors, including pale pink, fern green or sapphire blue.
The silver openwork chain also comes in a choice of several patterns: wave, snake, olink or steel ball.
Royal Blue Crystal Diamond Keepsake Pendant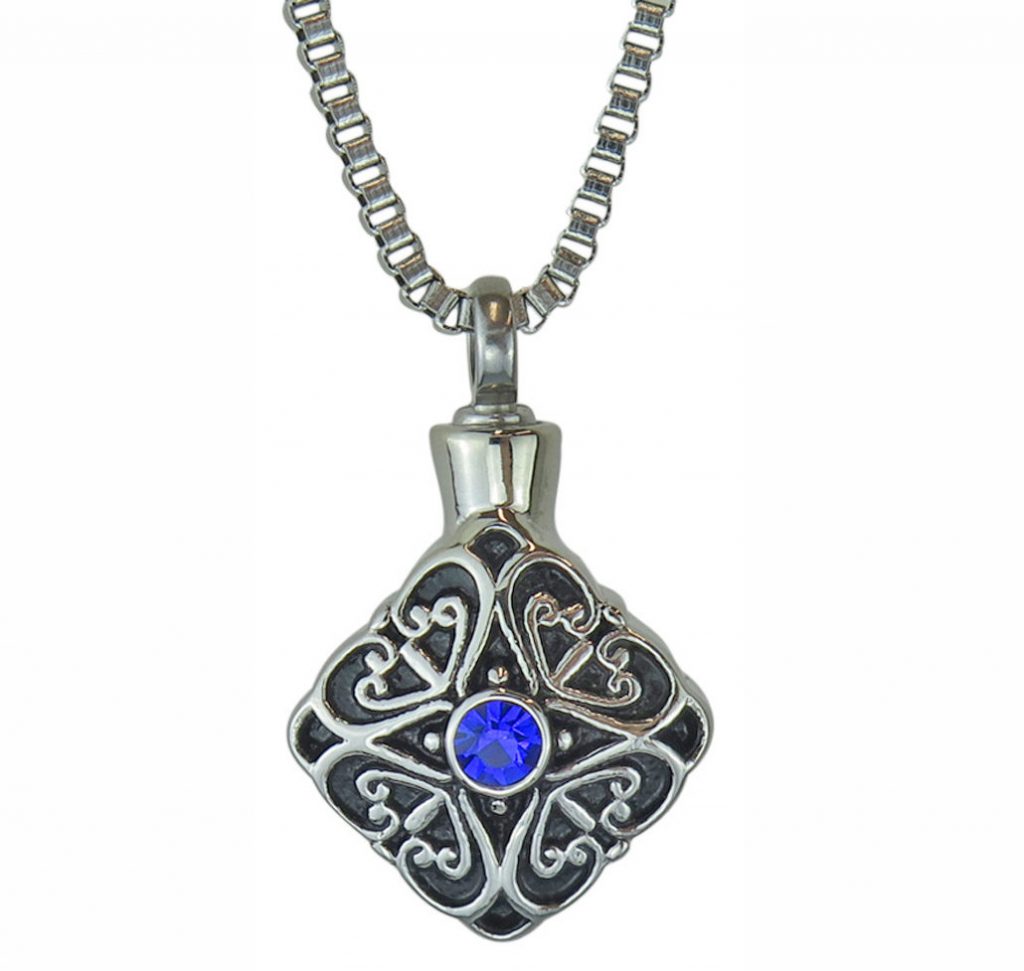 A stainless steel pendant crafted in the shape of a diamond is the perfect container for a small amount of ashes to rest close to your heart.
A majestic swirl pattern, along with the deep blue Czech crystal enclosed inside, truly give it the appearance of royalty.
The pendant comes with a lovely gift box and a plastic funnel to help place the ashes.
Antique Rose Gold Monogrammed Locket
This pendant has all the quaint beauty of a Victorian locket, but with cutting-edge modern workmanship.
A tiny white gold square perfectly frames the glint of natural diamond.
A beautiful engraving in French script graces the back of the locket.
Unlike most of the other pendants featured here, this one does not come with its own chain. A chain must be purchased separately.
Diamond Gold Heart Locket Pendant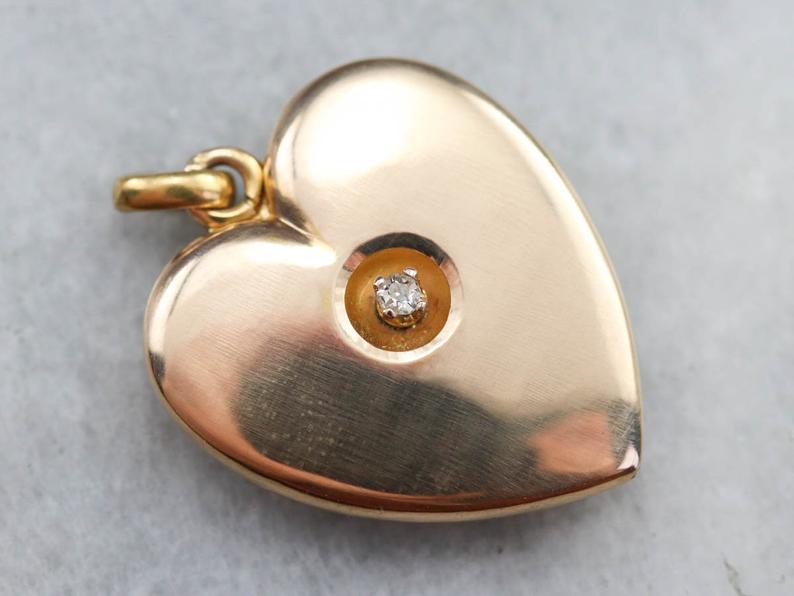 This heart-shaped locket comes with the smooth sheen of polished gold, along with the discreet sparkle of a tiny gemstone.
It has a vintage, antique look which is sure to turn heads.
Although this locket does not come with a chain, it's easy to find one that suits your needs and style.
The pendant measures 30 millimeters tall and 21 millimeters wide.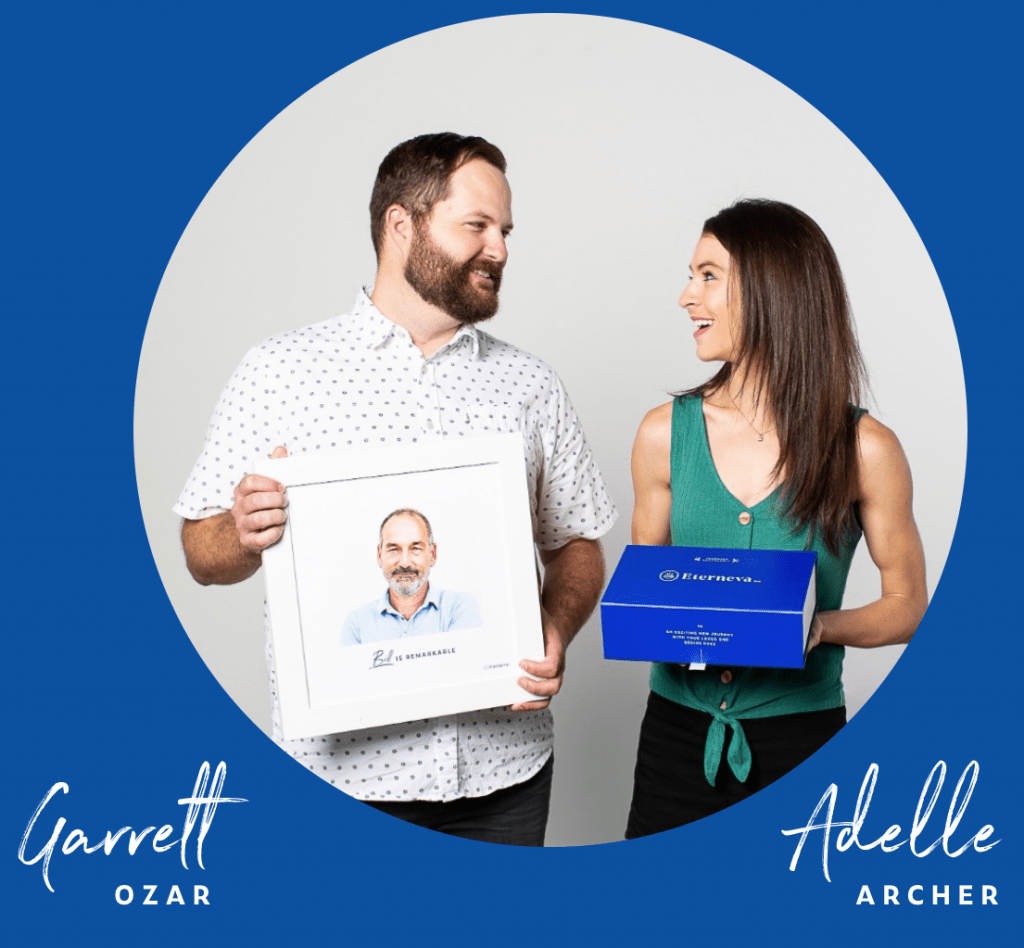 For those still looking for a cremation diamond provider or have some questions, I recommend you speak with one of our reputable cremation diamond experts.