Many of us want to create a beautiful and unique piece of cremation jewelry to celebrate and honor the life of someone that was special. If you want to keep your loved one's memory and spirit always close to you, a unique and personalized cremation ring might be the perfect choice.
Below you will find some of my favorite collection cremation rings for woman that are made from gold, silver, diamonds, glass, and come in various unique designs.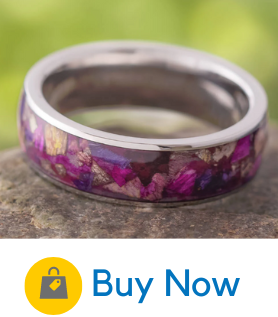 The Dahlia Flower Petal Remembrance Ring is just as delicate as the flowers it contains. The sleeve was made from titanium known for its strength and durability, ensuring that the personal rose petals are forever preserved.
What we like
We like the symbolism behind the rose petals and how well they look infused inside the ring
The titanum sleeve was made with high-end craftsmanship ensuring durability
A very unique ring to cherish the memories of a very special person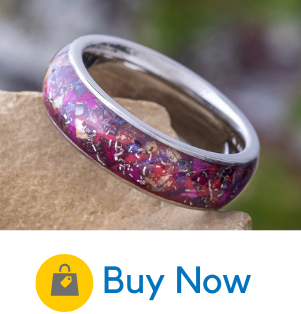 The Jasmine Flower ring is a beautiful piece of remembrance jewelry. Icontains flower petals and stardust inside of it, making it especially beautiful and unique. The colourful infusion inside the titanium sleeve tells a story of spirituality and the cosmic connection that we all share.
What we like
We love the elegance and intricate details of the Jasmin memorial ring
A heartfelt memorial that combines special flowers with the essence of the universe
The polished titanium sleeve will ensure the safety of the content
The Meadow Cremation Ring With Turquoise & Ashes was made to celebrate the life of a person (or pet) that loved the outdoors, and their special connection with the mountains. The titanium sleeve holds an infusion of ashes and turquoise, framed beautifully in the centre with a golden mountain stripe.
What we like
We love the craftsmanship and the high-quality materials that went into making this ring
The turquoise is well-known for its calming properties giving the wearer a deep connection to the earth
We believe this will be a fitting memorial ring for someone that loved to spend time outdoors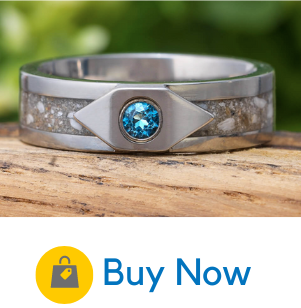 The Celeste Blue Topaz Cremation Ashes Ring comes with a unique design featuring a sparkling topaz stone set inside a titanium sleeve. This memorial ring allows you to carry the essence of your loved one in your heart in a very sophisticated and elegant way.
What we like
The Celeste ring was made using high-quality materials that will last for generations
This ring can be further customized with a gemstone of your choice
This memorial ring sparkles and captures attention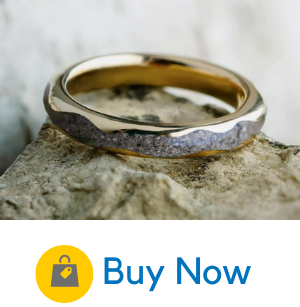 For people that appreciate 14k gold we recommend the Amara Wavy Solid Gold Cremation Ring that looks enchanting with its wavy design. The Amara ring is thinner in width, compared in size to others, and looks very precious on your hand.
What we like
The polished solid gold sleeve creates a delicate frame for your loved ones essence
The wavy profile of this memorial ring reminds us of the sea
This will be a special memorial for people that wish to connect to the flow of the loved one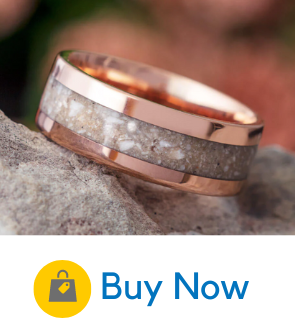 The Victoria Solid Gold Memorial Ring offers a luxurious way to celebrate the life of your loved one. Now you can capture their essence in a 14k gold sleeve that we promise will serve as a timeless symbol of the connection you shared.
What we like
We love the look of this regal tribute and how well it frames the ashes
The solid gold sleeve of this memorial ring is polished to perfection
A heartfelt tribute to a special person that is sure to draw attention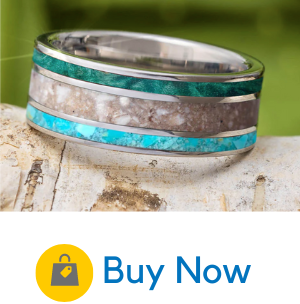 The Bluebird Triple Inlay Cremation Ashes Ring was inspired by nature elements and holds a special significance within its layers. The essence of your lost loved one will be beautifully framed by crushed turquoise symbolising the healing process, and green box elder burl that symbolizes growth.
What we like
We like how delicately the ashes are framed inside the centre of this gorgeous memorial ring
A stylish and discreet way to celebrate the life of your loved one
The nature inspired elements go well with casual & elegant styles of clothing
The Nova Tungsten Memorial Ashes Ring is a truly special design masterpiece that combines black stardust, meteorite fragments, fossilized dinosaur bones hold ashes, and the essence of your loved one. This memorial ring sleeve was made of Tungsten, a metal known for its exceptional strength, durability and resistance to corrosion, making it a perfect choice when creating memorial jewellery.
What we like
Truly unique craftsmanship that combines the past, the present, and the future in one memory keepsake ring
Made with materials as special as the bond you shared with your loved one
If you're looking for the most unique ring available, this would be the one.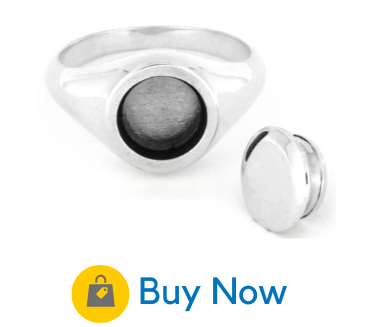 The Signet Cremation Ashes Ring was made with Sterling Silver and features a hollow area where the ashes would be placed. This tribute ring comes with an elegant and timeless design that could become the next family heirloom.
What we like
A unique design solution with a special place for the ashes to be inserted
We like the symbolism of purity of the sterling silver
A clean and elegant ring style that transcends time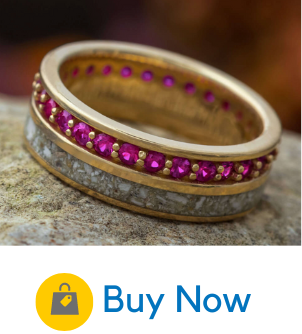 The Eloise Ruby Memorial Ring With Ashes is a truly sophisticated tribute to your loved one. This memorial ring holds the essence of a special person inlaid into a gold sleeve and framed with a circle of shimmering rubies.
What we like
We like the intricate craftsmanship on the Eloise ring
This memorial ring features a truly sophisticated design
A timeless family heirloom that embodies the vibrant energy of a loved one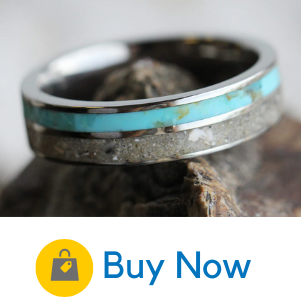 The Indigo Turquoise Cremation Ring is a very discreet and subtle way to have the essence of your loved one close to you anywhere you go. The blue hues of the turquoise offer emotional harmony and spirituality that radiates through this memorial ring.
What we like
Elegant and discreet design
For people that appreciate the calming effects of the turquoise
A fitting tribute for a person that brought serenity to this world
Women's Pet Memorial Rings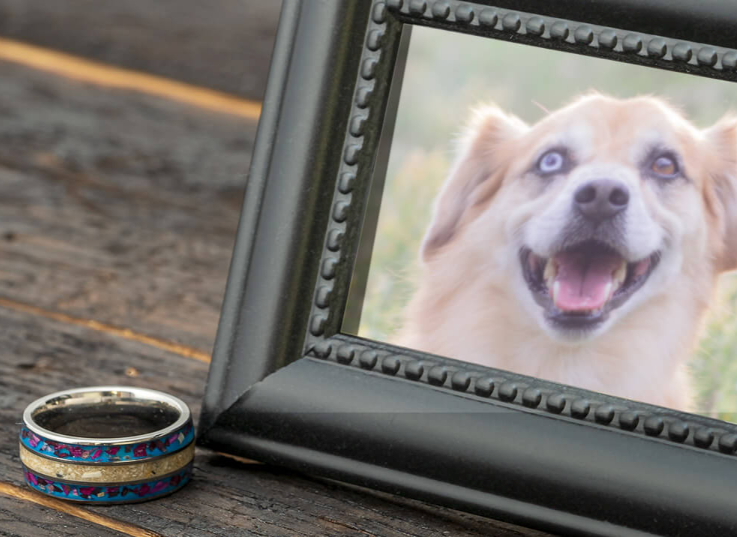 The loss of a pet can be devastating, and many of our readers have found that creating a beautiful handmade keepsake ring gives them comfort in this difficult time.
The process for creating a Pet Memorial Ring is pretty simple- much like that for a person- where you can either use some of their ashes or some of their fur.
Here are some unique memorial ring designs below.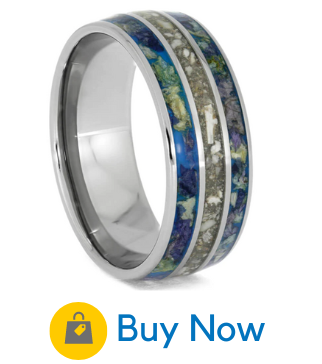 If your pet had a colourful and vibrant personality, we suggest the Solstice Flower Petal & Ashes Pet Memorial Ring. This handcrafted memorial ring features a titanium sleeve and the essence of your loved pet framed gently between flower petals and blue enamel.
What we like
Elegant and vibrant design to celebrate a pet and their love of the outdoors
A symbol of the love and joy you shared
The Titanum sleeve is extremely resistant to daily wear making it a good choice for active people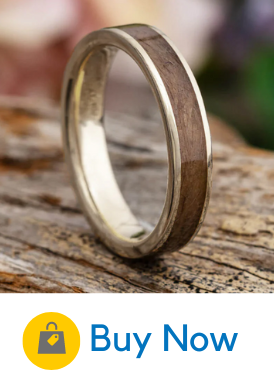 The Cherish Gold Pet Memorial Ring with Fur was made with a golden sleeve that showcases the essence of your pet in a stylish and elegant way. This memorial ring holds the fur of your beloved pet, framed in a golden sleeve.
What we like
A beautiful and classic design
We believe it will be a special tribute for a special companion
A deeply personal keepsake ring
Other Remembrance Jewelry