The Best Cremation Necklaces & Pendants You Can Buy Online
A Cremation Necklace or Pendant is a popular piece of memorial jewelry that you can always keep close to your heart.
In this review article, we'll talk a little bit about cremation pendants, and also list our favorite pieces of jewelry on the market.
Why Choose a Cremation Necklace?
You can keep it close: Choosing a cremation necklace means you're remembering your loved one, carrying a part of them with you at all times. This physical connection can provide solace during hard times, serving as a reminder of the love that was shared.
It's a very personal memorial: These necklaces offer customization options, from selecting the metal type to choosing the stone color, every detail can be tailored to reflect their spirit. The choice of color can serve as a vibrant expression of their personality, adding another layer of meaning to your tribute.
There are lots of artistic designs: Whether they cast a warm glow on everyone they met or their soul shined brighter than a diamond, there is a design that will reflect their true nature. With a big variety of designs, you can go from sleek and elegant to bold and ornate.
Different Styles of Ashes Pendants
Sterling Silver pendants: These pieces boast a contemporary appearance that's versatile enough for any occasion. They often come at price points making them accessible to everyone.
Gold cremation necklaces: These necklaces radiate opulence and sophistication. Crafted in shades of gold they are perfect for those who appreciate an elegant touch.
Diamond cremation necklaces: Adding a touch of brilliance to your memorial these pieces enhance its beauty and symbolism. Genuine or lab grown diamonds beautifully reflect light symbolizing the brightness of your loved ones' essence.
Stainless steel cremation necklaces: Renowned for their strength and longevity these jewelry pieces are perfect for individuals with a busy lifestyle. They are resilient and can endure the demands of life.
How are the ashes used?
There are generally three different techniques for using your loved one's ashes to make a piece of jewelry.
Ash infused glass: This technique is done by blown glass artists, the ashes are blended with glass at very high temperatures to create a vibrant and distinctive cremation pendant.
Resin infused pendants:

 

Crafted with care, a small amount of your loved one's ashes are incorporated into the design, and then is sealed within a resin for a deeply personal touch.
Keepsake pendants: These cremation pendants have a compartment where a small amount of ashes can be stored. Usually you will need to fill the small compartment with ashes unless the keepsake urn is very delicate, then the artist will take care of it.
Best Cremation Necklaces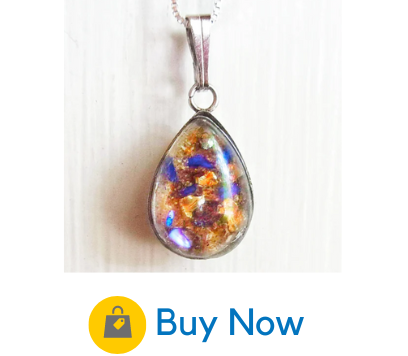 The Eternal Teardrop Gold Pendant goes beyond being a piece of jewelry; it holds symbolism of love that lasts forever. This tear-shaped design will remind you of the tears of joy and happiness you once shared. The stone which contains their ashes can be customized with elements like seashells or gold flakes giving it a personal touch.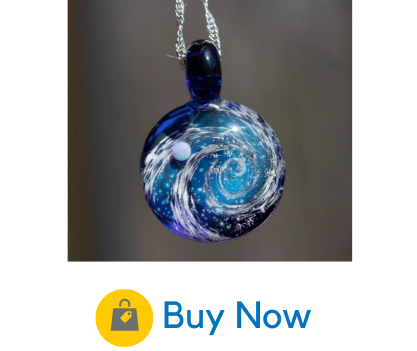 The Space Cremation Pendant allows you to keep the departed loved one and cosmos close to your heart. With its blue glass background speckled with white resembling a starry night sky. Just as the stars in the night sky shine eternally, the memories and love of your loved one remain constant. Each pendant features an opal, adding a touch of uniqueness to every piece. The ash swirls within the glass create a pattern making each pendant one of a kind.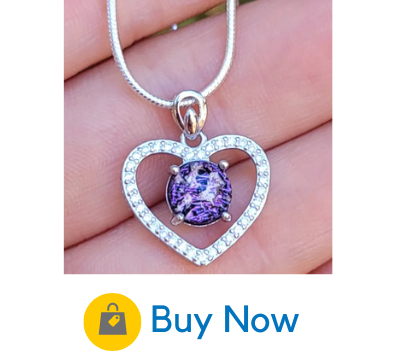 The Harmonious Heart Cremation Ashes Necklace reflects love and compassion. The heart shaped design of this piece is truly special as it captures the essence of connection. This connection could be the unbreakable bond you shared, the love that transcends physical presence, or even the shared experiences that made your relationship unique. The purple color not only adds aesthetic beauty but also carries spiritual significance, symbolizing change which means nothing is lost in life, only transformed in new forms of existence and connection.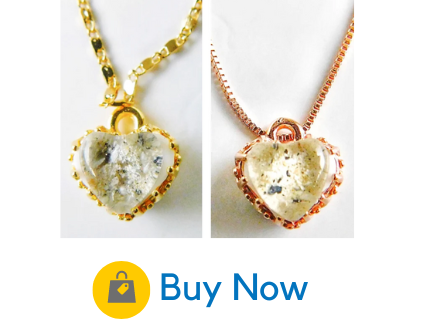 This 14K Gold Heart Shaped Pendant helps you honor and cherish the everlasting bond of love. It comes in shades of gold, adding a touch of comfort and reminding you of the warm and treasured experiences you two have had together. The gemstone is carefully infused with their ashes and it can be further personalized with dried flowers or delicate gold flakes.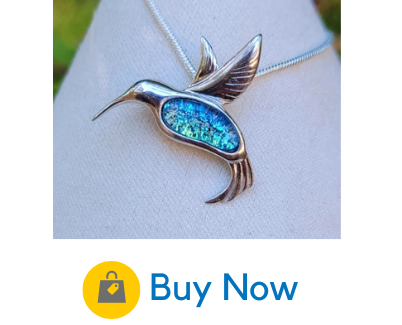 This cremation necklace captures the vibrant spirit of a hummingbird in a mesmerizing blue dichroic glass, which is infused with ashes of your loved one. It is the perfect way to honor a loved that had the energy and resilience of a humming bird, or someone who was always on the move and loved nature. The serene blue hue symbolizes peace and spiritual healing offering a sense of tranquility to those who wear it.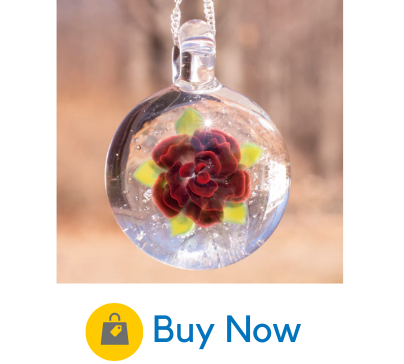 The Red Rose Cremation Pendant is a beautiful way to pay homage to a cherished loved one that has passed on. Encased in glass, a red rose takes center stage symbolizing eternal love and passion that knows no bounds. This necklace lets you carry a piece of their soul next to you heart, making even ordinary days feel a little more special.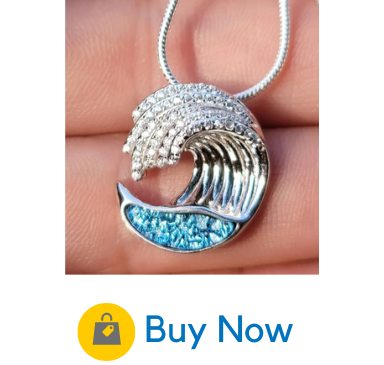 The Whispering Waves Cremation Pendant features a wave design that represents an oceanic ode to the ebbs and flows of life. This this pendant features a wave design that symbolizes the ups and downs of life. The light blue hue at the base of the wave, infused with ashes, offers a sense of peace and tranquility. The adjustable necklace ensures that this meaningful keepsake stays close to your heart.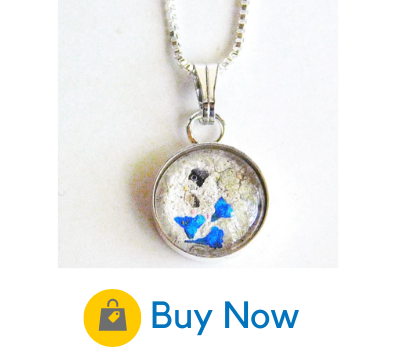 This cremation necklace embodies elegance and its sleek design makes it versatile enough to complement any outfit. The necklace features a glass gem in which you can place a small part of your loved one—be it ashes or another memento. Wearing this necklace becomes a subtle but impactful way to have their memory accompany you in any stage of your life.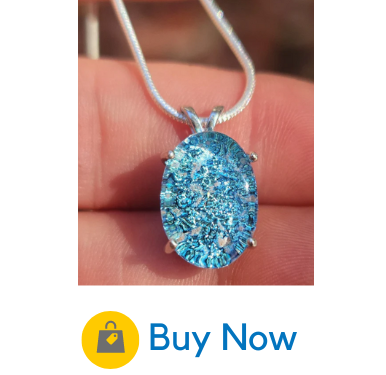 This cremation pendant is a handcrafted masterpiece that celebrates the cycle of existence. Infused with the ashes of your loved one, each pendant showcases patterns and hues. You can choose which hue best represents the aspect of your loved one's personality you want to shine light on, adding an even more personal touch to this unique keepsake. With the chain attached, you may wear it near to your heart, making it a constant companion.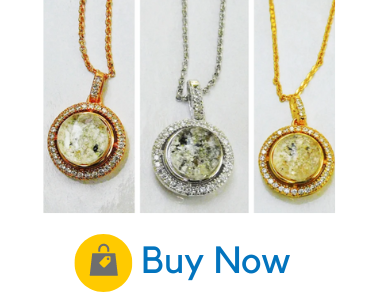 The Halo Diamonds Pendant is a beautiful way to honor the memory of a loved one. Made with love, this pendant is adorned with diamonds that add a captivating sparkle, which brightens the essence of their memorial. Whenever a diamond glistens, it reflects the shared memories held within your heart, which will forever shine brightly.