70+ Stunning Pieces Of Cremation Glass Art For Sale
You may be wondering how the words "cremation and art" could possibly be related?
However you might be surprised to know that cremation art is a really popular option for ashes.
If you are seeking something more creative, beautiful, and alternative, these cremation glass art pieces might be for you.
What Is Cremation Art?
They are a strikingly beautiful choice for remembering the deceased. Most of these can provide a method of displaying the loved one's cremains in glass.
For instance, you could set them on a table in front of a window or a mantel in your home. Another perfect place would be on your patio or lawn.
There are so many ideas of what to do with ashes. So if you are considering using the remains also for interment, diamonds, or scattering, there will be plenty of ashes for cremation art pieces as well.
Fortunately, only a tiny amount of the cremated remains are necessary to create them.
Blown Glass Process
People who craft these stunning objects are definitely artists in every sense of the word.
You may have even visited a place that makes blown glass art. Or possibly, you've seen the process demonstrated somewhere such as a festival.
The artist starts by dipping a blow pipe into a container of liquid glass and scoops up some on the end. Then as someone blows into the pipe, the artist spins, manoeuvres, and molds this glob of molten glass into a magnificent work of art.
Memorial glass art is made the same, however a small amount of the ashes is incorporated into the artwork.
Glass Ashes Pendants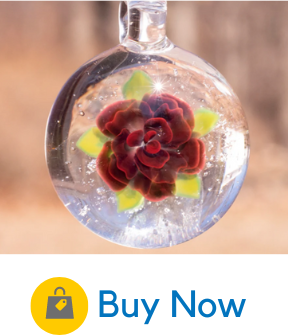 This glass pendant offers an endearing way to commemorate the loss of your partner. It features a clear 1.25 inch glass sphere that encapsulates a single red rose. The pendant comes with a silver plated 18-24 inch chain that allows you to wear it as a token of devotion. A red rose has always signified love, beauty, courage, and romance. Even though you are experiencing immense grief at the moment, you can wear this piece to remember that special person and honor the eternal love you share. Even though the person is no longer here, the memories and love you shared are everlasting.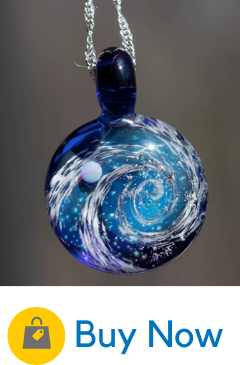 The space cremation pendant is a beautiful and unique keepsake to honor the memory of a lost friend or family member. The glass pendant features several shades of blue with white specked accents, and a single opal gemstone. In Greek mythology blue symbolizes rain and sadness but can also signify responsibility and calmness. Many people find solace by looking up at a night sky that is flecked with flickering stars. The moon signifies your eternal love for the departed person and the stars represent divine guidance and protection during this challenging time. You can choose between two cord lengths when making your purchase.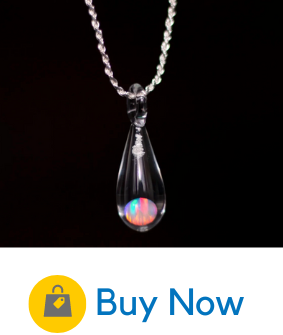 This exquisite keepsake is specially crafted with silver plated sterling silver and translucent glass. Inside the teardrop-shaped pendant sits a single opal gemstone that reflects assorted colors when you hold it up to the light. Opal gemstones originate from the Latin word "opalus" referring to precious jewel. Since ancient Roman times, the opal stone is viewed as a symbol of hope and good luck. It also signifies love, faithfulness, and nurturing – the perfect stone for cherishing the memory of a loved one and consoling your grieving heart. You have the option of two cord lengths when ordering this item.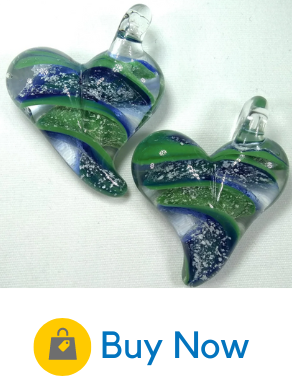 This beautiful glass pendant is in the shape of a heart that symbolizes love and devotion. Each piece has a streamlined design with almost zero air trapped inside the glass. The dark blue tones signify intelligence, trust, authority, and dignity. Maybe you are commemorating the loss of a trusted and authoritative person in your life like a father figure. Even though your heart is filled with sadness, you can draw inspiration from the green tones that signifies harmony, nature, growth, and renewal until you meet again. This beautiful glass pendant with its swirl patterns and calming tones is 25-30mm wide and offers a unique keepsake gift.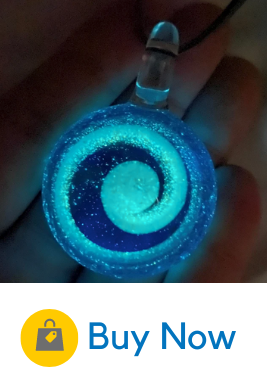 This celestial sky pendant is exceptional with its blue and white swirly patterns that reminds you of ethereal skies or oceanic views. Each pendant is one-of-a-kind and is hand made with glass that naturally glows in the dark. The blue signifies inner peace, spirituality, and inspiration while the white represents purity, heaven, and goodness, just to name a few. This jewelry piece offers the ideal keepsake to treasure the memories you have of someone dear to you. It comes with a drawstring bag and faux leather cord. You have various color choices to make your selection from.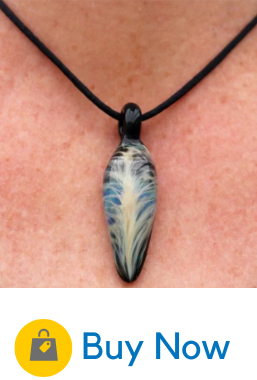 This beautifully crafted glass pendant makes a wonderful keepsake to honor the life of a departed family member or friend. Real silver is incorporated in the design to signify a white feather. Each pendant is specially made and comes with a faux leather cord that is available in three sizes and two color options. Feathers signifies wisdom, trust, honor, freedom, and power. It is a token which has been esteemed since ancient times as a sign of great honor. You can wear this lovely pendant in remembrance of someone that you've had immense respect for.
Resin Cremation Jewelry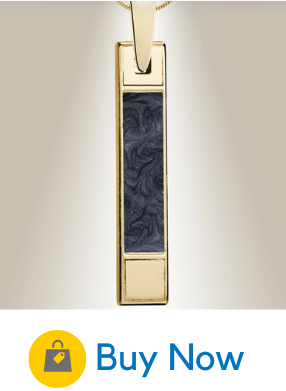 The understated look of the End Of Day ashes pendant makes it the perfect remembrance keepsake. The pendant is crafted with beautiful gold plated .925 sterling silver long tag that features a silver / grey resin center.
The pendant comes with a twenty inch chain so it can be worn close to your heart to remember someone special. You can wear this beautiful jewelry piece to celebrate their memory.
The color silver represents elegance, glamour, grace, and sophistication, while gold represents something precious and beautiful, perhaps like the person who has passed on.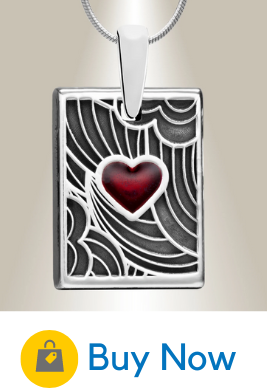 The silver crimson heart pendant offers a unique and beautiful keepsake to commemorate someone you loved and lost. This pendant is created with durable materials to ensure it lasts for many years.
The 3mm thick pendant features a square shape, intricate details, and a small bright red heart in the center. Perhaps you want something other than an urn to remember someone that you have cared for deeply.
The color crimson red symbolizes passion, courage, and vigor, and is often used for ceremonial or sacred purposes. The pendant comes with a 20 inch chain and complimentary gift box.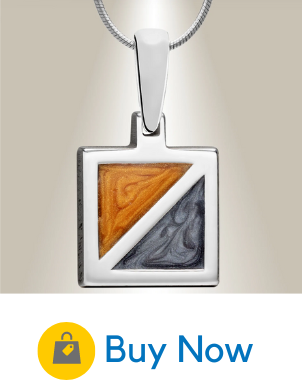 This ashes square shaped pendant is striking with a two-tone grey/yellow resin centre and sterling silver background.
The color yellow represents energy, honor, enlightenment, positivity, and remembrance. It is the perfect shade for remembering someone that encompassed all these character traits.
Grey often symbolizes balance and neutrality.
While your thoughts and heart may feel clouded with grief, with time and acceptance balance will be restored once again.
The pendant includes a twenty inch chain, ash collection kit, and complimentary gift box, and is made from durable materials to last for years.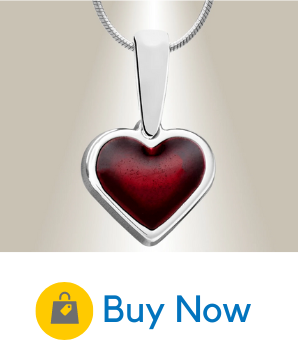 Nothing says "I love you" quite like this beautiful heart ashes pendant.
It comes with a twenty inch chain and gift box, and you can add engraving on the back. The bright red color is spiritually referred to as Muladhara, which connects to universal energies and keeps you grounded.
Red has been a symbol of love, passion, excitement, confidence, and is inherently exciting. The heart symbol symbolizes affection, love, and the center of emotion, making this beautiful pendant the perfect keepsake.
Celebrate the life of a lost partner, friend, or family member who has passed on. You have the option to select a different resin color.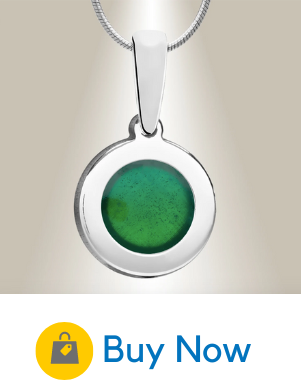 This stunning remembrance keepsake features a stunning sterling silver round-shaped pendant with an emerald green center.
It is ideal for remembering someone who loved nature and has moved on to greener pastures.
Even though you are grieving the loss of your loved one, find peace in knowing that your love for them is eternal. A circle represents wholeness, infinity, and timelessness.
Nothing can take away your memories of them since it is engraved in your heart forever. The pendant comes with an ash collection kit, twenty inch chain, and complimentary gift box.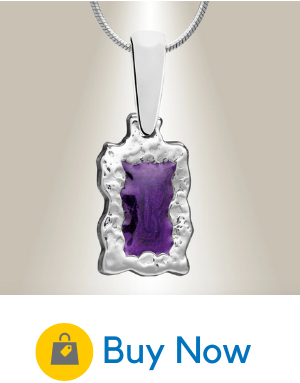 This breathtaking keepsake jewelry piece features a bright purple resin center that is framed with durable .925 sterling silver.
The uniquely shaped frame immediately catches the eye, making it a must have item. Purple is known for restoring the harmonious balance of peace and awareness.
The center piece holds a small amount of cremains to honor the memory of that creative soul who has passed on. The pendant comes with a matching chain and gift box.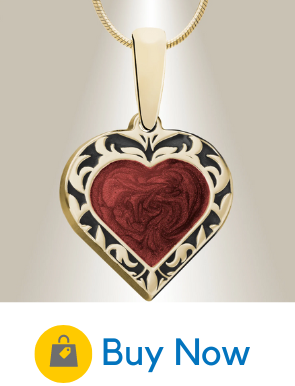 It is never easy to go through the grieving process after you have lost someone close to you. With this beautiful pendant you can relive the happy memories you have shared with them in the past.
Campfires are associated with warmth, light, and feelings of bonding and togetherness. The burnt red heart-shaped pendant with interesting white and black detailing on a gold background is truly unique.
It comes with a matching gold chain and gift box and is crafted with durable materials that are anti-corrosive.
It is the perfect remembrance token that you can wear close to your heart.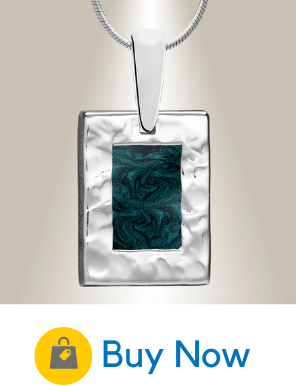 The eye-catching silver garden ashes jewelry piece contains a tiny amount of cremains to honor the memory of someone who passed on.
The rectangular-shaped frame perfectly compliments the turquoise resin center piece and matching silver chain.
The exquisite deep green / turquoise color symbolizes hope, peace, and protection.
Even though your paths have separated for now, your heart is at peace because you will be reunited again.
Ancient people associated turquoise with enduring love and peaceful energy which makes this pendant the ideal remembrance keepsake.
Ash Paperweights & Marbles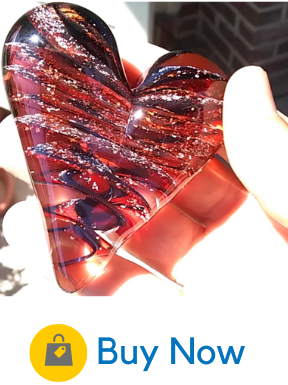 If you are looking for something exceptional and striking to show your devotion for someone who has passed on, then this might be what you are looking for.
This large heart-shaped paperweight comes in an assortment of colors and offers a breathtaking view from different angles. The pendant is 2.5 inches wide and three inches long, just right to fit the palm of one's hand. The heart symbol has been revered as the center of emotion, affection, and love, making it the perfect remembrance keepsake.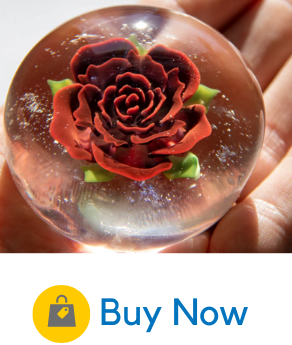 Red roses have been gifted as an expression of adoration and love since early times. Even today, they are the number one gift as a sign of affection. Deeper shades also signify devotion and passion for the person you have shared your life with. This cremation paperweight makes the perfect keepsake to commemorate the loss of a loved one. The sphere is hand crafted from transparent glass and features a single red rose and a bit of incorporated cremains, which makes every piece unique.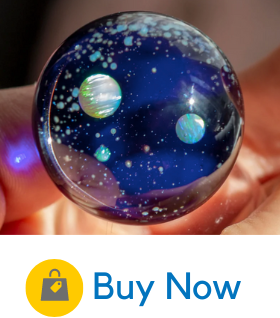 The Galaxy Glass Marble keepsake offers a unique way of celebrating the memory of someone that has passed on. Each marble is made with stunning blue borosilicate glass and features opal gemstones to resemble the galaxy. Opal gemstones are linked to passion and love, but also act as emotional stabilizers during difficult times. If urns or keepsake jewelry is not your cup of tea, then this item with display stand offers a unique alternative to display your affection and devotion.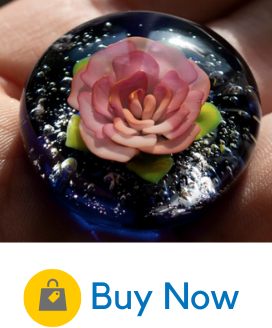 This beautiful blue glass paperweight is 1.25 to 2 inches in width and features a beautiful pink rose. Pink roses are gentler options than red roses and are often used as a sign of admiration. They signify joy, gratitude, and grace. Even though your heart is grieving from the loss, you can still show your gratitude and admiration in memory of the life you shared with the person. Ash is infused in the glass for a stunning effect and the center rose is available in assorted colors to choose from.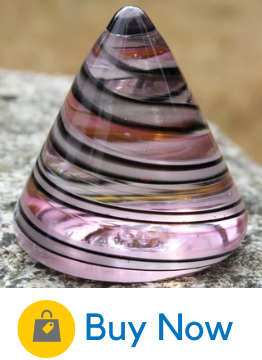 There is nothing ordinary about this stunning glass pyramid paperweight with swirly detail. On a spiritual level, ancient Egyptians viewed the shape of pyramids as a way of offering new life to the dead. It signified the human body emerging from earth and arising towards the sun's light. Each paperweight keepsake is made from excellent quality glass and a small amount of ash is introduced during the glass blowing phase. The ornament is available in various colors and looks amazing when paired with the LED light base you can order with it.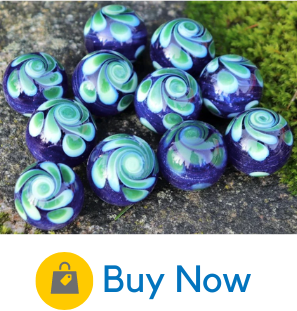 These memorial travel marbles offer an exceptional way to honor the memory of someone who passed on. They are available in various color options, so you can have it made in the departed person's favorite color. You can also choose between packs of five, ten, twenty, or twenty-five. Each set is made from scratch using specialised techniques and designs, and no two sets are alike. You can order a set for yourself to display as a whole, or you can distribute them among family members or friends.
Memorial Glass Vases & Ornaments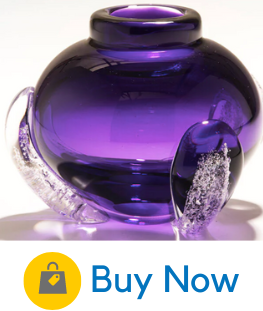 This cremation vase is truly exceptional with its violet glass composition and interesting decorative white accents. The vibrant purple color is simply breathtaking and reminds you of exotic iris flowers or calming lavender. People often draw guidance and spiritual growth from this shade and believe it to be connected to the supernatural, unknown, and divine. This unique keepsake vase measures 5.5 inches in width and is five inches high. It is available in six color options to choose from.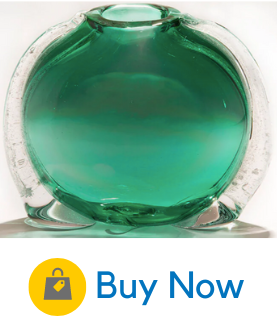 With this exquisite memorial ornament you can honor the loving memories you have of a departed family member or friend. The unique green shade signifies vitality, luck, and prosperity, and green is also the color balance, healing, and peace – the perfect combination to provide solace a grieving heart. The Circle of Life glass vase measures 6.5 inches high and nine inches wide. You have six beautiful color options to choose from upon ordering.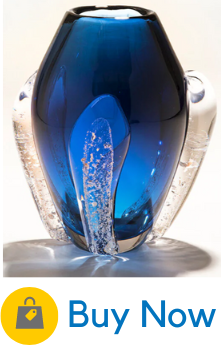 This vibrant blue luxury glass vase is a remarkable art piece that you can display to show your devotion and love for someone who passed on. Blue brings forth feelings of serenity and calmness. It is often defined as tranquil, peaceful, and loyal. The serenity vase offers an excellent remembrance keepsake with its vibrant glass structure and attention-grabbing detailing. The vase measures seven inches high, 5.25 inches wide, and comes in six attractive color options to choose from.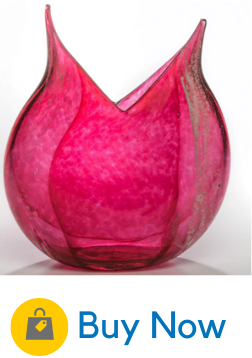 This cremation keepsake with its unique design immediately draws the attention. It measures nine inches wide and eleven inches tall. There are three colors to choose from, and each ornament is specially crafted to mimic the shielding encirclement of angel wings. Angel wings symbolise someone who has departed, also called guardian angels. With this beautiful ornament you can keep their memory alive and have a tangible token to keep them with you every day.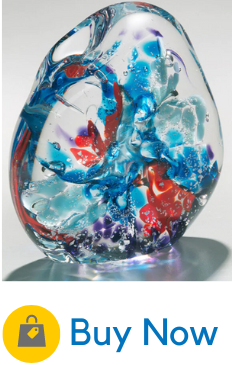 The element fire cremation glass ornament offers a unique decorative art piece that you can display in your home to honor the memory of someone you love. Fire is associated with power and warmth and in many cultures as a symbol of knowledge and wisdom. The Hebrews, Chinese, and Christians also see it as a sign of divinity. This lovely piece measures seven inches tall and 4.5 inches wide and is one of four element options to choose from. Each ornament is striking and will make a beautiful addition to your home.
Other Cremation Art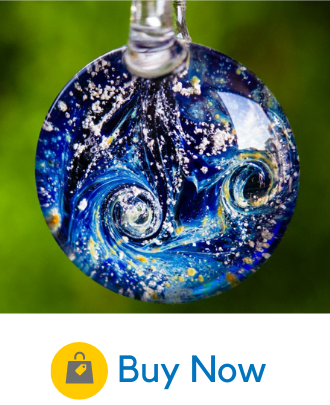 There's nothing quite like this striking blue disc with yellow highlights within it. It's designed to look like the night sky, a wonderful tribute to a loved one whose soul is as eternal as the galaxy.
You wear it on a chain around your neck or simply keep it as a lovely memento all on its own. Cremation ashes are swirled into blue melted glass, and then protected with a layer of clear glass to last for years to come.
You can order them to honor multiple family members, since each pendant is unique.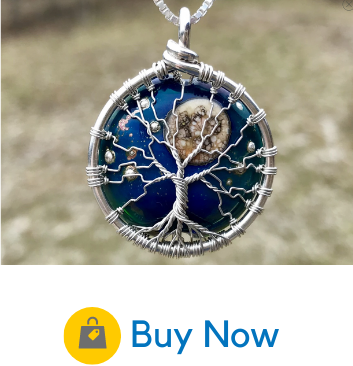 The moon and stars, unchanged for millions of years, are a great reminder of the eternal, while a tree of life represents nature's renewal.
Combined together, they make an eloquent tribute to the life of your loved one. Cremation ashes are mingled with the glass, and visible from the back of the pendant.
The tree of life stands out in strong yet delicate sterling silver against the background of moon and stars.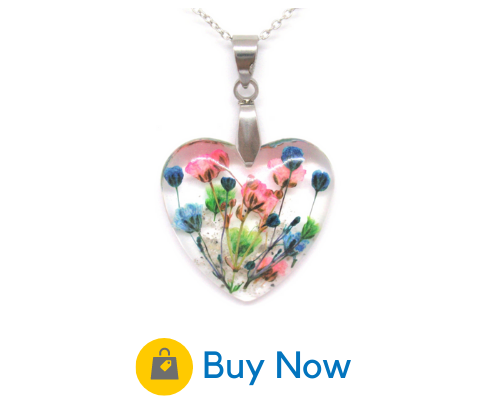 Flowers are a traditional and popular symbol of remembrance, bringing their beauty and comfort to memorial services and funerals.
Now you can wear real flowers around your neck, enclosed in a glass heart containing swirls of your loved one's cremation ash.
You can keep them close to your heart always, memorialized forever with small blooms of multi-colored baby's breath.
The silver necklace is included with the purchase of the pendant.
A discount is available if you wish to purchase multiple flower heart pendants for family members.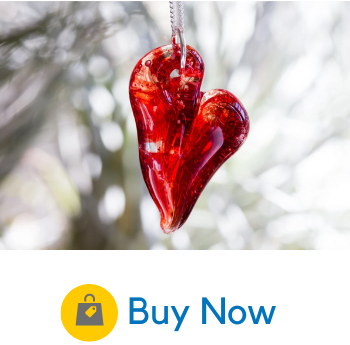 This striking glass heart, infused with your loved one's cremation ash, comes in a selection of colors: red, green, blue, purple, pink, or amber. For an even more unique look, you can choose a dichroic color variant, which displays a secondary color sparkling within the glass.
Each pendant is slightly different, so even if you order multiple pendants, each will be original.
The pendant can be worn as a necklace close to your heart. Alternatively, you can choose to display it on a ring stand in your home, or keep it in a special place.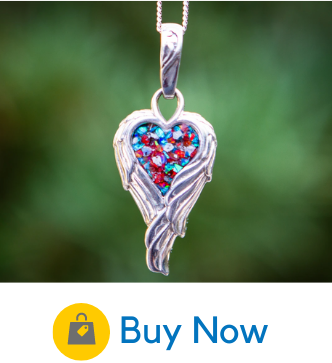 The sight of delicate sterling silver angel wings enclosing your loved one's ashes in a heart shape will bring comfort every time you look at it, or feel its gentle weight on your neck.
It's tiny enough for subtlety, while the bold colors of the crushed synthetic opal mix inside the glass quietly captivates.
You can choose up to three colors for a truly customized look: red, orange, yellow, green, teal, turquoise, blue, dusk blue, purple, magenta, pink, white, black, and rainbow, or any combination of them.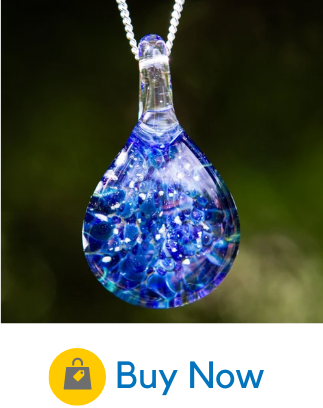 Tears are an inherent part of the grieving process: tears of happiness because of the memories, tears of sadness because they are no longer with you.
This pendant honors the tears you shed with its vivid swirls of blue color and pleasing teardrop shape. A small amount of cremation ash is infused with the blue glass.
If you wish to wear your teardrop pendant as a necklace, a chain can be purchased separately.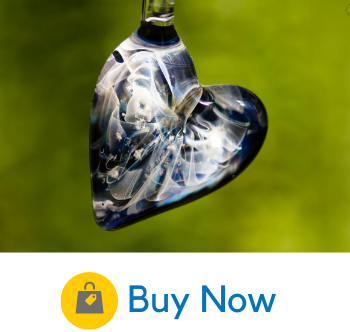 The white ghostly swirls within this pendant not only catch the eye, but also serve as a beautiful reminder that the spirit of your loved one is always present.
You'll especially love the way this pendant looks when the sun catches it, transforming the white swirls into cheerful sparkles of sunshine-colored light.
Though the pendant does not come with engraving, you can order a sterling silver charm engraved charm to wear along with it.
It's the perfect way to memorialize a pet, a parent, a spouse, or anyone else you loved.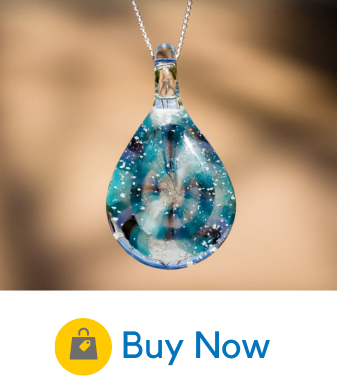 A blue spiral teardrop speaks both to sorrow and to endless life.
The smooth blue glass, infused with your loved one's ashes, will bring you comfort every day.
All you have to do is reach up to your neck and put your hand around it to feel instant consolation in the midst of your grief.
It's as if your loved one is right there with you all the time.
The pendant does not come with a chain, although you can purchase one to go with it.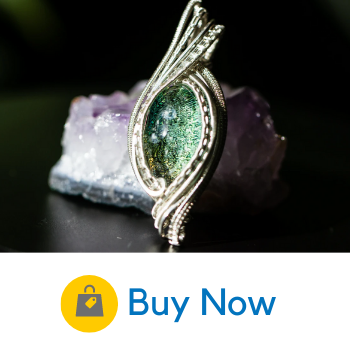 This stunning pendant features the vivid color of dichroic glass surrounded by several yards of sterling silver wire wrapped into an attractive pattern.
The pattern of the handmade wire wrap differs from one pendant to another, so that each is unique.
The glass comes in shades of Green, Blue, or Purple Teal finished in either metallic silver or oxidized (dark) finish.
You can also choose to have the cremation ash infused with the glass or placed within the pendant's backing.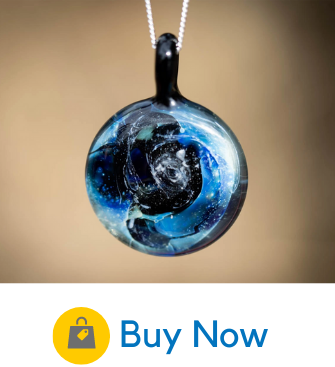 An image of deep space can comfort you with the knowledge that your loved one rests in the vast and endless space of infinite life.
With vibrant swirls of many shades of blue, you can hold that infinite space close to your heart every day, along with the cremains of your loved one.
Though it's just a flat disk, this pendant will turn heads everywhere you go with its powerful beauty.
You can wear it alone, or purchase a silver charm to wear with it.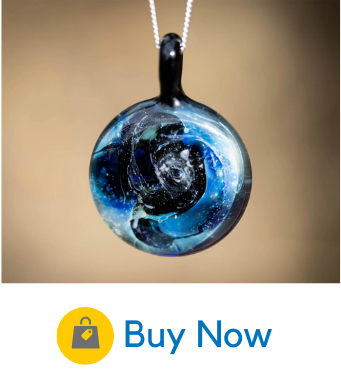 The perfect way to commemorate a true free spirit, the patterns within this glass pendant evoke the peace-loving feel of tie dye.
All it takes is a tiny amount of cremation ash (about ⅛ of a teaspoon) to keep your loved one close to you forever within this uniquely beautiful pendant.
The teardrop shape balances out the cheery multicolored shades of color to give just the right feel of joy mingled with sorrow.
The colors constantly change with the light and will look amazing hanging on a chain around your neck or even swinging from your rearview mirror.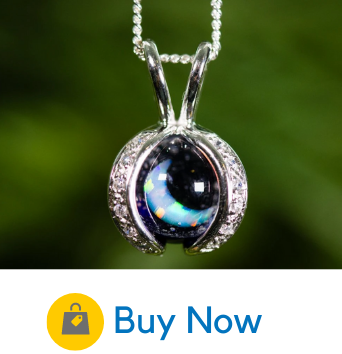 One small 10-millimeter marble holds a world of beauty and power within it.
The glass is infused with a tiny amount of your loved one's cremains and encloses a striking opal with the shape of a moon or star displayed against the dark background.
You get to choose whether your pendant will feature a crescent moon, a full moon (either white or black), or a star.
If you like, you can choose opals to substitute later.
Remember that the opal is not glued in and may rotate.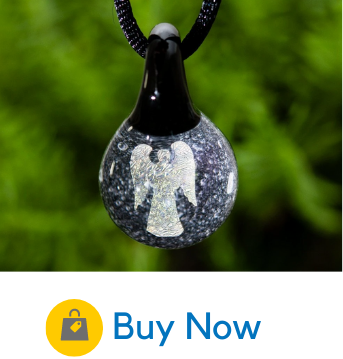 Your loved one is like a guardian angel who goes with you everywhere, as this amazing glass pendant shows.
A holographic image of an angel, made of silver foil, appears on the glass surface, against a dark background.
The look is subtle yet reassuring, and so lovely that people around you will feel compelled to take a second look.
It reflects the light around you to give a different glow depending on your surroundings.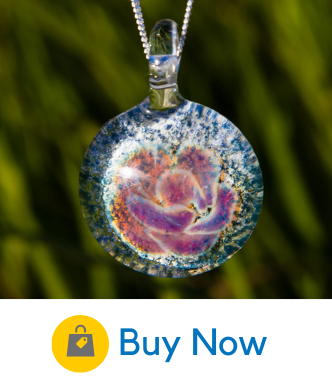 The unique dichroic colors of this pendant are immediately noticeable. But people will have to take a closer look to see the delicate beauty of the ghost-like flower petals inside it.
The three-dimensional flower looks realistic yet spiritual at the same time.
The glass behind it sparkles, and also holds the comfort of your loved one's cremains hidden inside.
Place it in direct light to get the full effect of the gorgeous colors.
In recent times when large gatherings and plane travel were difficult, this subtle yet powerful memorial piece made a huge difference to many who were grieving for lost loved ones. And it can offer the same comfort to you.
You can choose up to three gorgeous colors for the crushed opal displayed in the pendant.
The color combinations are almost endless, and include such stunning variations as Light Yellow & Dusk Blue, Red+Yellow, Red+Blue, and Pink & Orange.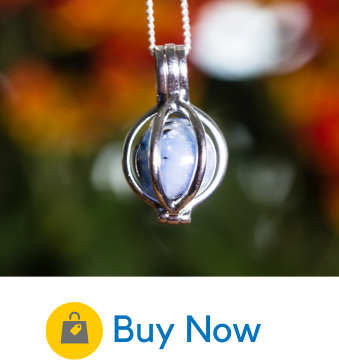 The image of a cage represents how close you hold a lost loved one in your heart, even after they are gone.
And this delicate cage is crafted of fine sterling silver which you can wear proudly.
The cage holds a glass marble infused with your loved one's ashes,  held securely against your heart.
The colors of the opal inside will change depending on the light. You can choose from a total of 18 color variations, some opaque, and others swirled and translucent.
Possible color combinations include Clear, Light Green, True Blue Swirl, and Marigold Swirl.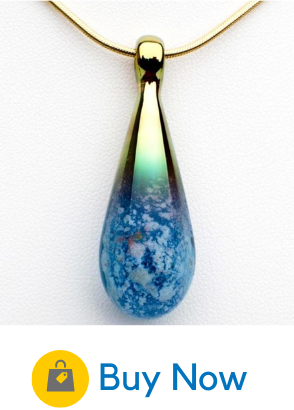 Dramatic and vibrant, there's nothing quite like the deep blue of a sapphire to remember a soul who made an impression on you.
The elegant drop shape and the beautiful color will bring comfort and peace every time you look at it.
Delicate gold fuming adds a deeper level of elegance.
It's available in both regular (1.5"-1.75") and petite (1"-1.25") sizes.
You can purchase an engraved silver charm to wear along with it for more personalization.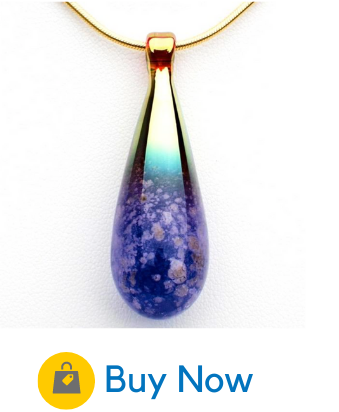 The warm, soothing colors of an amethyst are thought to represent peace, healing, and clarity.
And that is exactly what you'll feel every time you wear this elegant drop-shaped glass pendant.
It comes in regular and petite sizes. A chain (either a curb chain or a snake chain) can be purchased separately.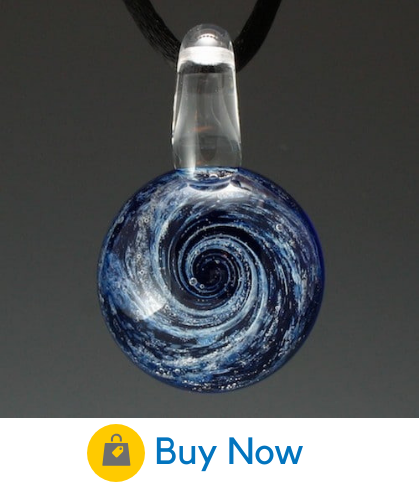 This stunning pendant comes in a spiral shape with a deep blue background, giving it a timeless look and feel.
Your loved one's ashes are infused into the glass, seemingly propelled into an endless vortex on a path to immortality.
The pendant is between ¾ of an inch and 1 inch wide.
It comes with a black satin cord. However, a sterling silver snake chain can be ordered instead for an additional cost.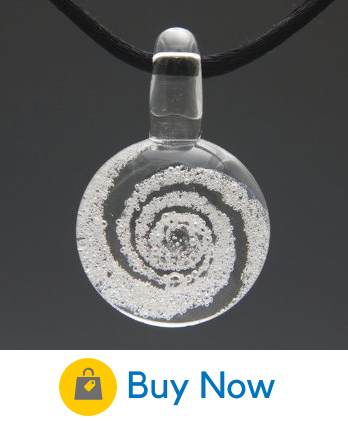 This clear pendant beautifully displays your loved one's ashes in a delicate swirl design.
The clear design means that the swirl of ashes forms a beautiful contrast to your skin or clothing.
The pendant measures just about an inch wide, and comes on a black satin cord.
It's the perfect way to honor a loved one's memory by carrying such a beautiful reminder with you.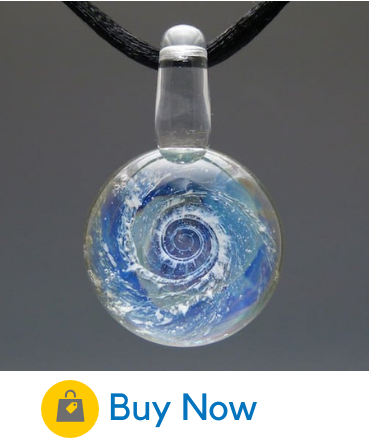 A background in many shades of vivid purple is perfect for emphasizing the understated beauty of your loved one's ashes, arranged in a swirl design.
These colors will bring you a comforting sensation of peace whenever you look at them.
The nebula shape proves the perfect visual to evoke the eternal nature of the skies and the heavens.
Words (and photos) truly cannot do justice to how beautiful this piece of cremation jewelry is.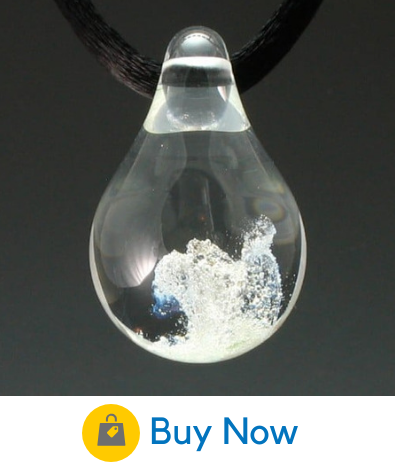 A teardrop shape speaks to the grief you feel after losing a loved one.
But your loved one's ashes, mixed with iridescent glass bubbles inside the teardrop, remind you that they are never really far away.
Despite its simplicity, this pendant is sure to get you positive comments and compliments everywhere you go. And the comfort it brings you is really indescribable.
Like the other pendants described, it's a wonderful way to honor a lost pet, too.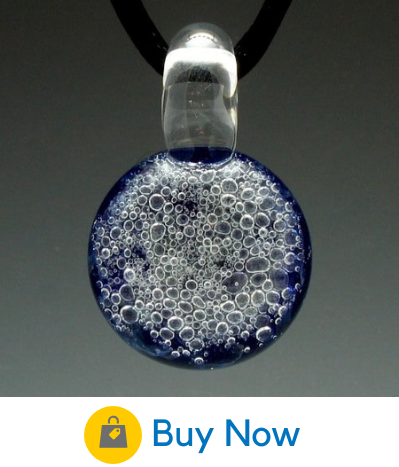 This pendant combines your loved one's ashes with a pattern of realistic bubbles. These combine with striking results in a single layer, appearing almost three-dimensional. A backing of deep solid cobalt blue enhances this effect.
This is a wonderful way to find closure on a loss, especially if you've held onto your loved one's ashes for a while without knowing what to do with them.
The combination of ashes and bubbles together, against a background of deep blue, will truly make you feel that your loved one has become one with the endlessness of the galaxy.
The effect is achieved through a double layer of ashes and bubbles which are infused in the clear glass. This pattern entwines itself around the cobalt blue center.
The small, 1-inch-wide bead can be worn on a black cord (which is included) or on a sterling silver chain, which can be purchased separately.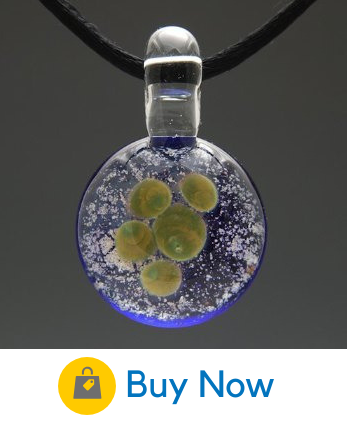 Green is the color of rebirth and new life.
So a tiny green paw print is the perfect decorative detail to memorialize a beloved pet.
Your pet's ashes form a background to the paw print, which appears to float over a blue as ethereal as a mountain lake.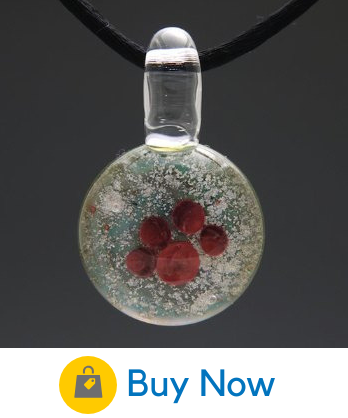 The bold red shade of this tiny paw print speaks to the passionate love you still have for your lost pet, and the vivid mark he or she left on your life.
The blue glass background adds a peaceful, eternal quality.
If you want something more elegant than the black cord it comes with, you can always order a sterling silver chain for a different look.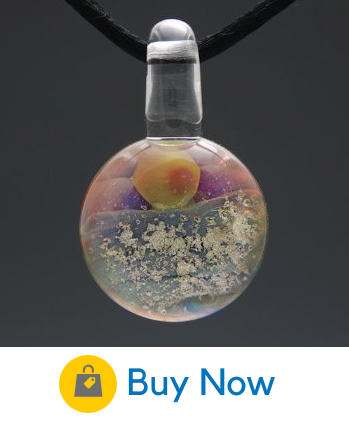 There are few things more comforting and peaceful than the ocean at sunrise.
This pendant gives you that within a simple clear glass bead.
Your loved one's precious ashes mix with a bubble pattern to give the illusion of white caps on a pale blue ocean.
Tints of purple and orange paint the hues of sunrise above it, symbolizing the new day that is dawning for the person or pet that you lost.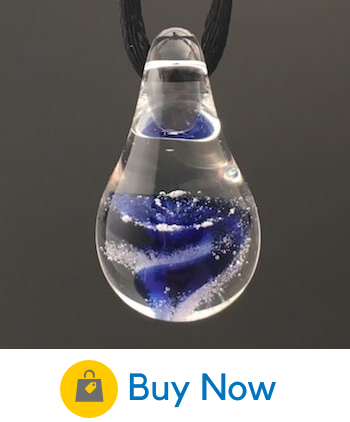 It may be small, but this clear glass teardrop holds all the purity of love.
A swirl of vivid blue mixes with your loved one's ashes to make a uniquely beautiful remembrance.
It is about 1 inch tall. Colors may vary slightly, but you are sure to be blown away by its dazzling beauty no matter what.
You also get a lovely blue jar and silk bag for dignified storage.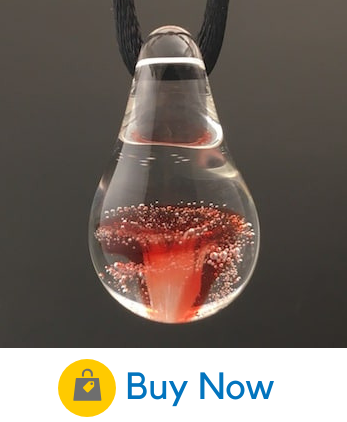 If your loved one had a fiery soul as bold as a red ruby, this pendant is a perfect remembrance of them.
A small portion of ashes is swirled together with bright red glass, keeping their memory vibrantly alive.
This vividly colorful memorial is encased within a small clear glass teardrop, hanging close to your heart on a black satin cord.
It may end up being the most meaningful piece of jewelry you own.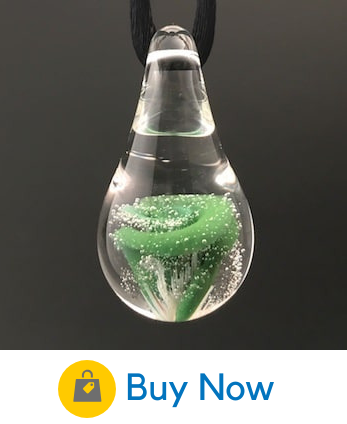 A green forest is a wonderful symbol of nature's cycles of death and rebirth, sure to bring comfort as you grieve.
Amazingly, this tiny glass pendant holds all that symbolism beautifully within it.
A swirl of lovely forest green glass is infused with your loved one's ashes, symbolizing the cycles of new life.
A clear teardrop shape represents how much you miss them, even as life goes on.
Paperweights & Glass Orbs
Smooth, clear and timeless, a glass orb makes an understated but beautiful addition to any home decor.
To your guests, they look like any decoration or paperweight. But you will always carry the secret knowledge that a tangible reminder of your loved one is tucked discreetly and beautifully inside.
The circular shape of an orb is a perfect symbol for the endlessness of eternity, and makes it a perfect memorial.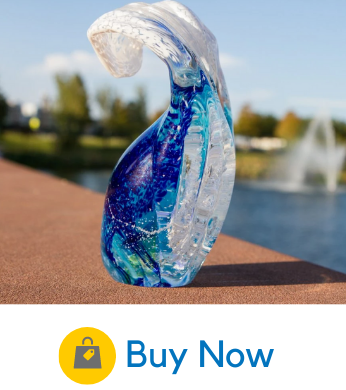 The bright blue swirls of color in this unique paperweight will remind you of the ocean on a dazzling summer day. The effect is even more striking when it catches the sunlight in just the right way.
The suggestion of a distant horizon at the beach will bring great comfort as you remember your lost loved one.
You can opt for the 7"-8" paperweight, or choose the smaller 4.5" model.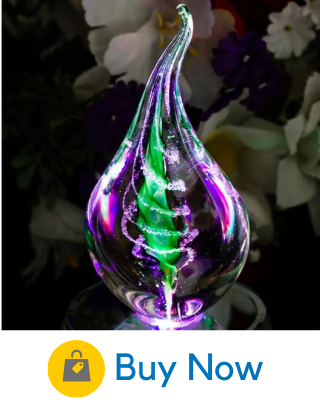 The delicacy of glass combines with the strength of fire in this paperweight, representing both the fragility of life and the enduring strength of love.
Immortalized in glass, this is a flame that will never go out.
Your loved one's cremains are mixed in with the vibrant spiral-shaped flame.
You can opt for several different color combinations:  black & white, aqua, red & orange, gold, pink, purple, green, or blue.
It also comes in a choice of two sizes.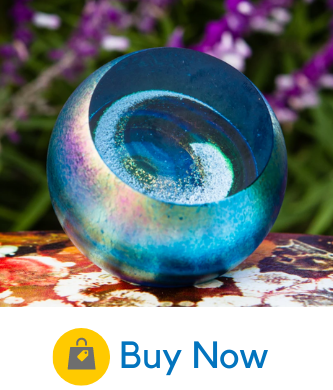 You can't beat the Northern Lights for a stirring reminder of the vastness of the universe around us.
In this stunning paperweight, your loved one's ashes are swirled in shades of aqua, green, purple, and gold, as if lighting up the night sky.
Metallic blue fuming adds to the otherworldly effect.
And because of the polished viewing port on the surface, you can look at the swirled cremains any time you want.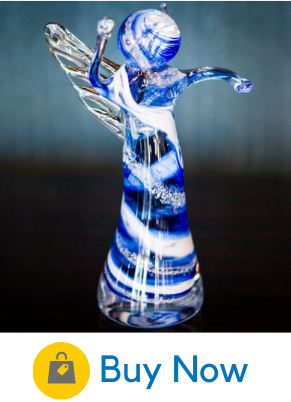 The ultimate symbol of a divine messenger, this angel will help you feel that your loved one always remains close by.
Swirls of delicate cremation ash grace the vibrant colored glass.
Because they're handmade, each angel differs slightly in the appearance of the glass and the position of the arms.
You can purchase the statuette in a variety of colors: Emerald, Cobalt Blue, Salmon, Clear With a White Stripe, Teal, Lilac, Golden Topaz, Lime, Marine Blue, Cranberry, or Yellow.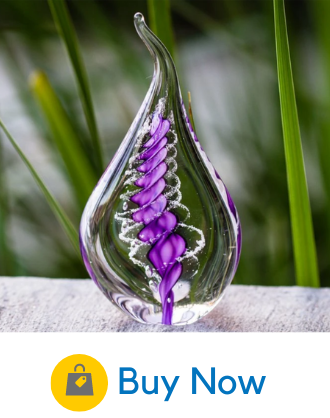 Similar to the striking and dramatic glass flame paperweight, this memorial glass flame sits on an engravable glass base on which you can fit up to 45 characters.
This is  enough for your loved one's name and dates, or a meaningful quote. You can choose from among several different fonts.
The glass flame comes with a discount if you should want to purchase additional orbs for family members.
There are eight gorgeous colors to choose from for the spiral flame, and two different sizes.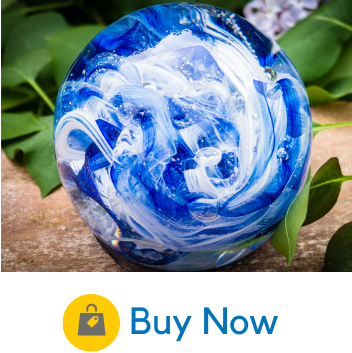 The sweet colors of cotton candy recall memories of carefree fun that you shared with your loved one. And it's even better laced with the delicate beauty of their cremation ashes.
The orb is available in a total of 13 fun colors including Adventurine Gold, Emerald Green, Blue, or Red.
It's flat on the bottom so that you can display it easily and beautifully on a desk, mantel, windowsill, or just about anywhere else.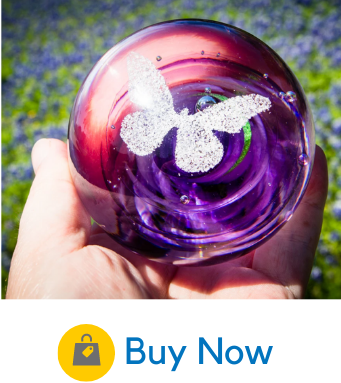 Emerging in effervescent splendor from its chrysalis, the butterfly is the perfect symbol of your loved one's new adventure in eternity.
Within the clear glass orb, the butterfly has been artfully formed from a tiny portion of cremation ash.
The butterfly perches on a swirl of vivid color. You can choose from ten different color combinations: swirls of light and dark pink, an array of different shades of purple, a range of fiery oranges, and more.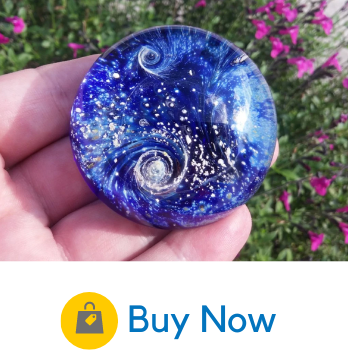 Your loved one's cremains are swirled with shades of dark blue, as if transformed to a bright comet soaring through the endless night sky.
The lightness or darkness of cremains affects the colors of the glass dome. Each one is unique, just like the people they immortalize.
You can add an engraving of up to 12 characters on your paperweight at no extra charge.
The paperweight is available with or without yellow highlights.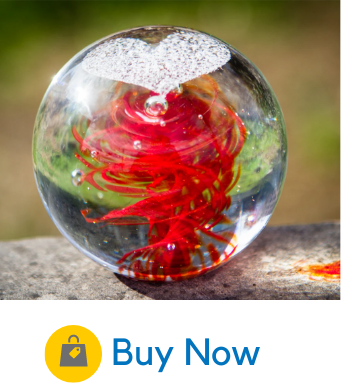 This glass orb encases a portion of your loved one's ashes in the shape of a heart, a tangible reminder that their love is still part of your life.
Beneath this ethereal heart is an eye-catching swirl of color. A total of nine gorgeous color combinations are available, so you can choose the colors most fitting to the vivid personality of your loved one.
A flat spot on the bottom of the orb makes it possible for you to view the heart from above when you've set it on any surface.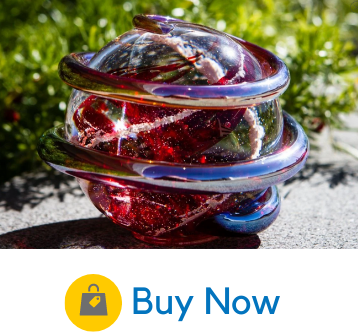 There are few things as mysterious yet enduring as the distant planets.
That's why this dramatic red metal planet orb is such a great way to honor the life of your loved one, which continues so mysteriously and enduringly after death.
A brilliant red spiral in the center of the glass orb is encircled with metallic thread, making it look truly otherworldly.
All that's required is about half-a-teaspoonful of cremains to swirl them in with the smooth, sturdy glass.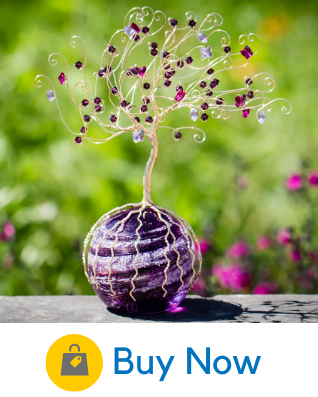 A regally purple glass orb, swirled with a small amount of your loved one's ashes, holds memories of the past beautifully while giving away to the eternity of the future.
An ornate gold wire-wrapped tree wraps its roots around the orb, its branches reaching up to new life.
Tiny butterflies and beads made of colorful Swarovski crystal add to the look of luxurious beauty.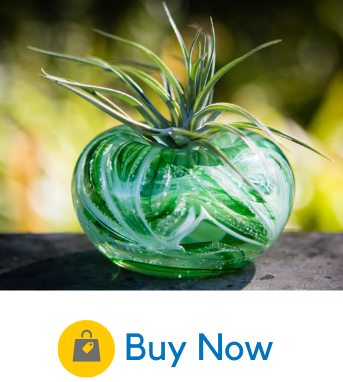 It means a lot to have a tangible object that makes you feel close to your lost loved one. It's even better when that object can be used to nurture new life.
This striking glass planter is designed to hold an air plant (tillandsia) which must be purchased separately.
A small amount of mounting glue may be necessary to hold the plant in place.
The planter comes in a selection of eight colors including Blue, White, Yellow, and Red.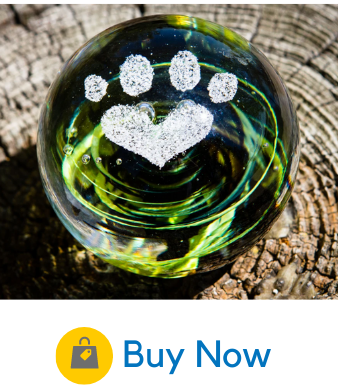 If you've recently lost a beloved pet, then you know their pawprints remain on your heart forever.
And what better way to celebrate that love than this unique glass orb?
A half-teaspoonful of your pet's cremains form a beautiful heart-shaped paw print in the surface of the glass.
A stand or base can be purchased separately, allowing you to display the orb anywhere you want.
The orb is available in two different sizes, and an array of twelve amazing color combinations.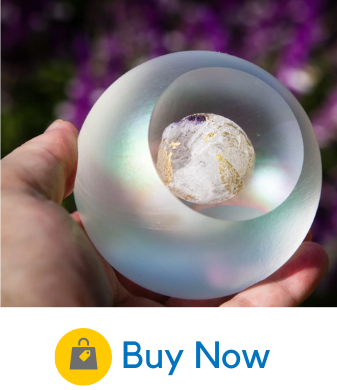 The smooth, white, opalescent exterior of this glass orb is truly heavenly. And to make it even more striking, a portion of your loved one's ashes are shaped to look like a planet within. The tiny planet is wrapped with beautiful gold leaf details.
A viewing port in the top surface of the orb allows easy viewing of the inside of the orb.
The pearly exterior will reflect the color and light of the surrounding environment because of its dichroic properties.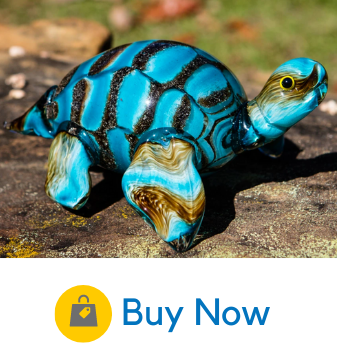 If turtles play a role in any of your fondest memories of your loved one, this unique and lovely glass figurine is the perfect way to immortalize them.
The turtle is crafted in amazing detail from stunning colored glass infused with cremation ash.
It will make a beautiful addition to your decor, whether displayed on the mantle, the desk, or the dining room table.
You can choose from seven different colors for your glass turtle.
Hanging Orbs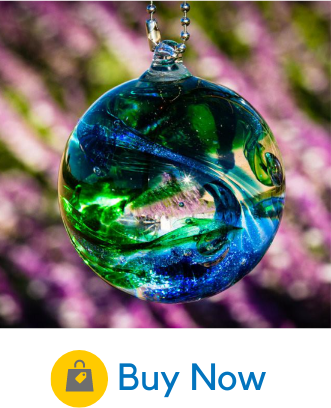 Why settle for just one color to represent the colorful soul of a loved one when you can have two?
In this orb, cremation ash is infused with captivating swirls of two-toned color.
You can choose to hang the orb with either a single or double hook, or to purchase it as a paperweight.
You can also choose from several amazing color combinations: Teal & White, Red & Green, Blue & White, or Blue & Pink.
You can even create your own combination with a custom color order.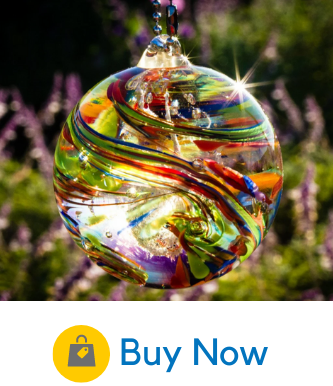 And here's another idea. Why not just use all the colors?
All the colors of the rainbow, that is.
A colorful soul deserves to be remembered in swirls of multi-colored confetti, and that's just what you get with this fun glass orb.
It comes with either a single or double hook for hanging, or as a paperweight. You can also choose an orb of 2-inch, 3-inch, or 4-inch diameter.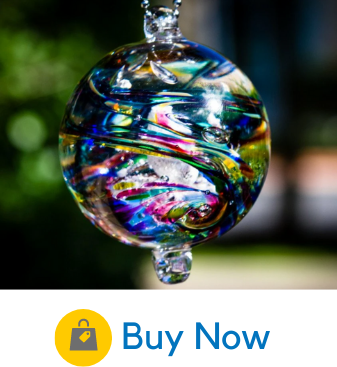 It's all the fun of confetti, with a somber touch.
A wide array of vibrant colors swirl against the darkness of this beautiful orb, along with rich swirls and highlights.
Its look will change depending on the light, giving you a different greeting each day.
The orb comes in a 2-inch, 3-inch, or 4-inch diameter.
You can choose one or two hooks for hanging, or to purchase the paperweight version.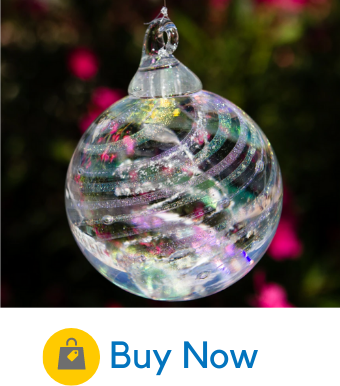 The dichroic spirals of glass within this orb are simply magical.
Rays of light from a sunny window bring out all the richness and variety of the colored ribbons of glass swirled with cremation ash.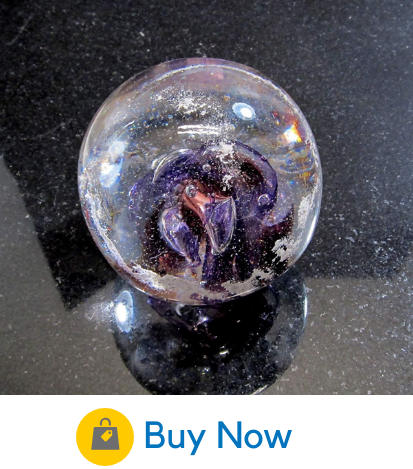 Several regal shades of purple swirl together with your loved one's ashes in this hand-blown glass orb.
The ashes appear like tiny bubbles floating around the purple core.
Each orb is custom-made, so yours is sure to be different from any other.
Keep in mind that no collection kit is sent to you. Instead, you will receive detailed instructions for mailing a small amount of ash to make the orb.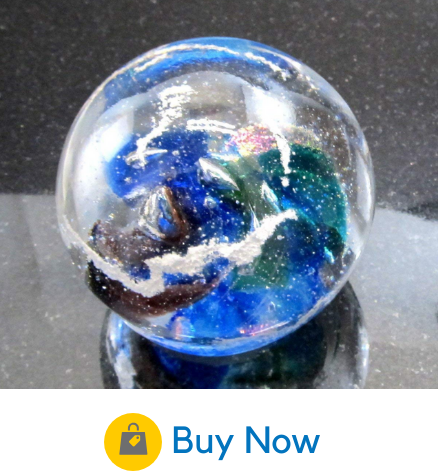 It takes many colors to truly represent the personality of your lost loved one. And this unique mixed color glass orb gives you that.
Sparkles of bright yellow, pink, and purple mix with serene shades of blue, green and earthy brown in a vibrant swirl of color.
Anyone who sees it displayed in your home is sure to notice it and comment.
Only you will know that your loved one's ashes form the delicate bubbles swirling right along with the gorgeous colors inside.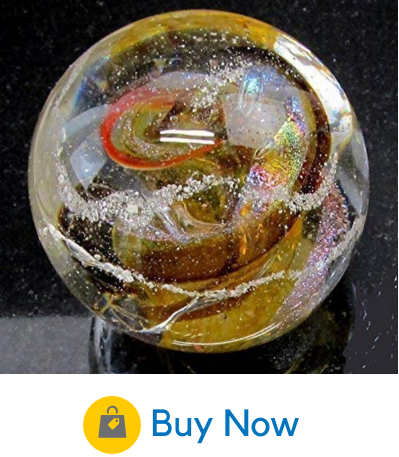 Cheerful yet pleasantly intense at the same time, amber is the perfect color to memorialize someone special to you.
Several shades of stunning amber glass are infused with your loved one's ashes inside this eye-catching orb-shaped paperweight.
Small but spectacular, the orb measures about three inches across.
Remember to include shipping costs in your budget, as they are not included in the cost of the item.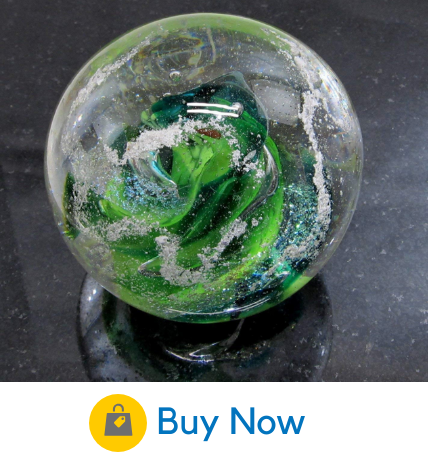 Several shades of green are swirled together with your loved one's ashes to evoke all the renewing comfort of nature.
The paperweight is hand-made, starting with chunks of green colored glass to which layers are added containing the ashes.
The pattern of the swirl is random, making each orb different.
Blown Glass Cremation Urns:
You probably have a perception that a cremation urn usually looks very traditional and standard.
But you'll be pleased to know that there are some very talented artists who have created some fantastic pieces.
Below are just a few stunning memorials.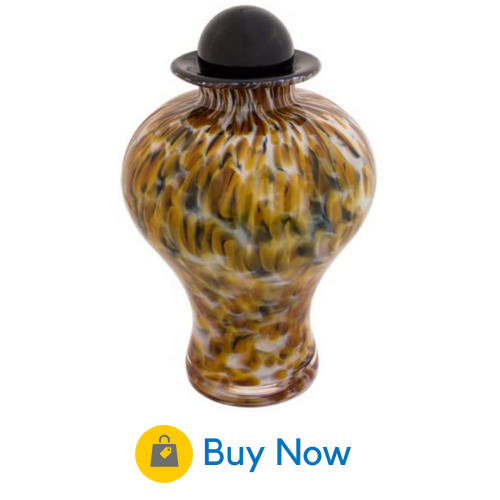 With its unusual shape and its bright glossy shades of yellow and black, this urn will definitely stand out.
The unusual detail of a lid shaped like a bowler hat gives it added dramatic flair.
Though it appears delicate, this urn is sturdy enough to stand up to the test of the time. And the lid is guaranteed to seal securely.
The urn is large enough to hold the ashes of an adult who weighed 214 pounds or less at the time of cremation.
Serenade Hand Blown Glass Urn: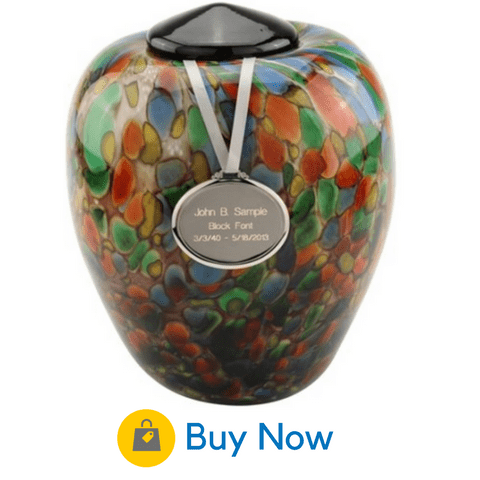 The Serenade Hand Blown Glass Urn is a beautiful example of cremation art.
This handmade urn has a multi-color with a "sprinkle" finish that is suitable for the remains of an adult.
Its unique and aesthetic design is fitting for a person who was a colorful character.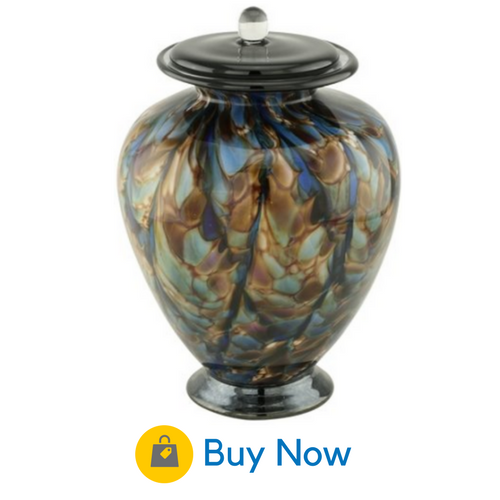 This finely crafted glass urn is truly unique.
The design
With a gray background accentuating swirls of deep amber, green, and blue, this is an urn to celebrate a spirit that was both quietly understated and daringly vivid.
It's a tall cylindrical urn whose beauty and artistry will stun visitors wherever it is placed.
Where to buy
For a closer look at the urn and to buy, go to their online store.
Lumos Blue Handmade Keepsake Urn: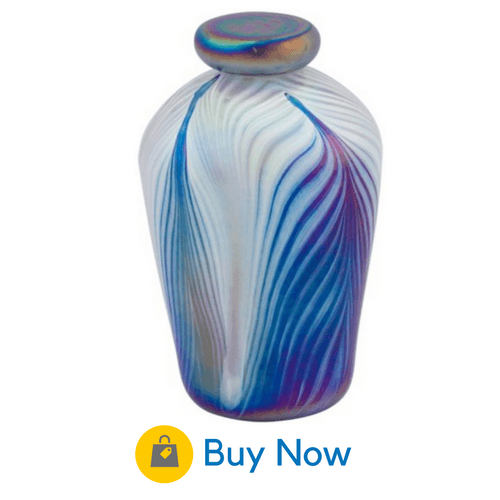 It's impossible to describe in words the breathtaking beauty of this spectacular urn.
The cobalt blue background is even more striking when paired with feathered ripple of iridescent pearl white.
Beautiful around the home
It's vase shape will make it fit in perfectly with any decor.
Celebrate the glowing vibrancy of your lost loved one forever with this durable and striking urn.
Where to buy
For more information and to purchase, check out their Amazon store.
Emerald River Glass Cremation Urn: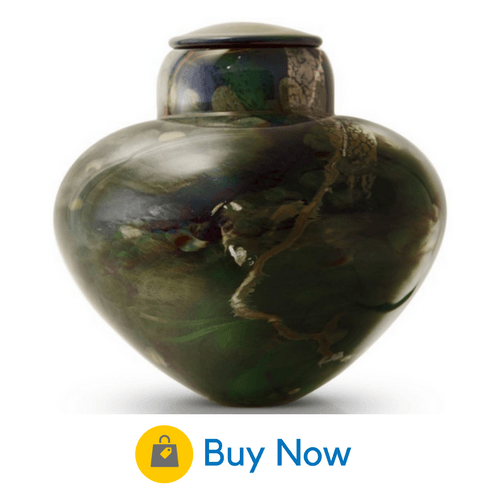 For the spirit who cherished rivers or loved shades of emerald, this urn is just right.
The design
A graceful river-like pattern of silver and gold adorns a misty emerald background, giving the urn a look that's reminiscent of a verdant Irish countryside.
The urn is solid and durable, weighing in at 8 pounds and measuring 7 inches tall.
It's an ideal way to celebrate the eternal flow of life even while mourning a death.
Where to buy
For the best price, visit their online Amazon store for more information.
Cremation Lamps
As functional as it is beautiful, an artistically-crafted glass lamp keeps your loved one close to you every time you reach over to turn the light on.
It's a wonderfully symbolic way to remember their influence on your life.
Purple Butterfly Keepsake Lamp: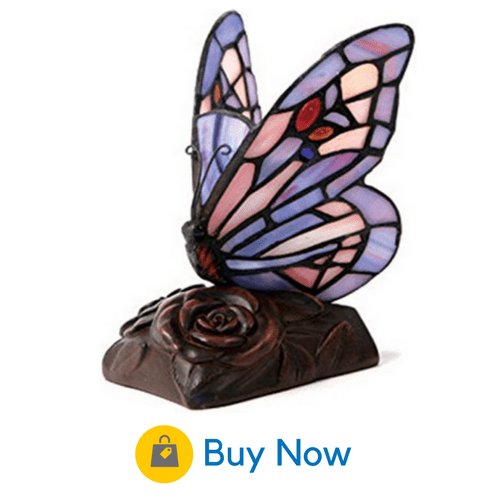 OneWorld Memorials have crafted an elegant stained glass reminiscent of a Tiffany lamp.
The design
The gorgeous mosaic, in varying shades of purple, displayed in the wings give an impression both of opulence and free-spiritedness.
The detail of a wooden rose carved on the base completes the effect.
Where to buy
Go to the OneWorld Memorial store to get a closer look at this lamp and to purchase.
Mission Style Cremation Memory Lamp: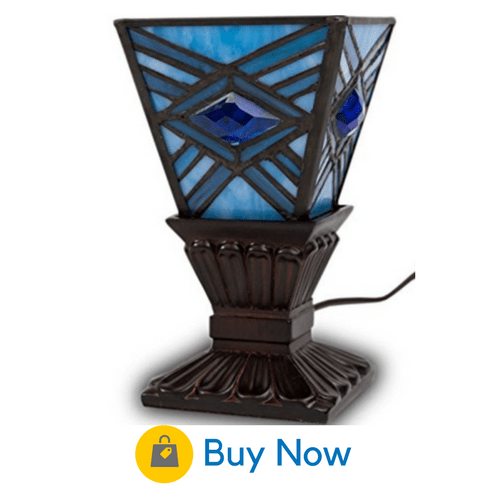 Another beautiful Tiffany-inspired option is this beautiful memory lamp.
The design
The geometric design and soothing shade of blue both evoke comforting feelings of eternity.
A jewel of deep indigo set in each side makes these shades of blue even more spectacular, as if you were observing the sky and the ocean on a clear sunny day.
Engrave a special message
Personal engraving can be added to the durable, resin-cast base. You can add your loved one's name, dates, or even a special quote.
Does not hold ashes
Unlike the Butterfly Lamp, this memory lamp only is not designed to hold ashes.
Where to buy
Check out their online store to purchase this elegant memorial.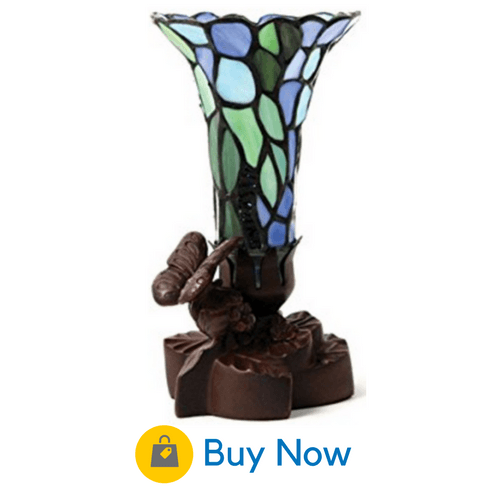 OneWorld Memorials offers another stunning option for storing ashes.
Tiffany-style stained glass pieces are arranged into a flower-like pattern in varying shades of blue and green.
A sweet carving on the base depicts a climbing butterfly among tiny wooden flowers.
The lamp will lift your heart even as it brightens your space.
Where to buy
Go to the OneWorld Memorial store to get a closer look at this lamp and to purchase.
Cremation Glass Jewelry
Delicate, lovely, and memorable as life itself, glass and jewelry just seem to naturally go together, especially when it comes to memorializing a lost loved one.
Butterfly Urn Necklace for Ashes: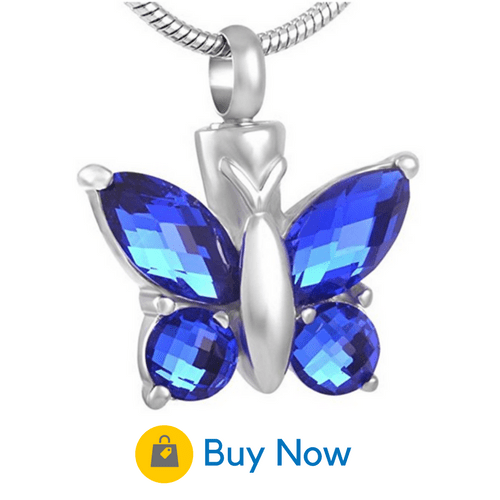 You can store a small portion of ashes in this stainless steel butterfly with glass wings.
It's like a traditional locket, only much more unique and beautiful.
A funnel is included to make it easier to put ashes inside the tiny compartment.
Another option is to place a lock of hair or a dried flower within it.
The necklace comes with a 20-inch stainless steel chain and an elegant, red-velvet box.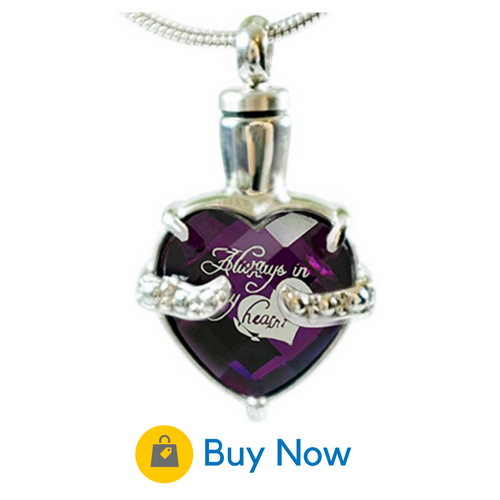 This pendant is made with vibrant purple glass is etched with the words "Always in my heart".
The pendant even comes with a fill kit and an 18-inch stainless steel chain.
Both the pendant and the chain are hypoallergenic and won't irritate your skin.
They are also guaranteed not to scratch or tarnish.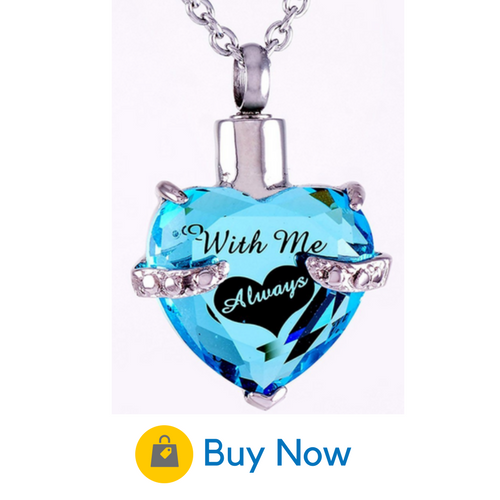 The glass pendant is a beautiful rhinestone blue with the inscription "With Me Always" laser-engraved on it.
A 20-inch cross chain necklace is included with the package, as are a funnel and pick for easily placing ashes inside.
The pendant comes in an elegant velvet bag.
It's a striking memento that can be displayed on a mantel or of course worn as a necklace.
Murano Glass Flower Heart Pendant: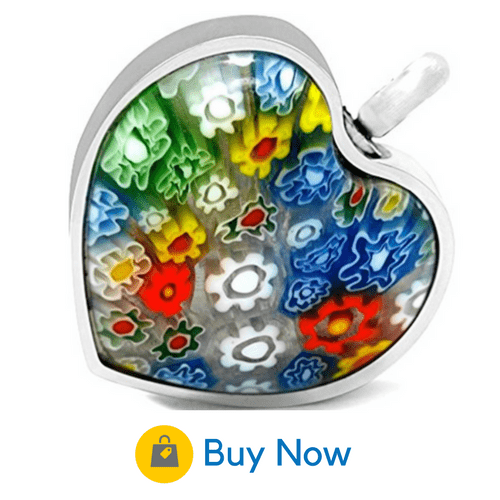 This heart-shaped glass pendant is decorated with a pattern of tiny multi-colored flowers.
It is one of the most inexpensive options for cremation art jewelry that you'll find on the market.
Both the pendant and the chain are made of long-lasting stainless steel, with a guarantee against rust and corrosion.
It's also scratch resistant and won't discolor your skin.
Bracelets
Glass beads of different colors are quite popular right now. Some are strung on a silver bracelet and others on a stretchy cord.
There's no reason for it to be limited to a bracelet. Why not an anklet as well?
Sunshine Cross Charm Bracelet: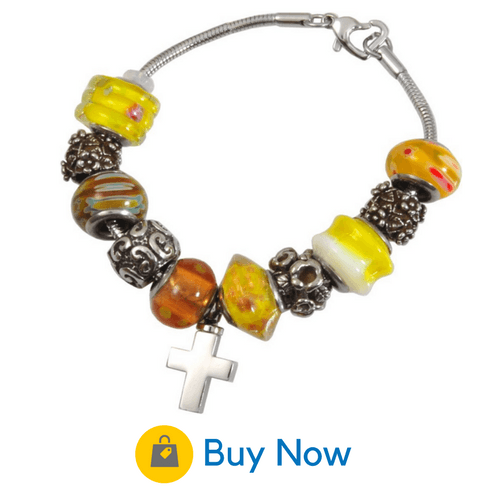 If the memory of your loved one brings feelings of warmth and cheer like sunshine, this bracelet may be just for you.
A circle of alternating stainless steel and bright yellow glass beads is adorned by a simple cross charm, which also functions as a discreet urn for ashes.
You can have a deeply spiritual but sunny reminder of your loved one every time you look down at your wrist.
The pieces are strung securely along a black satin cord.
Glass Bead & Stainless Steel Bracelet: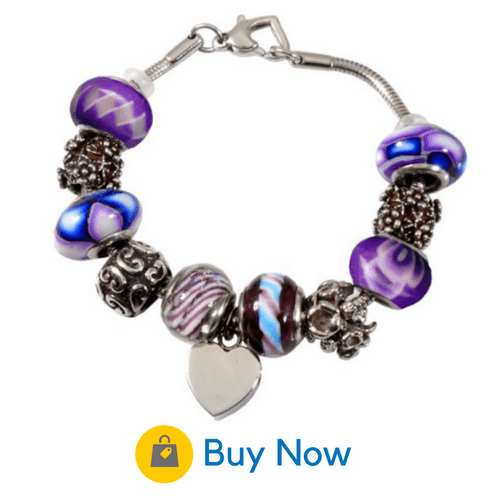 The ashes are stored in a stainless steel heart that is also a decorative charm on the bracelet.
Decorative stainless steel beads alternate with pretty glass beads in different shades and patterns.
There are a total of 11 color combination options to choose from such as Celestial Blue, Emerald Green, Memorial Pink, and many more.
Glass Cremation Rings
Think of how many times you see your own hands throughout the day. With a ring, you can think of your loved one each time.
A particularly lovely choice is the combination of sterling silver and cremation glass. Order it in the birthstone of the deceased or in your favorite color.
This is a ring that you can wear always. The design is timeless and perfect for future generations.
The Macha Glass Cremation Ring: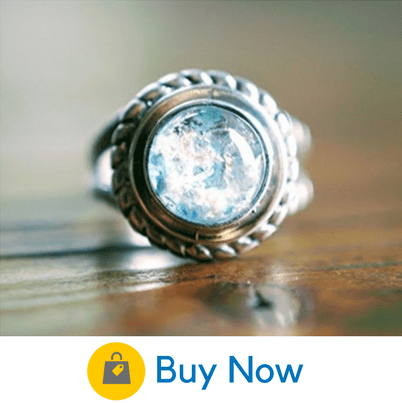 If you love the look of delicate glass in a ring, this will be a lovely choice.
In a unique process, crystal clear glass in shades of clear blue and green is melted in layers with the ashes of your loved one's remains.
The result is a uniquely beautiful and personal memento.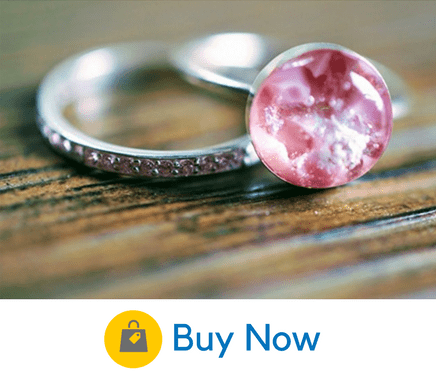 The same spectacularly unique process and maker as the Macha ring.
The ashes are beautifully layered with delicate, clear pink crystal.
Tiny pink crystals also encircle the sterling silver band.
To make your ring even more unique, you can choose from an array of specialized extras, such as a dazzling holographic effect.
Each stone is handcrafted individually, so yours is certain to be different from any other, just like the personality of your loved one.
Once you've placed your order, simply send a teaspoon of ashes in the return shipping label.
Glass Orbs & Balls
Each orb is unique from one another as the light will reflect through in its own distinctive way. Choose to keep it clear with swirls of color within, or select other hues for the orb itself.
They are sometimes called gazing balls. Sit them on a place in your home where there is plenty of sunlight. Watch the colors and magical reflections light the room as it shines through from different angles.
Also an especially nice place is your patio or on a tree where it can capture even more light . When the sun shines through, it will have the same effect as stained glass by reflecting the multiple colors.
Paperweights
What a nice way to keep your departed with you, even at work. You don't have to worry about squeamish co-workers. Don't to tell them that your loved one has accompanied you to work.
They will never guess and instead, you'll get their compliments throughout the day.
Memorial Flames
An extraordinary and visually pleasing blown glass memorial and one of my personal favorites. As its name implies, it's a flame shaped sculpture.
Some are made with a glimmering spiral design, made from the cremains. They swirl up the center, which enhances the flame effect. Purchase an illuminated and revolving stand, which adds even more to the optimal effect.
Glass Vases
A new and unique method of keeping fresh flowers at your loved one's resting place. Put them in an eye-catching blown glass vase. Imagine fresh flowers or a beautiful silk arrangement held by a vase created with your loved one's cremains.
Glass Flowers
An irreplaceable design are these complex blown glass flowers. Spirit Pieces offers one complete with a hummingbird fluttering close-by. Some varieties have a hook for hanging a tiny bottle, containing the cremains. An absolutely distinctive conversation piece.
Pet Ashes Glass Art
We would never forget our beloved pets and their unconditional love. It's a particular love that can rarely be received from another person.
You will definitely want a commemorative symbol to keep your precious pet's spirit alive.
Touching Stones
Touching stones are a good choice. They are smooth glass stones that contain the pet's cremains, made in multiple colors.
Keep them in your pocket and the next time you have an urge to pet your beloved animal, take out a stone and rub it.
On the other hand, perhaps you find yourself in a special location, such as a favorite fishing hole where you both loved to go. Take out one of the stones and toss it in the water.
You're only limited by your imagination. If you're a cremating a pet, whether cat or dog, all of these memorials can be used.
What Art Will You Choose?
As you can see, there are limitless types of cremation art. Virtually, if you can imagine it, then it can be created.
Furthermore, there is only a tiny amount of cremated remains required for any of these art pieces. Meaning you will still have a large amount of cremated remains to scatter or bury, if that is your wish.
Any of these would be an option for sharing a memorial keepsake with people who also loved him or her.
Perhaps you or your loved one had a passion for art and beauty. All of these and more would offer a memento specifically made for them.
Cremation art provides a way to keep their memories alive every day.