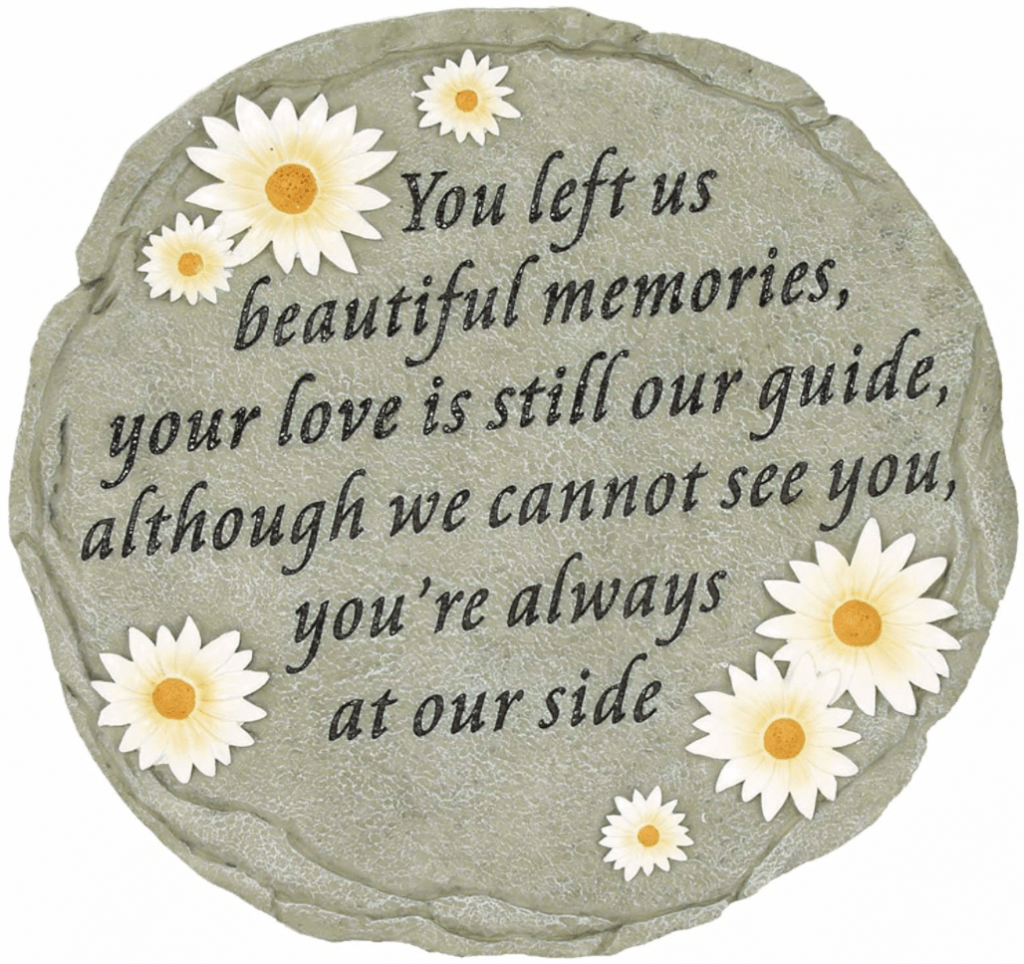 Memorial garden stones combine the fresh and renewing comfort of nature with the solid durability of rock.
They allow you to enjoy the peace and tranquillity of the outdoors as you reflect on the words and symbols etched on the stone.
Like your memories, a garden stone lasts forever, bringing peace along with a refreshing breath of air.
And there are all kinds of styles, colors, and materials to choose from.
Here are our choices for some of the very best memorial garden stones on the market.
Memorial Garden Heart with Chimes and Verse: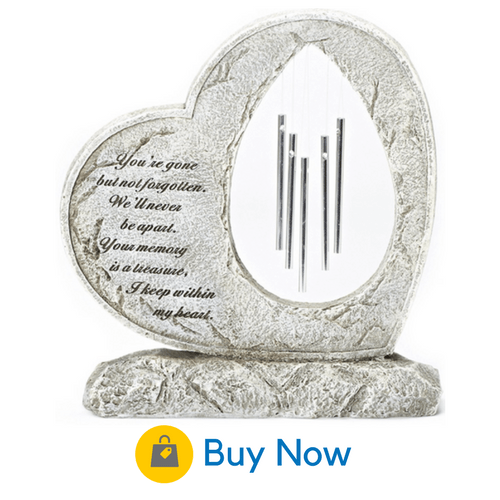 A heart carved from gray resin stone encloses a set of beautiful wind chimes.
The chimes represent the soul of the loved one, whose music plays within your heart forever.
Along with the delicate noise of the chimes, you can find comfort in the inspirational message carved in the stone.
This message gives tribute to the enduring nature of memory and love.
The heart stands about 12 inches high and weighs just under 3 pounds.
It will make a lovely addition to any yard or garden.
Pavilion Light Your Way Memorial Garden Stone: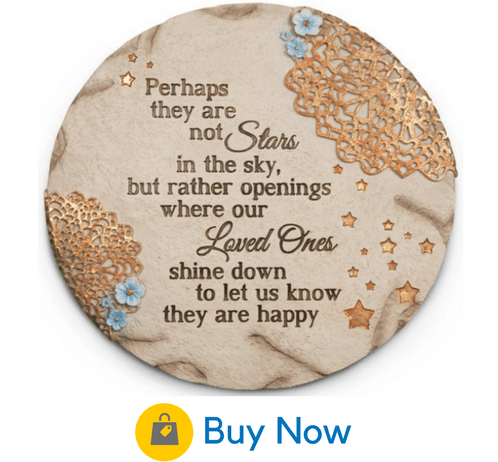 The stars in the sky can be seen as openings in heaven, offering glimpses of your loved one.
This round garden stone bears the comforting reminder that you can remember your loved one simply by looking up at the night sky.
A weather resistant coating protects this lovely stone from the elements.
The stone's earth tones are highlighted by striking gold-and-blue forget-me-not details.
The inspirational message is painted clearly in black letters.
The stone is made of sturdy polyresin.
The thickness and weight of this stone attest to its quality.
This symbolic decoration also makes a meaningful condolence gift.
Spoontiques Beautiful Memories Step Stone: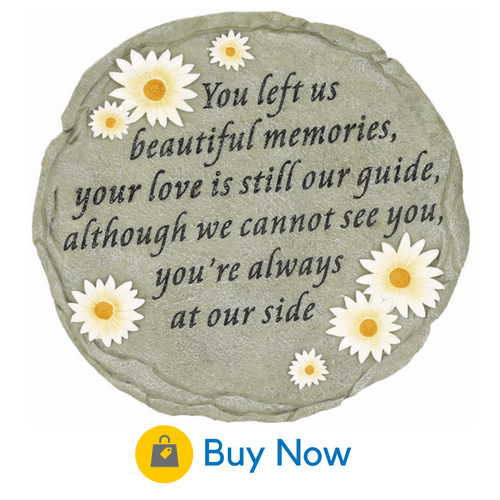 Another round garden stone, this can be used as a stepping stone outdoors or a wall plaque indoors.
It is handcrafted of resin and calcium carbonate.
A beautiful hand painted message serves as a reminder of everlasting love and memories.
The message is surrounded with a decoration of yellow flowers.
It will look perfect outdoors, a great complement to flowers or trees.
It's a wonderful way to honor a loved one who enjoyed spending time in the garden.
Solar Lighted Weeping Angel Garden Memorial: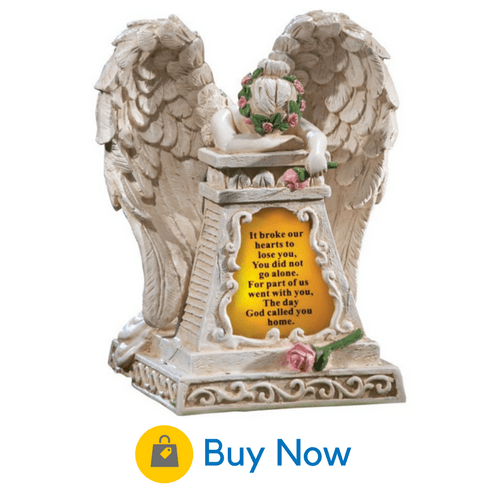 This touching sculpture bears testament to the fact that a part of you has passed on along with your loved one.
An angel reclines weeping over the comforting message, lit from within by a solar panel.
A rechargeable AA battery is included with the purchase.
An on-off switch allows you to control the lighting.
The sculpture is made of resin with a stone finish.
You also have the satisfaction of knowing you are saving energy by using solar lighting in your memorial.
The sculpture comes with a 100% satisfaction guarantee, so you can easily return it if it does not meet your expectations.
Special Mother Memorial Garden Angels: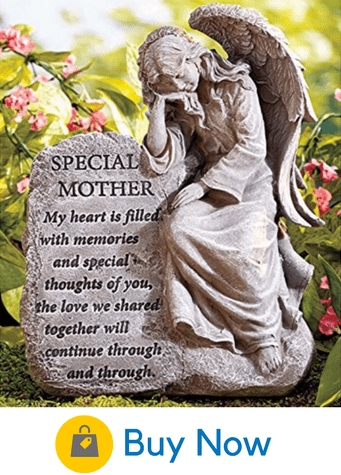 Your mother was your special angel, and this sculpture reminds you of that every time you visit your garden.
A pensive angel leans on a tablet with a sentimental message inscribed on it.
The inscription on the sculpture declares the special bond and beautiful memories that you shared with your mother.
The words read, "Special Mother, My heart is filled with memories and special thoughts of you, that love we shared together will continue through and through."
The sculpture is made of cold cast ceramic.
It makes a lovely sculpture for your garden or at the gravesite.
Not a Day Goes By Mom Memorial Stepping Stone: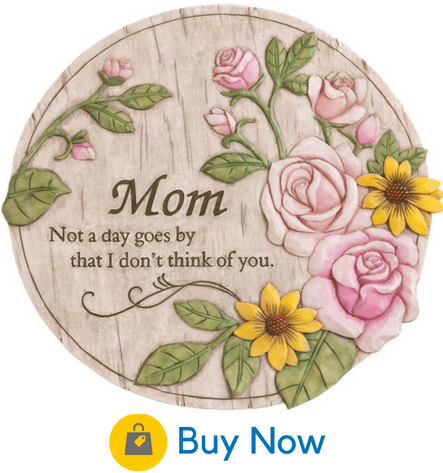 Your mother's memory is a daily presence in your life.
So why not honor her memory every day with this lovely stepping stone?
The stone is sweetly decorated with pink and yellow flowers, and green leaves.
It is a beautifully feminine remembrance of a warm and motherly presence.
The touchingly sincere words, "Mom, not a day goes by that I don't think of you" are engraved on the stone.
The stone can be purchased with a metal stand for easy display.
A small keyhole opening in the back allows for convenient hanging.
Grasslands Road Stepping Stone: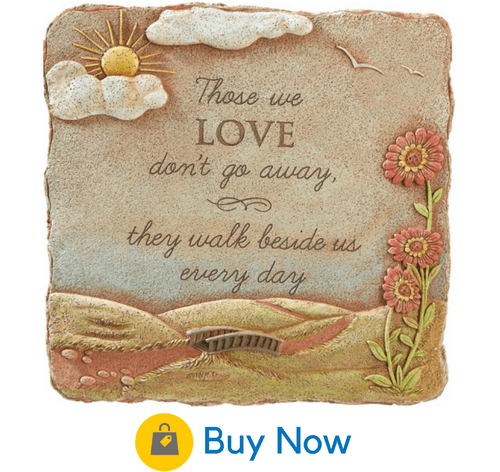 This unique stone features a full textured design on the front.
It depicts a peaceful meadow with an old-fashioned bridge, overlooked by tall vibrant flowers and a sunny sky.
The engraved message ("Those we love don't go away, they walk beside us every day") allows you to envision your loved one walking beside you in a peaceful meadow for eternity.
The image has such intricate detail that it appears three-dimensional.
The stone can be used as a stepping stone or mounted using the hanging bracket in back.
It will last longer if brought indoors during extreme cold.
Personalized Memorial Garden Stake: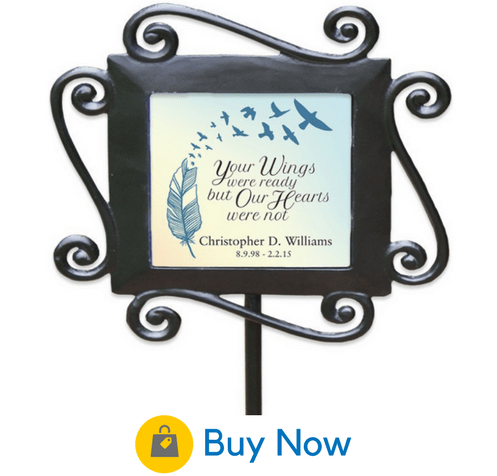 This memorial stake is made of durable wrought iron.
The elegant, black design frames a 4.25-inch square ceramic tile with the message, "Your wings were ready, but our hearts were not" with your loved one's name and other relevant details beneath.
A touching illustration of a flock of birds flying from the tip of a feather adds meaning to the remembrance.
The stake is 28 inches tall and built to withstand the test of time, although some fading may occur with exposure to weather.
The pieces are easy to assemble, with a base that screws into the stake.
The seller, GiftsForYouNow, is known for excellent customer service and will gladly work with you if anything is not to your liking.
Grasslands Road Always in Our Hearts Bereavement Stone: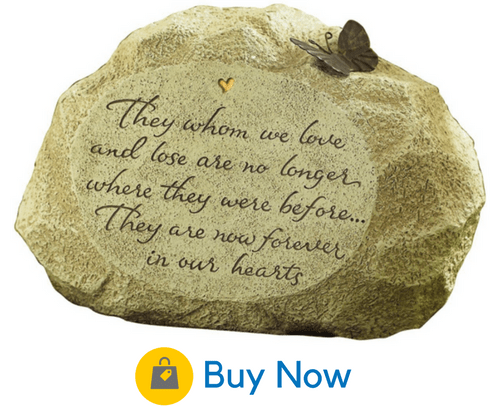 This is a sturdy memorial stone crafted in cement resin.  
A delicate butterfly, with intricate metal wings, perches on the top of the stone.
The smooth face of the stone has a message carved into it proclaiming that your loved one now lives forever in your heart, even though he is no longer with you.
The small detail of a heart is carved and painted directly above the message.
Besides the smooth face, the stone is textured to seem like natural rock.
Although this item holds up pretty well in most weather, you can keep it from fading by bringing it inside in sub-zero temperatures.
Evergreen Garden Mother's Garden Memorial Stepping Stone: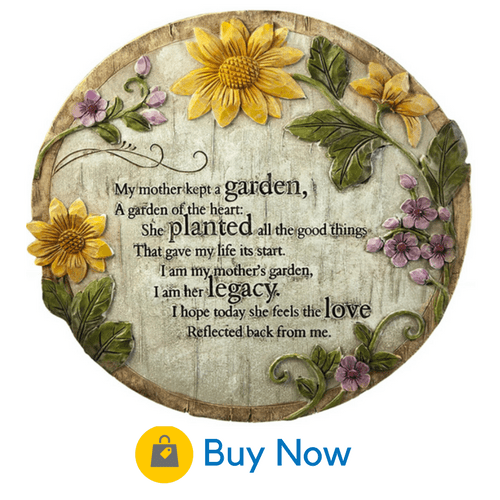 Motherhood is similar to raising beautiful flowers in a garden…as this lovely tribute will attest.
A touching poem expresses enduring love for your mother and undying respect for her legacy of nurturing a "garden of the heart."
Green leaves and yellow and purple flowers provide an accent of old-fashioned feminine beauty.
These hand-carved details will stand out in your garden and bring happy memories every time you see them.
A metal stand can be purchased separately for indoor display.
A protective finish means that you can display it outdoors in your garden or yard without compromising quality.
Engraved Memorial Garden Stone: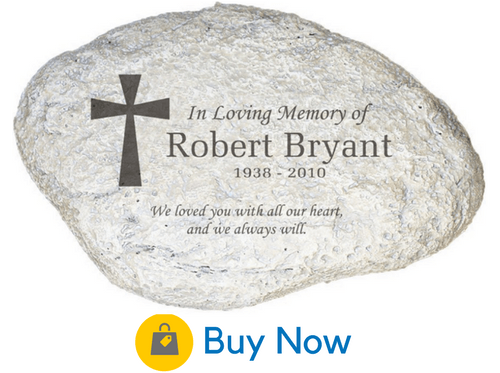 Made of resin, this memorial has the appearance of natural stone.
The stone is very light, weighing only about one pound.
It's also waterproof to easily stand up to the elements.
It can be personalized with your loved one's name, years of birth and death at no extra charge although the lettering may fade with time.
Beneath these personalized details is the sincere and powerful sentiment, "We loved you with all our hearts and always will."
The detail of a simple engraved cross makes this a wonderful remembrance for a person who valued faith as well as the beauty of nature.
Banberry Memorial Garden Plaque: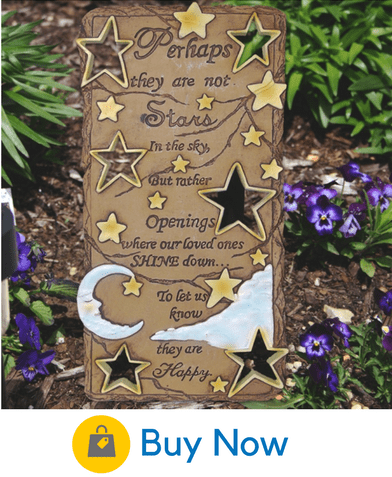 A colorful design of moon and star cutouts grace this lovely and inspirational plaque.
It looks especially beautiful outdoors with the sunlight shining through it.
A verse printed on front of the plaque offers this comforting statement: "Perhaps they are not Stars in the sky but rather Openings where our loved ones Shine down…..To let us know they are happy."
The earth tones and the charming cutout stars give this plaque a quaint, old-fashioned look.
While it lacks some of the sturdiness and durability of other items on this list, it is an attractive addition to any garden and a unique and charming remembrance.
Roman Joseph's Studio Memorial Stepping Stone: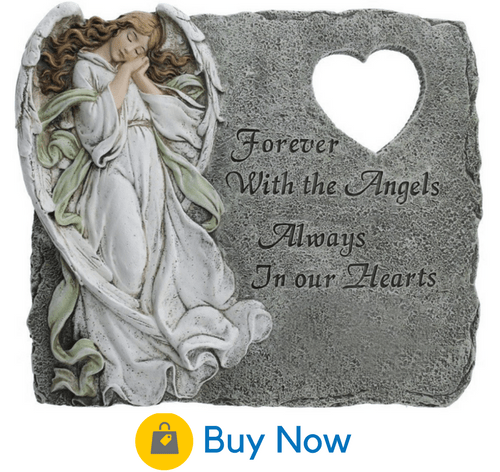 The rugged look of natural gray stone is offset by the classic image of a guardian angel next to a quote in beautiful flowing script.
The sentiment, "Forever With the Angels, Always In Our Hearts," will console you with the feeling that your loved one's spirit endures for eternity.
A heart cutout above the quote adds an accent of sentimental charm.
You can easily place a photo within the heart to add some personalization, as long as you add clear spray to protect it from the weather.
There is also space to paint your loved one's name and memorial dates under the quote.
This memorial is made of high-quality durable plastic.