The Best Sympathy Gift Ideas That Are Thoughtful & Unique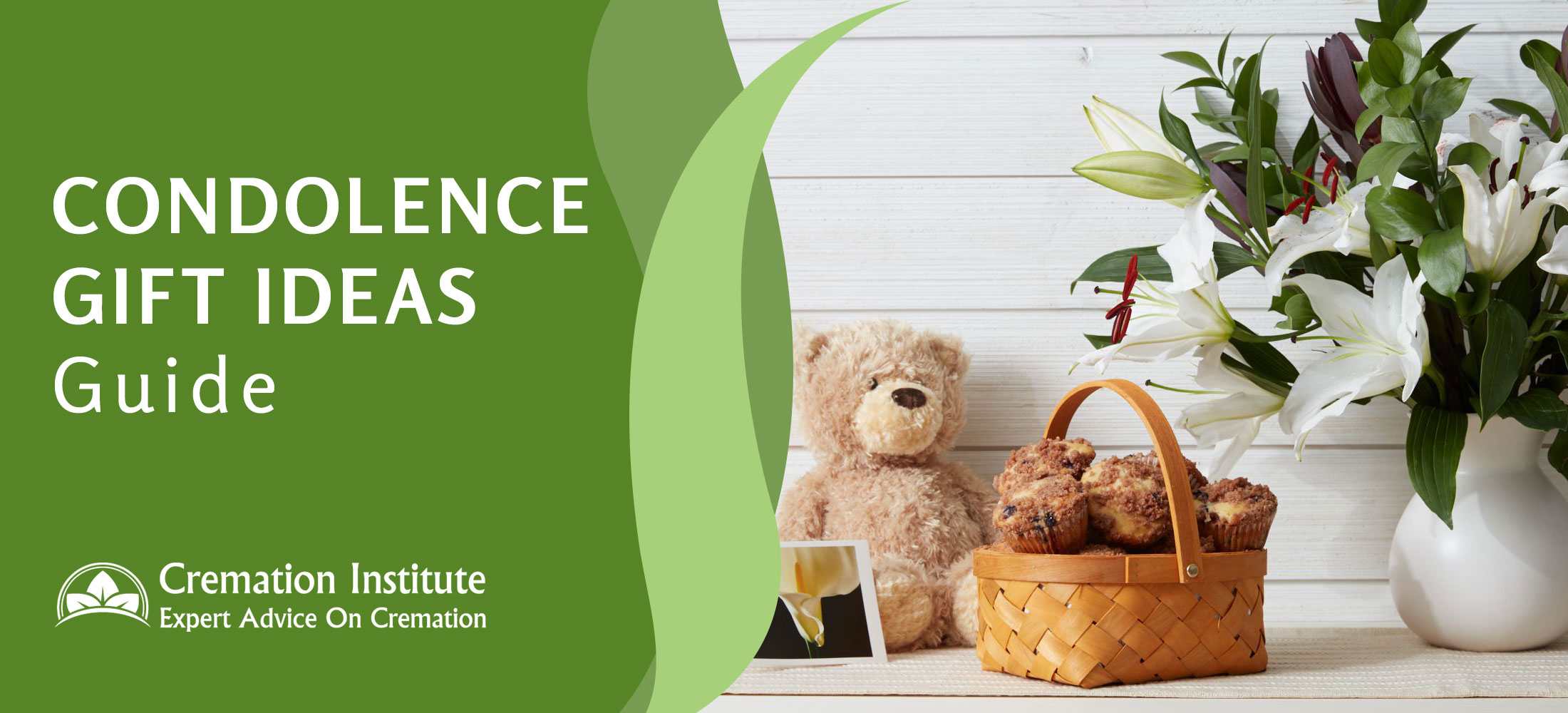 When it comes to expressing sympathy, sometimes you have to think outside the box.
There are some special losses which call for more than a card.
For these, you need something much more personal and unique.
If you're in this situation, I recommend some of these original ideas for showing support to a bereaved friend or loved one.
Funeral Basket Flowers
In most cases, you can't go wrong with an old-fashioned floral bouquet.
There are much more options for these than we have seen in the past.
You can personalize the bouquet using the favorite colors or favorite blooms of the deceased person.
These can be sent directly to a residence or a funeral home to be displayed during the visitation.
Here are some good options.
Carnations, pink chrysanthemums, and white flowers combine for a tasteful and classic expression of love.
A delicate pink ribbon and a graceful stand add to this effect.
A personalized message can be included at no extra charge.
The seller has over 10,000 locations, making it easy for flowers to be ordered and delivered the same day, accompanied by a freshness guarantee.
Blue and white, the colors of sadness and purity, make this the perfect sympathy bouquet.
Gorgeous Asiatic lilies and delicate white carnations combine with colorful purple statice to lend dignity to any funeral display.
A matching blue cube vase adds an understated beauty.
The seller guarantees timely delivery and freshness.
The bouquet may be sent directly to the funeral home or to a residence for display during the visitation ceremony.
This display of fifty white roses is the ultimate in elegance and simplicity.
The flowers are guaranteed to arrive by the next day if called in by 7 PM the night before.
A personal note can also be included.
The roses are grown in Colombian greenhouses where sunlight and water are carefully regulated to bring about the most spectacular results.
A Condolence Basket
If you want to offer something a bit more practical than flowers, a condolence basket is a great choice.
Baskets may include fruit, chocolates, baked goods or a combination of several practical items.
It is a time-honored tradition to support the bereaved with gifts of food, since the task of meal preparation is often too much for them during this difficult time.
What makes almost anyone feel better, no matter how painful life is?
Chocolate, of course.
And this basket of delectable treats offers both comfort and luxury.
It contains an assortment of decadent goodies including milk chocolate Bavarian pretzels, gourmet caramel popcorn, brownie brittle, and just about anything else you could think of.
Another bonus: it is Kosher-certified. So you can send it to your Jewish friends without a worry.
Fruit is wholesome, convenient, satisfying and just the right snack for anyone who lacks the energy to create a healthy snack from scratch.
And this fruit basket is just what the doctor ordered.
It includes two varieties of apple and pear, in addition to mango, oranges and other fruit as it's in season.
These are accompanied by other small yet luxurious treats such as natural cheddar cheese, roasted almonds and chocolate caramels.
Just as its name implies, this is simply comfort in a basket.
It's combined with practical edibles along with mementoes which can last forever.
A snuggly plush bear tops this basket full of comforting goodies including a grief journal, gourmet coffee, chocolate chip pecan cookies and much more.
The basket comes wrapped in cellophane so that the selection of treats is clearly visible.
Remembrance Candles
There is just something about a candle that feels sacred.
They provide a comforting light in the darkness, suggesting that the darkness of death and grief is not as final as we might think.
Besides that, the right candle can add just the right touch to almost any home decor.
Some give off a comforting scent once lit. Others may feature an inspirational or memorial quote.
And others just look lovely.
Here are our favorites.
An inspirational quote is carved in lovely flowing script on this cherry wood candle holder.
As the quote says, it is the perfect memento of a life "beautifully lived" and "deeply loved."
It holds three tealights and even comes with glass votives at no extra charge.
Candles and/or additional engraving must be purchased separately.
The yellow globe shape of this candle holder brings a cheery reminder of the eternal nature of the universe.
This quote winding around it, along with the beautiful star-shaped cutouts, suggests that comfort can be found in the night sky.
A candle and stand are included in the purchase.
It comes pre-packaged in a gift box, ready to be presented to a bereaved loved one.
It's a candle…but so much more.
This thoughtful gift box is almost like a "care package" for the journey of grief.
The votive candle exudes healing essential oils. A sympathy card expresses your support; a packet of garden seeds offers hope for the future.
And a lovely bracelet of amber and amethyst gives them a tangible memento that lasts forever.3
Comfort is written all over this lovely collection of gift.
A beautiful verse of poetry adorns the votive candle, and the bracelet comes with a note explaining the healing properties of both amethyst and Baltic amber.
And the packet of butterfly garden mix bears a message reminding us of how fleeting life truly is.
Wind Chime
Like the breeze, you never know when memory will touch your heart, giving an impression as beautiful as music.
And that's why a wind chime can be such a beautiful remembrance.
For a loved one who enjoys spending time in the yard or the garden, a wind chime is the perfect way to help them keep good memories close to their heart.
Here are some memorial wind chimes that are worth checking out.
These sturdy, 36-inch wind chimes are sure to last for decades.
They hang from a metal hook and have a deep peaceful tone that sounds just like calming music.
In fact, they have been tuned by music experts.
The green pendant is engraved with a tree of life, symbol of everlasting renewal.
They are a perfect addition to any garden.
These copper wind chimes produce a beautiful sound, tuned perfectly to a five-note scale which creates a deep comforting tone.
The pendant is a small circle of finished wood reminding the bereaved that their loved one is never far away.
A tiny teal medallion, covered in ornate carving, also hangs from the chimes.
These can be gift wrapped and shipped directly to an address of your choosing.
Crystal Memorials
A favorite photo can be treasured forever in 3D form with a stunning memorial cube.
A loved one looks out from the beautiful glass with a lifelike smile, as if he or she were right there with you.
The crystal comes with an LED light base and engraved text of your choice.
Do you love it? Check out some of the other crystal memorials listed below.
This dramatic memorial pulls out all the stops, immortalizing a love strong enough to endure after death.
A heart-shaped crystal, illuminated by a LED base, displays a photograph in lifelike 3D, keeping a shared love in plain view.
Personal engraving with text of your choosing is included in the price.
This memorial is small, discreet, yet beautiful.
A 2.38 x 1.5 inch rectangle displays a 3D photo of a departed loved one.
Up to two figures can be added to the 3D image.
The image is recreated in meticulous detail, using 1,000,000 dots per inch.
A small amount of text can be engraved on it too.
Plaques & Photo Frames
Though food and flowers will quickly disappear, a beautiful memorial plaque or framed photo can hang on a wall forever.
The memory becomes part of the home decor, so that a loved one is never far away.
Some plaques are artsy and unique. Others display a comforting quote.
Here are a few to choose from.
String art is a perfect symbol of memory. Interconnected and interlaced in a heart shape, the string shows that we are all connected, even when death appears to separate us.
Measuring 11.8" by 11.8", this unique plaque is a good size to hang on the wall, but also sturdy enough to stand on a desk or a mantel..
A beautiful passage expressing the feelings of loss, and the certainty of the broken chain one day linking again, appears on this glass photo frame.
Standing on an easel, this memorial can occupy pride of place almost anywhere in the recipient's home, offering comfort and support for years.
Memorial Statues
If you're looking for a lasting memorial to offer comfort, you can't do much better than a memorial statue.
A statue can make a beautiful addition to any yard or garden, and they often display images that are profoundly touching to the grieving.
Here are a couple of memorial statues you might want to take a look at.
There are few kinds of losses more devastating than the loss of a baby or young child.
A bereaved parent's pain is sure to last for generations to come…which is why a lasting memorial makes sense.
This beautiful statue portrays a baby curled up peacefully sleeping in a strong divine hand.
Parents can find comfort for years, imagining their young child being cared for in heaven.
This statue of an elegant angel leaning on a rock is reminiscent of the Biblical Resurrection story, an association that is sure to offer comfort.
The rock is inscribed with a lovely memorial passage, declaring that the lost loved one lives on in the hearts of those left behind.
Keepsake Jewelry
Unlike other kinds of lasting memorials, jewelry can remain on your person wherever you go.
No need to worry if you live far away from the cemetery.
A pendant close to your heart keeps a departed loved one close as nothing else can.
Some, like the ones featured here, can even hold a small amount of cremation ash.
This elegant 18-karat gold heart pendant looks like luxurious jewelry…because it is.
Yet at the same time, it's so much more than that.
A small amount of a loved one's cremation ash can be concealed within the tiny chamber inside the heart.
It's a remembrance that anyone can wear proudly, knowing all the time that their loved one's remains are physically near.
A beautiful blue heart of Swarovski crystal is a perfect testament to the feelings of grief and love.
The heart is engraved with the words "I love you forever," and comes with a discreet silver cylinder in which to place a portion of cremation ash.
It even comes with a specially-designed pin and funnel to make the insertion process easy.
The shape of a lotus flower is meticulously crafted in stainless steel, making a perfect remembrance of a pet or any lost family member.
It's guaranteed not to rust or stain, and the threaded lid keeps cremation ash secure so you can wear it forever if you want.
The tiny chamber within the lotus could also hold hair or dried flowers.
Unique Sympathy Gifts
Expressions of sympathy can be as unique as the individual.
Often they can form meaningful displays in the home, or objects of comfort that the bereaved person may use every day.
You don't have to confine yourself to traditional objects of sympathy.
We invite you to consider these unique sympathy gifts.
A simple glass bowl contains eleven smooth handcrafted pebbles, each marked with its own inspirational message of comfort.
These are interspersed with clear crystals, symbolizing tears.
A card accompanies the bowl, explaining the meaning of the pebbles and the crystals.
It comes in a gift box, ready for immediate presentation.
What's more comforting than a soft blanket?
It's like giving a grieving person a warm hug that they can cozy up to any time they want.
Lined with faux fur on one side and micro mink on the other, this blanket is specially designed to provide warmth and comfort.
The muted gray color also matches just about any home decor.
Beautiful, enduring and environmentally friendly: what could be a better memorial than a tree?
This small Bio Urn mixes a loved one's cremation ashes with the soil of a healthy 1'-4' tree.
It comes with everything you need to make the tree thrive and grow: wood chips, an ash neutralizing agent, and planting instructions.
A butterfly is one of nature's wonderful symbols of immortality, making this image a comforting memorial.
The butterfly's wings are designed with gorgeous purple stained glass, patterned after the work of Tiffany.
It perches on a wooden base which can hold a small portion of cremation ash.
The base can be personalized with a quote or the name of a lost loved one.
This elegant but simple wooden box is perfect for cherishing mementoes of a lost loved one.
It has a smooth wood grain finish, decorated with small rosettes at the corners.
Four feet along the bottom prevent the box from damaging floors or furniture.
The cover of the box features an inspirational poem against a background image of a tree.
It's lined with velvet and arrives presentation-ready.
Grief is a lot of work. It can be exhausting.
An aromatherapy spa basket can help a grieving person find some much-needed rest and relaxation on the journey.
This basket comes with all kinds of delights including luxurious shampoo and conditioner, bath salts, and bubble bath alongside healing eucalyptus and mint essential oils.
Gone are the days when cremation urns all looked the same.
Nowadays, there are so many colors and styles available that it is easy to personalize them, choosing one that reflects the personality of the individual.
This urn is a wonderful example of that.
It is swirled with ethereal shades of blue and purple, interspersed with glowing stars.