Artful Ashes Review: The Best Cremation Art Company In 2023
As a memorial expert, I'm fascinated by all the different ways people heal after the loss of a loved one.
Whether it's a funeral urn or maybe even a cremation diamond, every memorial is very symbolic and deeply personal.
Turning your loved one's ashes into art is another popular choice.
And so today, I'm going to review one of the leading cremation art companies- Artful Ashes.
About the Company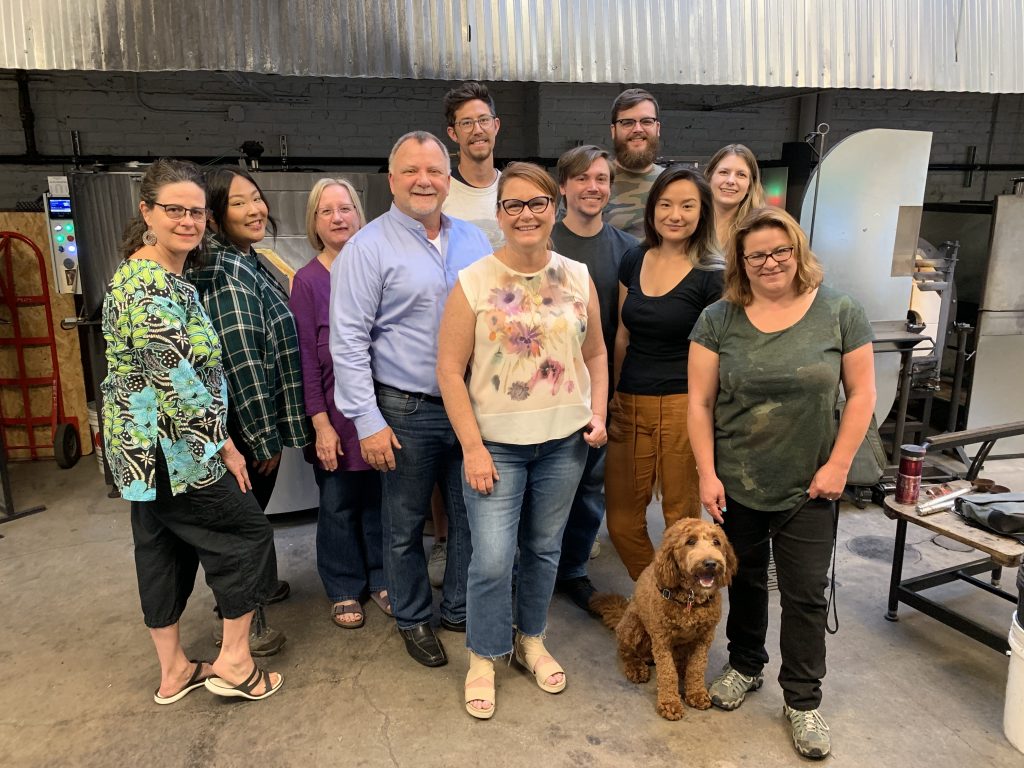 This family-owned and operated company started in 2012 in Seattle.
The founders, Greg and Christina Dale, were inspired by their own experiences of loss, having used cremation art to memorialize their own parents and grandparents.
They now seek to help others find healing in their journey of grief.
Their dedicated team helps them transform ashes into gorgeous glass art.
They even encourage visitors from outside Seattle to come and visit to watch this incredible process.
What Is Cremation Glass Art?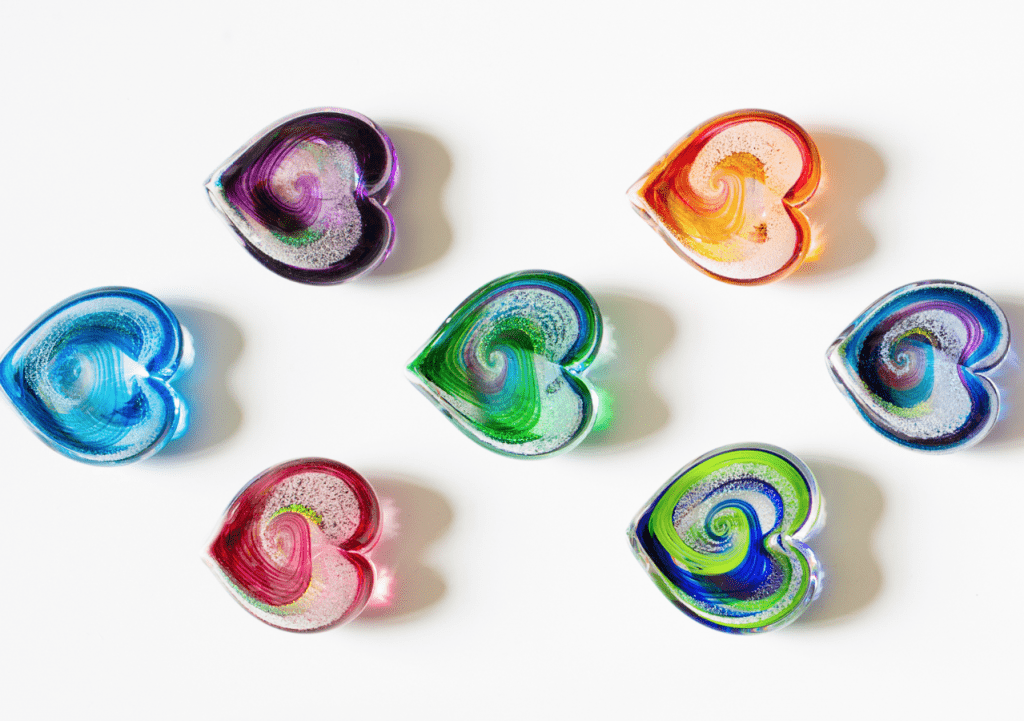 We know what you're thinking. How is this even a thing?
But in fact, more and more people are making their loved one's ashes into beautiful glass displays for mantels, windowsills, gardens and patios.
And if you still want to have a burial or a scattering, no worries. Cremation art only requires a tiny amount of cremated remains. So there will be plenty left over for other kinds of memorials.
A great variety of keepsake art is available, allowing lots of personalization.
Blown Glass Art Process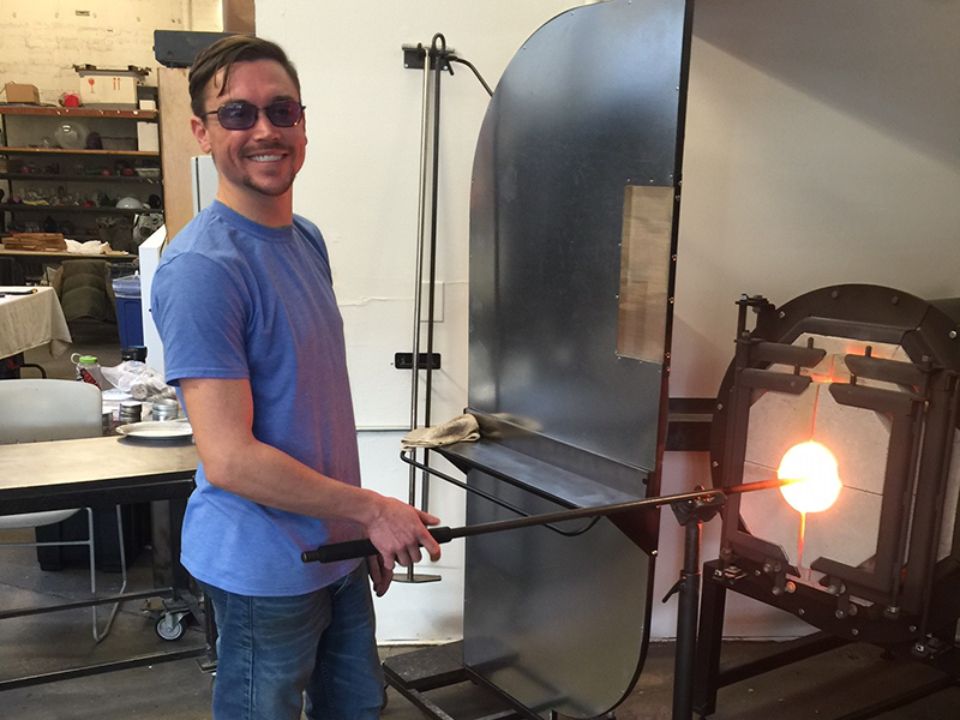 To create blown glass, someone delicately blows into a pipe which is dipped into a container of liquid glass.
While this happens, the artist slowly forms and shapes it into art.
For cremation art, the process is the same, except that the hot liquid glass also picks up a thin layer of your loved one's ashes.
The glass is then subjected to high heat and meticulously shaped and colored to form a unique design.
A preset ID is used to keep track of the ashes throughout the process.
Cremation Art Products
Here are some of the creative and beautiful products that can be made from cremation ashes.
Angel Wings Necklace Collection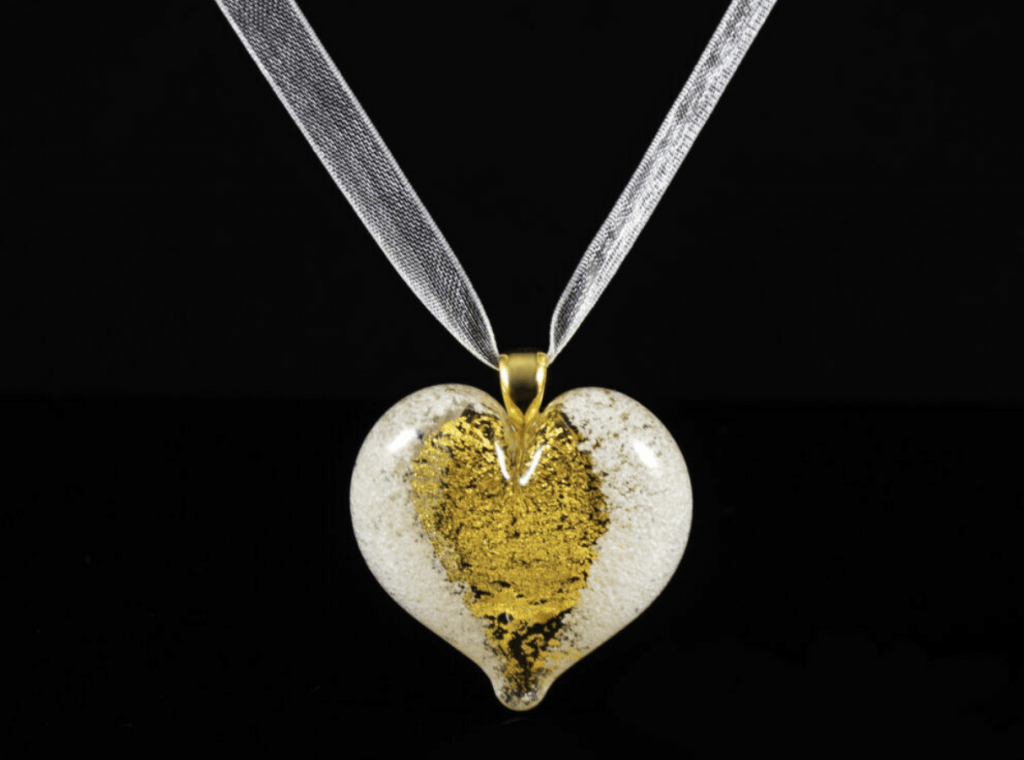 This delicate pendant, in the shape of a heart, can hang on a ribbon or chain and rest close to your heart. It features 24k gold leaf accenting.
Your loved one's ashes resemble feathery white wings, like those of an angel.
Glass Orbs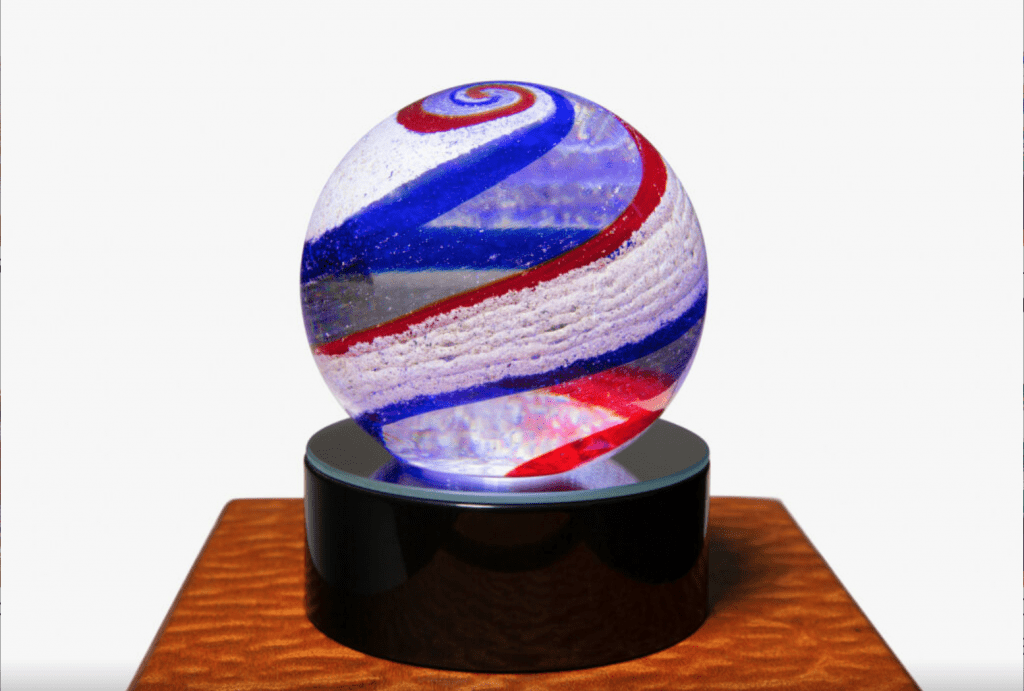 The smooth, circular shape of an orb is a beautiful symbol of eternity.
And they come in an amazing variety of colors and styles. You can choose an orb in gold or silver, swirled with shades of green, aqua, navy or purple (just to name a few).
A lighted base can give your memorial orb an extra comforting glow.
Glass Hearts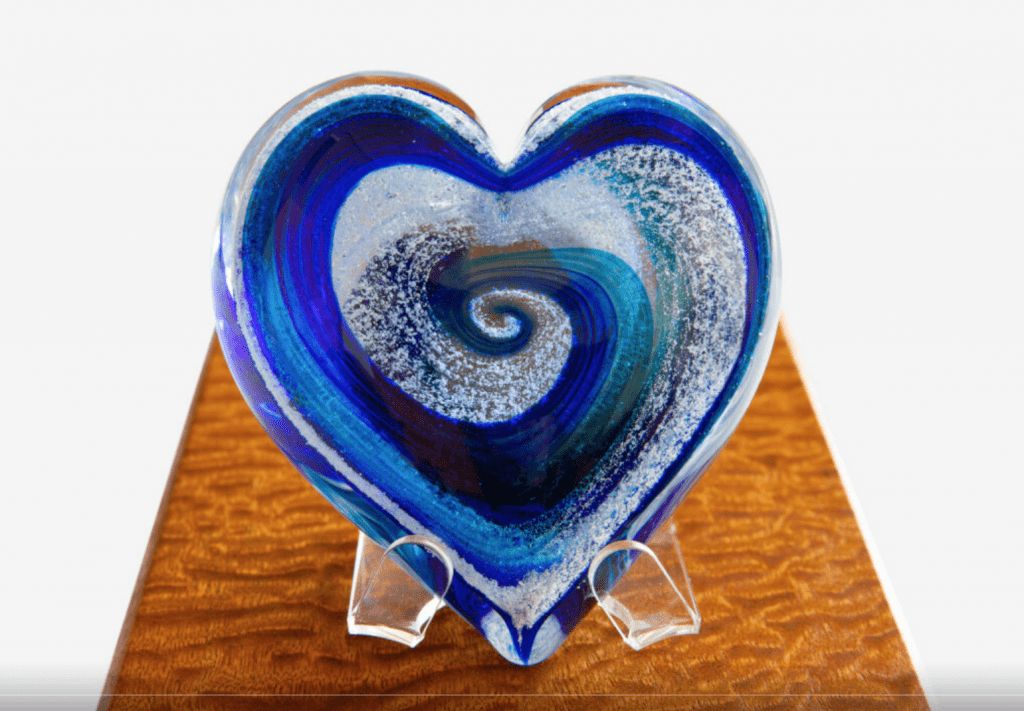 Like orbs, glass hearts can be created in an almost endless variety of color combinations.
You can go for the feminine glow of burgundy gold, the sweet daintiness of pink gold silver, bold red and blue, or countless other options.
Hearts may also come with a lighted heart stand, giving it a look as warm as the bond you shared with your loved one.
The Ordering Process
So how to order your own piece of gorgeous cremation art?
The process is quite simple.
The Collection Package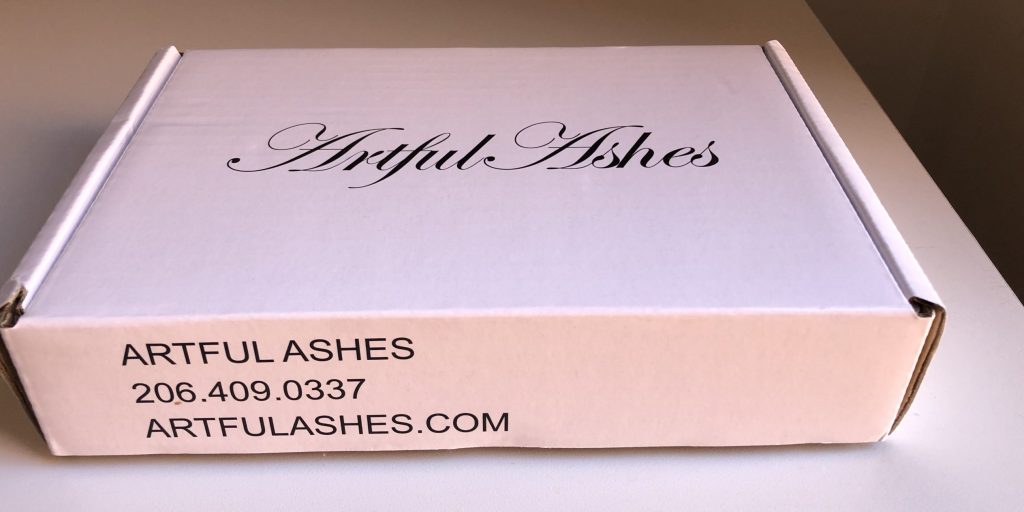 After contacting the team at Artful Ashes, they will send you a collection package which includes:
An authorization form
A Ziploc bag
An order form
A metal tin
A brochure
Instructions
A scoop
Return packaging
In short, it gives you everything you need to package and send in your loved one's ashes securely.
The tin provides enough space for 8 tablespoons of ashes. This is enough for 8 separate memorial art creations.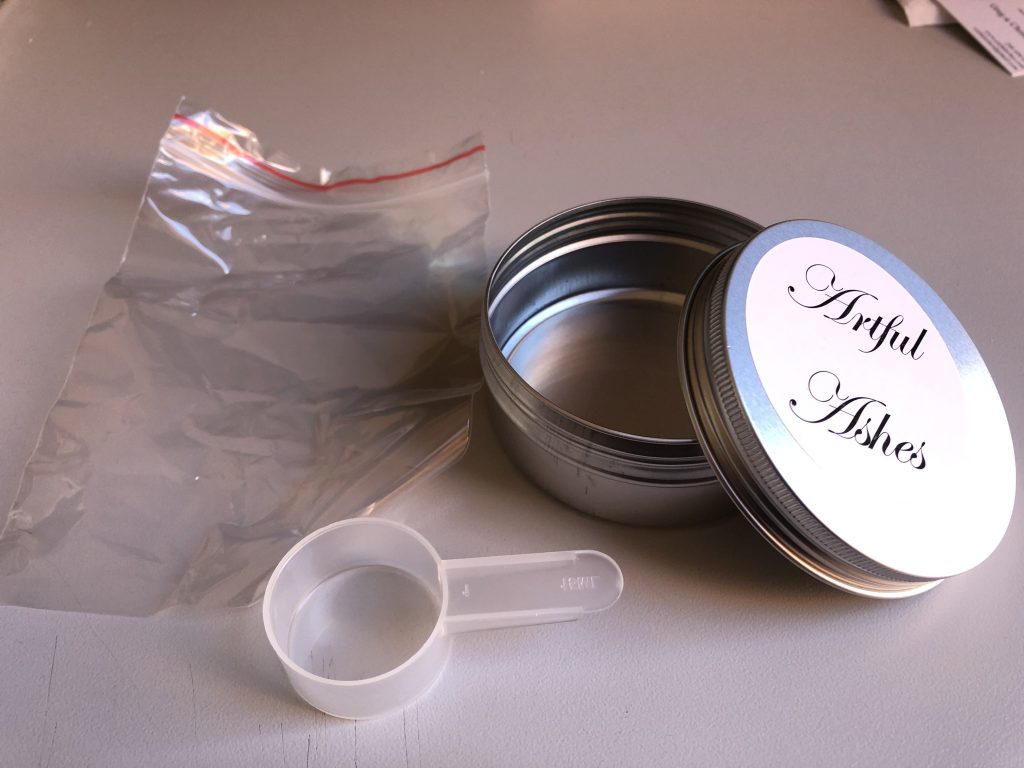 You can always contact the company if you want more than that.
Sending the Ashes
Once you've collected the ashes and filled out the necessary forms, it's time to send them in.
The package must be sent via USPS Priority Mail and requires very special directions and handling.
No need to worry that the cremated remains will get lost in the mail.
The package is labeled "Cremation Ashes," which automatically results in careful tracking and signatures.
The team has an excellent record, having safely conducted this process more than 40,000 times.
Process Time
The team will contact you as soon as your collection package arrives. They will also check on your order to verify that it's exactly right.
Once they receive your package, it typically takes about 4-5 weeks until you receive the finished product.
Pricing
The cost of a Heart, Orb or Starfish memorial is $185.
That includes a certificate and an etching of your loved one's first name or nickname. You also get a velvet pouch for elegant storage.
If you want two or more memorial hearts or orbs, the price is only $145 for each.
Lighted bases can be purchased for an additional cost of $15, and Heart or Starfish stands cost $4.45 each.
An angel wing pendant costs $195.
The collection package and materials are free. However, you will need to plan on some extra costs for shipping.
The cost to ship your ashes ranges from $28.50 for one or two memorials, to $74.00 for six. For anything more than six, you will need to call Artful Ashes directly to get a quote.
FAQ's
Here are some common questions about cremation art.
Can you see your loved one's ashes in the glass?
The ashes are visible as a thin, foamy layer inside the glass. They will remain there forever.
What is the size and weight of the memorials?
Orbs measure about 3 inches across, and weigh 16 ounces.
The hearts also weigh 16 ounces, and measure 3½ by 3½ inches.
Angel wing pendants weigh 1o ounce and measure about 1 inch across.
Starfish are four inches across and weigh 16 ounces.
How much ash is needed?
Only one tablespoonful of cremation ash is needed for each memorial.
The hot glass will pick up about half a teaspoonful to be enclosed forever inside your cremation art.
The remainder can either be sent back to you or scattered in Puget Sound, per your request.
How long does the whole process take?
Once ordered, the company will send out your Collection Package as a First Class Parcel. This typically takes 3-5 days.
When you ship back the remains by USPS Priority Mail, it usually takes about one day to arrive.
Your cremation art will be in your hands in about 4½ weeks after the team receives your Collection Package.
How can you guarantee it's your loved one's ashes?
Hearts, orbs and starfish are stamped on the bottom with a preset ID number for accurate tracking.
Letters are assigned to memorials that clients are viewing in person, and all others are assigned a letter/number combo from A1 to Z9, according to the production day.
What Customers Are Saying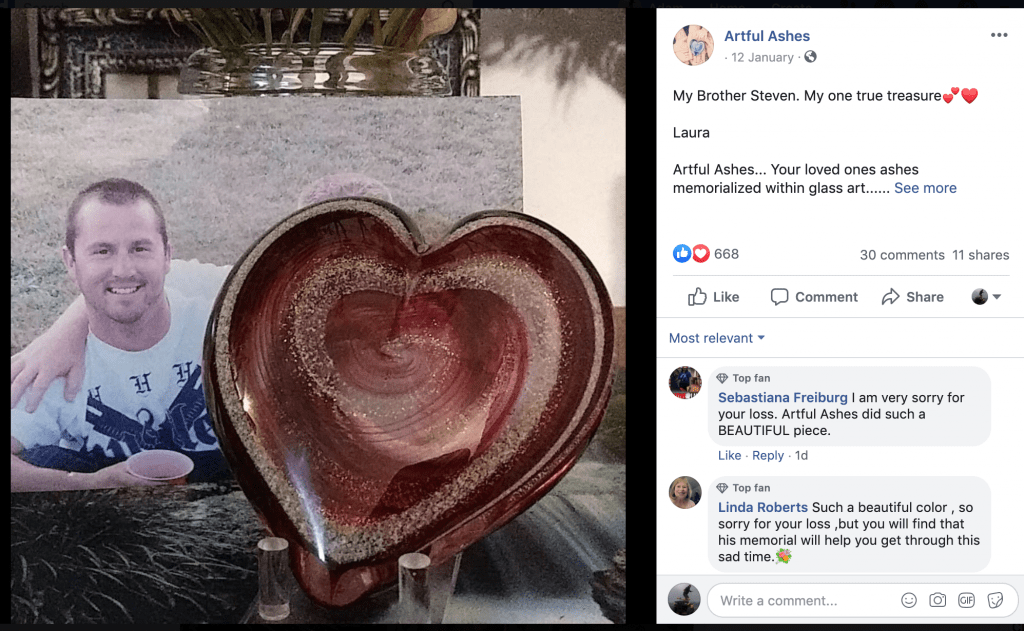 Since 2012, Artful Ashes has helped thousands of grieving customers along their healing journey.
Feedback from these customers show that having a glass heart or orb brings them a unique sense of comfort.
Some have given cremation art as a gift to ease the first holiday season or birthday after a loved one's passing.
They feel like their beloved friend or family member remains close to them in a beautiful form.
And they speak of the amazing compassion of the staff as they guide them through the process.
When customers come to the studio, they are greeted with genuine warmth and care. They watch a video of the process so they know what to expect.
They can even make an appointment to watch their loved one's ashes become a beautiful work of art, a process which they find profoundly moving.
The team often goes above and beyond expectations, meeting with customers outside normal business hours or putting a rush on an order when needed.
Any Customer Complaints?
It seems inevitable that after a number of years in business, and working with thousands of clients, a business will garner some negative reviews.
However, a search of Yelp and of the Better Business Bureau website does not turn up any of the horror stories or complaints you might expect.
The Better Business Bureau lists zero complaints, and Yelp is full of positive and glowing reviews.
Should You Choose Artful Ashes?
[adinserter name="Native Ad Top"]
As cremation art grows in popularity, there are sure to be more companies jumping on the bandwagon.
Established seven years ago, Artful Ashes has been around longer than most and has a proven track record.
The team members who work with you are known for their compassion and care, which may be a great comfort during a difficult time.
And you get to have stunning art that keeps your loved one's remains on display forever.
If you're looking for a creative alternative to traditional memorials, Artful Ashes is a fantastic option.