Spirit Pieces Cremation Art Review
Are you looking for a unique way to memorialize a lost loved one?
Many people are turning to the new trend of cremation art.
A number of companies have emerged in light of this trend. One of these is Spirit Pieces.
In this review, we'll show you how Spirit Pieces stacks up against the competition.
About the Company
Owner Dave Blake founded Spirit Pieces after the loss of his grandmother. This experience inspired him to help the bereaved in finding artistic connections with those they have lost.
He found a number of artists to share his vision. Today there are more than 40 artists working for Spirit Pieces, based all over the U.S.
What Is Cremation Glass Art?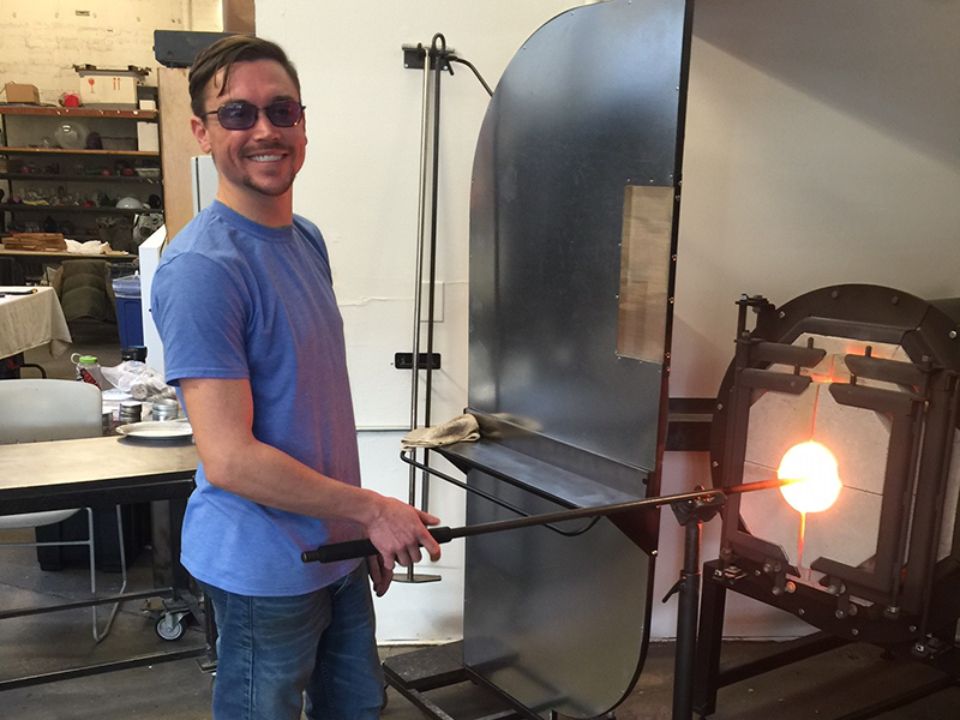 The artists at Spirit Pieces create cremation glass art by infusing glass with about half a teaspoonful of your loved one's cremation ash.
This allows you to preserve your loved one's remains for generations in a way that is truly beautiful and inspiring.
With these ashes, glass artists can create everything from paperweights to hanging orbs to a variety of shapes, like eggs or hearts.
Spirit Pieces Best Sellers
Spirit Pieces offers enough variety that there's something for everyone. Here are some of the most popular choices.
Cremation Art Jewelry
Cremation jewelry allows you to take the memory of your loved one with you wherever you go.
Whether it's a glittering pendant or a sparkling ring, you will think of him or her every time you see it.
Spirit Pieces offers a wide selection of cremation art jewelry. Here are a few favorites.
Pendants
Worn close to your heart, a glass pendant is a wonderfully unique remembrance.
There are dozens of options, including these top sellers.
The Moon and Stars Tree of Life Pendant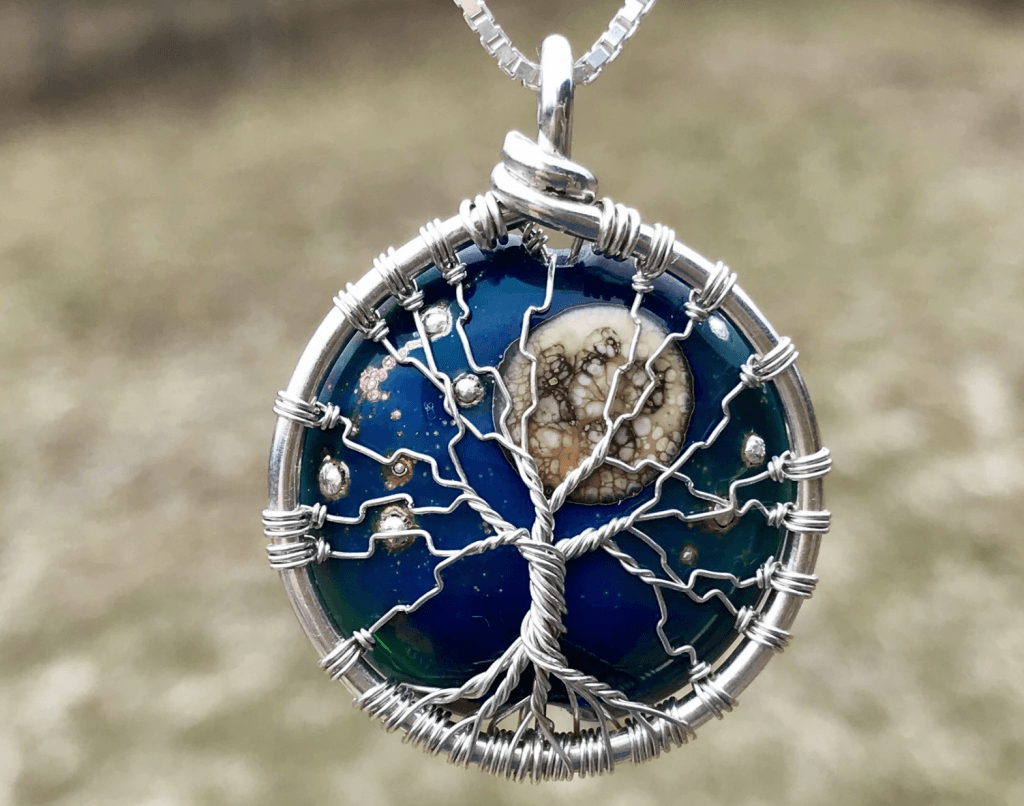 The tree of life has long been a symbol of immortality. Seeing it in sterling silver set against a dark blue background of moon and stars is the ultimate in peace and comfort.
The bead measures one inch across, framed by heavy sterling silver. The tree of life is displayed on the front, while your loved one's cremains are discreetly visible on the back.
Blue Moon Teardrop Pendant
The blue moon stands for rarity and balance, making it the perfect way to memorialize someone you loved.
Borosilicate glass helps to give it that indefinable, luminous quality. It's fashioned with special lamp-making techniques, adding to the lovely glow.
The teardrop is about 1.25 inches high, and hangs on a glass loop.
Black Opal Drop Pendant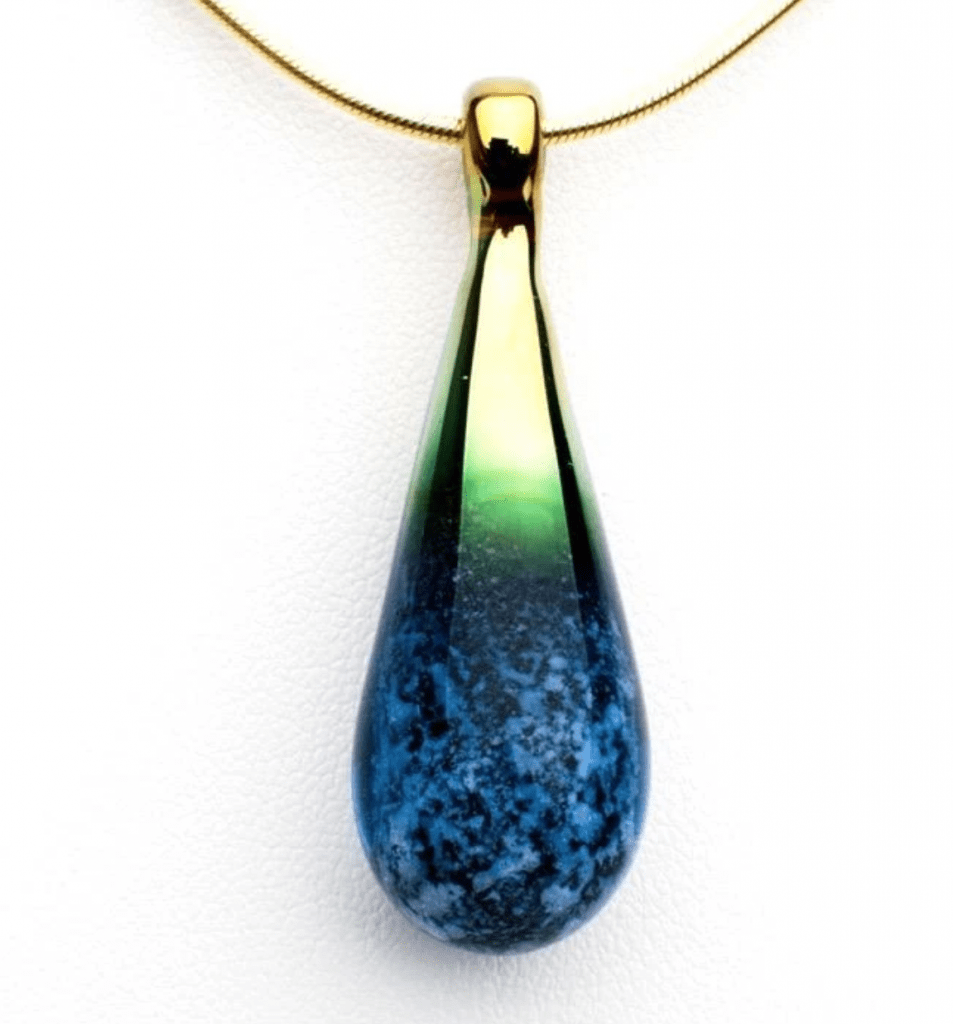 This stunning pendant is gold fumed, lending it a look of subtle luxury.
The deep opal glow contains hints of striking gold and green.
It's available in a choice of two sizes. The regular size measures 1.5-1.75 inches. The petite size is between 1 and 1.25 inches.
Cremation Rings
A cremation ring is a truly special and stunning form of art. With every movement of your hands, your loved one's soul glitters.
Spirit Pieces offers a number of cremation rings that are truly stunning.
Sterling Silver Ring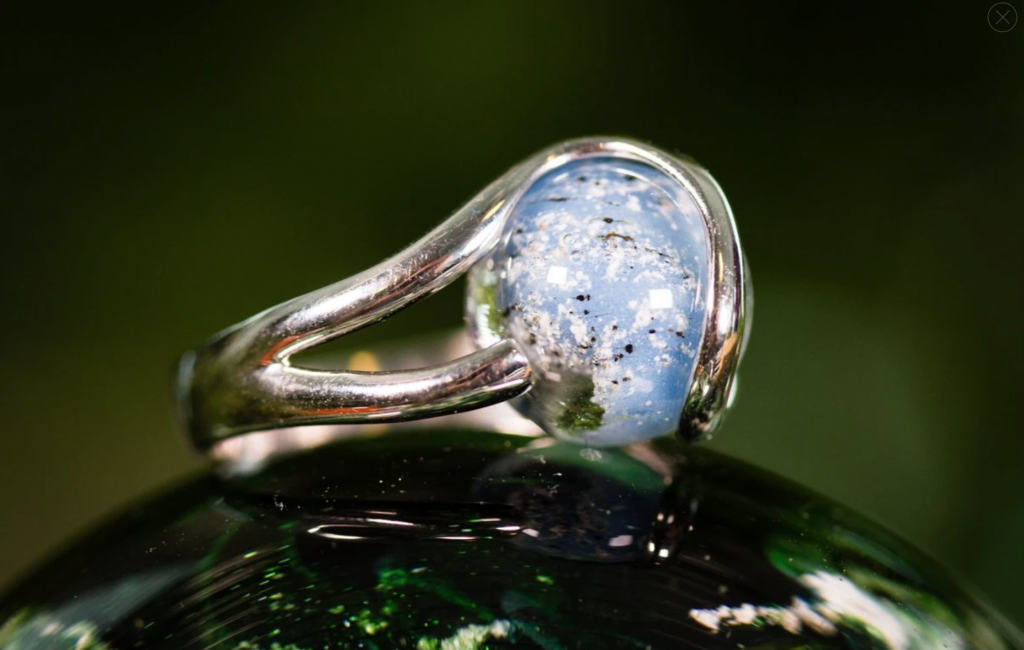 A delicately sparkling glass marble rests on its sterling silver setting. The marble is physically secured without any messy or unsightly glue.
The marble is a 12mm opaque and comes in a gorgeous variety of colors including light blue, pink and orange.
The ring also comes in a nice selection of sizes, from size 5 through 11.
Silver Heart Ring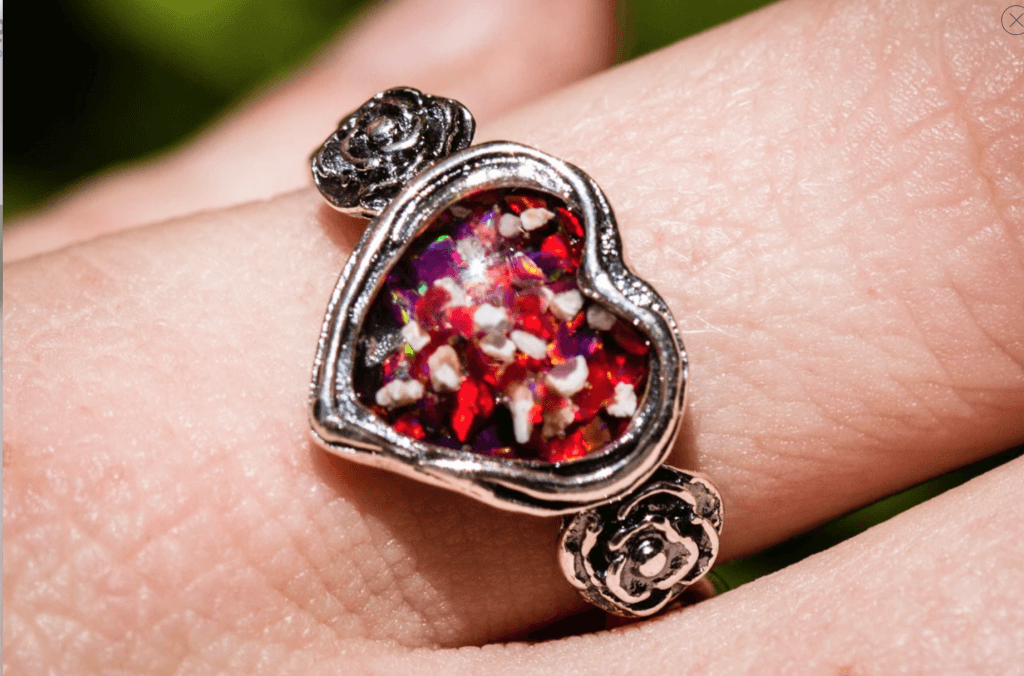 A heart shape is a perfect way to memorialize the lasting love that you shared.
The vivid sparkle of sterling silver is filled with crushed opal mixed delicately with your loved one's cremation ash.
The opal comes in Purple, Yellow, Gray, Rainbow, Green, Pink, Orange or Black. Up to two colors can be accomodated.
Earrings
Earrings add that subtle or dramatic something extra to your look. And they also allow you to feel close to someone you've lost and loved.
Turquoise Stud Earrings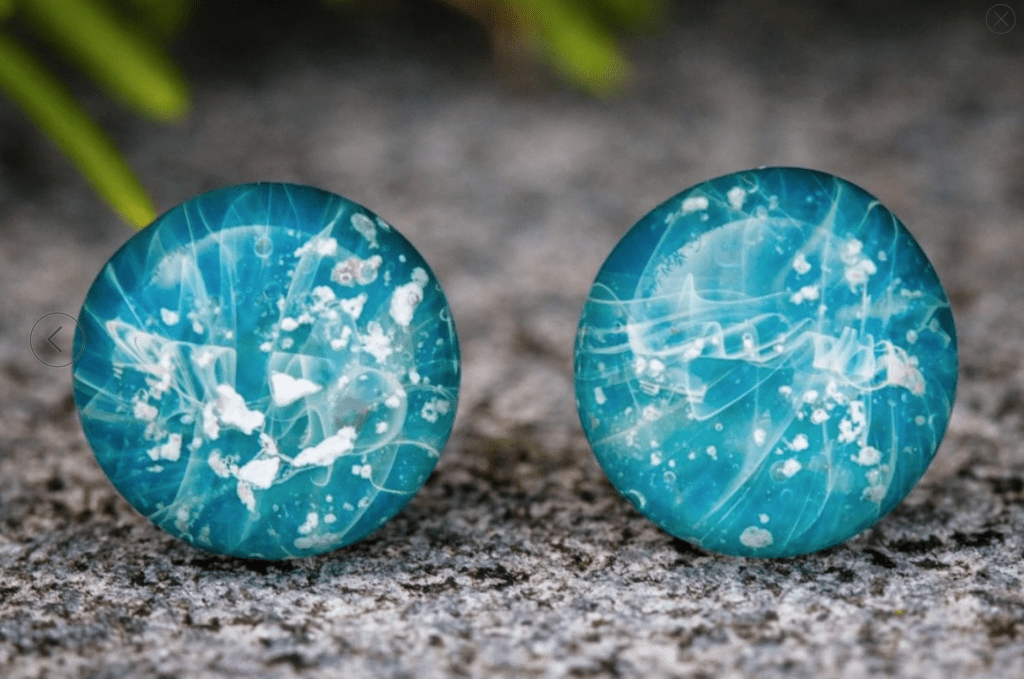 Small yet striking, these earrings make a beautiful statement of style and remembrance.
A vivid color base holds a small amount of cremains within it.
The eye-catching turquoise hues cannot fail to capture attention in a subtle yet powerful way.
Each earring measures about ¼ inch in diameter and comes with a stainless steel post.
Statice Flower Earrings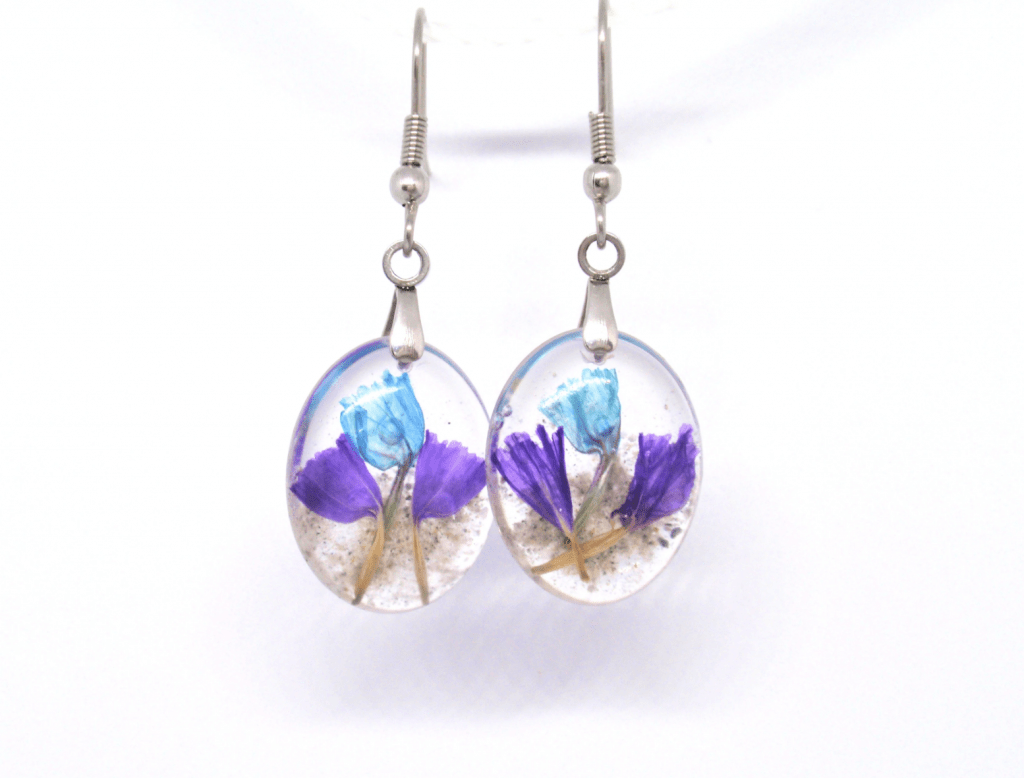 Colorful flower details encased in crystal resin make the perfect setting for your loved one's cremains. They also go great with almost any outfit.
Beautiful blue and purple flower shapes are displayed inside the glass, along with the cremation ash.
The earrings measure ⅝ inch by ⅞ inch. They come with hypoallergenic steel hooks.
Beads and Bracelets
Make your own jewelry with a beautifully fashioned cremation art bead. Or get a bracelet so that you can be reminded of your loved one every time you look down at your wrist.
Rainbow Beads With Infused Cremation Ash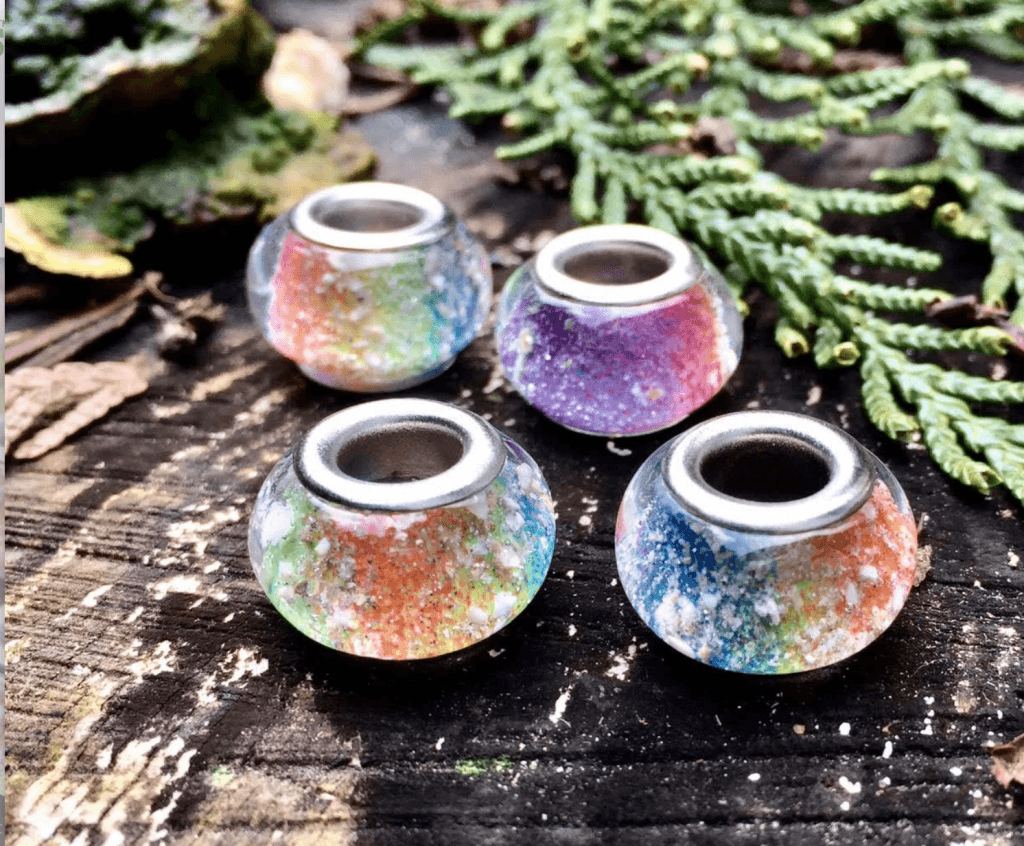 As their name suggests, these cremation beads glow with all the colors of the rainbow. Your loved one's ashes are mixed directly into the crystal resin which gives the beads their stunning color.
Each bead has a metal grommet core, ensuring that it will hold up to the test of time.
The bead can be used in a bracelet or as a single-bead necklace.
Rainbow's Bridge Necklace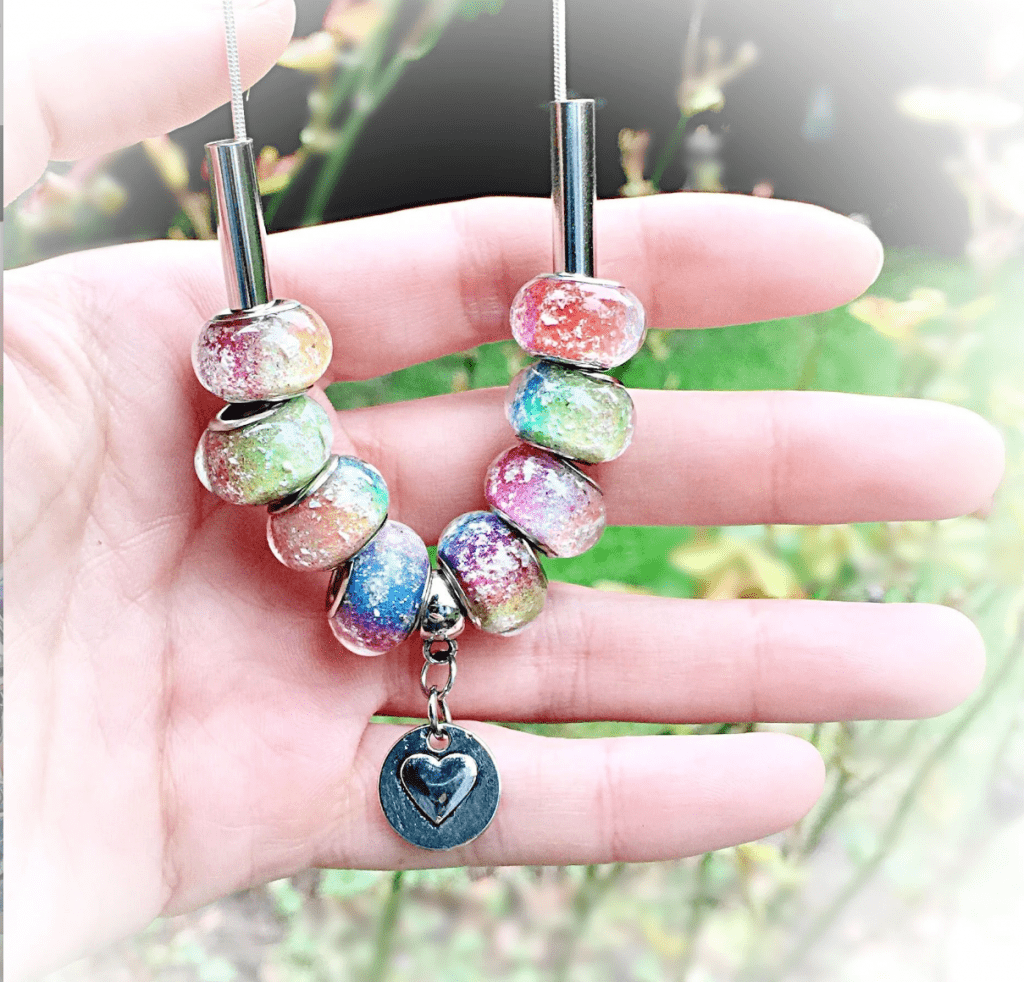 If you adore the unique and stunning look of rainbow beads, the Rainbow's Bridge Necklace may be the perfect option for you.
Eight gorgeous rainbow beads hang on either side of a lovely heart charm for a truly unforgettable look.
These hang on a sterling silver chain which can be cut to the desired length. The silver grommets are Pandora compatible.
Paperweights
You've never seen paperweights quite like these. The stunning, eye-catching colors are made even more beautiful by the fact that your loved one's cremains reside within.
Here are some popular options.
Tranquil Swirl Paperweight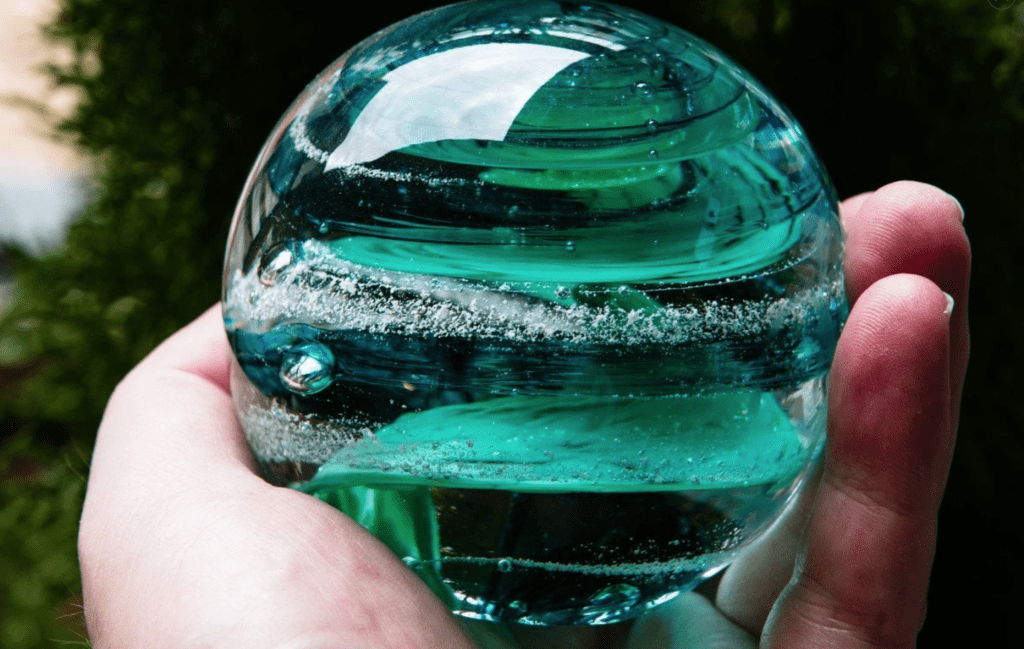 The colorful swirled design is designed to sparkle in the sunshine, bringing peace and comfort.
The paperweight comes in a number of color variations, giving you the ability to customize so that it reflects the personality of your loved one.
Choices include Blue and Green, Purples, Yellow and Orange, and many more.
Or choose Custom Colors to create your own personalized color combination.
Northern Lights Galaxy Paperweight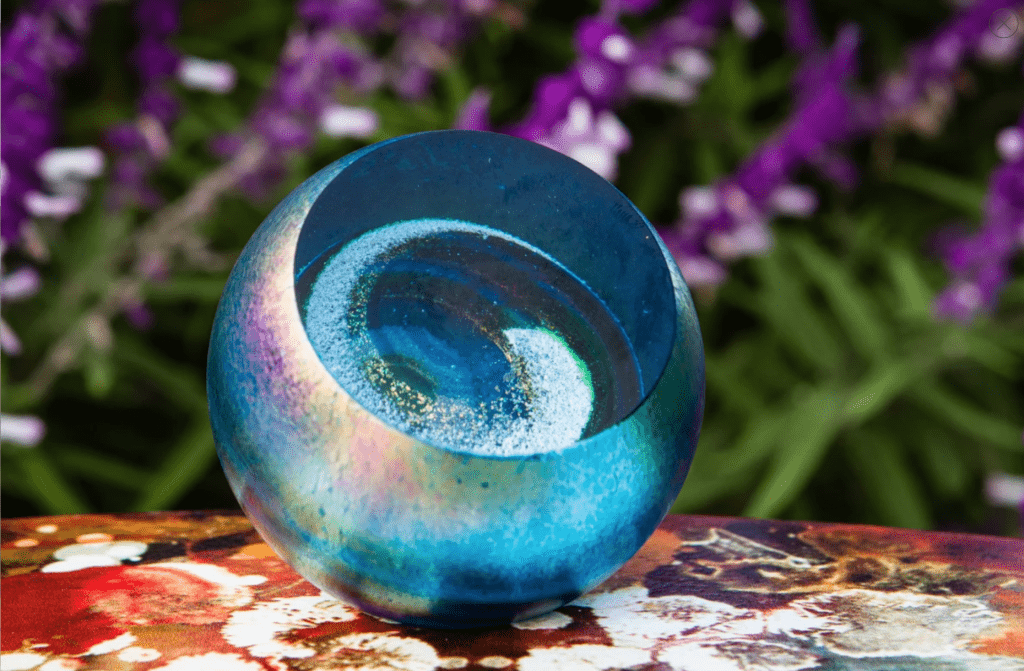 A smooth glowing glass orb looks and feels as enduring as the stars.
A small portion of cremains is swirled within the orb, which comes in a wide selection of colors.
Blue metallic fuming is the final touch which gives it that galactic quality.
The glass is polished with a clear viewpoint to give it the clarity of a starry night.
Hummingbirds
The hummingbird is an eternal symbol of playfulness and joy, making them an excellent way to memorialize someone you loved. This is especially true if your loved one found joy in the natural world.
Spirit Pieces offers a variety of hummingbird creations to bring your heart joy when remembering someone you lost.
Dichroic Twist Glass Hummingbird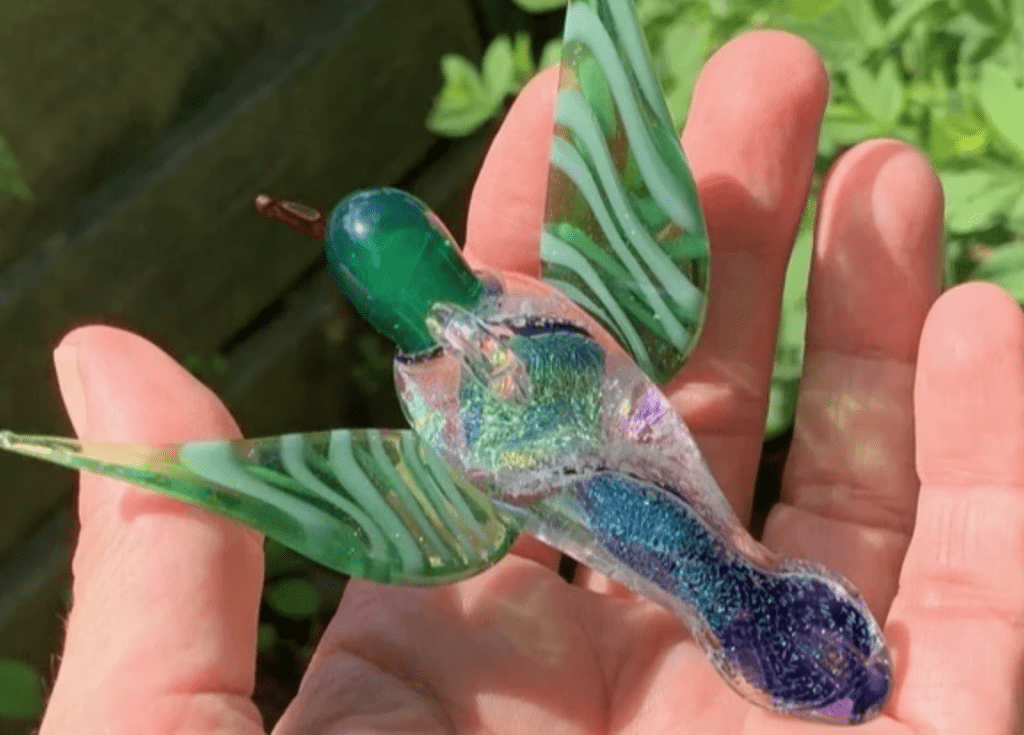 This sweet remembrance measures 3.5 inches long and weighs about 2 ounces. A small glass bail on the top makes it easy to hang, so you can display it just about anywhere.
Crafted with sparkling wings and head in your choice of blue and green, this hummingbird will make you smile whenever you look at it.
Red Throated Glass Hummingbird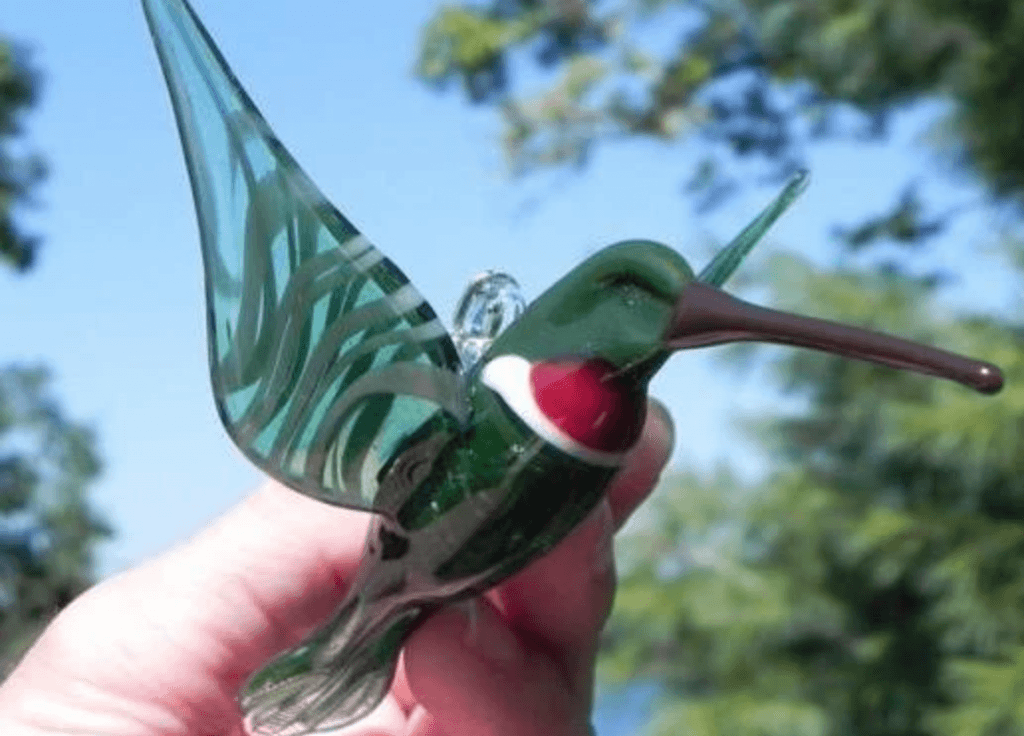 This striking decorative memorial is also easy to display, coming with a convenient hook on top. A splash of dramatic red on the neck adds an extra dash of color to the vivid green of its back and wings.
No two of these are exactly alike. The position and size of the bird's  neck varies slightly with each, ensuring that your hummingbird will be unique.
Tree of Life Series
It's hard to think of a more meaningful and reassuring symbol than the tree of life. Nature's cyclical and eternal renewal is beautifully encapsulated in this simple design.
These creations give new life to this enduring design, displaying it forever in glowing or sparkling glass along with your loved one's ashes.
It's really the perfect way to keep someone's beautiful spirit close to you forever.
Reading Tree of Life Orb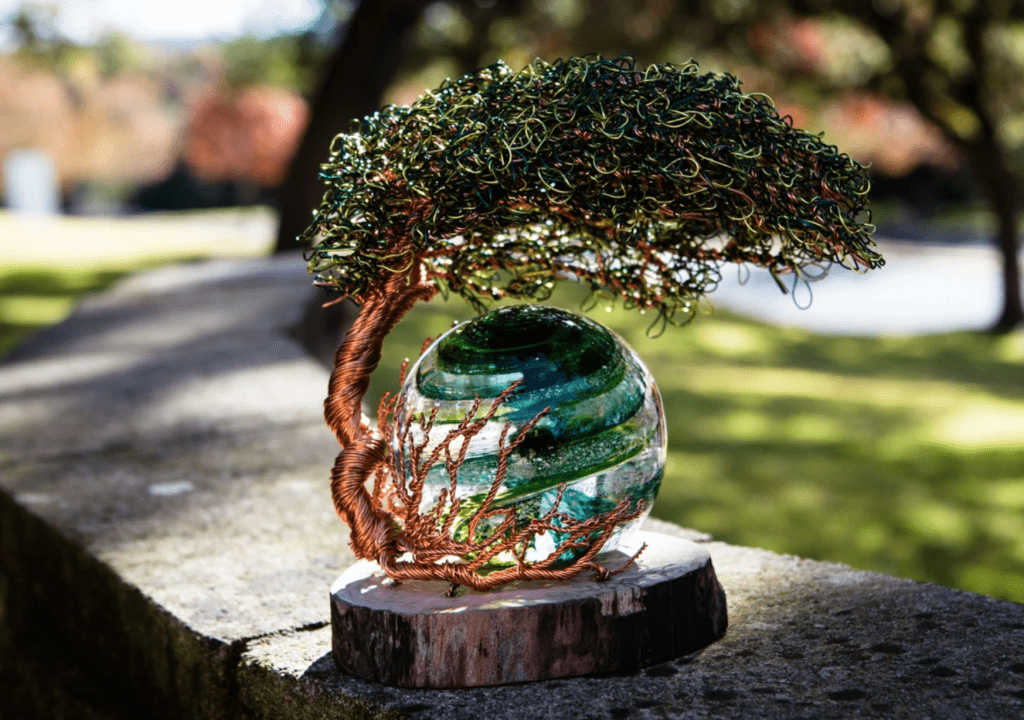 A collaboration between two brilliant artists, the design features an elegantly detailed wire tree of life bent protectively over a stunning glass orb.
The tree is about 6 inches tall and 5 inches wide, and stands on a dogwood base.
You'll love the feeling that your loved one's cremains are held protectively within the tree of life.
It will be a breathtaking display no matter where you put it.
Autumn Sunshine Tree of Life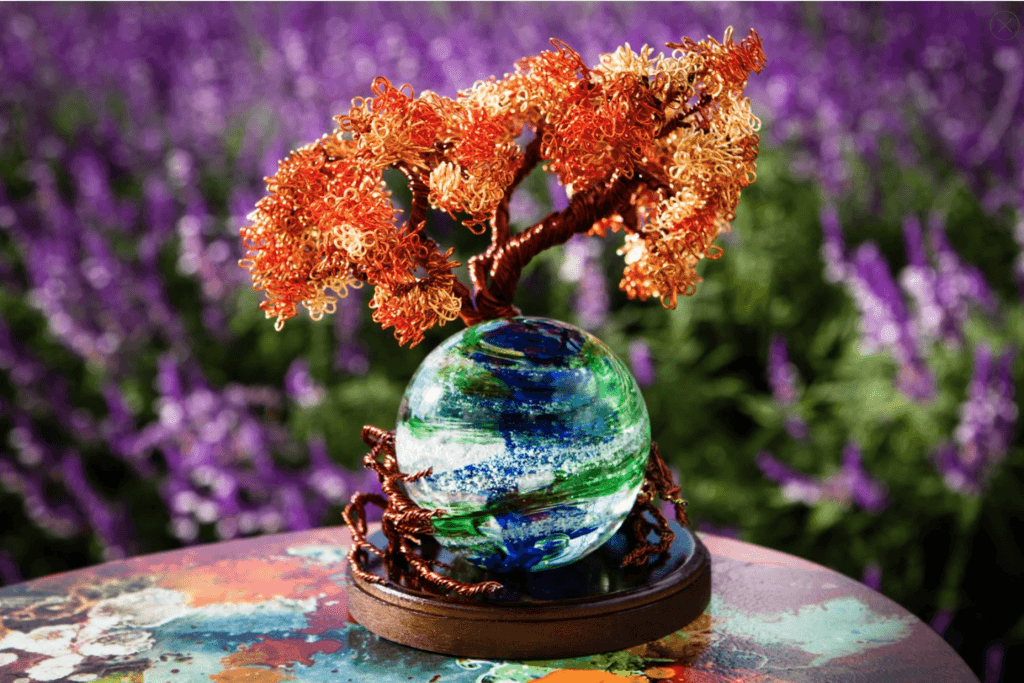 The beauty of autumn is that it feels like the end…but really isn't. And that is also true of loss.
The glow of the changing leaves on this tree of life is a reminder that endings can be breathtaking.
The vivid orange shades of the wire tree of life is the perfect complement to the blue and green swirls of the glass orb within.
Pink Golden Tree of Life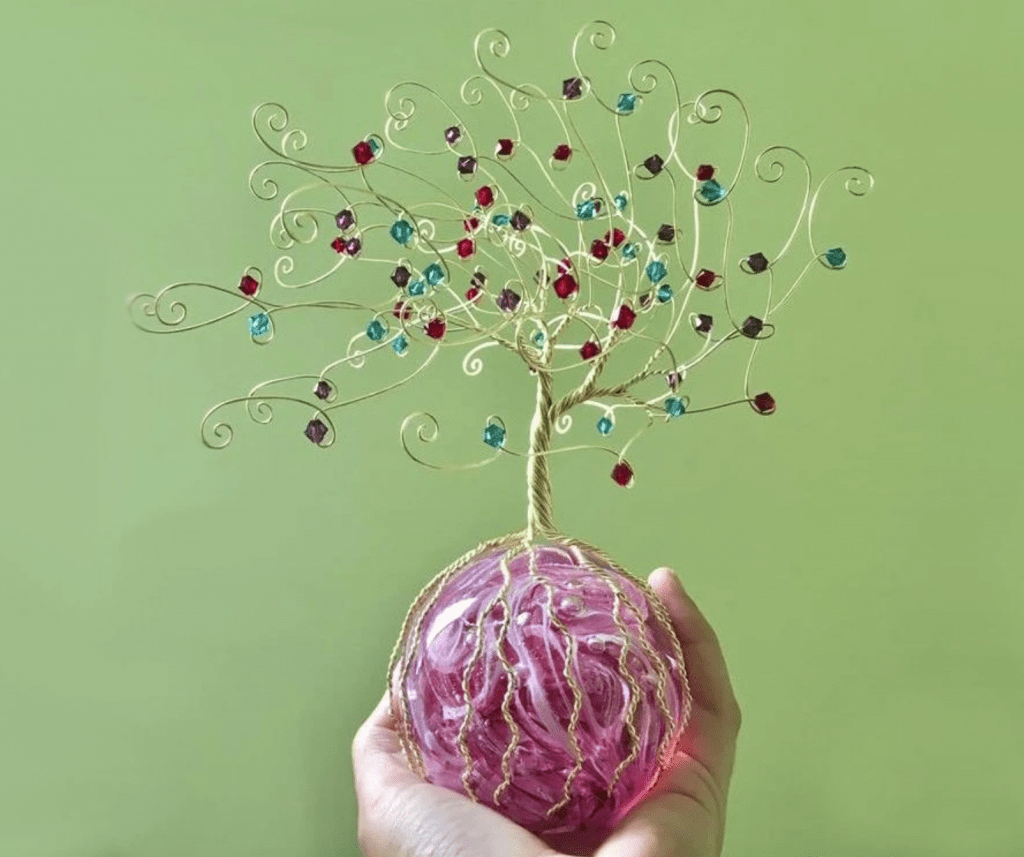 This is the perfect choice to memorialize a feminine soul that sparkles.
Vibrant swirls of pink make the glass orb truly breathtaking. A golden tree of life encloses the orb in its roots, branching off into a spray of beads and butterflies in Swarovski crystal.
It can be conveniently displayed on a desk or a mantel.  Though only 8 inches tall, it will instantly capture the attention of anyone who enters the room.
Prices
One of the nicest things about Spirit Pieces is their recognition of the importance of family.
The company offers a 10% discount off any order above $300, with additional pricing incentives at the $600 and $1200 price points.
Prices range from under $100 for a simple paperweight or egg to over $500 for the more elaborate tree of life designs.
The Ordering Process
Ordering from Spirit Pieces is a simple process. You start by adding a desired item to your cart for purchase. At checkout, you can also customize colors or purchase any accessories you would like.
Next the company will send you a collection kit in which you package the desired amount of cremains and ship it back to them via US Priority Mail. Keep in mind that you will need to budget the cost of shipping out the ashes.
With a few exceptions depending on the complexity of the piece, you will receive your finished artwork in about six weeks.
What Customers Are Saying
You can tell a lot about a company from the level of satisfaction of its customers.
Reviews of Spirit Pieces are as warm and glowing as the glass memorials they create.
Their work has been described as "stunningly beautiful," "a wonderful memorial" and "much prettier than I expected."
Reviewers repeatedly note how comforting it is to have their loved one's ashes close to them in such a beautiful form.
Other Cremation Art Companies
Spirit Pieces is not alone in this new market, as a number of new companies are cashing in on this trend. Some popular choices are SoulBurst, Crescent and Artful Ashes.
Artful Ashes
Like Spirit Pieces, Artful Ashes offers a variety of glass cremation art in the form of jewelry, orbs and glass hearts.
Pricing is also similar to Spirit Pieces, and they also offer discounts on some multiple orders. However, their system of family discounts is not quite as extensive.
Artful Ashes is a family-owned company, known for the compassion of the staff. Customers can even come visit the studio to watch the process as their cremation art is created.
Should You Choose Spirit Pieces?
There are some great companies out there working in cremation art. It may seem hard to choose. But you can rest assured that if you decide to work with Spirit Pieces, you won't regret the choice.
Their unique variety of designs, their affordable pricing options, and the lasting comfort their art brings make Spirit Pieces a winner for meaningful end-of-life remembrances.