As part of our ongoing research into Cremation Diamonds, we take an in-depth look into the industry and its practices.
This partly involves researching and reviewing some of the leading companies on the market.
And one leading company is LifeGem, which started in 2001.
They were the first company to start producing Cremation Diamonds.
But are they the best company for turning your loved one's ashes in a diamonds?
In our detailed review, we take a look at LifeGem, their process, what they offer, prices, and more.
Speak With An ExpertAbout the Company
LifeGem is an American company headquartered in Chicago, Illinois, and was established in 2001. Their exceptional diamonds were made available to the public in 2002.
Available worldwide, LifeGem's diamonds are now very much in demand.
Their company mission is very simple- to help assist in the grieving process for loved ones. They understand the importance of their role in assisting a family to heal and overcome grief.
These diamonds are more than just jewelry. They're a tangible connection to someone we've lost.
Is It a Hoax?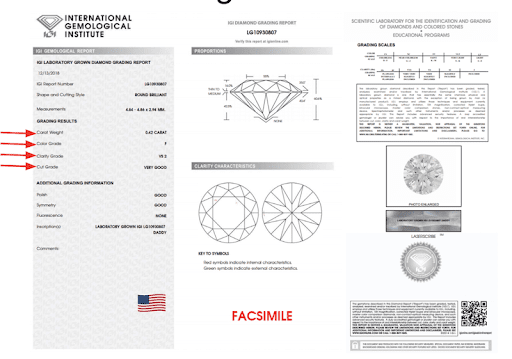 There has always been some controversy about whether cremation diamonds are real.
So you might be asking, are LifeGem diamonds a hoax?
While the diamonds do not come from the earth, they are indeed grown in a laboratory which mimics 'earth diamonds'. We'll talk about the process a bit more below.
LifeGem diamonds are independently certified for authenticity by a graduate of the Gemological Institute of America (GIA).
Each diamond comes with a certificate verifying carat weight, dimensions, color, clarity, symmetry, and polish.
LifeGem creates a transparent and trustworthy process by providing detailed tracking information to ensure the correct client receives the right diamond.
You can be assured throughout the development of your diamond by checking your order status periodically through their website.
The Diamond Creation Process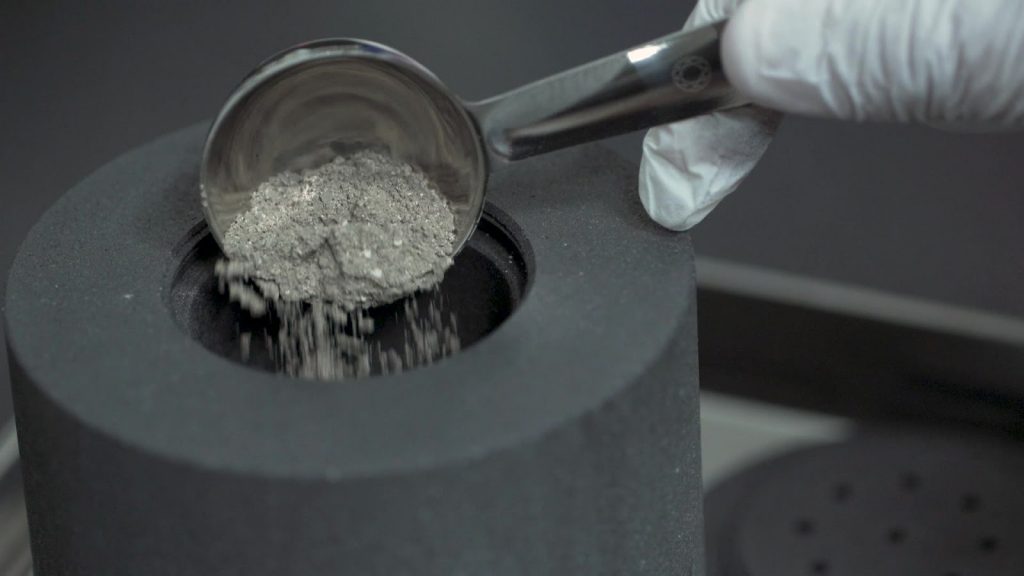 Cremation Diamonds begin from the same principle element present in diamonds found in the earth – carbon. The carbon undergoes a particular procedure, which simulates the prolonged formation of ordinary diamonds.
What would have taken millions of years in nature can now occur in twenty-four weeks.
Carbon Capture
The first step to creating a stunning LifeGem diamond is the extraction of carbon from the cremated remains, or a lock of hair.
The amount used from a cremation is usually a small amount. A combination of cremation material and hair can also be used.
Some clients choose the unity LifeGem heirloom diamond option. With this option, your own hair can be added into the creation of a loved one's diamond to symbolize a long-lasting bond.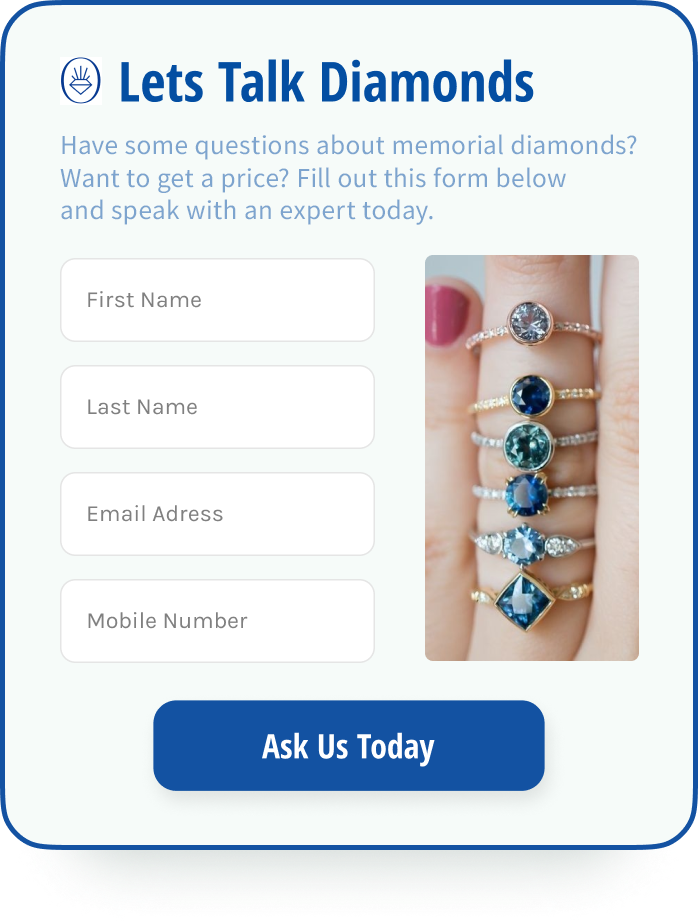 Purification
The second step in creating a diamond is to heat the carbon at extreme temperatures under set conditions.
Carbon, through this process, is turned into graphite. The result is graphite with unique characteristics, which will go on to become your distinctive diamond.
Diamond Creation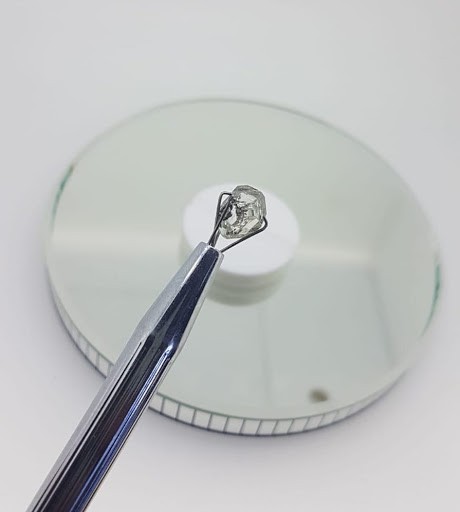 The third step is the diamond formation. The graphite is placed into LifeGem's exclusive diamond press.
This device reproduces the remarkable physical conditions needed to create a diamond – tremendous heat and pressure. The longer a diamond sits in the press, the larger it will be in the end.
Certification
The fourth and final step includes the finishing process. The diamonds undergo the same faceting and certification process as ordinary diamonds.
Like other diamonds, LifeGem diamonds require facets to exhibit their maximum sparkle.
The company's expert diamond cutters carve and facet the diamond to your exact specifications. The diamonds are then inspected, identified, and graded by the GIA.
Each diamond is laser etched with the individual identifier of the buyer, certifying that it is unique and genuine.
Delivery
At the start of the order, the client is assigned a tracking number. These tracking numbers ensures that each diamond is delivered to the correct client.
The client receives a confirmation document, username, and password to allow for monitoring throughout LifeGem's diamond creation process.
When a LifeGem diamond is ready to be delivered, a delivery date is set. Delivery of a LifeGem is through FedEx or UPS with a next day delivery.
Each diamond is fully insured and secured. And for each shipment, a signature endorsement is required for the handover of the product.
LifeGem provides tracking and documentation throughout the process to ensure peace of mind for the customer.
Costs
As with naturally occurring diamonds, the cost of a LifeGem diamond may vary according to a variety of factors, mainly the 4 C's – Color, Cut, Carat, and Clarity.
The diamonds are available as colorless, blue, red, yellow, and green. Because the diamonds are each unique, the resulting hue of the diamond will be within the color category.
Similar to natural diamonds, clarity can range from VVS to I. Carat sizes may also differ, varying from .15 to 2.0 carats. LifeGem offers three cuts to choose from – radiant, round, and princess.
Some families may choose to purchase multiple diamonds for several family members. For these situations, the company offers family plans to fit every budget and need.

LifeGem for Pets
LifeGem diamonds are also available for pets. For many of us, pets hold a special place in our hearts. LifeGem offers the same security and authenticity for diamonds for pets as they do for individuals.
Frequently Asked Questions
How much ash do you need to make a diamond?
Multiple diamonds can be created from a mere 8 ounces (200 grams) of ashes. Eight ounces provides more than enough carbon to create one diamond.
LifeGem stores any cremated remains that are left unused without an extra fee, once orders are completed. By storing remaining ashes, the company ensures that a supply will always be available should a precious diamond be lost or stolen.
How long does it take to create a diamond?
LifeGem diamonds do take some time to create. The laboratory technique used to make the diamonds requires time and, to guarantee the quality, can't be rushed. Also, their diamonds are at a high demand, and the company ensures excellence for each and every order.
Their diamonds take about 6-9 months to receive. Loved ones can log onto the company's website with their tracking number, username, and password to check on the status of their diamond throughout the entire process.
How many diamonds can be made from one person?
Only a small amount of ashes is necessary to create a diamond. Eight ounces of ashes can produce up to 8 to 10 fine diamonds. Ashes from one entire individual can yield over 100 high-quality diamonds.
Are the diamonds certified?
LifeGem prides itself on the authenticity of its diamonds. A stamped certificate listing each diamond's qualities such as carat, weight, and clarity is provided for every single diamond. The diamonds are certified and identified by a graduate of the Gemological Institute of America.
Can you use hair to make a diamond?
Hair can definitely be used to make a diamond. One or two diamonds can be made from the amount of hair that fits in the palm of your hand.
Enough carbon can also be extracted from the hair collected from regular men's haircuts. The more hair provided, the more diamonds can be made.
Instead of placing a lock of hair in a locket, you can now turn your loved one's hair into a diamond.


What customers are saying
LifeGem customers find the company's service to not only be excellent but also caring, compassionate, and kind.
Their diamonds have provided survivors with a meaningful connection to their loved ones, often reminding them of their brightness and energy. A few customers have commented that the diamonds enabled them to focus on the positives of their loved ones, rather than the loss itself. The diamonds have played a significant part allowing them to heal and move forward.
A LifeGem diamond allows the family member to enjoy a physical reminder of their loved ones at all times. A diamond worn as jewelry can be near and quickly accessible to someone who is grieving. Being able to keep their loved ones close and share its beauty with others is a common positive client review. These diamonds aren't just keepsakes; they're tangible and transformative memories, which have allowed family members to heal and keep a solid memory of their loved ones to hand.
Are they worth it?
LifeGem diamonds have been immensely valuable in helping loved ones to heal. The company ensures both quality in their diamonds and empathy in their customer service.
Diamonds can become heirlooms, passed on from generation to generation. Because of the company's high standards, their diamond jewelry will be valuable for years to come.
The loss of a loved one is a challenging experience to endure, and LifeGem understands their unique position in providing a way for family members to mend. Their diamonds are not only worth the financial value, but are priceless in their emotional one.