Heart In Diamond Review- The Best Company To Use?
With lots of our community interested in turning ashes into diamonds, we like to do our own expert research into the industry.
And this means having a look at the top cremation diamond companies available.
One leading company is Heart In Diamond, which started in 2005.
In this detailed Heart In Diamond Review, we take a look at their process, what they offer, different types of jewelry, prices, and much more.
Get Expert Advice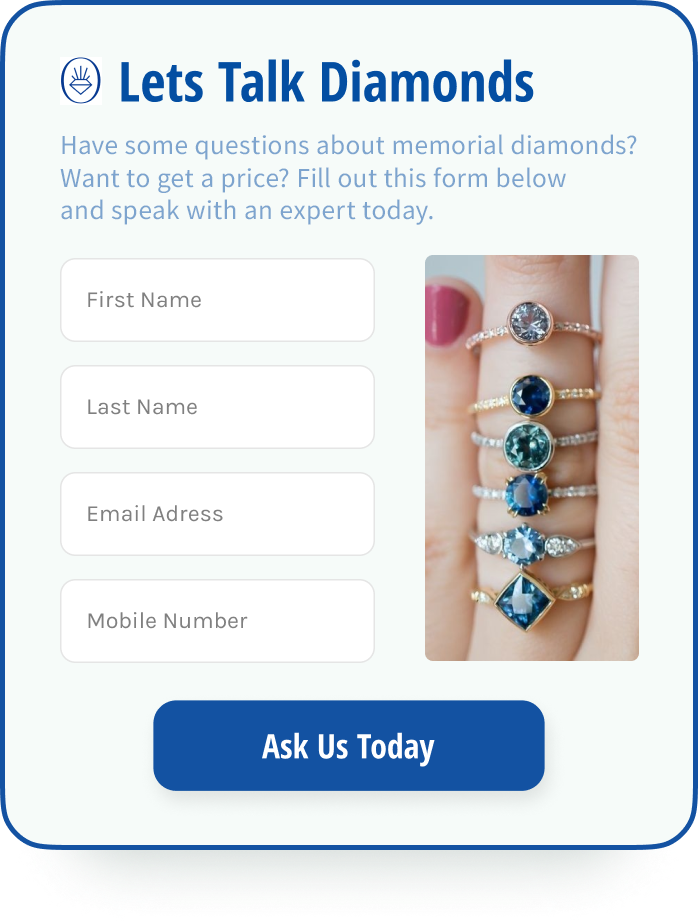 About The Company
Heart In Diamond is based out of the UK. However, the company's reach extends worldwide- with team members in Europe, Asia, Australia and North America.
The company was founded in 2005. It employs skilled engineers who work tirelessly in the lab, producing diamonds from natural carbon found in cremation ashes or locks of hair.
The guiding principles of the company emphasize respect, personal service, quality and affordability.
Heart In Diamond prides itself on using the most eco-friendly, cutting-edge techniques to create quality cremation diamonds without harming the environment.
And their diamonds are authentic enough to stand up to the most discerning of tastes.
The Process
There are several steps to the ordering and creation of your personalized cremation diamond.
All of these steps together take 70-120 days, starting from the time the lab receives your sample until your diamond is delivered.
Ordering Process
First, you will explore various options for the cut, color and carat size of your diamond on the "Create Your Own Diamond" section of the website.
Once this step is complete, you will fill out an online enquiry form and a representative in your area will contact you.
They will email you an official order form and also send you a "Personal Collection Kit".
Your sample will be sent in a zip-lock carbon collection bag. A half-cup volume of hair or a two-thirds-cup volume of ashes are necessary to grow a diamond.
Sending the ashes
After sending in your official order form, you will be assigned an ID number that allows you to track the process.
When your diamond is ready, it will be hand-delivered to you by courier.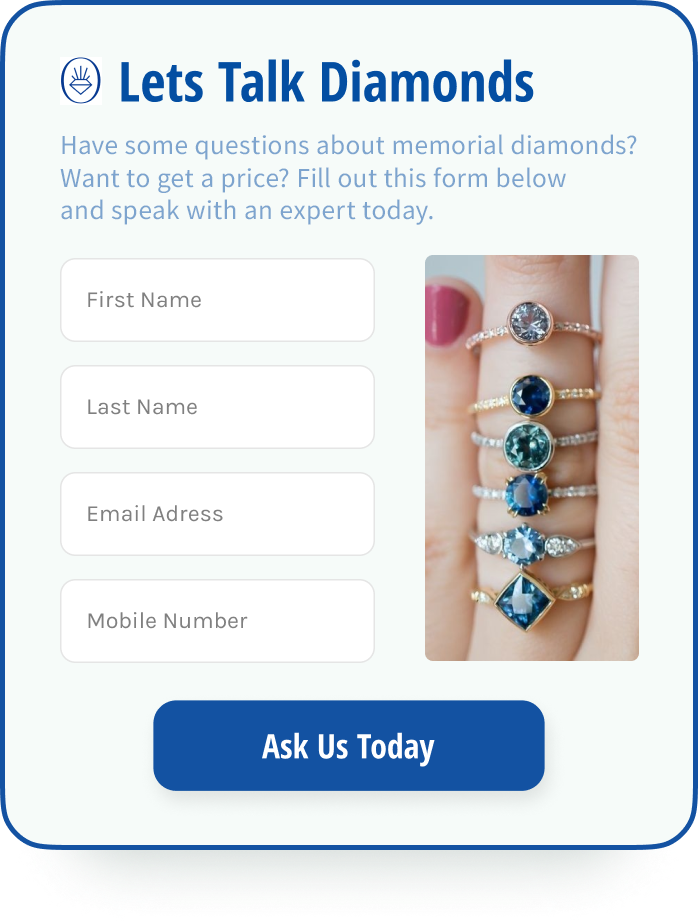 Diamond Creation
Once it arrives in the lab, your sample will be immediately analyzed. They will determine its chemical composition in order to extract the right amount of carbon.
The extracted carbon is then added to a diamond foundation…and slowly a diamond begins to grow.
Diamond Growth
The carbon mixture will then be placed in a High Pressure Temperature machine.
The machine replicates the conditions of natural diamond growth deep in the earth's crust.
That means temperatures above 2000 °C, and pressure of over 60,000 atmospheres.
Polish and Cut
When it's finished growing, the diamond is then carefully polished and cut in accordance with the specifications of your order.
They'll make sure your diamond sparkles both inside and out, just like the person you loved.
Finally, the diamond goes through a tough grading process in order to get a Certificate of Authenticity.
Prices
One of the nicest things about this company is their willingness to work with clients on convenient payment plans.
Even better, these plans are available at a 0% interest rate, which is pretty unbeatable.
They offer three plans:
A 5% deposit with 6 equal monthly payments
A 25% deposit with 12 equal monthly payments
A 25% deposit with 24 equal monthly payments
Depending on your plan and the kind of diamond you choose, your monthly payments could be as low as $23 a month.
The overall cost of the diamonds range from $750 for an orange-yellow mini to $17,295 for a 1-carat white diamond.
There are a multitude of pricing options in between those two extremes.
Diamonds come in orange-yellow, yellow-green, deep red and white. Orange-yellow is the most inexpensive, while white is the priciest.
There are also a variety of carat options, ranging from Mini to 2-carat, with a range of seven other options in between.
These prices compare very favorably with other companies, and are significantly less than traditional burial and funeral costs.
Also worth noting: the cost of lab-grown diamonds is 30% less than natural diamonds.

Jewelry Ideas
The idea of cremation jewelry seems new to us, but in reality people have been using jewelry to hold mementoes of loved ones for generations.
As early as the 16th century, it was common practice for mourners to wear braided locks of their loved one's hair, placed under glass and set in a ring or pendant.
Over time, cremation ashes began to be included in memorial jewelry.  Ashes could be held in a small compartment within the jewelry item. This type of jewelry remains popular today.
Now that we have the ability to transform the carbon in cremains to diamonds, it opens up many more possibilities.
Rings
A diamond ring can be a stunning remembrance of your loved one. Every time you look down at your hands, you will be reminded of the special bond that you share.
You can choose a 14K white gold class cathedral setting, or you may opt for a simple pave.
When paired with a personalized diamond, your ring will have a truly unique look.
Pendants
Worn close to your heart, a pendant is a beautiful way to keep your loved one close to you.
Its real beauty is its simplicity. Displayed on a simple chain, a diamond pendant is truly eye-catching.
Heart In Diamond offers many kinds of pendants from which to choose. their diamond in a Shapes include flowers and half-moons.
Earrings
With many choices of earring mounts, your memorial jewelry can be as unique as the person you lost.
You can choose hoop mounts, flower clusters, snowflakes, and many other settings.
These can be combined with your choice of cut and color to create a gorgeous statement piece.
For Pets
Losing a pet is heartbreaking. Experts now understand that this loss triggers the same stages of grief as the death of any other family member.
But cremation diamonds allow you to feel close to your beloved pet forever.
Cremation is a popular method of disposing of a pet's remains. But it's hard to know what to do with these remains after.
Burial can feel unbearably painful and final.
But a cremation diamond offers lasting comfort.
Their Guarantee
Certificate of Authenticity
Your diamond will come with a certificate of authenticity and a diamond grading report, verifying that it's identical in composition to naturally grown diamonds.
Heart In Diamond also has an Authenticity Check program, allowing you to find the credentials for any diamond they create.
Lifetime Guarantee
As an authentic diamond, you can rest assured that it will last forever. It won't fade or develop any defects over time.
However, this coverage does not extend to intentional damage, theft, heat damage or the buyer's change of mind.

FAQ's
Here are some other things you might be wondering about Heart in Diamond.
Are cremation diamonds real?
Cremation diamonds have been grown in a lab to be chemically identical to real diamonds that are grown in the Earth.
They have been created by replicating the high heat and pressure deep below the Earth's surface which creates natural diamonds.
The certificate of authenticity and  diamond grading report that come with your diamond give you all the assurance you need of how real your diamond is.
How much ashes or hair do you need to make a diamond?
The company asks you to send ⅔ cup of cremated ashes or ½ cup of hair to create your diamond.
But if you don't have enough, no worries.
They can add generic carbon if necessary.
How long does it take to make a diamond?
Heart in Diamond promises a turnaround time of 70-120 days to grow your diamond.
This is much quicker than most other companies in the industry.
Do cremation diamonds come with a unique inscription?
Each diamond comes inscribed with its own unique ID.
This number is laser inscribed into it.
What Customers Say
Testimonials from customers offer a window into diverse experiences.
Cremation diamonds have been used as memorials of beloved spouses, parents and grandparents, as well as pets.
They have been used as unique engagement rings, and even as a keepsake to give a child as her first piece of jewelry.
In all cases, customers express surprise at how stunning their cremation diamonds are, how they are indistinguishable from natural diamonds.
Yet they cost significantly less than natural diamonds, making them an amazing investment.