The Best Cremation Diamond Companies
Thinking about turning your loved one's ashes into diamonds?
In this review, I take a look at the best cremation diamond companies on the market.
I will also discuss briefly the process of turning ashes into diamonds.
However, if you're looking for a more comprehensive explanation, I encourage you to check out this cremation diamonds guide.
Speak To A Diamond Expert
Have some questions about cremation diamonds? Want to get a price? Fill in your details below and speak to one of our memorial diamond experts.


Turning Ashes Into Diamonds
It seems almost like a miracle, right? All of a sudden, your loved one's human body is transformed into a beautiful diamond ring or pair of diamond earrings.
Your loved one's ashes go through a distinct and delicate process using the following steps:
Purifying the Carbon
First, the body's carbon must be isolated and purified. During the cremation process, just about 96% of the carbon is burned off, but the remaining carbon must be purified.
Once complete, the isolated carbon is a powdery substance that must then be refined to create pure carbon. The process can take weeks and is how the diamond starts.Diamond Growth
In order to 'grow' the diamond, there must be heat and pressure.
With the help of experienced scientists and top-quality machinery, the purified carbon sits in 2,500 degrees Fahrenheit temperatures and under 850,000 pounds per square inch of pressure. This is when the diamond grows into a raw and unique diamond.
The process starts slow and the longer the diamond is allowed to sit, the larger it grows.
Cutting the Diamond
At this point, you get to choose the diamond's cut. A few options include:
Round
Emerald
Radiant
Pear
Princess
The cut determines the diamond's shine and brilliance, just like you would buy a diamond in the store. You can see the various cuts each company offers right on their website.
Diamond Coloring
If you prefer to personalize the diamond in your loved one's favorite color or you have a preference, you can choose the color in this stage.
You can opt for a clear diamond or choose a variety of colors during the irritation treatment. Because each diamond is unique, no two diamonds will look identical, no matter their similarities.
Diamond Grading
Once complete, each diamond receives a grading report, much like you receive when you buy an engagement ring. The grading details the most important Cs – cut, clarity, color, and carat and can be used for your appraisal and valuation when insuring the diamond.
Speak To A Diamond Expert
Have some questions about cremation diamonds? Want to get a price? Fill in your details below and speak to one of our memorial diamond experts.


Are They Real Or Scam?
The press ran wild with accusations of fraud after the company Eterneva won the backing of Mark Cuban for their ashes to diamonds company on Shark Tank.
However, Eterneva founders continually claim the process is real and there's nothing fraudulent about it.
Since this time, they have demonstrated a more transparent process regarding the science behind it in an effort to show that there's enough carbon in human remains to create manmade diamonds.
Eterneva wasn't even the first company to start the process – there have been many others already taking part in the process of creating cremation diamonds, which is a very real process.
Cremation diamonds companies have each diamond they create certified for authenticity with a reputable third party.
This includes organizations such as the  Gemological Institute of America, International Gemological Institute, and the Swiss Gemological Institute.
The grading report includes details on the cut, carat, color, and clarity of the diamond. You receive a copy of the report to keep for your own records.
Cremation Diamond Companies
Numerous companies create cremation diamonds, but a handful have the corner on the market, providing top quality memorial diamonds for your loved ones.
Eterneva
Eterneva is the newest company to hit the ashes to diamonds industry.
This Texas company was founded by a woman who lost her dear friend and mentor and wanted find a special way to memorialize her ashes only to find lackluster options out there.
She wanted a way to remember her friend that was meaningful and thus Eterneva was born. Eterneva was featured on the show Shark Tank, where it received the backing of Mark Cuban in 2019.
Eterneva is more than a cremation diamond company, though. They offer a grief wellness journey for its customers, supporting them throughout the 7 – 10-month diamond creating process.
They share updates via video and photos of the diamond making process and even hangs a picture of your loved one on the wall while they create the diamond.
Eterneva's prices start at $2,999 and they offer diamonds of 0.10 carats up to 3 carats. They also offer five different cuts.
Eterneva walks you through the 7-stage process, helping you feel closer to your loved one as your diamond is created.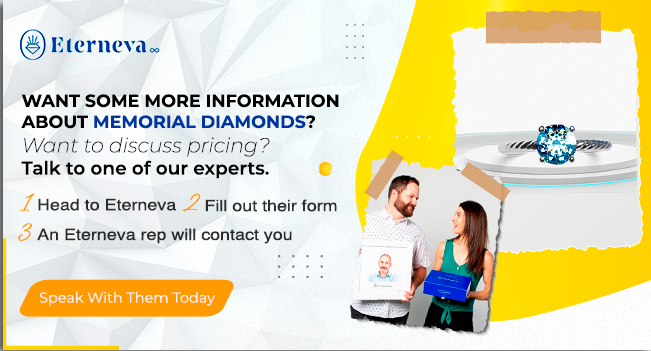 LifeGem
LifeGem was the first memorial diamond company, opening in 2001. LifeGem creates cremation diamonds measuring 0.10 carats up to 2.0 carats.
All they need is a few wisps of your loved one's hair or a tablespoon of cremated remains to start the process.
LifeGem has created a unique tracking process so that you know the diamond you received was made from your loved one's remains. They assign you a 16 digit tracking number that allows you to follow the diamond's progress and they offer several system checks throughout the process to ensure the integrity of your diamond.
LifeGem's prices start at $2,999 and go up to $19,999.
Heart in Diamond
Heart in Diamond is a UK-based company that started in 2005. They sell cremation diamonds throughout the world, including in the United States.
Heart in Diamond has its own diamond creating facility on site and allows customers to fully track the entire process to ensure the integrity of the diamond.
They do request ½ cup of hair samples or 3 – 6 tablespoons of ashes to create the cremation diamond. If you live in an area near their UK or US office, they will hand-deliver the product to ensure its integrity and safety from start to finish.
Heart to Diamond offers a tracking number so that you can know the status of your diamond from the moment you order it and send in your samples.
They create diamonds ranging in size from 0.3 carats to 2 carats in five different colors. Their prices start at $750 and go up to $17,265.
Algordanza
Algordanza was founded in Switzerland in 2004 but has offices in the United States now as well. They operate in more than 30 countries creating ISO-certified memorial diamonds from ashes.
Algordanza partners with funeral homes throughout the US and 30 other countries. You can order your diamond right through the funeral home or directly through Algordanza in person, over the phone, or online.
You'll choose your diamond cut, color, and size. They offer 7 different cuts starting at 0.25 carat up to 2 carats.
They require one pound of ashes or ten grams of hair to create a memorial diamond.
Algordanza professionals will update you on the diamond's progress throughout the process, with the entire process taking around 4 to 7 months.
You can pick up your diamond at their facility in Switzerland or have it hand-delivered to you.
Lonite
Lonite creates beautiful memorial diamonds out of ashes or hair that are GIA certified. Each diamond comes with an authentication certificate that proves the origination of the diamond (your loved one's ashes).
Lonite offers its services in the United States, UK, Canada, Australia, and Germany.
The process takes anywhere from 3 to 18 months and they promise 99.9% pure carbon.Lonite requires 200 grams of ashes or 10 grams of hair to create a memorial diamond and they create diamonds ranging in size from 0.25 carats to 2.0 carats.
They offer six different cuts and their prices start at $1,250, but it depends on the size, cut, and color of the diamond.
Cremation Diamond Costs
As you can see in our company reviews, the cost of cremation diamonds varies greatly. The actual cost depends on a variety of factors (including the chosen company) and:
The size of the diamond
The diamond's cut
The diamond's color
The diamond's clarity
The services the company offers (tracking, delivery, consultation, etc.).
Get A Quote
Are you thinking of ordering a cremation diamond to memorialize your loved one? Work only with the best and get a free quote for your special diamond here.
Our professionals are happy to answer any questions you may have and help you choose the perfect diamond that distinctly memorializes your loved one.