Eterneva Cremation Diamond Review
I've heard a lot of stories about people losing their one's and deciding to turn their ashes into diamonds.
One thing they always say is that the process of creating a diamond memorial helped them heal from the grieving process.
Recently I was very moved by Denise's touching story about her tragically losing her son, and the experience she had with the cremation diamond company, Eterneva.
For those thinking about creating a cremation diamond, Denise's personal story will give you a good idea about to expect.
We'll also give you some background information about Eterneva, why you should choose them, and how to get in touch with them.
Speak With Eterneva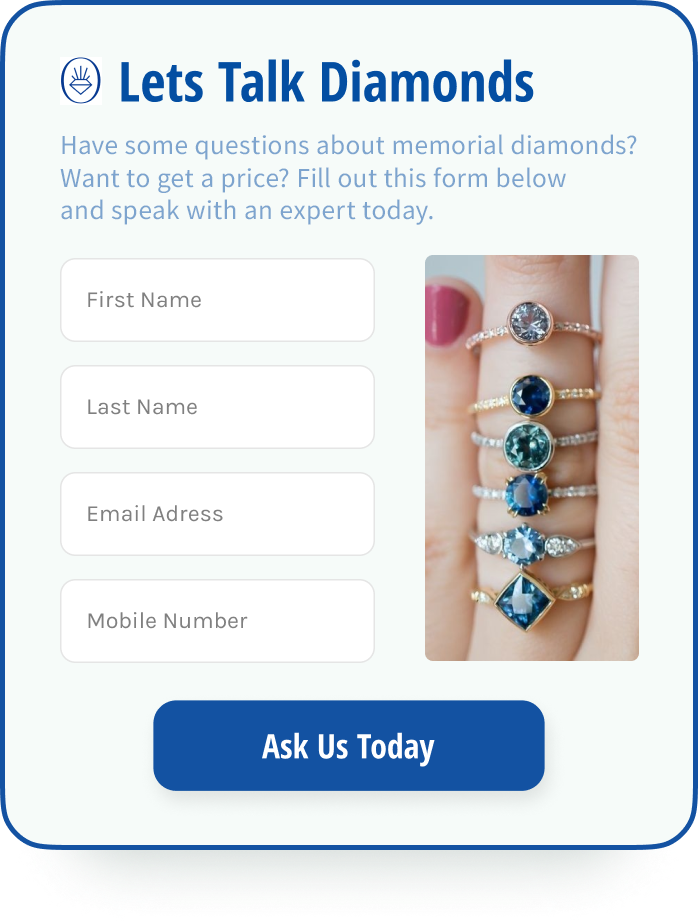 The Story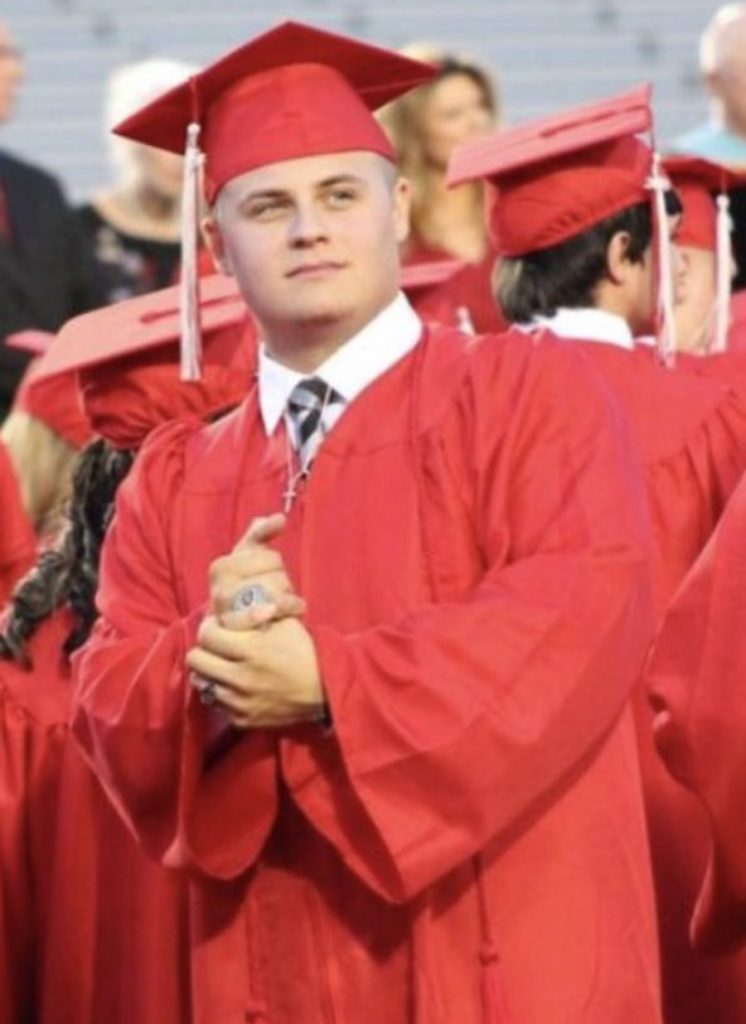 One month and eight days after Austin Gray graduated high school, he died in a tragic car accident.
For Denise, his mother, the event was shattering. He was her only child, and both of them were looking forward to the next phase of his life.
Denise couldn't fathom burying her son.
"A mother isn't supposed to bury their child," says Denise. So, she opted for cremation instead –- a first for her family.
In doing so, she began to search online for various ways to keep her son with her, and his memory alive.
"Austin always loved jewelry," says Denise. "From when he was little bitty. He always had a ring on, or a necklace."
Naturally she was driven to find various pieces of jewelry by which to honor him. First, she had his fingerprints imprinted on a ring.
Then, she found Eterneva –– a company that turns ashes into diamonds.
Denise called the company, and spoke with Jacob.
"Not only did Jacob want to talk to me about me, but he wanted to talk about Austin," says Denise. "He wanted to know who Austin was.
That impressed me. He wanted to know everything there was to know about Austin, and that made me happy."
Then and there, the decision was made. Denise was going to have some of Austin's ashes (Eterneva only needs half a cup) made into a diamond. So, the company sent her their welcome kit that includes video instructions.
"I never questioned sending a cup of my only child's ashes to them," says Denise. "From then on out, I knew every minute of the process. Jacob would send me a message, or call and let me know what was going on, what was happening."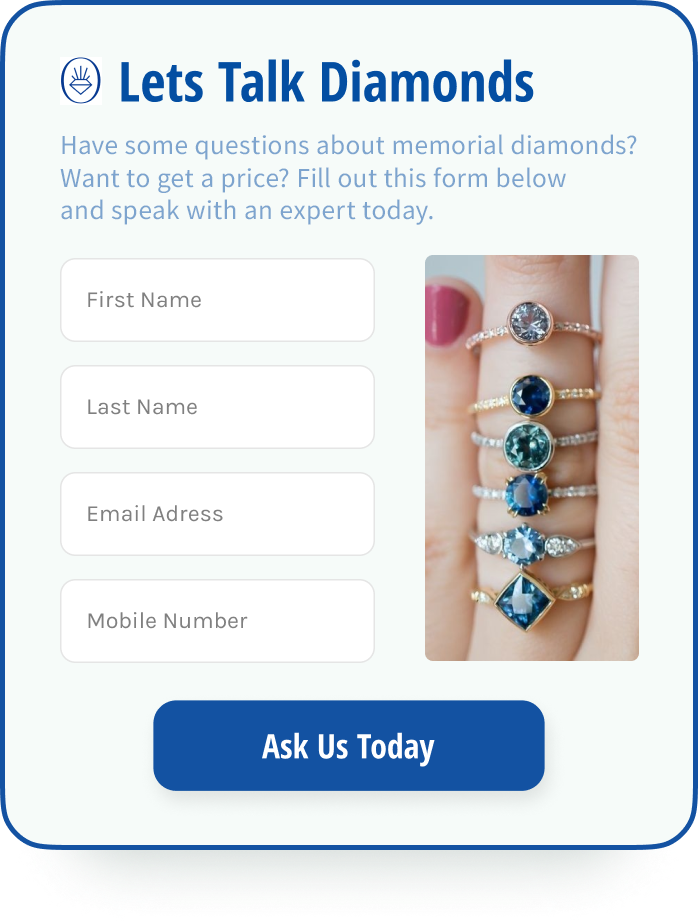 About Eterneva
So before I talk more about Denise's story, let me give you a bit of background about Eterneva.
Eterneva is a fast-growing company based in Austin. Their mission driven work has landed them on the cover of Inc magazine – the first ever funeral trade professionals to do so.
They've also been on Forbes 30 Under 30, landed investment from Mark Cuban on Shark Tank, and are now partnering closely with the scientific community to bring even more transparency to every single step of the process. 
This kind of transparency doesn't sit well with the mined and blood diamond industry, so beware anything from those organizations trying to educate you against the science of memorial diamonds. 
This is a very real way for folks to memorialize their loved ones, and begin a healing process for the next chapter of their life.

Cremation Diamond Process
What Denise is talking about is what separates this ashes to diamonds company from the other handful out there.
Eterneva was started after Adelle Archer, the company's co-founder and CEO, lost her business mentor, Tracey Kaufman.
Tracey was a VP in customer experience at an Austin-based technology startup, and in her mid-40s.
She was never married, and didn't have children, but she was incredibly close to the 4 or 5 folks she mentored.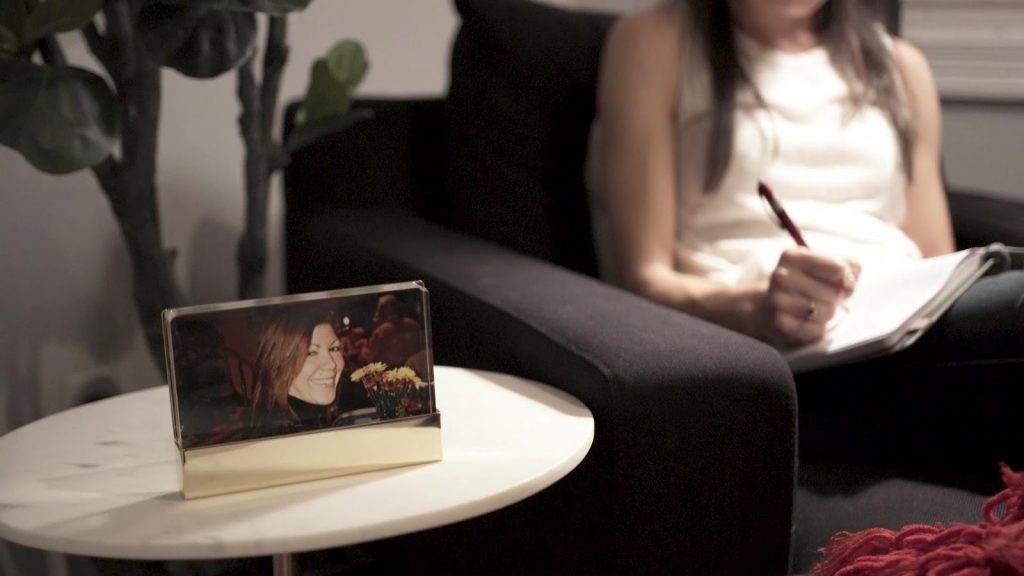 When she passed, she willed some of her ashes to each of them, one of them being Adelle. Adelle held on to those ashes for a year, trying to figure out what to do with them. When she ran across the ability to turn ashes into a diamond, she knew it was the perfect fit.
"Tracey and I used to joke that she would throw me down 'black diamonds' of business challenges long before I was ready," says Adelle. "So when I heard about ashes to diamonds, I knew I wanted a black diamond to honor her."
Adelle began the process with another company –– Eterneva didn't exist yet –– but found the experience to be lacking. It felt more like a transaction than it did a way to memorialize someone. Plus, Adelle still had questions about the process itself.
How can I be sure Tracey's ashes are in the diamond?
Is the ability to turn ashes into a diamond even real?
And, if both of the above are true, why aren't more people doing this?
Those questions, and Tracey's mentoring, led Adelle to track down the supply chain and have Tracey's ashes turned into a diamond.
It was the birth of Eterneva –– including the process and transparency that have them standing out between two traditional industries known for their lack of transparency: the funeral industry and the diamond industry.
The updates Denise got throughout her journey with Eterneva are the same ones Adelle got to see as she went through the process with Tracey's ashes.
Denise's Journey & Experience
Here is what that looked like for Denise.
Carbon Purification
The first step in growing a cremation diamond is extracting the carbon from the ashes.
For Eterneva customers, you can even have them send your loved one's cremated remains to TDI Brooks International, a world-renowned forensic chemistry and carbon analysis laboratory, to see the percentage of carbon left in your loved one's ashes.
On average, cremated remains contain 1-4% carbon, and only about 1 gram of carbon is needed to grow a diamond. With a 1/2 cup of ashes, there is more than enough carbon to grow a diamond.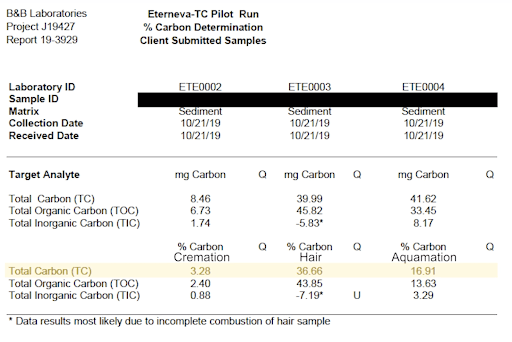 Denise didn't have Austin's ashes tested, so her first step was the transferring of the ashes to the purification crucible. Here is the picture Eterneva sent her for that.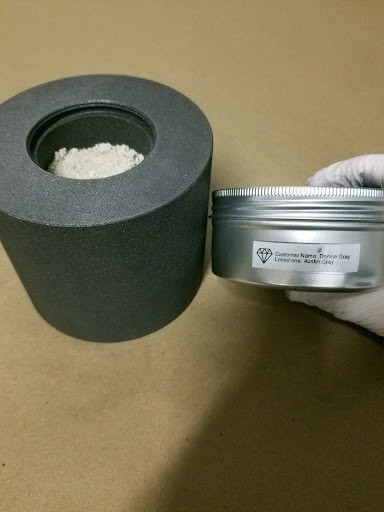 Then, once the crucible came back with only the carbon remaining, Jacob sent her a video so she could see everything just as though she were there.
This process takes about 6 weeks in total.
Cremation Diamond Growth
Now that the scientists have carbon, they can load that carbon into a diamond growth cell to grow the cremation diamond.
Eterneva employs two former aerospace engineers to run their memorial diamond lab in Austin, TX (which, yes, you can visit! Contact them here for a tour).
Here is the video Denise received of that process once it was all finished.
Denise didn't actually receive this video until the diamond was finished growing, of course. That process takes 4-6 weeks depending on the carat size someone wants. She did, however, get updates from Jacob throughout, letting her know when Austin's ashes were being put in the machine, and when they were ready to come out.
One important update Eterneva does during this time is they "inaugurate" the customer. This means that they tell their entire team and social media accounts about the person, who they were, and what made them so remarkable. This is Austin's inauguration.
Here is a message she sent back after the update:

Cutting & Coloring the Cremation Diamond
After the diamond comes out of the machine, Eterneva sends an update to show the rough diamond. Here was Denise and Austin's: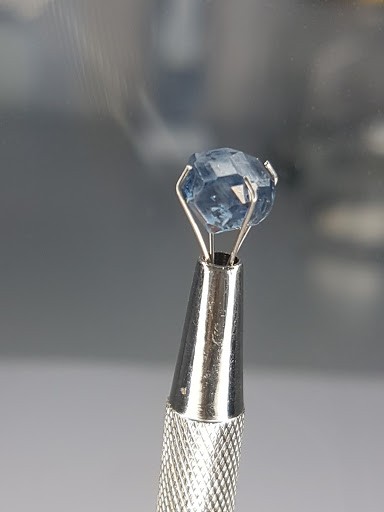 Then, the diamond goes on to be cut to the desired shape and colored more brightly. Here are the final pictures of Denise's diamond, which she received over text.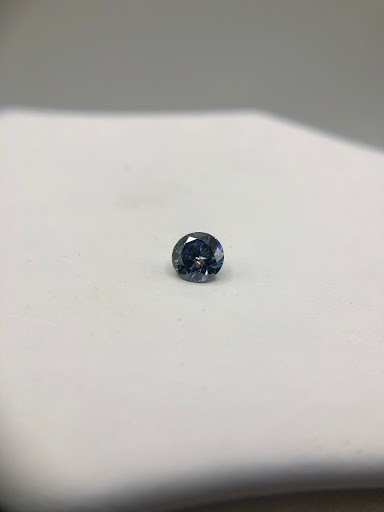 The Cremation Diamond Grading Report
Before the diamond goes home, every single Eterneva diamond is sent to a third-party diamond grading organization.
That report card is then sent home with the diamond so folks know exactly what it is they received. Eterneva uses IGI, the International Gemological Institute. The other well-known grading organization is GIA, though they only grade mined or blood diamonds.
Here is the report card Denise received: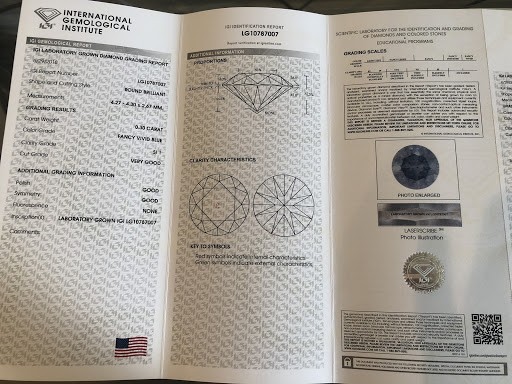 The Homecoming
At this point, Eterneva says that some customers like to have them set the diamond for them, which they can do. But Denise wanted to work with her local jeweler, so Eterneva didn't need to help her here.
Instead, their team started preparing for the homecoming. But Denise had other plans. She didn't want the diamond delivered. She wanted to drive to Austin, Texas and meet the team in person. And pick up her beautiful Austin.
The Tribute
Eterneva also offers to create tribute videos for their customers and their loved ones, at no charge.
"One of our biggest goals is to eliminate the second death," says Adelle Archer, co-founder and CEO of Eterneva. "The second death is when someone says your name for the last time. Remarkable people should always be remembered, and you don't have to be a celebrity or a politician for that to be the case. There are so many incredibly remarkable people living all around us all the time –– and their lives and stories deserve to be told."
These tribute videos send a team of videographers out meet the family and the friends, to learn more about who they are and who the person was, and celebrate the connection they all had.
This is Denise and Austin's Eterneva Tribute video: