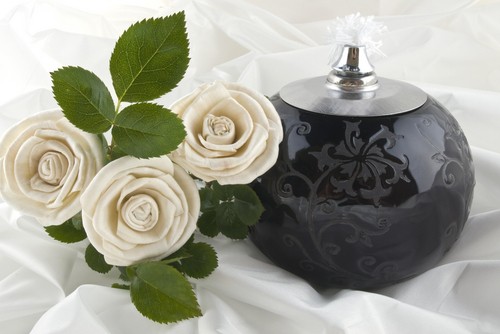 For someone you deeply loved, you might feel compelled to spend a lot of money on their memorial.
And this is understandable because you want to honor their life in a way they deserve.
But money doesn't show how much that person really meant to you.
Your loved one's memory deserves the very best that your heart has to offer.
Fortunately, there are many affordable cremation urns on the market that are worthy to hold the memory of your loved one.
We've created a list of the top low cost cremation urns for sale under $100.
Each urn has individually been selected based on the their design, quality, value for money, and overall customer satisfaction.
SmartChoice Classic Discount Cremation Urn
This urn has a simple and classic look, that can be displayed with pride in any home.
For a small added price, an engravable urn plate can easily be added for more personalization.
The urn comes in a selection of seven beautiful colors, ranging from classy silver to deep, bold blue to sweet and feminine pink.
Some have found that the silver selection matches well with pewter items in their home.
A velvet storage bag is also included in the price.
Memorials4u Elite Cloud Blue and Silver Urn
The eye-catching pattern of cloud-like blue against a darker blue, adorned with delicate silver engraving, makes this urn one that you'll be proud to display.
It is constructed of metal with a shiny lacquer to give it a brilliant luster.
It's crafted through an ancient and unique process called sand casting.
The memorial comes with a 100% satisfaction guarantee.
Wings of Freedom Discount Brass Cremation Urn
This beautiful brass urn will give you comfort as you imagine the soul of your loved one flying free with the wings of a dove.
The birds are proudly hand engraved on the front and back of the urn, as are the intricately detailed decorative borders.
The quality of the brass ensures that this urn will stand the test of time.
Chateau Society Burl Wood Urn
The smooth and elegant appearance suggests an expensive hardwood urn.
You can be proud to display this burl wood finish over medium-density fiberboard anywhere.
The look of natural wood is emphasized by a smooth black edge.
A sliding panel along the bottom affords easy access when filling the urn with remains.
There is ample room to include special belongings or mementoes along with the ashes.
Bogati Large Economy Wooden Box
This affordable urn is by no means a compromise on quality.
It's crafted from sturdy catalpa wood.
This memorial is best suited for small adults, weighing 170 pounds or less before cremation.
The urn is lightweight but sturdier than it feels.
Classic Aluminium Cremation Urn
This is a beautifully simple urn in a shade of pure, ethereal white to honor a pure heart.
An engraving plate can be ordered separately if you wish to add more detail.
One advantage of this discount urn is its generous size. It's a large urn, so no need to worry that your loved one's remains won't fit.
Roman Angel Memorial Urn
The memorial resemble a stone statue with a classic angel reclining next to it.
An inspirational quote states that you and your loved one are still together in spirit.
The urn will offer comfort whenever you look at it as you think about your own departed angel.
Be aware that the urn is small and works best with the remains of a small adult.
Mulberry With Silver Band Cremation Urn
A rich deep purple shade and a hand carved silver design on the band are a gorgeous combination for this budget but beautiful urn.
It has a brilliant shine due to its metal construction and smooth lacquered finish.
A sturdy base means you never have to worry about it tipping over.
Forever Remembered Classic Blue Urn
This sturdy urn is strikingly designed with swirls of deep Mediterranean blue on a darker blue background.
It can fit the remains of any person up to 200 pounds.
Hand carved silver etchings of leaves adorn a band around the top and the base.
Perfect Memorials Fancy Flourish Urn
This is an aluminium urn which gives an appearance of stately elegance.
It's dignified dark-gray hue is lightened by the delicate hand-painted design.
It has ample space to fit the remains of a human of any size.
The beauty of this urn will more than do justice to your loved one's memory.
Bogati Hand Carved Rosewood Urn
This is a traditional wooden urn with a subtle hint of elegance, at a discount price.
It's carved from soft rosewood with a delicate border around the edge.
Felt pads on the base mean that the urn can be displayed without harming your furniture.
It comes in four sizes. The large size will easily fit the remains of a large adult.
NWA Budget Solid Brass Urn
Another excellent quality brass urn, this one comes in a smooth pearl white finish with majestic gold details.
Personalization with your loved one's name and relevant dates can be added at no extra charge, printed in black lettering.
In addition, you will find that NWA has excellent customer service.
They are sensitive and accommodating if you have to contact them for any reason.
Affordable Keepsake Jewelry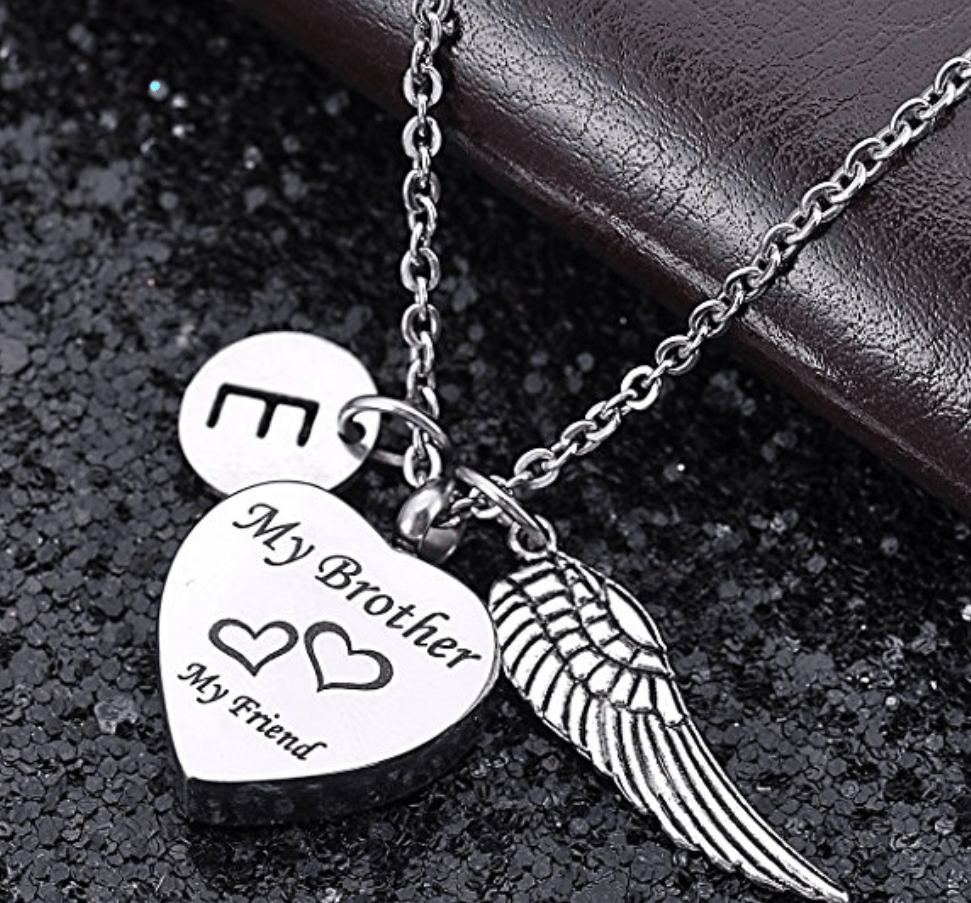 Jewelry allows you to keep your loved one close to your heart.
You will always be reminded of their presence in your life.
It's also beautiful and very affordable too.
Below are some popular styles, ranging from minimalist to ornate, and from bold to delicate.
Angel Wing Charm Keepsake
This is a stainless steel heart pendant with a delicately textured angel wing nestled alongside it.
It can be personalized with a tiny charm containing your loved one's birthstone crystal.
A quote is inscribed on the heart pendant, reminding you that your loved one's memory lives on forever.
The tiny chamber can be used for a small pinch of ashes, a lock of hair, or a bit of dirt from the gravesite.
Always In My Heart Necklace
A stone of delicate purple glass has the words "Always In My Heart" laser engraved from the inside to last forever.
It comes with a velvet bag and an 18-inch chain.
The setting and chain are both made of hypoallergenic stainless steel.
Minimalist Bar Urn Pendant
A marvel of simplicity, this lovely bar urn pendantwill keep your loved one's remains secure within.
It's made of stainless steel, guaranteed not to tarnish or fade.
A small rhinestone heart at the base of the pendant adds the smallest touch of sparkle to this classic bar style.
The design is so simple that it can be worn with pride by either men or women.
Double Heart Rose Gold Necklace
A sturdy stainless steel heart pendant encloses a smaller heart of delicate rose gold, symbolizing both the strength and tenderness of the bond with your lost soul.
It comes with a funnel filler kit to easily place ashes inside.
It is durable and comfortable enough to wear every day.
Forever In My Heart Keepsake
This charming heart-shaped pendant comes engraved with the family relationship that you wish to honor: Dad, Mom, Grandma, Grandpa, Daughter, Son, Sister, or Brother.
It is "green" jewelry, which has no ill effects on your body.
A blue velvet bag comes with the necklace.
The tarnish is tough and durable, guaranteed not to fade.