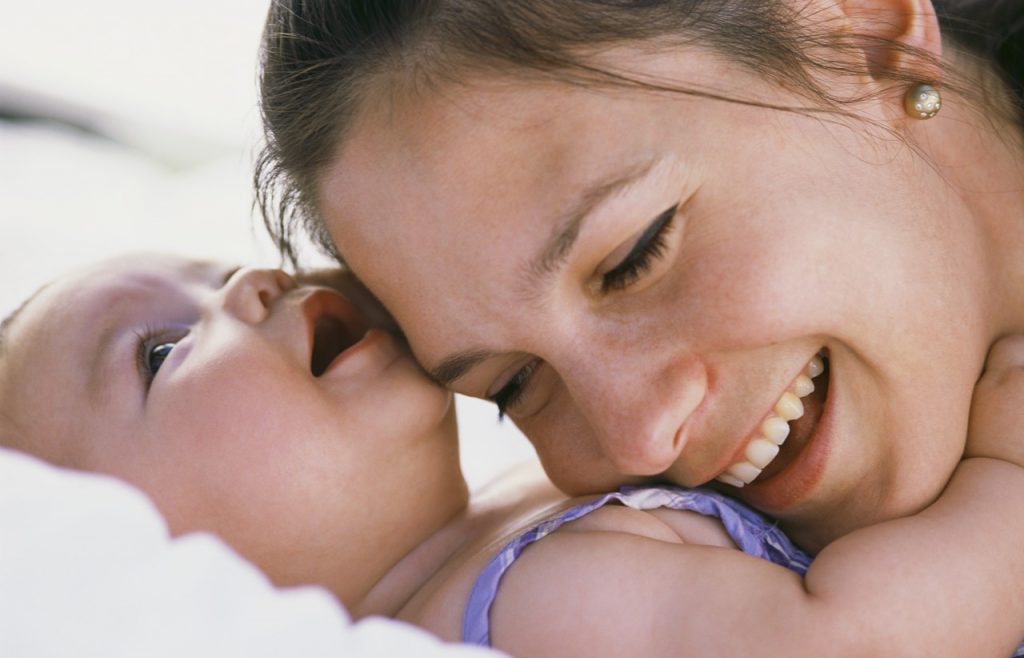 It's the one purchase that you never wanted to make.
But although your plans have changed, he or she still lives on as your child forever.
A beautiful baby urn or some lovely jewelry can be a healing way to keep their memory in your heart.
Below we've listed some of best urns and jewelry to choose from.
The Teddy Bear Infant Cremation Urn: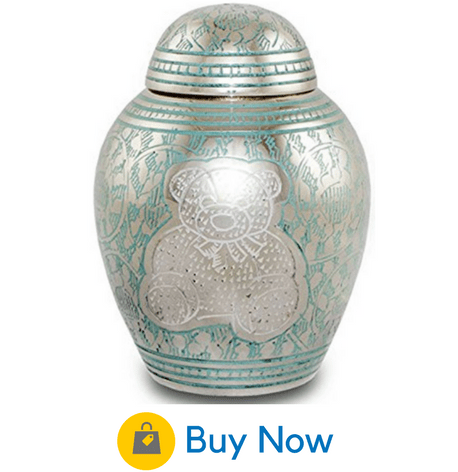 A teddy bear, that comforting and universal symbol of childhood.
The design
It's beautifully hand-etched in pink and white onto the urn by Indian artisans.
The nickel-plated blue finish gives it a look which is metallic yet delicate at the same time.
A threaded lid allows easy access as well as a secure closure for your baby's ashes.
The urn is attractive enough to display anywhere in your home.
Where to buy
For more information about the urn and to purchase, visit the OneWorld Memorials store.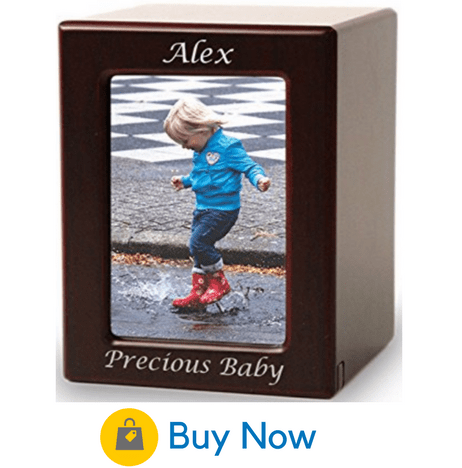 What's nice about this urn is that it doesn't really look like an urn at all, just a nice framed photo.
But you will know that your baby's ashes are resting safely inside, close to you always.
How to store the ashes
A sliding panel easily opens to hold the ashes, and a twist-tie bag makes it a safe place for storage .
Made of tough fibreboard, this photo urn is certain to stand up to the test of time.
How to buy
You can find out more at their Amazon store.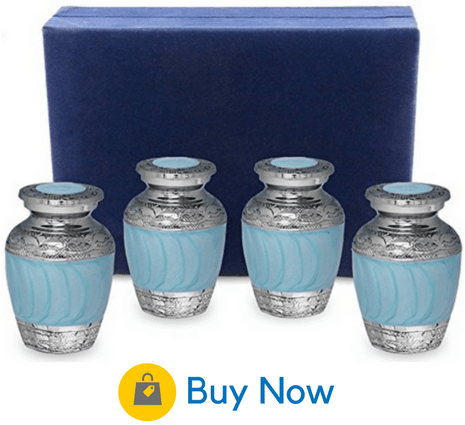 This set of four tiny brass urns are perfect if you want friends or family members to have a keepsake of your little one.
The design
Made of baby blue enameled brass, each urn can fit in the palm of your hand and fits just a tiny amount of ashes.
Other small mementos such as a lock of hair could be placed inside instead.
Each urn comes with its own small velvet bag for safekeeping.
Where to buy
Check out this Amazon store for more information.
Urns for Baby Boys
These urns are just right for celebrating the unique boyish personality and promise of your little one.
Meilinxu Baby Urn: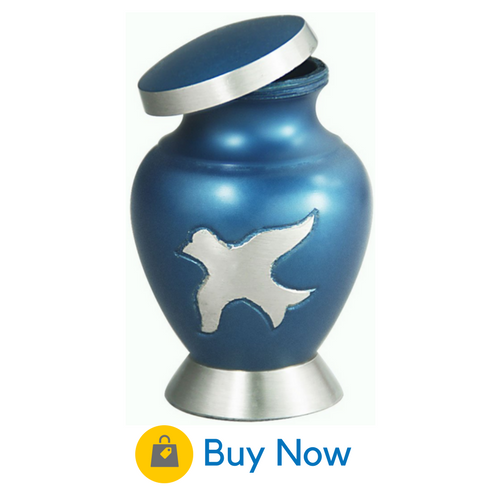 This mini-urn is finely crafted in solid blue bronze with a beautiful hand-carved design of white birds.
Secure lid
The threaded top screws on so that you can feel secure that your baby's ashes will rest safely.
Felt along the bottom protects your furniture, so that you can display the urn in your home without damage.
A black velvet box is included for display or storage.
Where to buy
More details are available at Meilinxu's online store.
Angel Cremation Urn: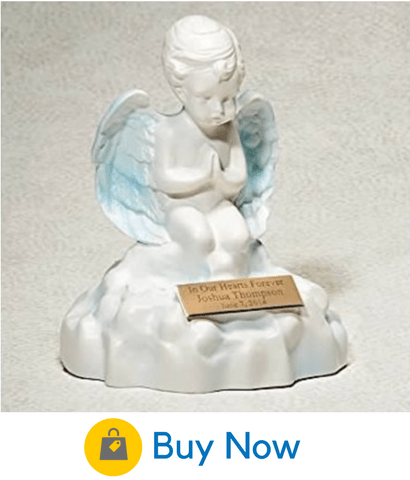 This beautiful statue made of simulated marble displays an angel on a cloud.
It's a traditional and comforting image for anyone mourning the loss of a child.
A faint blue tinge to the wings gives the angel a boyish look.
Personalizing the statue
The urn comes with a 3×1" metal plate which can be engraved with your baby's name, dates, along with a meaningful quote or saying.
Where to buy
Details can be found Infinity's Amazon store.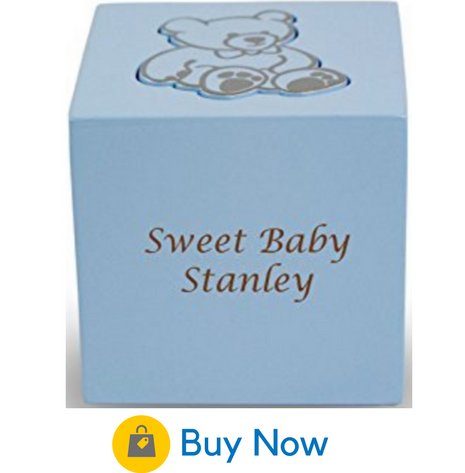 This urn is as simple and sweet as childhood itself.
The design
It's a basic blue cube picturing a teddy bear at the top.
It's made of wood, just like the old-fashioned building blocks your baby boy might have enjoyed playing with.
Personalize the urn
You also have the option of getting your baby's name engraved on the box.
Placed in your living room, it can add that element of simple, childish fun that your little boy would bring if he were here.
How to buy
Check out the urn at their Amazon store.
Urns for Baby Girls
Honor all that was sweet and feminine about your baby girl with these urns.
Pink Butterfly Baby Urn: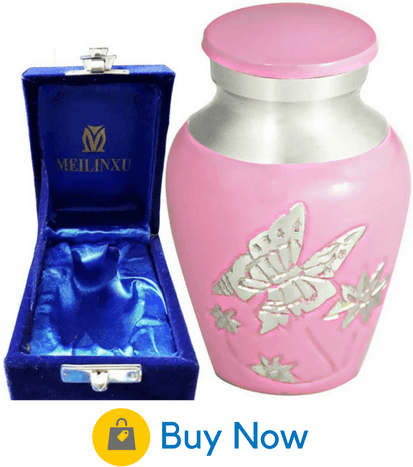 This urn is crafted in brass, and sturdy yet delicate at the same time.
The design
A design of hand-engraved butterflies will comfort you as you imagine the spirit of your baby girl flying free in nature.
It comes with a velvet box, convenient for packing or storage.
Very small size
Only 2.55 inches tall, this tiny urn is sometimes bought in multiple units so that ashes can be shared among loved ones.
Where to buy
Check out their product store for more details.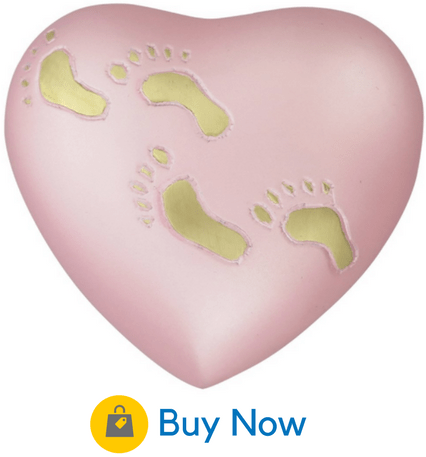 This is a delicate, heart-shaped urn in a tender shade of baby pink.
The size
At only 3 x 1.5", it can easily be kept next to your bed or in your purse for a constant, tangible reminder of the life of your little girl.
It comes with a velvet box at no extra charge.
The design
Four gold footprints represent the tiny footprints she left on your heart.
It's crafted in brass, and is certain to look beautiful forever.
Where to buy
You can find more details at their store.
Baby Memorial Jewelry
Jewelry is a wonderful way to memorialize your baby by wearing him or her close to you wherever you go.
Here are some options that are fitting to honor your baby's memory.
"Always in my heart" Keepsake Necklace: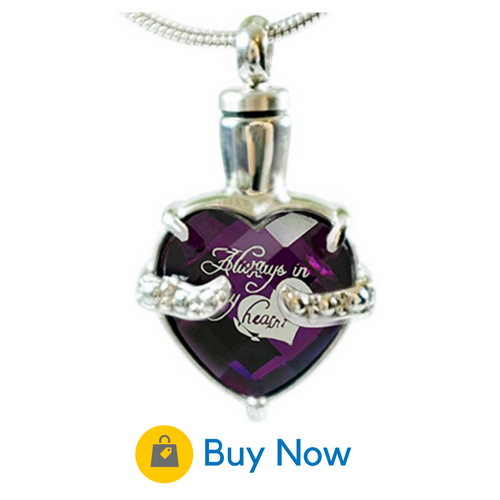 This is a durable but elegant pendant that allows you to wear your baby's ashes near your heart every day.
The design
The vivid purple shade of the stone honors the vibrance of the love for your child.
The words "Always in my heart" are etched inside the stone.
What's included
It comes with a velvet bag, a strong but beautiful chain, and an easy-to-use fill kit.
The pendant and chain are both hypoallergenic and will not irritate your skin.
How to buy
You can find more details at the Infinity Keepsakes online store.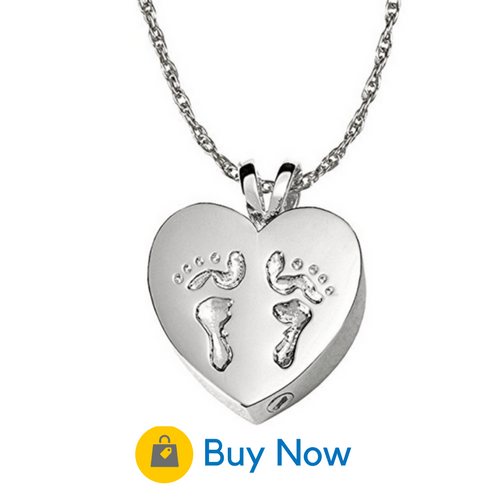 Made of the finest sterling silver, this is the pendant to go with if you want a small remembrance of the very highest quality.
Quality workmanship
The precision closure is tiny, discreet, and secure.
A sterling silver chain and a filling kit are included.
A sweet imprint of baby feet are a beautiful tribute to the short life of your baby.
How to buy
Visit their online store for more information.
Love You To The Moon Necklace: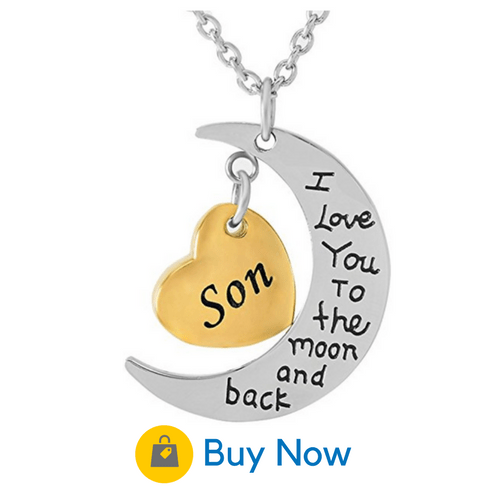 This stainless steel pendant is sweet and beautiful piece of memorial jewelry.
The design
It's shaped like a crescent moon that encloses a heart.
Talking to your son, it has the words "I love you to the moon and back."
Small keepsake
The ashes can be secured inside with a screw and a rubber gasket.
It comes with a gift box and card, so it can easily be given to a friend or loved one who has lost a child.
Where to buy
The best place to purchase this necklace is on their Amazon store.