Nationwide Pet Insurance: The Right Choice For You?
[adinserter name="Native Ad Top"]
As part of our research into the pet insurance industry, we decided to take a look at the largest provider in the US.
And that of course is Nationwide Pet Insurance.
Nationwide also insures birds and exotic animals, such as ferrets, guinea pigs, goats, snakes, and rabbits, just to name a few.
With their rapid expansion throughout North America, we decided to review this company in detail.
In this article you will learn about Nationwide plans, coverage, costs, customer satisfaction, and a lot more.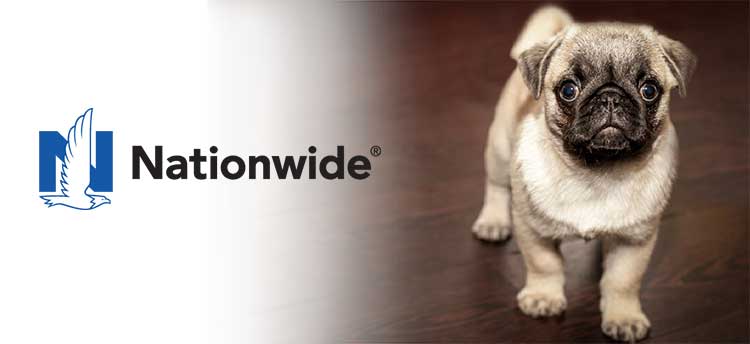 About Nationwide Insurance
Nationwide is the number one pet insurer in the United States. With more than 2 million claims processed since 2018 and more than 700,000 animals insured at any given time.
They provide both wellness and medical coverage in one plan, which is rare among the policies offered in the pet insurance industry.
How Does Nationwide Insurance Work?
With Nationwide Insurance, you are free to use any vet. You don't have to change just to find a vet that accepts your insurance.
After you see the vet and pay the bill, you submit your claim to Nationwide. In other words, you pay the bill up front and Nationwide reimburses you if they determine that you qualify.
Choosing a plan
You can choose from two types of plans – a percentage of invoice or benefit schedule. The percentage of invoice reimburses you a percentage of the cost of services (up to 90%).
The benefit schedule reimburses you a set amount according to Nationwide's schedule, regardless of how much you paid.
There is a slight downside to the benefit schedule since you are at the mercy of what
Nationwide considers 'reasonable' for the service. If you see a vet that charges high prices, you may only get a small percentage reimbursed.
Reimbursements
Keep in mind that Nationwide will only reimburse you for the covered charges minus any deductible you're responsible to pay.
If you file the claim online, you typically receive reimbursement within a matter of days unless Nationwide underwriters need more information.
The Highlights
Offers pet insurance for more than just dogs and cats (exotic animals are included)
Process claims within 30 days (typically happens much faster)
You can submit claims yourself (app or online) or the vet can submit them for you
Offers plans with complete coverage (illness, injury, and wellness)
Offers plans just for injury or illness
Offers a variety of deductible plans starting at $250
Coverage Plan Levels
Nationwide offers three levels of pet insurance:
Whole Pet with Wellness
This is the 'cream of the crop' at Nationwide. It covers wellness, injury, and illness.
This includes annual exams, vaccinations, sick visits, lab tests, surgery, medications, hospitalization, and chronic conditions. It also includes preventative medication to fight flea and heartworm.
Major Medical
This covers the 'unexpected' issues you come across with your pet, including injury and illness. It covers exams (not wellness exams), lab tests, surgery, medications, hospitalization, and chronic conditions.
Pet Wellness
This strictly covers your pet's well visits. It covers the exam, vaccinations, and cost of preventative flea and heartworm medication.
Both Whole Pet with Wellness and Major Medical cover 'most' major issues that your pet could experience. The Major Medical plan does limit the coverage on certain conditions, such as ACL, cherry eye, collapsed trachea, elbow or hip dysplasia, and juvenile cataracts.
The Whole Pet with Wellness plan provides 90% reimbursement after you pay your deductible with no limits. The Major Medical plan has limits and has a defined amount for each injury or illness. If you exhaust that benefit for the year, you can't access it again until the following year.
What is Excluded?
Nationwide, like any other pet insurance company, has some exclusions. While they do keep it to a minimum, they have to exclude certain issues in order to keep the insurance affordable.
Pre-existing conditions – Most pre-existing conditions are excluded from coverage with Nationwide unless you have proof from your vet that your pet is completely cured of the issue. After six months, the pre-existing condition may be covered.
Congenital anomalies and development disorders – Whether your pet had a disorder he/she was born with or your pet develops a disorder due to poor development, coverage may be limited or non-existent.
Hereditary disorders – Any illnesses or issues your pet inherited from his/her parent may have limited coverage. The type of disorder, as well as the plan you choose, determines whether you have coverage.
Knee injuries – If your pet experiences a knee injury within the first year of coverage, it won't be covered. After one year, however, the injury may be covered.
Grooming – Any type of bathing, clipping nails, or other types of grooming aren't covered under any plan.
Behavioral training or therapy – Unless you have the Whole Pet with Wellness Plan, behavioral therapy even if prescribed by your vet isn't covered.
Each plan has its own restrictions as well, which you can see in detail here.
Costs
Nationwide's two plans have vastly different costs:
Whole Pet with Wellness premiums start at $64
Major Medical premiums start at $22
The actual cost of your premium will depend on a variety of factors:
Breed/type of animal
Age of animal
Health history of animal
The area you live
The amount of your deductible
Nationwide underwriters look at the risk of you filing a claim for your pet for a major injury or illness. The higher the risk, such as occurs with pets with long medical histories or older animals, the higher the premiums become.
Just like with your own health insurance, the higher the deductible that you choose, the less you pay in premiums. Just keep in mind that you're on the hook for the amount of the deductible before Nationwide will reimburse any portion of the vet bill.
Submitting a Claim
Nationwide makes it easy to submit a claim. You can do it online, following the prompts and completing the process in a matter of minutes.
If you prefer to complete the form on your own, download the form and complete the following information:
Vet diagnosis
Clinic name
Invoice total
Provide copies of the treatment records from the vet
Provide copies of the lab results
You can track the status of your claim on the Nationwide Pet Account Access page. Just click on 'View Claims History' to see the status.
Pros & Cons
Pros:
You can get coverage for more than just cats and dogs. Nationwide is one of the few insurance companies that will insure exotic pets.
Some plans don't have maximum coverage, which gives you more flexibility when filing claims.
You can submit claims instantly on your smartphone or computer and track them in real-time.
Nationwide offers a variety of plan options that fit all budgets.
You can get a quote online in a matter of minutes.
Cons:
There is a  14-day waiting period for both "Whole Pet with Wellness" & "Major Medical" plans.
There's a 12-month waiting period for ACL surgery.
The Major Medical Plan (the more affordable plan) has limits that may or may not reach the true cost of your veterinary care.
Nationwide pet insurance isn't available in all states.
Premiums increase as your pet ages.
Nationwide Insurance Customer Reviews
As with any service, there are both positive and negative customer reviews. We'll highlight the reviews for both categories below.
Positive Reviews:
Many pet owners state that Nationwide is transparent with their coverage as long as you read the fine print.
Pet owners claim that Nationwide is fast with their claims processing and they deliver the reimbursements they promised.
Some pet owners claim that it's even easy to re-submit a denied claim if you just call the Nationwide customer service – they'll walk you through it. Sometimes it's just about a missing document that you need to provide.
Many pet owners state that it is great insurance for preventative care, as many insurance companies don't provide this coverage.
Negative Reviews:
A majority of the negative reviews have to do with issues not being covered. Many pet owners simply didn't read the fine print or ask the right questions before purchasing the policy.
Many pet owners claim that the premiums increase at a faster speed than they can afford as their pet aged. Some claimed that they don't even know why their premiums increased – that Nationwide based it on proprietary information.
Some pet owners claim that it's hard to fight the pre-existing condition exclusion and that Nationwide lumps just about anything into that category to not pay the claim.
Many customers claim that Nationwide adds exclusions to your future renewals. In other words, something that wasn't excluded this year may be an exclusion next year based on your pet's health at the time.
FAQs About Nationwide
How long do Nationwide pet insurance claims take?
Nationwide processes claims within 30 days, but they typically reimburse clients much faster. They will respond with either a reimbursement, request for more information, or reason the claim was denied.
If Nationwide needs more information, it's up to you to provide that information quickly. The faster you respond with the right information, the faster you'll receive your reimbursement if it's approved.
Does Nationwide pet insurance cover vaccinations?
Some Nationwide plans do cover vaccinations, but they must include wellness coverage. The Whole Pet with Wellness and Pet Wellness plans both cover vaccinations. The Major Medical plan does not cover vaccinations.
Does Nationwide cover exotic pets?
Nationwide is one of the only providers that offer coverage for exotic pets. This includes birds, rabbits, goats, reptiles and rodents. The insurance covers the same issues it would cover for a dog or cat, giving exotic pet owners peace of mind.
Does Nationwide cover hip dysplasia?
This is a yes and no answer. Yes, they cover it after a 14-day waiting period (you must wait 14 days after you start the insurance). They do have ways to exclude it though. If your pet has any bone or joint conditions, fractures, or other issues that may cause hip dysplasia, it may not be covered.
Do I need to show pre-existing conditions?
If your pet has an issue before enrolling in insurance, it may be excluded from coverage. The only way around it is if your vet can prove that the pet has been cured of the issue for at least six months.
Does pet insurance cover cremation?
Some pet insurance companies do cover cremation under certain plans. Read the fine print and ask the insurance company about the possibility of this coverage. Some companies cover the cost of euthanasia but not cremation while others offer coverage for cremation, but not euthanasia.
Is pet insurance cheaper if the pet is neutered?
Insurance rates may be cheaper for pets that are neutered or spayed because of the lower risk they cause. It may seem strange, but pets that aren't neutered have a higher likelihood of straying from the home.
When animals are always from home, they have a higher likelihood of contact with other animals.
This more frequent contact puts your pet at risk for diseases and illnesses that he/she may otherwise be less prone to if staying at home. Neutering or spaying your animal helps keep him/her healthy as well as ensure lower premiums.
Should you choose Nationwide Insurance?
Whether or not you should choose Nationwide Insurance depends on your needs. If you are going to choose the Major Medical plan, be ready for numerous exclusions.
If, however, you can afford the Whole Pet with Wellness Plan, it may be worth your while. This is the plan Nationwide pushes and provides the most/best coverage for your animals.
As you should with any service, shop around before choosing pet insurance. Each policy has different exclusions, reimbursement levels, and requirements.
Look at the policies side-by-side to decide if Nationwide Pet Insurance is the best option for you or if there is better coverage that may suit your animal better.