Pet Insurance Review 2023: Which Provider Should You Choose?
Your pet is a part of your family.
Chances are that you have insurance on you and your family, right? But what about your pet? Will you be able to withstand an emergency with your pet's health?
In this in depth guide, I go through everything you need to know about Pet Insurance.
I take a look how it works, what is covers, the benefits, and which providers are the best on the market.
Is Pet Insurance Worth It?
Buying the right pet insurance may help you defray the costs of expensive veterinarian care while giving your pet the ultimate care he/she needs.
While most insurance plans require you to pay the bill up front, you'll get reimbursed for the covered portion of the bill, making it more affordable.
Just what can pet insurance do for you? Just like your own health insurance, it helps protect you financially.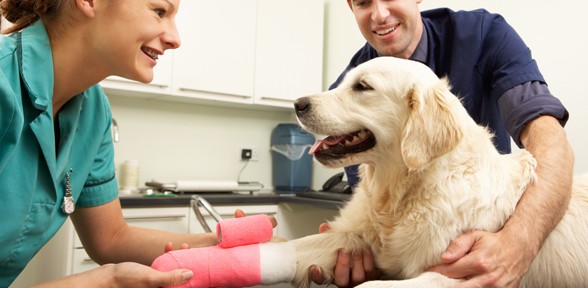 The Benefits
It's no secret that veterinarian healthcare is expensive, especially when it's an emergency. If you want a way to protect yourself from large unexpected costs, pet insurance is the only way.
You'll have peace of mind knowing that even if something major happens with your pet, you'll have the financial backing to get him/her the care needed.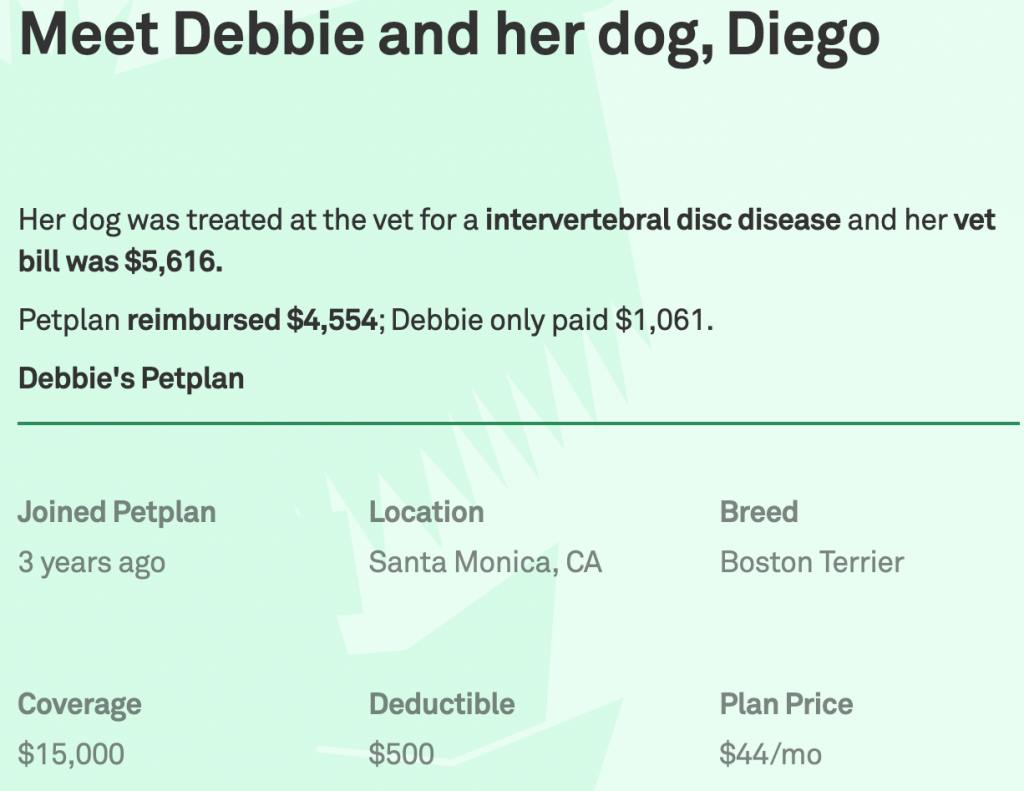 In most cases, you can pick any veterinarian for your pet – you aren't restricted to a network or PCP like humans are, which gives you the freedom to choose the vet that offers the highest quality care.
You'll also save money in the long run. Like any insurance policy, you'll have a deductible, but once you meet it, insurance policies typically cover as much as 80% of the remaining costs.
When we are talking thousands of dollars in vet bills, you'll realize a significant savings.
How Does Pet Insurance Work?
Pet insurance works a little differently than our medical insurance.
Because you get the freedom to choose any vet, you will front the cost of the bill. You then file a claim with your insurance provider, sending them the bill for the services.
The insurance company reviews the claim and if approved, refunds you the applicable portion of the bill.
Many pet health insurance companies have apps that allow you to take a picture and upload the bill instantly. You typically have an answer on the claim within a matter of a few days and have reimbursement within 7 to 10 days.
How much you receive depends on the type of plan. The most important factors are:
The deductible amount – This is the amount you owe before insurance will pay anything. Typically, you have an annual deductible, but some policies also have a per-incident deductible – read the fine print carefully.
Percentage of coverage – Each policy covers a different percentage of the claim. The higher the percentage, the less you'll owe for the medical care. Most policies offer coverage between 50% – 100%. The higher the percentage of coverage you have, the higher the insurance premium becomes.
The maximum coverage – Each policy has a limit or the maximum amount they'll cover, typically on an annual basis. If you reach that maximum, you are responsible for 100% of the charges exceeding that amount.
What Does Pet Insurance Cover?
Pet insurance is meant to help with the costs of unexpected pet illnesses and injuries. In other words, the costs you didn't plan for but would do anything to protect your pet.
Most pet insurance plans cover unexpected accidents (dog swallows a toy and needs surgery), hereditary illnesses, chronic illnesses, and chronic physical conditions.
Each policy covers and excludes different things, so always know the details of the plan.
The Types of Pet Insurance Plans
Each insurance company offers different types of plans, but here is a broad explanation of most plans:
Accident only plans
This provides coverages for those crazy accidents that you can't believe happened to your pet.
Whether your dog swallows a sock, gets in a fight with another dog, or jumps off the couch and breaks a leg, these issues would fall under the accident-only plan.
Accident and illness plans
Most commonly chosen. In addition to the above accident issues, accident and illness plans cover common illnesses, allergies, diseases, and other physical issues.
It covers the unplanned visits to the vet – not your annual visit, but those 'sick' visits when your pet just isn't right.
Insurance with embedded illness
This coverage goes above and beyond the accident and wellness plan. If you want coverage for your pet's preventative care or overall wellness, such as dietary consultations, preventative medications (flea & tick and heartworm medication), it would fall under this category.
Endorsements
This adds on specific coverage to your basic policy. For example, if you want protection for cancer- it may be a separate policy you 'add to' your pet's policy.
Some insurance companies also offer a wellness endorsement that helps cover the cost of wellness care.
This is a broad example of the plans insurance companies may offer, but each company has different levels of coverage too. It's important to know not only what's covered, but at what percentage too.
What's Excluded?
Each insurance policy differs, but overall, most policies won't cover:
Annual wellness visits – Visits for your pet's annual vaccinations and a regular checkup typically aren't covered unless you have a wellness endorsement.
Dental visits – Getting your pet's teeth cleaned, treating gum disease, or pulling teeth are common exclusions.
Preexisting conditions – Any documented conditions your pet had before the effective date of your insurance is typically not covered. This prevents pet owners from waiting until their pet is sick to buy insurance and is why it's important to get insurance as early as possible in your pet's life.
Hereditary conditions – Some policies exclude specific conditions that could have been passed down from the pet's parents. Each policy states its exact exclusions, so know the details and if your dog is susceptible to them.
Hip dysplasia – Some companies don't cover hip dysplasia or require you to purchase the insurance by a specific age before they'll cover the issue as it's often a breed-specific issue that is quite common.
It's important to know all conditions of the insurance before buying a policy. You should also know the illnesses and issues your pet's breed is susceptible to in order to ensure you have adequate coverage.
What Affects Your Premiums?
Like most insurance policies, your pet insurance premium is dependent on a variety of factors including:
Amount of your deductible – The higher the deductible you take, the lower your premiums become. A deductible is your portion of the bill that you'll cover. The higher the percentage that you'll cover, the less risk the insurance company has of paying out a claim, which results in lower premiums.
The maximum coverage – Some policies allow you to choose the amount of coverage you receive (max coverage). If you opt for a lower maximum, your premiums may be lower because the insurance company has to pay less money out for each claim.
Type of coverage – The more comprehensive your coverage is, the higher the premiums become. In other words, the more the insurance company has to cover, the more they are going to charge you on a monthly basis.
Type of pet/breed – Insurance companies base their premiums on the type of pet (dog, cat, etc.) as well as the breed. Certain breeds are at higher risk of certain illnesses or injuries which causes the premiums to increase. Some breeds also have shorter lifespans or more complicated health histories, which cause premiums to rise.
Location – Where you live also affects your premiums. Typically, the more populated your area, the higher the premiums you will pay.
Pet Insurance Costs
As we discussed above, the amount you pay for pet insurance varies greatly based on factors pertaining to both you and your pet.
On average, though, expect to pay around $50 a month, with plans ranging anywhere from $10 per month to more than $100 per month.
If you choose accident-only insurance, you'll pay much lower premiums (closer to the $10 range) versus accident and illness insurance, which will be closer to the $50 per month range. Your chosen deductible and coverage will also determine how much it costs.
Best Pet Insurance Plans
As you can see, you have many options when choosing pet insurance. Just like human health insurance, you want to know you're buying coverage from a reputable company.
There's nothing worse than finding out in the midst of a crisis that your hard-earned money paid for your insurance premiums doesn't pay off when you need it the most for your pet.
Below we cover the best pet insurance companies for you.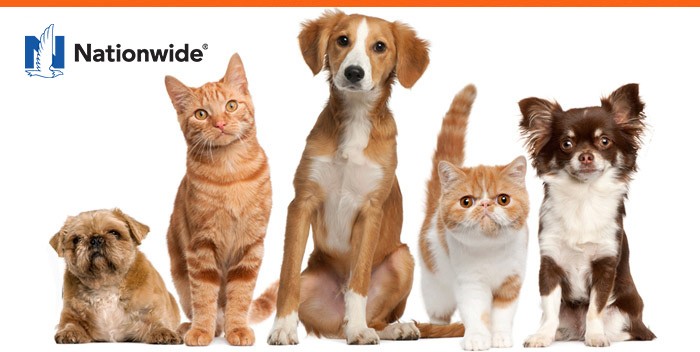 Nationwide offers pet insurance for both dogs and cats, and sometimes even other animals.
With plans starting at just $35 per month and with the ability to choose any vet, it's easy to see why this is one of the most popular pet insurance companies.
Nationwide offers three types of plans:
Whole Pet with Wellness – This covers accidents, illnesses, diagnostic tests, prescriptions, chronic and hereditary conditions, and wellness
Major Medical – This covers accidents and illnesses including hospitalization, tests, surgery, chronic conditions and most hereditary conditions
Pet Wellness – This is coverage specifically for preventative care
Nationwide makes it easy to submit claims via your smartphone or online. You can track the status of a claim and they typically send reimbursements within 30 days (funds usually arrive between 5 and 15 days). You have 90 days from the date of service to submit a claim.
Nationwide has a 14-day waiting period for both Whole Pet With Wellness and Major Medical plans. They have a 24-hour waiting period for the Wellness plan.
Read the plan details for specifics regarding exclusions and waiting periods as certain specific factors may alter these waiting periods.

PetPlan provides insurance for dogs and cats 6 weeks and older and they don't deny coverage for pets over a certain age. PetPlan allows you to visit any licensed vet in the United States. You then send your claim in via mail, online, or the app and wait for reimbursement.
PetPlan doesn't cover pre-existing conditions, wellness, and elective procedures, but they offer comprehensive coverage that includes the following:
Accidents and new illnesses
Hereditary and congenital illnesses
Testing
Medications
Rehab
Holistic care
Periodontal disease
PetPlan also offers a 'Covered for Life' guarantee. This is their guarantee that your dog or cat will have continuous coverage throughout his/her life no matter his/her age. The policy and premium may change, but they will never cancel your policy because your pet became older.
PetPlan has a 15-day illness waiting period and a curable exclusionary period of 12 months. This means they'll cover pre-existing conditions after a year-long waiting period. PetPlan offers a variety of plan limits and reimbursement levels from 70% – 90% based on what premiums you want to pay.

Pet Assure is a veterinary discount program rather than an insurance program. Your employer must offer this as a benefit in order for you to enroll. If your employer offers it, you enroll and receive an ID card that you take to your veterinary for your discounted services.
If you take your pet to a participating vet, you'll save as much as 25% off the standard vet bill up front. You don't have to wait for reimbursements or worry about program caps.
You also don't have to file a claim – you simply provide your card at the time of service and receive the discount.
You get discounts on all medical care. This includes pre-existing conditions and major medical concerns. You get 25% off the entire bill without the worry of exclusions or other roadblocks.
The plans range in cost from $6.50 per month to $22 per month. The size of your plan simply depends on the type and number of animals with the largest plan at $22 a month coverage an unlimited number of pets.
Before you sign up for Pet Assure, make sure your pet's vet is in the network. That's the only exclusion you would face if choosing this program offer actual pet insurance.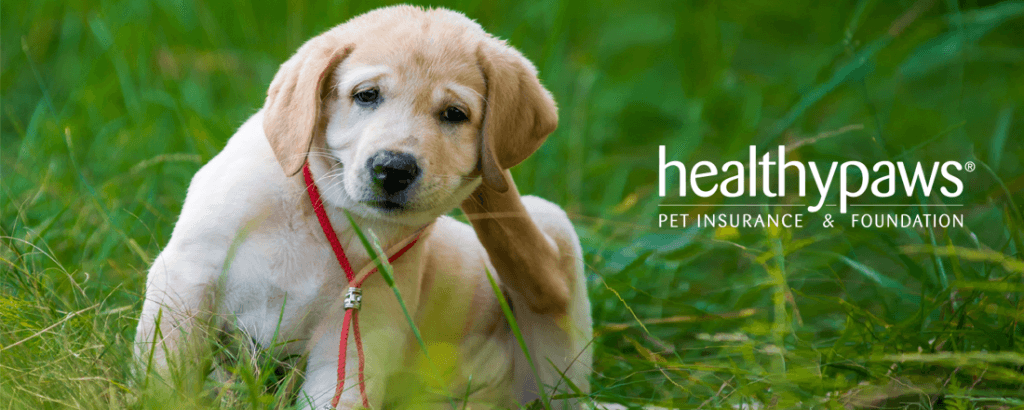 Healthy Paws offers one plan with three deductible options. They make it easy to choose your pet's health insurance without complicated decisions. They don't have maximum limits for the year or your pet's lifetime. They also don't have limits per incident, which can give you incredible peace of mind.
You are free to use any licensed vet and they offer the fastest claim process in the industry. Simply take a photo of the bill and upload it to the app.
Most claims are processed in just 2 days. Healthy Paws covers illness, hospitalization, testing, surgery, medication, and supplies.
They don't cover pre-existing conditions but cover all accidents and illnesses that aren't pre-existing. They don't offer any wellness coverage, which means preventative care isn't covered.
Healthy Paws has a 15-day waiting period. This means any accidents or illnesses that occur during the first 15 days after you apply are not covered.
Healthy Paws also requires pet parents to have a baseline exam that gives Healthy Paws an idea of the pet's overall health. If you have an exam that is less than one year old, you may use it.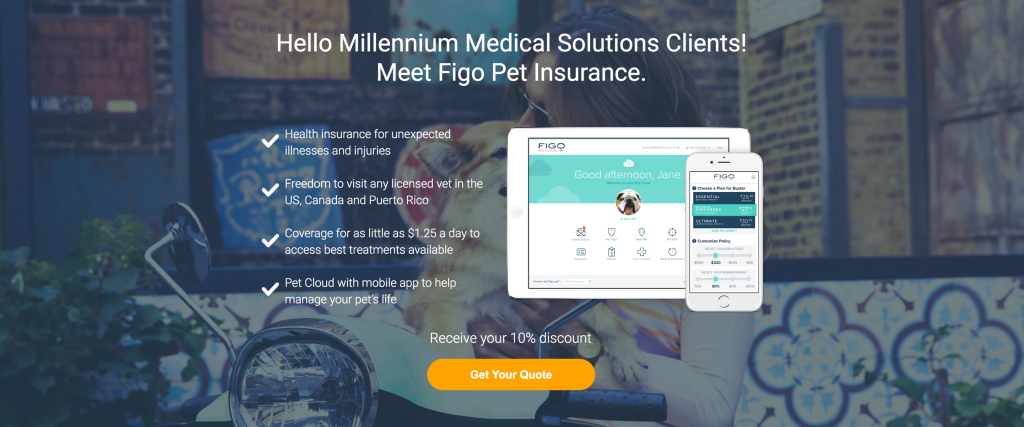 Figo is a cloud-based pet insurance company that offers simple plans and three levels of coverage.
Their cloud-based system makes it easy to submit claims, access records, and view bills. Figo reimburses your funds electronically, which means you receive the funds quickly in most cases.
All Figo plans cover the following:
ER services
Hospitalization
Testing
Hereditary and congenital illness coverage
Chronic conditions
Cancer treatment
The difference between the plans is the annual limit. The Essential plan offers $5,000 in maximum coverage per year; the Preferred plan offers $10,000, and the Ultimate plan has no limit.
Figo doesn't cover pre-existing or wellness services. They also don't cover elective procedures. But they are one of the only insurance companies that offers a 100% reimbursement option.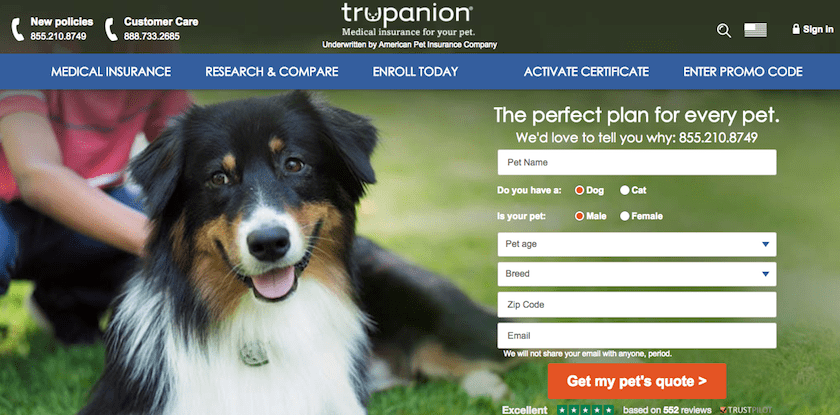 Trupanion claims to offer a transparent pet health insurance policy that is easy to understand and offers credible coverage.
Their plan offers 90% reimbursement and doesn't have payout limits. They even cover hip dysplasia with no age limits, which is a rare find.
It's important to know that Trupanion doesn't cover the exam cost of any visit, so you'll deduct that plus your deductible when determining how much of the bill Trupanion will cover.
You can choose from a customizable deductible ranging from $0 to $1,000. The larger the deductible that you choose, the lower your premium becomes, but the higher your financial obligations become for every occurrence.
Trupanion also offers Vet Direct Pay. With their cloud-based service, it's easy to determine what portion of the bill will be your responsibility. That is the portion you pay upon checkout and Trupanion pays their portion directly to the vet – no waiting for reimbursements!
FAQ's About Pet Insurance
Does pet insurance cover pet liability?
Most pet insurance companies don't cover pet liability. This falls under your home insurance umbrella, but check with each insurance provider to know for sure.
What is the average cost of pet insurance per month?
The average pet owner pays $50 per month in pet insurance, but it varies by the type of pet, breed, age, gender, and type of coverage.
You can play with the different types of coverages and deductibles to see which one works best for your budget and peace of mind.
Does pet insurance cover vaccinations?
Some pet insurance plans do cover vaccinations, but not all do. Always check with the provider. Some companies offer a wellness add-on, while others bundle accident, illness, and wellness insurance into one plan.
How much is a vet visit without insurance?
An initial vet visit can cost anywhere from $45 – $200. After that, expect to pay an average of $540 – $2,400 for your pet's lifetime, assuming overall good health. If your pet has serious illness or injuries, it will cost more.
How do you get reimbursed for a vet bill?
How you get reimbursed for your vet bill depends on the company you choose. Most insurance companies have online capabilities, allowing you to upload your bill immediately.
How they reimburse you depends, though. Some send funds electronically and within a few days. Others mail a check and some pay the vet directly.
Should you get pet insurance?
Whether or not you should get pet insurance depends on your financial situation. Can you afford a crisis with your pet? Would you be able to provide the care he/she needs?
If not, paying the monthly premium for pet health insurance can give you the peace of mind that you can afford your pet's healthcare no matter what happens.
When you shop for pet insurance, make sure you know all of the details. What does the plan cover? What does it not cover? Are there exclusions that would affect your pet?
Understand the deductible, how the plan may change as your pet ages, and what the procedures are to make a claim.
Ask as many questions as possible, read the fine print, and know what your pet needs before choosing a plan. No two plans or companies are the same. Even the same company will have different options that affect your pet's coverage differently.
Know what your pet needs, what you need, and what you can afford.
A pet insurance policy can help you defray the expensive costs of caring for your pet without having to sacrifice or forgo treatments because of a lack of funds.