Direct Burial Guide 2023: The Cheapest Option For Burial?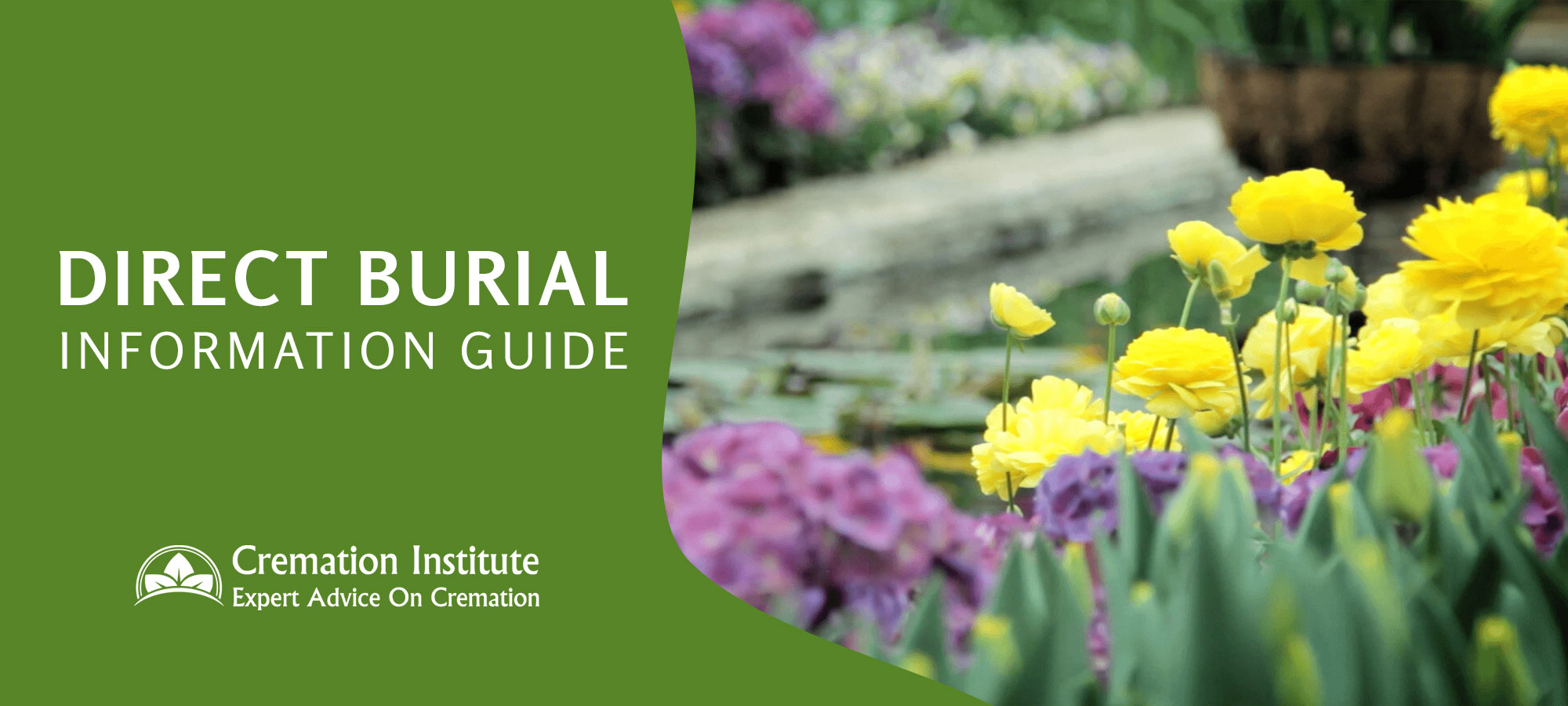 For a lot people, paying for a funeral is a major financial burden.
And this issue will only continue in the future with rising funeral costs.
So what are your options if you want an affordable funeral?
If you've chosen burial and not cremation (which is more affordable) you might already know how expensive things can get.
One solution to keeping burial costs down is the option of direct burial.
In the this guide, I'll explain everything you need to know.
What Is Direct Burial?
his method involves taking the remains to a cemetery for burial directly after death, as soon as all necessary paperwork has been completed.
It is similar to direct cremation in its simplicity and immediacy.
What Is Included?
A simple container is used during a direct burial, rather than a traditional casket.
You can also opt for a simple graveside service or a memorial service at a later date. This would be at an extra cost.
Usually, the fee for direct burial includes transportation and placement of the body, securing the death certificate and essential permits, and a basic service fee.
What's Not Included?
Generally, the fee for a direct burial does not include services from outside vendors such as flowers and a newspaper obituary.
Also excluded: a casket, a burial plot/crypt, and embalming.
A graveside service, a headstone/grave marker and extra copies of the death certificate are available if you're willing to pay extra.
Why Choose Direct Burial?
There are many great reasons to choose direct burial.
Here are some of the most common.
It's Very Affordable.
Minus the costs of a viewing and a ceremony, as well as the significant price tag for embalming, the total cost of a direct burial comes out to just a fraction of what you would pay for a traditional funeral.
It's Environmentally Friendly.
Heavy steel caskets and embalming fluid have a substantial impact on the environment when buried in the earth.
Direct burial eliminates all that, leaving the body to decompose in a natural state.
Additionally, decomposition happens much faster, allowing the remains to become part of the earth sooner.
It's Simple and Fast.
If you're short on time and money, direct burial can lift much of the burden of planning.
It frees you to plan a graveside or memorial service at a later time which might be more convenient, making it a great option if family lives far away from where the death occurred.
Direct Burial Caskets
Caskets for direct burial are simple and inexpensive.
A popular choice is a plain pine box in a rectangular shape, with a removable single lid.
Unlike traditional caskets, the wood is unfinished. Also the casket does not come with a pillow or liner of any kind.
Direct Funeral Service
A basic direct burial package does not include a funeral ceremony.
Typically there is an option to hold a brief graveside service for an additional fee.
Be aware that a service could bump your direct burial into a different price bracket, making it a slightly less economical option.
Green Burial
Simple and economical (as well as environmentally friendly), green burial is similar to direct burial in many ways.
And it is steadily growing in popularity.
What Is a Green Burial?
In this type of burial, the body is interred naturally, using materials and practices that are friendly to the environment.
A green burial also features the absence of embalming, as well as the use of a biodegradable casket or shroud.
How Is It Different From a Direct Burial?
In some cases, a direct burial can also be a green burial, if a biodegradable casket is used and there is no embalming.
The only difference is that green burials usually take place in a green cemetery or an eco burial plot within a traditional cemetery.
Costs
Here is a breakdown of some of the costs associated with a green burial.
Fees for opening and closing the grave $1200

Green burial plot $1500-$3000

Endowment fee $180

Biodegradable shroud $299-$1100
Costs
While direct burial is inexpensive, there are still a few costs you will need to plan on.
While costs vary depending on the funeral home, it is possible to plan a direct burial for a price of about $1800-$3500.
Here's how that overall cost breaks down.
Funeral Service Fee
It is customary for funeral homes to charge a basic non-declinable fee for use of their services.
This fee covers essential paperwork, transportation and storage of the body, and communicating with the cemetery.
You can expect to pay about $2000 for this basic fee.
Simple Casket
The average price of a casket is $2300.
However, you can significantly reduce this cost by opting for something simpler.
A plain pine casket will cost you about $400.
Burial Fee
The cemetery will charge a fee for opening and closing the grave.
This fee averages out to about $1200.
Funeral Assistance
Even the modest cost of a direct burial can be overwhelming if the death was unexpected, without the opportunity to plan ahead.
If you're faced with paying for a funeral unexpectedly, there are avenues to seek out help.
Crowdfunding
Many virtual platforms exist that make it easy to ask for and obtain large amounts of money for a funeral, quickly and easily.
All you have to do is set up your campaign online and share it widely via email and social media.
Government Programs
A number of government organizations at the local, state and national level have funds available to assist with funeral expenses.
For example, the state of Maine offers General Assistance for burial or cremation in amounts ranging from $700 to $1000.
Charities
A number of non-profit and charity organizations have been formed in response to the growing need for funeral assistance.
Some to look into: Funeral Consumers' Alliance, Final Farewell, Children's Burial Assistance and your local church.
Cheap Funeral Tips
If budget is a concern for you but direct burial seems unappealing, there are plenty of other ways to hold a funeral affordably.
Here are some workarounds that can help.
Consider Direct Cremation
Direct cremation is easily the least expensive deathcare option available.
Your loved one's remains are exposed to high heat until they turn to ash, which you can keep, bury or scatter at sea.
You can maximize your savings by skipping a traditional memorial service.
Shop Around
Funeral homes are required to give you an itemized list of prices for their products and services.
This information can be a useful tool to help you compare the costs of specific services at different funeral homes.
It's also an opportunity to get to know staff members at various funeral homes to help you decide which might be the best fit.
Stick With a Budget
A budget is the best tool in your repertoire to keep funeral costs down.
By researching the average prices for services in your area, you can decide which are most important to you and how much you will probably spend for them.
Avoid Upsells
It is common practice for funeral homes to add their own markups to merchandise such as caskets and urns.
By doing your research and creating a budget, you protect yourself against this practice.
If possible, plan the funeral in advance so that you will be shielded from the emotion of last-minute decisions.
Paying For a Funeral
Needless to say, even a cheap funeral is not cheap.
Most families find that they end up paying a minimum of $8000 once all the funeral costs have been covered.
Fortunately, there are some creative solutions to the problem of paying for a funeral.
Burial Insurance
This is a specific type of whole-term life insurance designed to cover burial costs.
Unlike other kinds of life insurance, burial insurance is very easy to get, sometimes not even requiring responses to any health questions.
The premiums are generally low, sometimes as little as $2 a week.
Funeral Loan
There is the possibility of taking out a personal loan to pay for funeral expenses, just as you would for the purchase of a home or a vehicle.
The money can be used for other expenses (like medical bills) besides just burial.
Savings Account
By setting up a joint account with a loved one, you ensure that they have immediate access to money for funeral expenses.
Keep in mind that you will have to make deposits regularly so that there will be enough money to cover these costs when needed.
Arranging a Direct Burial
The cost of a direct burial will vary depending on where you live and what provider you use.
Here are some guidelines for individual states.
California
This is one of the most expensive states for burial, so you will have to be discerning about choosing a provider.
The cost of direct burial in California ranges from about $800 to as much as $4400.
We provide reviews of the burial providers that give you the most bang for your buck.
New York
New York has a number of prestigious, historical cemeteries, offering a sense of great dignity in a loved one's burial.
While this may seem priceless, burial is expensive here, too.
Check out our helpful guide to the best burial providers in New York.
Texas
Burial with a memorial service in Texas averages about $10,000.
Cutting out a memorial service eliminates some of this expense.
For more information about burial in Texas, check out our handy guide to the best providers.
Florida
The advantage to living in a state with a high population of seniors? There's plenty of choice when it comes to funeral providers.
In fact, there are so many that it can be tough to choose.
In our guide to funeral providers in Florida, we offer our reviews of the best ones to help you decide.