Whole Life Insurance Cover Explained: Is It A Good Investment?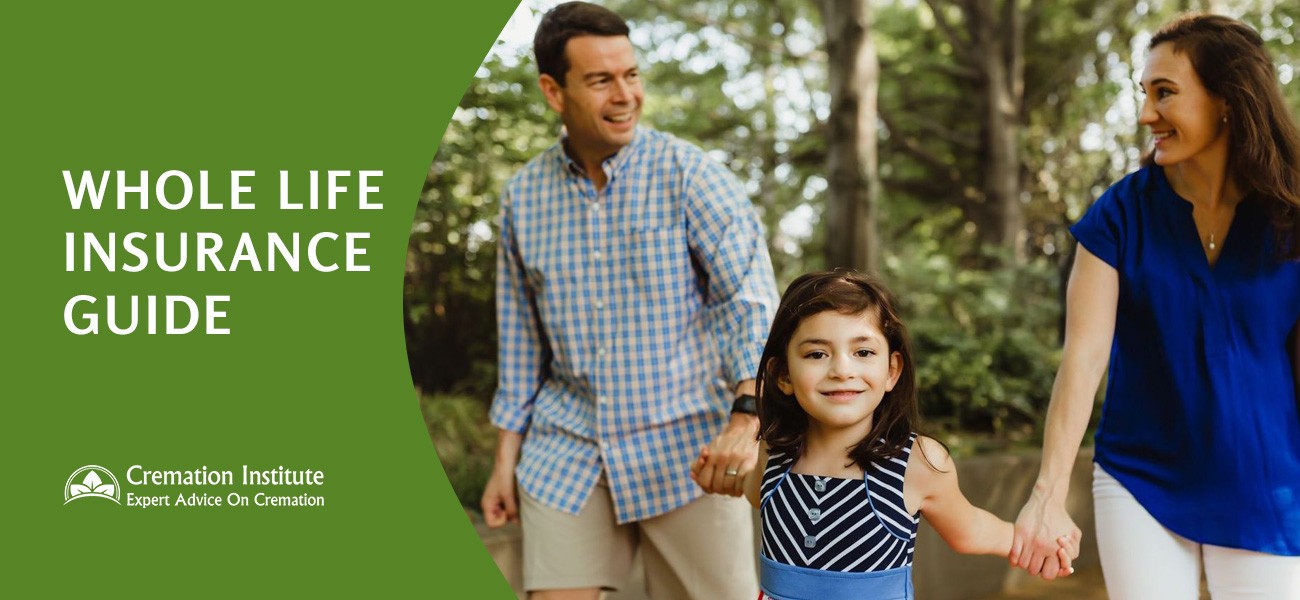 With so many insurance options available, you're probably confused about what option to choose.
Trust me, you're not alone…
The truth is, insurance companies like to create lots of policies and options for one simple reason- making money!
So I'm going to break down everything you need to know about whole life insurance simply & honestly as possible.
I'll discuss whether it's right for you, what a typical policy looks like, how much you should pay, how to get the best quote, and much more.
Is whole life insurance right for you? I'll let you be the judge.
Whole Life Insurance Explained
As the name suggests, whole life insurance lasts for the insured's lifetime. It includes a death benefit (like term life insurance), but it also includes a savings vehicle, where a portion of the policy accrues interest.
What premiums cover
Your premiums cover the death benefit, but a portion of the premium also becomes the cash balance.
This balance accrues interest over time, which you can borrow against or even make withdrawals while you're alive.
Some whole life insurance companies also pay dividends. Keep in mind, dividends are never guaranteed so don't rely on them.
Focus on the minimum guaranteed rate of return. This is your guaranteed rate of return on your cash balance.
Dividends can be reinvested or withdrawn as cash if you receive them.
Key Features & Benefits
Whole life insurance has many features and benefits, including:
Protection for life 
Whole life insurance lasts for your lifetime, as long as you keep paying the premiums.
The coverage never changes, and your premiums never increase for your lifetime. This gives you a guarantee of your premiums for life.
Guaranteed death benefit  
The death benefit portion of your whole life insurance policy never changes or expires.
For as long as you make your premium payments, you'll have a constant death benefit available for your beneficiaries.
Note – if you take a loan out on the cash balance and don't repay it, the amount will be deducted from your death benefit.
Fixed premiums 
Unlike standard term life insurance policies that expire, whole life policies never expire and your premiums never change.
You don't have to undergo future medical exams or worry about coverage expiring.
You may be able to choose between lifetime premiums or limited time premiums that pay for the entire policy in 10, 15, or 20 years.
Cash value
A portion of your premiums will go toward your policy's cash value.
The earlier you open the policy, the greater the cash value gets, as it earns interest and may also earn dividends.
If you do earn dividends, you can choose to reinvest them to grow your cash value even more or withdraw them tax-free.
Legacy benefits
If your dream is to leave a legacy death benefit for a child or someone else important in your life, a whole life policy ensures this possibility.
You don't have to worry about the policy expiring no matter what age you die.
Your death benefits never expire and your cash value continues to accrue, helping you support your loved ones, even as you age or become ill.
Cash Values
You probably want to know what you can do with the cash value that accumulates, right?
First, know that it takes a long time to accumulate any money worth mentioning since it is only a portion of your premium that gets saved/invested.
Once you do accumulate a decent cash balance, though, you can do any of the following:
Withdraw (tax-free)
You can withdraw up to the amount you contributed tax-free. Any withdrawals beyond what you contributed (dividends or interest) are taxable.
Note – if your policy is canceled for any reason, the withdrawal is considered taxable income.
Borrow as a loan
You can borrow the money as a loan. The loan accrues interest and you must repay it.
If you don't, the amount borrowed gets deducted from the death benefit provided to your beneficiaries, which means they'll have less to cover your final arrangements and/or replace your income.
Cover your premiums
You can use the cash accumulation to cover your premiums once the balance is high enough.
Whole Vs Term Life Insurance
Expiration
Whole life insurance has the same component as term life insurance, except it lasts for your entire life. Term life insurance, on the other hand, is only good for the specified term.
For example, if you take out a 20-year term policy and you're still alive after 20 years, the policy expires. You don't receive any compensation or any of your premiums back.
Whole life insurance, on the other hand, lasts for your whole life. You pay the premiums with part of it covering the death benefit (which is the same as term insurance except it doesn't expire) and the other part gets invested.
Cost
Aside from the expiration of the policy, term and whole life insurance have one more major difference – the cost. Whole life insurance can cost as much as 5 to 10 times more than a term policy.
Whole life insurance costs more because it's riskier for insurance companies. They base your premiums on the likelihood of you dying and them paying out benefits.
With whole life insurance, the chance of you dying while insured is close to 100% unless you cancel your policy; this is a much higher risk than a term life insurance policy.
They are guaranteeing coverage for your lifetime, not just a specific term. You are also investing a portion of your premium, which adds to the cost.
Types of Whole Life Insurance
Traditional Whole Life Insurance 
This is your basic whole life insurance policy that invests a portion of your premium, which becomes your 'cash value.'
You get a minimum guaranteed rate of return and you can borrow or withdraw funds when your balance is high enough.
Universal Life Insurance 
Universal life insurance is like whole life, but with a twist. Rather than standard premiums that never change universal life premiums change with the interest rates.
You can also use your cash balance to pay your premiums and even change your coverage amount (increase or decrease) throughout the life of the policy.
Variable Life Insurance
Variable life insurance is the 'riskiest' of your options. You have many more investment options, but your cash balance can increase and decrease with the market.
If your cash value increases you can use it to increase your death benefit, withdrawn, or taken as a loan.
Premiums & Costs
As we stated above, whole life insurance is riskier for insurance companies, so it's typically much more expensive than term life insurance.
For example, a healthy 30-year-old male would pay $17.20 per month for a $750,000 10-year term life insurance policy.
The same healthy 30-year-old male would pay $85 per month for $100,000 in whole life insurance.
A 40-year-old healthy female would pay $27 for a $750,000 10-year term policy. The same female would pay $196 per month for $100,000 in whole life insurance.
In both examples, the premiums are payable until age 65.
Whole Life Insurance Examples
Here's how whole life insurance works.
Let's say Sally bought a whole life policy at age 25. She bought a $100,000 whole life insurance policy.
She pays her premiums on time and over the years; her cash balance accrues up to $25,000.
Sally never took out any loans or withdrawals, so the cash balance is payable as a part of the death benefit.
Her life insurance company only has to pay $75,000 out of its own funds to make up the difference for the guaranteed death benefit.
Throughout her life, though, if Sally wanted to, she could have withdrawn cash from the cash balance or taken a loan and paid the funds back.
Any funds she withdrew that were less than what she paid into the policy would have been tax-free withdrawals.
Best Whole Insurance Policies
Mutual Of Omaha
Guaranteed-issue whole life insurance with coverage up to $25,000.
Living Promise (traditional whole life insurance) with coverage up to $40,000.
Issued between ages 45 – 85.
Guaranteed coverage doesn't require a medical exam.
Living Promise insurance also includes an Accelerated Death Benefit for Terminal Illness or Nursing Home Confinement Rider.
Mass Mutual
Guaranteed-issue coverage up to $25,00 up to age 75.
Larger whole life policies are available with a medical exam.
Earn cash dividends on your cash balance annually.
MassMutual has an A++ A.M. Best rating.
MetLife 
Obtain MetLife group life insurance from your employer.
Choose from group universal life or group variable universal life policies.
Begin earning premiums in the second year.
They offer the largest selection of riders, such as a Child Rider, Accidental Death Benefit Rider, and Enhanced Care Rider.
Transamerica
Offers policies ranging from $25,000 to $2 million.
Offers whole life, universal life, and index universal life insurance.
Guaranteed premiums for life as long as you make your payments.
State Farm
Offers policies up to $100,000.
Offers options to complete premium payments in 10, 15, or 20 years to avoid having premium payments during retirement.
Offers dividend payments (not guaranteed) that can pay down your premium, be paid in cash, or be reinvested.
Offers loans on your cash balance.
Northwestern Mutual
Choose from a variety of premium payment periods.
Option to activate a waiver of premium rider if you become disabled.
Guaranteed premiums that won't increase throughout your lifetime.
Competitive rates, especially for seniors.
Finding the Best Policy
You have many options for whole life insurance, and it's important to shop around to get not only the best deal but also the best coverage.
As you shop around, consider the following:
The reputation of the financial company
Your insurance is only as good as the company that offers it. If the insurance company goes under, you are left without insurance coverage.
Before you choose a life insurance company, check its financial ratings on sites like A.M. Best. Typically, you want a rating of at least B+.
You can also research the company's information on the National Association of Insurance Commissioner's site.
The return on cash value
Always ask about the minimum growth rate on the cash value.
Don't confuse this with the dividend payout, though. Dividends, in most cases, aren't guaranteed.
The return on cash value, however, should be guaranteed and can be used to compare policies.
The riders they offer
If you want riders, know that not every company offers them.
The most common riders are chronic illness riders, disability waiver of premium riders, and accelerated death benefit riders.
If there's a specific issue you are concerned about, ask each insurance company what riders they offer to help offset your worries and what cost.
The approval process
Think about what type of policy you need. If you have chronic health issues, you may want a guaranteed life insurance policy.
While the coverage amounts are lower on guaranteed policies, you don't have to undergo a medical exam to get covered.
As long as you can pass the basic health questionnaires, you'll get coverage.
Just know that guaranteed policies are typically more expensive.
Finding out how the approval process works is important. Do you apply online, over the phone, or in-person?
Is the policy fully underwritten (includes a medical exam) or simplified (answer health questions but you don't have to undergo a medical exam.)
The prices
Finally, you want to compare prices. As you do, though, make sure you compare apples-to-apples.
Each company offers different coverage options and different terms. Make sure you understand the full implication of the terms and how they affect your premium.
Also, be careful not to make the common mistake of comparing term life insurance to whole life insurance.
Only compare whole life to whole life and pay attention to the differences.
Is It Worth It?
Typically, whole life insurance is best for high-income earners that have maxed out their 401K and would like to further save for retirement.
Despite the higher premiums, it can serve as another savings vehicle for people of high net worth. In addition, the death benefit helps set up your loved ones upon your passing.
Whole life insurance may also be a good idea for parents of disabled children or whose beneficiaries may face estate tax issues.