State Regulated Life Insurance Programs: Is It A Scam?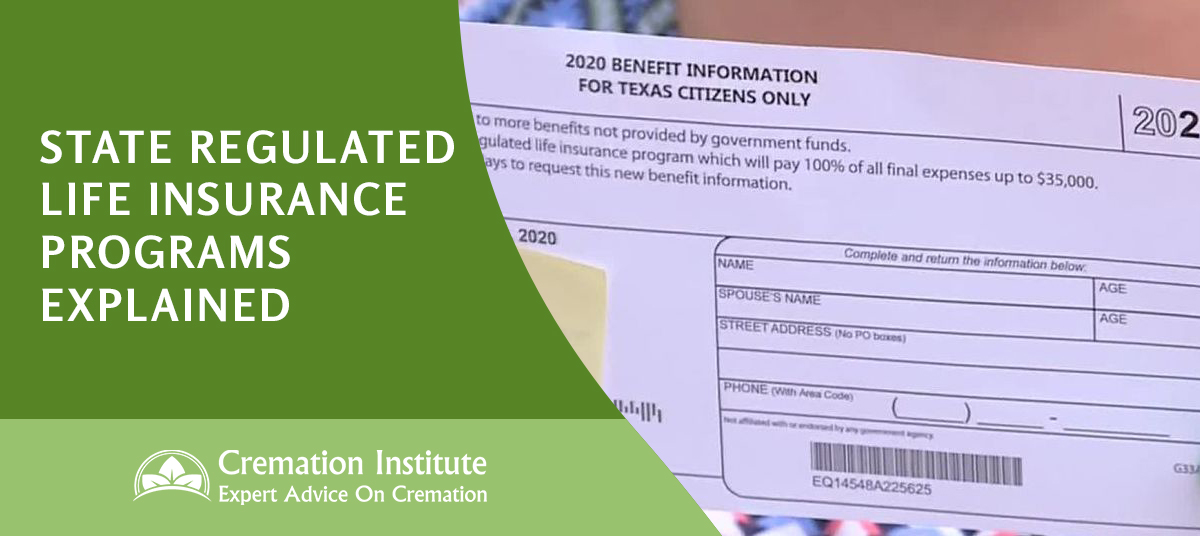 Have you received a postcard or letter in the mail that says you're eligible for state regulated life insurance programs at no cost?
You're probably curious right…is it this legit or a scam?
Unfortunately, it's not what it seems. While the postcards aren't necessarily a scam, there's more to the ploy than the wording on the paper lets on.
Keep reading to learn what the postcards mean and what you can do about life insurance instead.
What Is It?
A state regulated insurance program does not exist. Insurance companies use this information to sell you their life insurance policy.
The ONLY state regulated death benefit you may receive is $255 from Social Security and that covers next to nothing since the average funeral/burial costs are around $10,000.
So what are these postcards offering and what benefits do they promise? The wording may differ by state, but in general, they say:
They'll cover 100% of your final expenses
Complete this information and you may receive coverage up to $50,000
They offer tax-free benefits for residents of 'your state'
Here's the problem. None of these benefits exist, at least not for free. What they're trying to do is to get you to send back the 'no postage necessary' card.
They're targeting vulnerable seniors who in their panicked state may complete the card, opening themselves up to sales calls and letters, or potentially buying unaffordable life insurance.
Is It A Scam?
These postcards aren't a scam, but they aren't honest business practices either. They're sales leads.
Salespeople send these in an attempt to get you to 'bite' and complete your information. Once you do that, they have the right to call you and potentially sell you an insurance policy.
They aren't criminals trying to steal your information. But you can expect endless phone calls, emails, and mailed letters from licensed insurance agents who want to sell you an insurance policy.
Should you work with a company that uses 'deceptive practices' though? That's up to you but we don't think it's the best idea.
Actual Government Benefits
If you look at the bottom of any of these postcards, you'll see a line stating 'not affiliated with any government agency' or something along those lines.
This doesn't mean the government doesn't offer benefits. They just aren't what the solicitors sending out the postcards make it sound like.
General compensation
As I said above, a surviving spouse or child will receive $255 from Social Security when a spouse or parent dies.
That's peanuts compared to what you need for final expenses, no matter how simple the funeral. Note – if you're a veteran, the government pays a little more.
Burial
If your family buries you in a National Cemetery, they'll pay nothing for your plot or burial.
If they bury you anywhere else, they'll receive a $300 benefit (rather than $255) plus $780 toward the plot.
If you have no coverage and no money, your county may cover the cost of the cremation or burial, but you can't choose where you're buried and your family won't receive the ashes back.
Final Expense Insurance
If you don't carry life insurance or your coverage isn't enough to cover your final expenses, consider a final expense insurance policy.
Unlike traditional life insurance which provides income replacement for the loved ones you left behind, final expense insurance covers your funeral, burial, final medical expenses, and more.
There are two options:
Guaranteed issue final expense insurance
After answering 3 basic questions that ensure you don't pose any risks to the insurance company such as terminal cancer, HIV, etc, you get a life insurance policy.
There's no medical exam or heavy questions but because it's guaranteed (anyone can get it within the age range stated), most companies only provide up to $25,000 in coverage.
Simplified issue final expense insurance
If you're in 'decent' health and can answer basic health questions appropriately, you may get higher coverage at a lower cost with a simplified issue final expense insurance policy.
Many companies offer up to $50,000 in final expense insurance with this option.
Pros and Cons
Pros:
Affordable premiums since the coverage amounts are typically low
Easy to qualify for no matter your health condition
Covers your end-of-life expenses, which may cost your loved ones $10,000 or more
Cons:
The coverage amounts are low because the policy is guaranteed
The premiums are high for the amount of coverage you get
Costs
The lack of a medical exam and any major underwriting means higher premiums for lower coverage amounts.
Since these policies are typically for seniors over 50, the premiums as you can imagine are high.
A 60-year old man, for example, may pay:
$175/month for $25,000 in guaranteed issue coverage
$105/month for $25,000 in simplified issue coverage
Best Final Expense Insurance
AIG
AIG offers guaranteed issue final expense insurance for seniors between the ages of 50 to 85 years old.
Coverage amounts range from $5,000 to $25,000 and the policy has a 2-year waiting period.
If you pass within 2 years of obtaining the policy, your loved ones will receive 100% of the premiums you paid to that point plus 10%.
AIG life insurance is good for seniors with a few loose ends, but otherwise have most of their final expenses covered and just want a cushion.
Mutual of Omaha
Mutual of Omaha offers slightly higher coverage amounts ($2,000 – $40,000) and for anyone between the ages of 45 and 85.
They don't increase premiums for smokers, but they have an extensive medical background check that makes it harder to get approved.
Mutual of Omaha has two options – a Level Benefit Plan with no waiting period, but higher premiums and a Graded Benefit Plan with a 2-year waiting period but lower premiums.
If you pass within the 2 years, your beneficiaries receive 100% of the premiums paid plus 10%.
Gerber Life
Gerber Life offers guaranteed issue final expense insurance with no questions, medical exams, or barriers to entry.
As long as you are 50 to 80 years old and don't have a current terminal illness diagnosis, you qualify for coverage between $5,000 – $25,000.
Gerber Life is a stable life insurance company that offers premiums that don't increase as well as level benefits.
Like most final expense policies, it has a 2-year waiting period and pays beneficiaries 110% of the premiums paid up until that point if you pass within the first 2 years.
Global Life
Global Life is a good option for applicants without any other options. They have the most lenient guidelines and offer immediate coverage.
You can get coverage from $5,000 – $100,000, which is rare for final expense insurance, but the premiums are excessively high.
It's a good option for people who don't qualify for standard term life insurance and need to help their loved ones afford their final expenses.
AARP
AARP isn't a life insurance company, but AARP members have access to final expense insurance from New York Life. They offer coverage amounts from $2,500 – $50,000 without a medical exam.
You'll only need to answer one medical question and then you're covered.
Like most final expense policies, there's a 2-year waiting period. However, with AARP, your beneficiaries will receive 125% of the premiums paid, if you pass within 2-years.
AARP insurance rates are typically higher than the rates you'd see when dealing directly with an insurance company. Keep in mind, you must pay the AARP membership fee too.
Should You Opt-In?
If you receive a 'state regulated life insurance postcard' don't fill it out unless you want numerous phone calls and emails about life insurance.
If you're in the market for final expense insurance to protect your loved ones, consider getting a policy directly from the life insurance company you choose.
This way, you're in control of the phone calls and emails and you know what you're getting because you reached out rather than a company you didn't solicit reaching out to you.