PolicyGenius Life Insurance Review: My Thoughts On Their Platform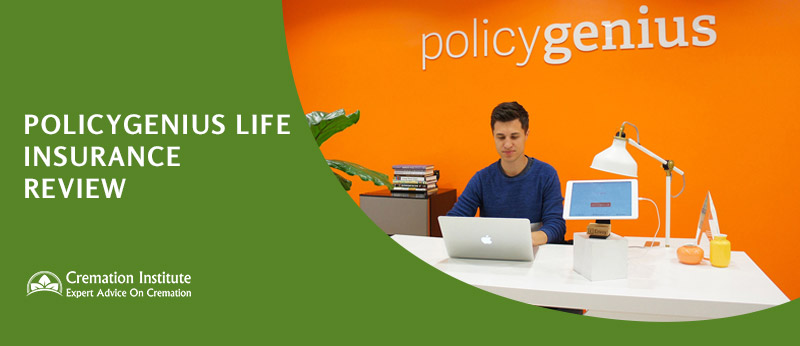 If you've been researching different life insurance plans, you'll know how confusing it is.
You have to manually find a reputable company, choose a suitable policy, then hopefully compare with other life companies.
Fortunately, PolicyGenius makes it easier to compare multiple companies and policies with the click of a button.
But will you actually find the best deal and policy with them?
In this review, I'll explain everything about their platform and help you decide whether it's your best option.
Who Is PolicyGenius?
PolicyGenius is an online insurance comparison tool that works just like an insurance broker but with no affiliations.
Consumers use the tool to compare multiple life insurance policies in one place.
Rather than completing applications at several different life insurance companies, you can complete one application with PolicyGenius and have multiple policy choices at your fingertips.
How Does PolicyGenius Work?
PolicyGenius works like any other online broker or directory.
After you enter your personal information, PolicyGenius uses its algorithm to match you with certain companies.
Once you compare your options and choose a company, it takes you to that company's website to complete the process.
Here's an in-depth look at the process:
Fill out personal information
Choose the life insurance option.
Tell PolicyGenius if you're getting life insurance for the first time, replacing a policy, or looking for an additional policy.
State when you need your coverage to start (they claim it takes at least 4 – 6 weeks to onboard a new policy, so keep that in mind).
Provide information about your gender, date of birth, zip code, and if you have a spouse.
Provide your height, weight, tobacco use, and answer questions about major medical conditions (asthma, depression, anxiety, cancer, heart attack, etc).
Answer some family history and lifestyle questions (quick yes and no answers).
Choose coverage amount and term
Next, you'll choose a coverage option between $50,000 and $10 million.
They suggest you choose 10 – 15 times your annual income, but you can play with the slider to choose your coverage amount.
You'll then need to choose between permanent life insurance or a term in the range of 10 – 40 years.
Finally, you'll be presented with options from several insurance companies for both term and permanent life insurance depending on the options you chose.
For other types of insurance
If you want coverage other than permanent or term life insurance, provide your contact information and PolicyGenius will set up a time to consult with you over the phone.
In this case, you'll only need to enter your name, best phone number, email, and individual annual income.
Coverage options
The PolicyGenius website gives you an estimated monthly payment for permanent life insurance options, but the exact quote depends on the coverage options you choose.
Depending on your qualifications, you may choose:
Term Life Insurance
You pay one premium for the chosen term such as 10 or 20 years.
The premiums don't change and neither does the coverage during this time.
If you're alive at the end of the term, you may renew the policy, buy a new policy, or convert it to a permanent policy, depending on what the insurance company offers.
Whole Life Insurance
You pay one premium for your entire life, but it's usually much higher than term life insurance premiums.
Whole life insurance includes a death benefit plus a cash-value account, which you can borrow or withdraw from while you're alive.
Universal Life Insurance
This is a form of whole life insurance. It also has a death benefit and cash value.
However, unlike whole life, universal life allows you to change your premiums or coverage during your lifetime.
Similar to whole life, you can borrow from your account's cash value but if you don't pay it back, it will decrease the payout your beneficiaries receive.
Variable Life Insurance
This is another version of whole life insurance, but with flexible premiums.
Variable life insurance policies have minimum and maximum returns on your cash value.
They also have sub-accounts that may create great returns or great losses depending on the market.
Riders available
PolicyGenius provides options that also have riders you may add, including:
Accelerated death benefit
If you become terminally ill and have less than 12 months to live, you can 'accelerate' your benefits to help pay for your medical care.
Accidental death benefit
If your death is an accident, your beneficiaries may receive up to double your policy face amount.
Child rider
You can buy smaller policies for your children and add them to your policy.
Disability waiver of premium
If you become disabled and cannot work, you can have your premiums waived, but still, keep your insurance.
Unemployment waiver of premium
If you lose your job, you can waive your premiums for a specific number of months.
Waiting process
Once you choose a company and policy, you'll move forward with the process.
PolicyGenius asks for a little more personal information including how to contact you.
They then place you in a 'waiting period,' during which a licensed professional will review your application.
After reviewing your application, they will call you to confirm your information.
This happens in one of two ways:
You wait for a phone call from PolicyGenius.
You qualify for 'FASTTRACK' and you are given a number to call right away.
Once you complete the verification process on the phone, PolicyGenius connects you directly with the life insurance company.
Since life insurance takes a while to underwrite, start the process as soon as you're ready to buy life insurance.
It could take a matter of weeks to get coverage and many policies have a 2-year waiting period before coverage begins.
Costs & Premiums
PolicyGenius is a free service. They earn a commission from the insurance companies if you buy a policy.
The exact cost of the insurance depends on your qualifying factors, including your gender, age, health, and lifestyle habits.
For comparison, an average 40-year-old female, non-smoker in good health, may receive the following quotes for a $300,000 policy with a 20-year term:
$38 – $40/month for a fully underwritten policy.
$39 – $55/month for a no medical exam policy.
$180/month for a Simplified Issue policy.
$402/month and up for a permanent life insurance policy.
Getting the best rate
Everyone wants the best rate for life insurance, but how do you get it on PolicyGenius?
While each insurance company has its own requirements, in general, you can lower your rates by:
Take excellent care of your health before applying. If you're overweight, try losing weight. If you had high blood pressure, work hard to lower it.
Wait to apply until you've quit smoking or drinking for at least 12 months.
Wait to apply until a couple of years passed since any driving convictions.
If you've had a recent serious illness, wait until it's at least 6 – 12 months behind you
Apply for insurance when you are younger, rather than waiting until you're middle-aged or a senior.
Pros & Cons
Pros
Live chat with experts
If you need help during the application process, click on the 'Live Chat' button and you'll be connected with an agent, not a bot.
No commission for representatives
Since representatives don't get paid commission, they work in your best interest.
This means they won't push certain policies to make their paycheck larger, instead, they will look out for what you need and what would benefit you the most.
You're anonymous
If you just want quotes but aren't ready for an agent to contact you, it's easy to get quotes anonymously.
You don't enter your personal contact information until you're ready to move forward. It's not required to get quotes.
Compare quotes easily
You can get quotes from multiple companies with one application.
In a matter of minutes, you could have many options in front of you.
It's easy and convenient, especially with all the information in one place.
Personalized recommendations
PolicyGenius provides recommendations based on the information you provide.
They offer quotes for as many insurance types as you qualify for and they have tip boxes throughout the quotes, giving you 'advice' without actually talking to you.
Cons
May need to give over details twice
Once you choose a policy, you may have to go over the same information again with the actual insurance provider.
They must verify your qualifications and ensure there aren't any mistakes or omissions in the application before issuing a policy.
PolicyGenius doesn't work with all providers
PolicyGenius only offers quotes from the companies it works with, which isn't every life insurance company available.
If you have a unique situation, you may not find as many options as you'd like.
Can't speak with someone in person
PolicyGenius only offers online chat or email customer service. You can't call and ask questions or see someone in person.
Common Questions
Where is PolicyGenius available?
PolicyGenius has the license to sell insurance in all 50 states.
Which life insurance companies are they partner with?
PolicyGenius works with hundreds of life insurance companies, and they may change at any time.
A few U.S insurance companies we can mention are TransAmerica, Protective, Banner Life, Principal, Pacific Life, Mutual of Omaha, AIG, and Lincoln Financial Group.
Is PolicyGenius a reputable company?
PolicyGenius has an A- Better Business Bureau rating, and it works with some of the highest-rated insurance companies today.
They use strong encryption methods and keep your data safe.
How do you file a claim with PolicyGenius?
You don't file a claim with PolicyGenius. Once you choose a plan, you work directly with the lie insurance company, which is who you file your claim with when the time comes.
How hard is the phone interview?
The PolicyGenius phone interview is only to verify the information you have already provided.
As long as you were honest in your application, you have nothing to worry about.
How does PolicyGenius protect my data?
PolicyGenius enforces strict encryption policies including HTTPS and SSL encryption.
Does the actual policy ever cost more than the PolicyGenius quote?
PolicyGenius provides quotes to the best of its ability based on the information you provide.
However, you would still need to go through the underwriting process with the insurance company.
So if they uncover something you didn't reveal or that affects your rates, you may see different premiums than originally quoted, but that's the same with any insurance quote.
Alternatives To PolicyGenius
Nerd Wallet
Nerd Wallet works with Quotacy, a life insurance broker that provides you with quotes like PolicyGenius does after completing an application.
You obtain quotes by providing answers to health and lifestyle questions, without revealing your personal contact information.
The biggest difference between PolicyGenius and Quotacy is that Quotacy only offers quotes for term life insurance.
Go directly to an insurance provider
If you want to skip the middleman, you can get quotes directly from life insurance companies.
Keep in mind, if you want to compare your options, you'll complete life insurance applications at each company.
This may take more time and effort, as you wait for quotes and bring them together to compare.
If you choose to go this route, here are the best companies to look at for each type of coverage.
Term life insurance companies
Companies like Northwestern Mutual, New York Life, and MassMutual offer term life insurance policies, which are the least expensive policies available.
You secure coverage for a specific term, paying a level premium for the life of the policy.
Whole life insurance companies
MassMutual, Northwestern Mutual, and Guardian Life Insurance are great whole life insurance companies.
They each offer a variety of whole life policies, including universal life and many riders, if you want to enhance your coverage.
Final expense insurance companies
Globe Life and AIG are the top providers of final expense insurance.
These policies provide an estimated $25,000 in coverage for your final arrangements, such as your funeral, burial, or final medical expenses.
You can secure coverage with no medical exam and just a few medical questions.
Should You Choose PolicyGenius?
If the thought of shopping for life insurance overwhelms you, PolicyGenius makes it easy.
With one application and a series of questions, you can get multiple offers in one place.
You also don't have to deal with high-pressure sales, PolicyGenius never tries to sell to you, even on the verification call.
So if you're ready to make an informed decision regarding life insurance without the pain of dealing with several companies, use PolicyGenius to help you get the best rates in the most convenient way.