Open Care Seniors Final Expense Review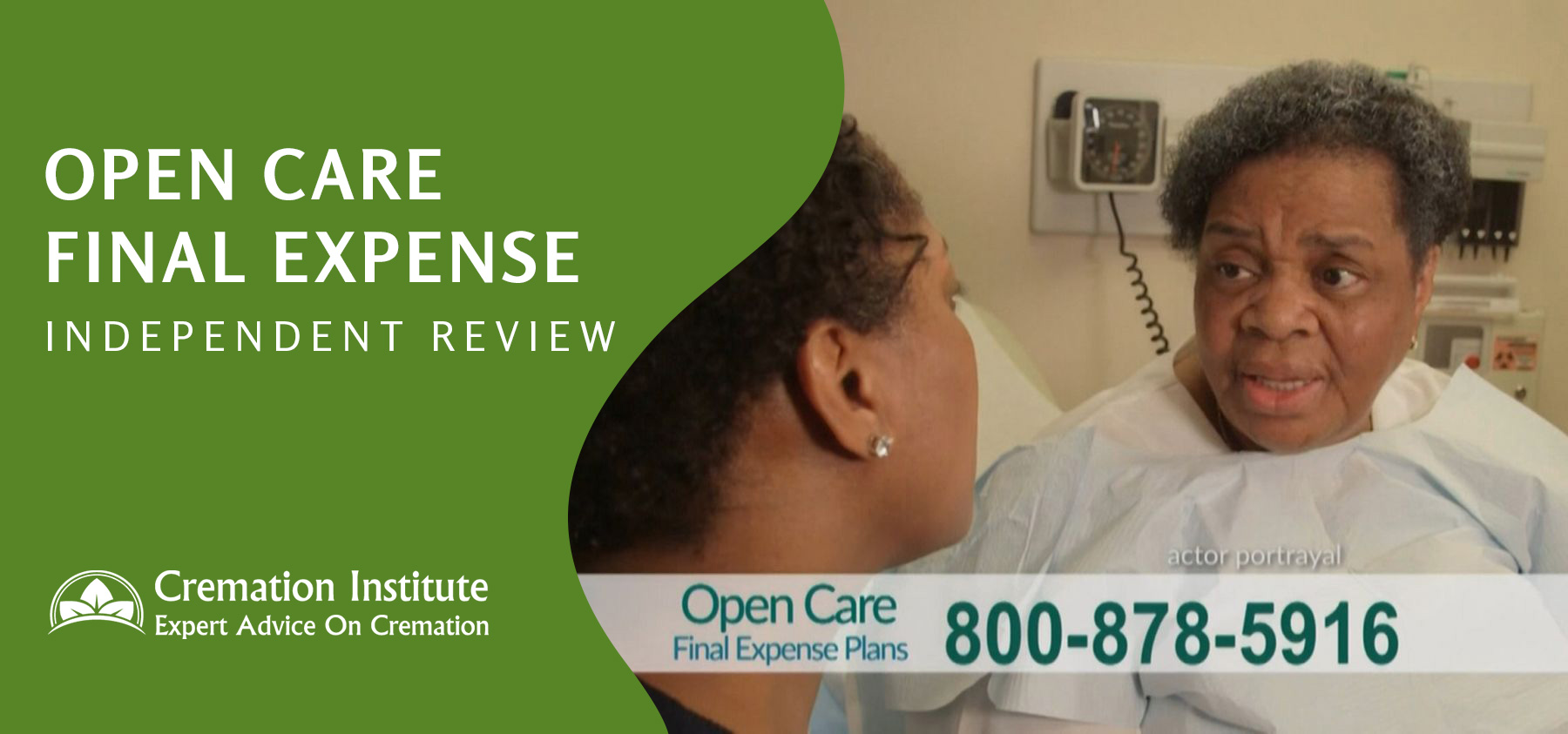 If you neither have life insurance nor enough money to put aside for your loved ones to cover your final expenses, things can get costly for them real quick.
What if they don't have the funds?
A final expense plan provides the funds your loved ones need at affordable costs.
Check out my review of Open Care Seniors and see how they stack up.
About The Company
You've likely seen ads for OpenCareSeniors on TV and wondered what it's all about. The rates they advertise are crazy low and often make people wonder if they're legit.
OpenCareSenior offers affordable plans with no medical exam. They make it easy for people of all ages to get life insurance coverage but their focus is on seniors.
The Highlights
OpenCareSenior offers whole life final expense plans and term life insurance
You can secure coverage up to $50,000
You just have to pass a medical questionnaire, not a medical exam
The policy has a 2-year waiting period
It's best for seniors with no life insurance
Pros
Affordable premiums
No medical exam
Premiums never increase
Your loved ones will have enough to cover your final expenses
Cons
The coverage amount is limited
There's a 2-year waiting period
OpenCareSenior Plan
OpenCareSenior Plans are whole life burial insurance plans.
In other words, you provide your loved ones with the money they'll need to cover your final expenses. This includes your burial and final medical expenses.
The policy is a simplified issue (no medical exam) and helps your loved ones focus on other matters rather than how they'll afford your final expenses.
How does it work?
OpenCare insurance policies offer coverage amounts up to $50,000.
The average funeral costs around $10,000 today, so securing at least that much will give your family peace of mind when they have to arrange your funeral.
You can apply for coverage online and it takes less than 5 minutes to complete the application.
You'll provide your personal identity information, beneficiary information, basic information about your height and weight, smoking history, medications you take, and basic medical history.
Qualifying questions
If you can answer the basic medical questions 'right' you may secure extremely low rates since OpenCareSenior offers the lowest rates on the market for its simplified issue insurance.
If you're wondering what 'right' means, it means you don't have any major health issues that would put the insurance company at risk.
If you answer 'yes' to any of their questions, such as:
Have you been diagnosed or treated for Alzheimer's or dementia?
Have you been treated for diabetes before age 50?
Have you been treated for heart disease in the last 2 months?
You may have to switch over to their guaranteed whole life insurance policy.
While it's the same type of coverage, the premiums are higher because the coverage is guaranteed rather than 'somewhat underwritten.'
The fine print
If you've seen advertisements for OpenCareSenior plans on TV, you probably marvel at the low rates they advertise. They do have unbelievably low prices but that's for young and healthy applicants.
There's always that fine print.
Here's what it says:
The policy is a limited grade death benefit with a 2-year waiting period. In other words, if you pass within two years of getting the policy, your loved ones may not have the coverage you thought.
They may receive the premiums you paid up to that point back, plus a small percentage, but not the entire policy amount you intended.
This is common for most guaranteed insurance policies because it's how insurance companies protect themselves.
Permanent coverage
Unlike other insurance products, OpenCareSenior's final expense insurance plan is permanent.
It doesn't matter how old you get, if your health changes, or anything else. As long as you pay your premiums, the insurance lasts for your lifetime.
Premiums that don't increase
Once you lock in your rates with OpenCareSeniors, they remain the same for your lifetime.
While it's beneficial to apply when you're young to get the best rates, you can apply at any age. Whatever premium you lock in at the time will remain your premium for your lifetime.
First day coverage
Since the insurance isn't underwritten, besides looking at your medical questionnaire and some basic questions, coverage starts right away.
But again, read the fine print, as you may have a 2-year waiting period.
Final Expense Plan
How does it work?
OpenCareSenior's final expense plan is a whole life insurance policy that covers your final expenses. It enables you to provide peace of mind for your loved ones upon your passing.
Thanks to you, they won't have to worry about coming up with $10,000 or more to cover your burial expenses, final medical expenses, or even your final debts.
Who is it good for?
Final expense insurance is best for seniors who don't have any other insurance coverage or savings to cover their final expenses.
If you're in less than perfect health and you won't pass a traditional life insurance medical exam, a final expense policy can help your loved ones afford your final expenses as well.
Coverage
OpenCareSeniors offers policies ranging from $5,000 – $50,000 for final expense insurance.
The amount you buy depends on the amount your family will need for your final expenses and what you can afford. The younger you are when you apply, the lower the premiums you'll pay.
Premiums & costs
Your premiums vary based on your gender, age, and health at the time of application. For example, an $8,000 policy would cost the following rates:
40-year old female non-smoker $17 per month for life
40-year old female smoker $21 per month for life
40-year old male non-smoker $19 per month for life
40-year old male smoker $24 per month for life
If you wait until age 60, though, premiums increase to:
60-year old female non-smoker $29 per month for life
60-year old female smoker $39 per month for life
60-year old male non-smoker $36 per month for life
60-year old male smoker $51 per month for life
Term Life Insurance
OpenCareSeniors also offers term life insurance for people between the ages of 18 to 75.
Like their final expense insurance, the term life policy doesn't require a medical exam – you only answer a few medical questions to get coverage.
How does it work?
Term life insurance covers temporary needs, such as covering a mortgage or paying for a child's education. You can buy term insurance based on the 'term' you need the coverage.
For example, if your mortgage will be paid off in 10 years, you can buy a 10-year policy.
This way you know your family has coverage should you pass before the mortgage is paid off. Your family can then pay the mortgage off and remain in your home.
Who is it good for?
Term life insurance is good for families with large but temporary expenses.
You may want to take it to provide for your children while they're still home, or cover a financial obligation you took rather than leaving your loved ones with the burden.
This policy is often a good addition to a final expense insurance policy, especially if it covers something specific.
Coverage
OpenCareSenior offers term life insurance in amounts of $25,000 – $500,000 and for people between the ages of 18 – 75. You can buy terms for 10, 20, or 30 years based on your needs.
Premiums & costs
To put its costs into perspective, let's look at a 10-year term policy for a non-smoking male:
25-year old male $7/month
45-year old male $10/month
55-year old male $34/month
Other Final Expense Companies
Mutual Of Omaha
Mutual of Omaha has a final expense insurance policy that not only provides your loved ones with money for final expenses but also builds a cash value.
You can draw on the cash value while you're alive to use for medical or other major expenses. You'll be able to apply between the ages of 45 – 85 and get coverage up to $40,000.
Mutual of Omaha requires a background check of your health and they'll review your medical/prescription records as well.
The policy also includes an accelerated death benefit, so if you are diagnosed with a terminal illness you can access the funds early.
Transamerica
Transamerica offers a variety of final expense policies. All three policies are guaranteed issue (no medical exam) and offer coverage between $1,000 – $50,000.
They have simplified requirements, no waiting periods even for people with issues like COPD and kidney disease, and are available to people below 85 years old (payable to age 121).
Gerber Life
If you're in less than perfect health, Gerber Life offers great final expense policies.
You don't even have to worry about medical exams or health questionnaires. Gerber Life offers policies from $5,000 – $25,000 at some of the lowest premiums.
However, unlike Transamerica, they have a 2-year waiting period. The only way your beneficiaries would get paid if you passed within 2 years is if it was an accidental death.
Gerber Life's policy premiums never increase and stay in force as long as you pay the premiums.
AIG
If you're between the ages of 50 – 80, you may be eligible for final expense insurance from AIG.
Their policy limits are lower ($25,000), but you can buy a policy for yourself, your parents, or grandparents to offset the costs of their final expenses.
AIG offers a terminal illness rider on every final expense policy at no extra charge.
This is a great benefit if you become terminally ill, as you can access the policy benefits while you're alive to cover the cost of your medical expenses.
Foresters Financial
Foresters Financial offers an affordable final expense insurance policy with simplified underwriting.
You must answer a few health questions to get the policy, but if you qualify, it's an affordable policy to carry. You can buy a policy until you are 80 years old and for a face value of $2,000 – $35,000.
This company does a little more 'underwriting' than others by checking your prescription history and conducting a phone interview.
How To Apply
The application process is simple. You'll answer questions, such as:
Name and address
Gender, social security number, and driver's license number
Smoking history, employment status, and type of medical insurance you carry
List of medications you currently take
Health questions (multiple choice)
Should You Choose Them?
If you're in the market for final expense insurance, include OpenCareSeniors in your list of options.
Like any insurance, I recommend that you get at least 3 quotes.
You can secure quotes online in a matter of minutes in most cases which makes it easy to compare your coverage, riders, and premiums to get the best deal.