AIG Life Insurance Review: The Best Term & Whole Life Policies?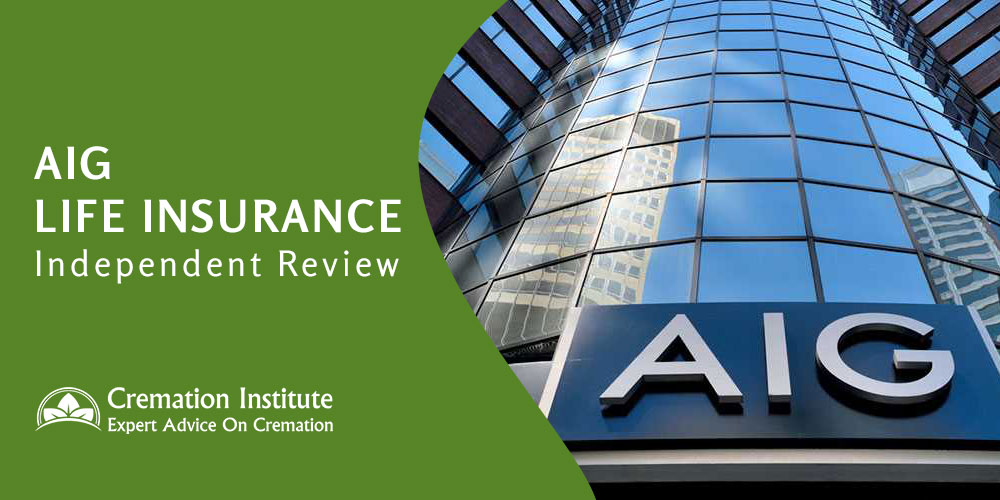 If you're looking for a unique or customizable life insurance policy, AIG is definitely worth considering.
They offer unique policies that are suitable for people who can't find the right policy anywhere else.
So are they right for you?
In this review AIG, I will tell you who is best suited for these policies.
I'll also explain how everything works, the costs, and what consumers say about them.
About The Company
AIG is located in New York and has been in business since 1919.
They have more than 12 million customers, an 'A' rating with A.M. Best and an 'A+' rating with Standard & Poor's.
This company is known to have life insurance options you won't find elsewhere, but they don't always offer the lowest premiums.
It's a trade-off between what you need in coverage and your budget. AIG is often the compromise customers need when they have unique life insurance requirements.
Term Life Insurance
AIG offers customizable term life insurance with 18 options for the term duration plus an option to convert your policy to permanent life insurance before you turn 70.
You don't need to go through another medical exam or any underwriting, which means you won't have to prove your insurability when you convert.
Term life insurance lasts for the chosen term unless you convert or choose the annual renewal option. Keep in mind, with the annual renewal option, your premiums will increase yearly.
Life insurance laddering
Life insurance laddering is one of the unique aspects of AIG. With their flexible terms and coverage amounts, you may choose several policies to 'ladder' based on your financial needs.
For example, if you have a long-term mortgage you want to pay off for your spouse, you can get a policy for the mortgage amount and the mortgage term.
You might also want a policy to protect your children while they're at home or until they reach a certain age. You can take out a policy that covers the time they have left at home.
Whether covering college costs or just the standard cost of living matters to you most, choose your policy accordingly. Each policy has different terms.
Pros and Cons of AIG Term Life Insurance
Pros
AIG offers the most flexible term lengths compared to other life insurance companies
Policy conversion is simple and allowed even if you're diagnosed with an illness
Policies available start with $100,000 in coverage
Policies are renewable annually after the term ends, up to age 95
Includes a Terminal Illness rider, which provides access to your death benefit should you get diagnosed with a terminal illness and have less than 2 years to live
Cons
AIG doesn't offer 'no medical exam' term life insurance policies
Turnaround time on applications is slow
Coverage
AIG's term life insurance coverage amounts start at $100,000 and go over $1,000,000.
The terms available include 10 and 15-year policies as well as 16-30 year policies and even a 35-year policy that you can take before you turn 45.
Premiums
AIG offers competitive premiums that are standard for the industry.
Let's take a $500,000 20-year policy for example.
A healthy 30-year old male would pay an average of $28.50 per month, and a healthy 50-year old male would pay an average of $147 per month.
Your premiums depend on your health conditions and history, lifestyle, term, and the coverage amount.
Riders
AIG offers a variety of riders term life insurance policyholders may add to their policy including:
Accidental Death – Your beneficiaries would receive a higher payout if your death was ruled as an accident
Child rider – Add life insurance for your children for $50 a year or less and provide up to $50,000 in coverage
Premium waiver for disability – If you're considered disabled 6 months or longer, AIG will waive your life insurance premiums for the duration of the disability
Return Of Premium Term Life
Applicants aged 55 and younger may apply for the Return of Premium Term Life insurance.
It offers terms starting at 20 years with $100,000 in coverage. The premiums are double to triple the cost of standard term life policies, but they offer 'cash back.'
How Does it Work?
The Return of Premium policy works a little different than the standard term policy.
With a standard policy once the term ends you lose any premiums you paid. The Return of Life policy lets you use those premiums at the end of the term.
Your account builds a cash value, which is equal to the premiums you paid throughout the life of the policy.
Once the term ends, you decide how to use the premiums, you can:
Take the cash and give up your policy
Use the cash value to pay your premiums, keeping the insurance until age 95
Transfer the cash value to a converted permanent policy
The Benefits
Creates a nice savings plan, perfect for parents saving for college or other large expenses
You can have life insurance coverage without paying for it if you extend your policy
You can start a nice cash value nest egg without paying whole life insurance premiums
Who is it Best For?
AIG's Return of Premium life insurance is expensive, but it's a good option for:
Anyone who has trouble staying disciplined enough to save
Applicants with high income who can afford the higher premiums now and want the freedom of no premiums when they age
Applicants looking for a temporary policy while they determine if a permanent policy is right
Guaranteed Whole Life
AIG's Guaranteed Whole Life policy is a form of final expense or burial insurance.
It has level premiums and can last for your lifetime.
How it Works
AIG's Guaranteed Whole Life policy is for applicants between the ages of 50 and 85. Since it's a guaranteed policy, there is little to no underwriting.
You don't need to answer any medical questions or get a medical exam, but your coverage is limited to $25,000.
Waiting period
There is a 2-year waiting period though so if you die within the first 2 years, your beneficiaries receive only the premiums you paid plus 10 percent.
Most guaranteed life insurance policies include this 2-year waiting period to protect them from people taking out a guaranteed policy when they know they are ill or are about to pass.
Riders
AIG offers the following two riders on its guaranteed policy at no cost:
Terminal illness rider – If you are diagnosed with a terminal illness, you can access up to half of your death benefit to cover medical costs and treatments.
Chronic illness rider – If you are diagnosed with a chronic illness, you may receive up to half of your premiums paid or up to half of your death benefit.
AIG Universal Life
AIG's Universal Life policies start at $50,000 coverage and are for applicants aged 18 to 80.
You can choose a policy that pays your beneficiaries the face value or one that pays the face value and cash value (this has higher premiums).
How it Works
AIG's Universal Life policies are permanent life insurance policies.
Your premium covers the death benefit plus it funds your cash value. You have two options:
Value+ Protector – Your cash value earns a fixed interest rate of 2 percent
Max Accumulator+ – You invest your cash value in index accounts and your balance depends on their performance; it may increase or decrease
The Options
If you choose the Max Accumulator+ policy, you'll choose your rate:
Participation rate
This tracks a specific index and you receive a return based on your participation rate.
When the market does well, you earn your participation rate in the earnings. If the market does poorly, the worst that happens is you have a 0% return on investment.
Cap rate
The cap rate 'caps' your earnings but also minimizes your losses.
If your cap is 10%, you'd get earnings up to 10%, but if the earnings were higher, you'd miss out. However, if the market does poorly and falls say 20%, your loss would be limited to 10%.
Cash Values
You may access your cash through a loan or withdrawal. If you take a loan, you must pay the loan back with interest, but you essentially pay yourself.
If you don't repay the loan, your beneficiaries receive the difference between your death benefit and the loan amount.
Coverage
Policies are available from $50,000 to $10 million in coverage and can be taken by people between 18 and 80 years old.
The coverage lasts for your lifetime, as long as you pay the premiums.
Variable Universal Life
AIG's Variable Universal Life is a spinoff of the indexed universal policy. It provides a wider number of investments (mutual funds), but there aren't limits to your earnings and losses.
These policies have a minimum of $100,000 in coverage and you can buy them until you turn 80.
Guaranteed Universal Life
Like most of AIG's policies, you may apply for Guaranteed Universal Life between the ages of 18 and 80, buying a minimum face value policy of $100,000.
You can keep (extend) the coverage up to age 121 and the premiums remain fixed.
How it Works
The Guaranteed Universal Life policy accumulates a cash value with a fixed 2 percent interest rate return.
You may use your cash balance to pay your premiums. You may also pay the premiums in full early (pay more than required) to keep the policy for life.
If you want to change your coverage (higher or lower), you may do so at any time, but you must prove you are insurable (go through underwriting).
AIG's Guaranteed Universal Life includes the following riders:
Accelerated Access Solution
If you receive a chronic illness diagnosis, you may access your death benefit while you are alive. The payments are tax-free and last for the duration of the illness or until you use up your benefit.
Enhanced Surrender Value Rider
This rider allows you to surrender your policy and receive your premiums back. If you surrender 20 years into the policy, you'll receive half of the premiums paid.
If you surrender in year 25, you'll receive the full amount of premiums paid up to 40 percent of the policy's value.
Lifestyle Income Solution
After age 85, you can take money out of your life insurance's death benefit and use it for your daily cost of living or any other purpose.
You may withdraw up to 10 percent of your death benefit per year. Any unused benefit goes to your beneficiaries when you die.
Accidental Death Insurance
As the name suggests, Accidental Death insurance protects your loved ones if you die in an accident.
Since this only insures accidents and not natural causes of death or death related to illnesses there isn't a medical exam.
Applicants ages 18 to 80 are eligible and insurance is available up to $500,000.
There isn't a specific term – as long as you pay the premiums, the policy stays in effect, but it only covers your loved ones if you die in an accident or become dismembered.
Payouts
The Accidental Death Insurance policy has different payouts depending on the reason for the claim:
Accidental death, loss of two limbs, loss of vision (in both eyes), loss of all limbs, or loss of one limb and vision in one eye payout 100% of the benefits
The loss of one limb, loss of vision in one eye, or an accident that renders you a paraplegic payout 50% of the benefits
What Customers Say
Most customers love the large number of products AIG offers, but some of them complain about a lack of customer service.
Many say that filing a claim is difficult, but overall, they like the policies and believe they provide good value.
Should You Choose AIG?
AIG is a good option for those looking for a temporary policy or that want the option to access their death benefit while alive.
Many insurance companies only offer this option as a rider and only in a select few circumstances.
Consider including AIG in your options, but compare it to other life insurance options as they pertain to your lifestyle, health conditions, and financial needs.